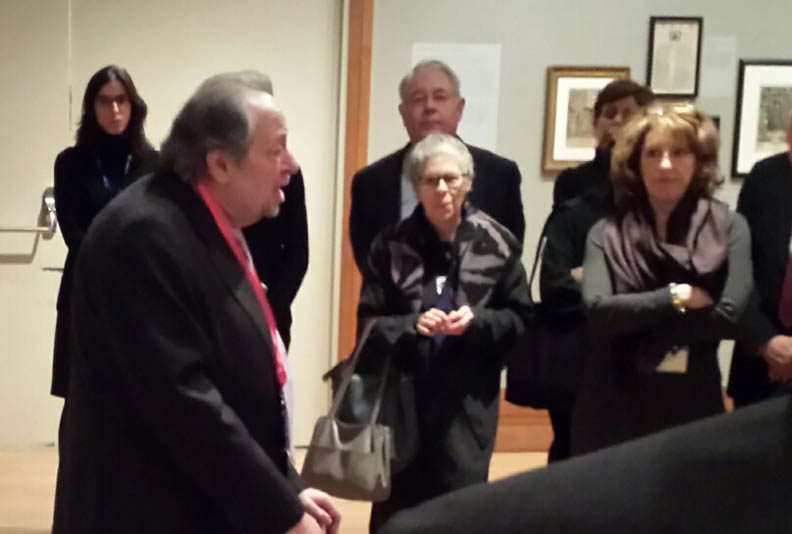 The curators of the exhibition Wordplay: Matthias Buchinger's Drawings from the Collection of Ricky Jay, gave a few Grolier Club members the rare treat of a personal gallery tour last night. Seen here are collector and co-curator Ricky Jay; Freyda Spira, Associate Curator, Department of Drawings and Prints at the Metropolitan Museum of Art; and Nadine Orenstein, Drue Heinz Curator in Charge of the Department of Drawings and Prints (apologies for the poor quality of my photo).
As their website explains, "This installation of drawings, prints, and related ephemera by the German artist and performer Matthias Buchinger (1674–1739) explores for the first time the oeuvre of the so-called Little Man of Nuremberg. Standing only twenty-nine inches high, and born without hands or feet, Buchinger was celebrated in his own time as a draftsman and calligrapher as well as a magician and musician. He boasted a clientele that included noblemen, kings, and emperors, along with members of the public who visited him at inns and fairs from Leipzig to Paris and from London to Belfast."
http://www.metmuseum.org/exhibitions/listings/2016/wordplay

Of particular interest to visitors from Princeton was an enormous broadside for another physically challenged artist of the nineteenth century named Sarah Biffin (also spelled Beffin or Biffen, 1784-1850). The Graphic Arts Collection holds several of Biffin's miniature portrait paintings but none the ephemeral publicity for her performances, such as the one seen at the MET.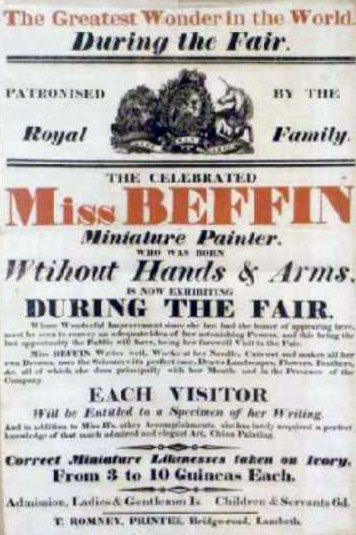 Born with no arms or hands or legs or feet, Biffin taught herself to perform a variety of everyday tasks using her mouth and shoulders. She developed a talent for drawing and painting; became an expert seamstress; and performed these abilities before a crowd of spectators.
Biffin's family contracted with Emmanuel Dukes, a traveling showman, to make her one of his sideshow attractions. She traveled from town to town, painting or writing for the public's entertainment. Dukes publicized her as "The Eighth Wonder!" and pocketed all the proceeds from the sale of her watercolors.
Thanks to the patronage from George Douglas, the sixteenth Earl of Morton (1761-1827), Biffin was finally released from her contract and established a studio in the Strand, London, where she painted miniature portraits.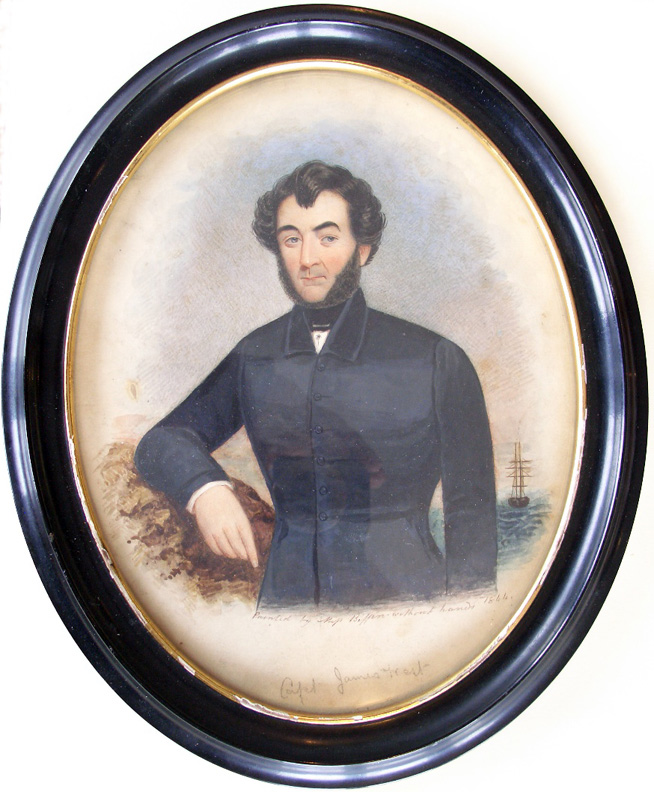 Sarah Biffin (1784-1850), Capt. James West, 1844. Watercolor on paper. Signed, l.c.: "Painted by Miss Biffin – without hands, 1844". Gift of W. Allen Scheuch II, Princeton Class of 1976, given in honor of Meg Whitman, Princeton Class of 1977. Graphic Arts Collection GA 2011.01448