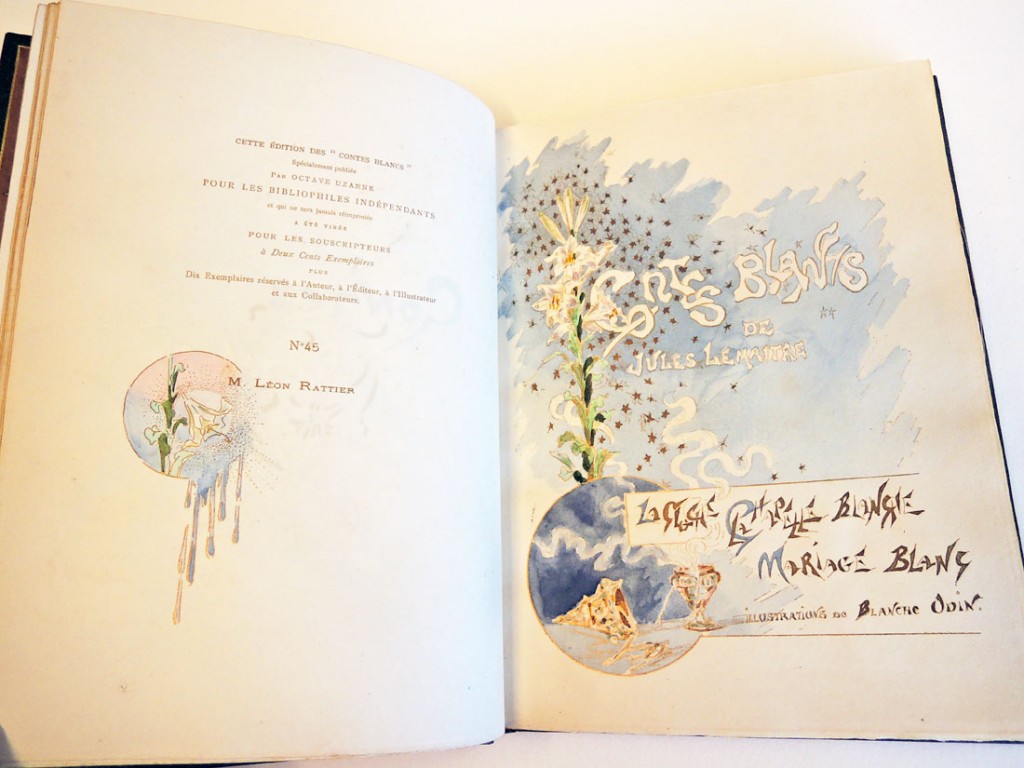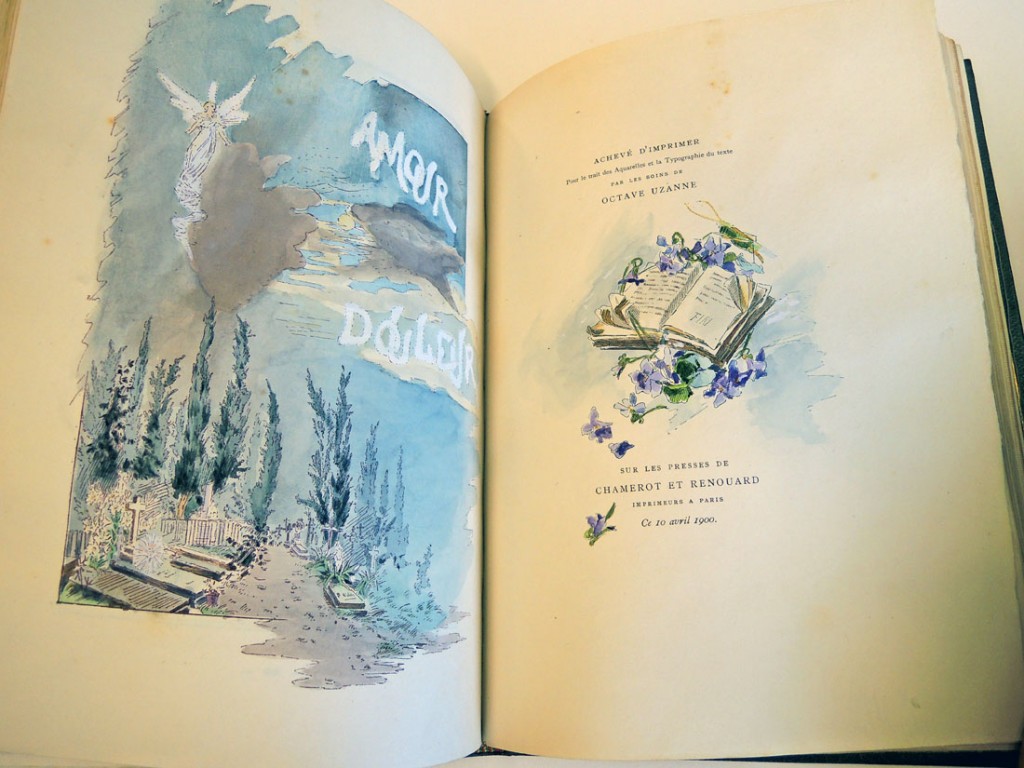 Jules Lemaître (1853-1914), Contes blancs, illus. à l'aquarelle de Mlle. Blanche Odin (Paris: A. Durel, 1900). With an extra suite of uncolored illustrations. Copy no. 45 of 210 copies, for Leon Rattier, with his name printed below the limitation statement and his leather bookplate. Graphic Arts collection GAX in process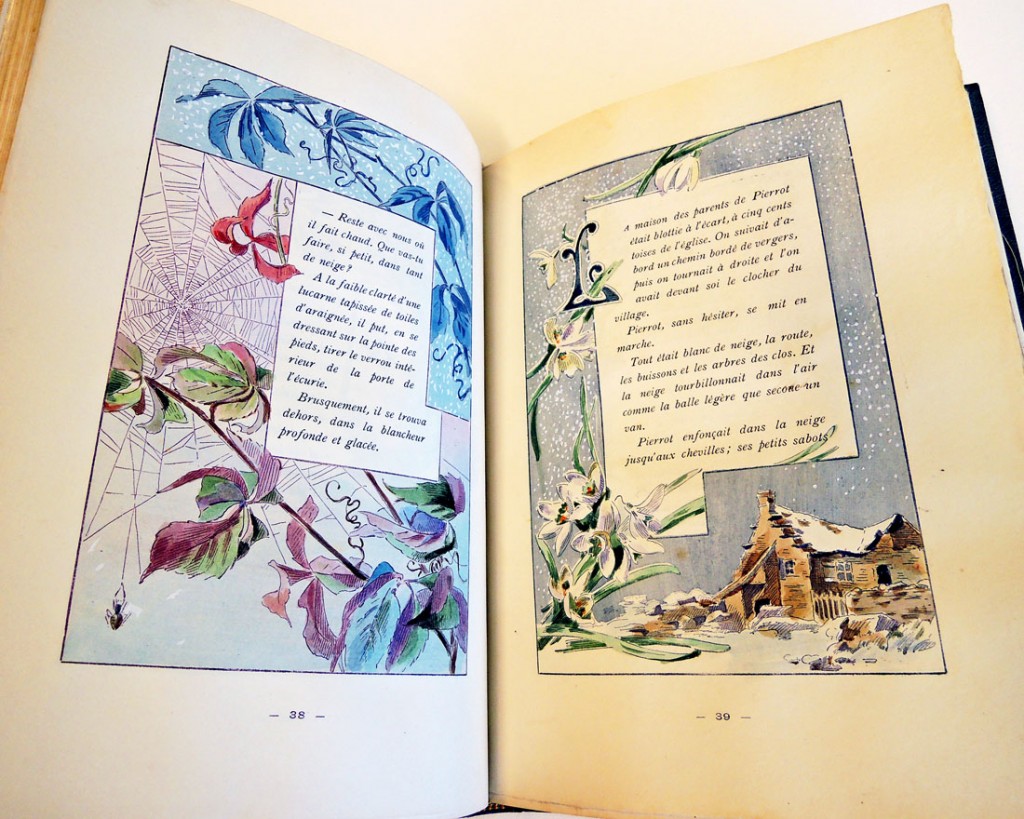 Lemaître's short stories are illustrated with 72 original watercolors by Blanche Odin (1865-1957). In his prospectus for the book, Octave Uzanne writes:
"Ces Contes Blancs de Jules Lemaître au nombre de trois sont intitulés : La Cloche, la Chapelle blanche et Mariage blanc. Ce sont trois exquises et tendres petites nouvelles qui valent par leur grâce ingénue, par la douce pitié qui s'en dégage et par la saveur de style délicieusement simplifié qu'y employa le maître écrivain. Pour illustrer ces trois contes pleins de candeur, il fallait un talent naturel, instinctif éclos dans le recueillement, mûri par l'observation directe, un talent délicat et fleuri de jeune femme n'exprimant rien du chiqué des écoles, mais tirant tout son charme de l'étude consciencieuse de la nature. – Mlle Blanche Odin, une jeune artiste qui développa ses qualités innées de dessin dans les solitudes de la campagne, semblait désignée mieux que personne pour décorer page à page ces jolis contes de Jules Lemaître, pour interpréter et même paraphraser ces textes d'essentielle poésie."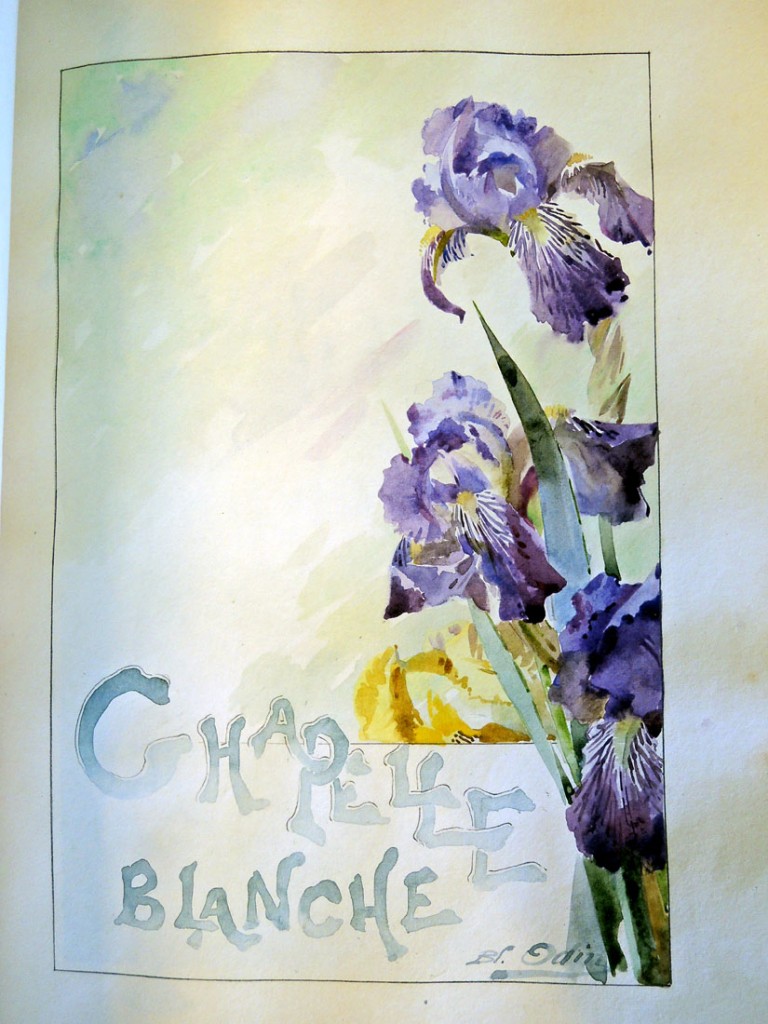 [Jules Lemaitre's Whites Tales are three in number, entitled: The Bell, the White Chapel and White Wedding. These are three exquisite and tender short stories that speak with ingenuous grace, through gentle pity that emerges with the master writer's delightfully simplified style. To illustrate these three tales full of candor, he had a natural talent, instinctive hatched in recollection, matured by direct observation, a delicate flowery talented young woman expressing no false academics but drawing its charm from the conscientious study of nature. — Miss Blanche Odin, a young artist who developed here innate qualities of drawing in the solitude of the countryside, seemed better than anyone designated to decorate page to page these pretty tales of Jules Lemaitre, to interpret and even paraphrase these essential poetic texts.]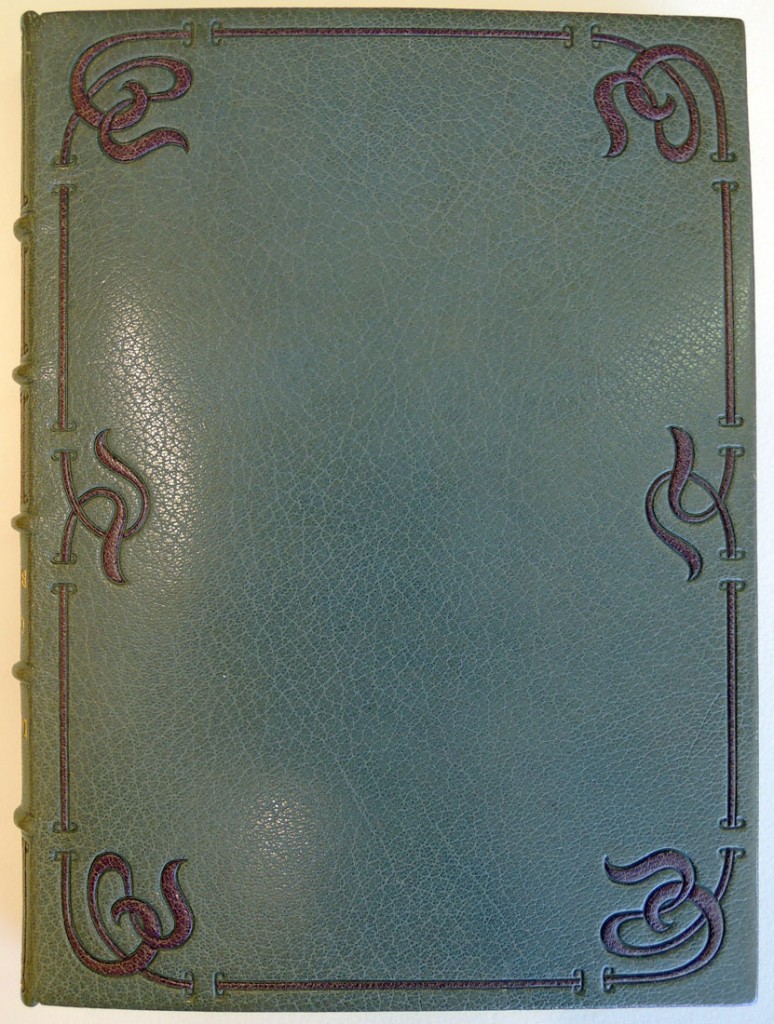 The volume is bound in a contemporary binding by Marius Michel (1821-1890), signed in gilt on front doublure, of gray goatskin, the covers with a border of onlaid strips of purple goatskin. The spine divided into six panels, lettered in gilt in the second and third, the others with onlaid strips of purple goatskin, light brown goatskin doublures tooled with a repeated impression of a gilt flower with gray goatskin onlaid petals, textured light blue silk endleaves, marbled paper flyleaves, original covers bound in.