Princeton University Library holds 175 books with wood engravings by Nathaniel Orr (1822-1908) and 173 books with wood engravings by John William Orr (1815-1887). Are they related? Sinclair Hamilton guessed that Nathaniel was the younger brother of John but neither is mentioned in any of the other's biographies published over the years, including ancestry records. Are they brothers or cousins or related at all? Why did they work together for three years and then, work separately for the next forty years?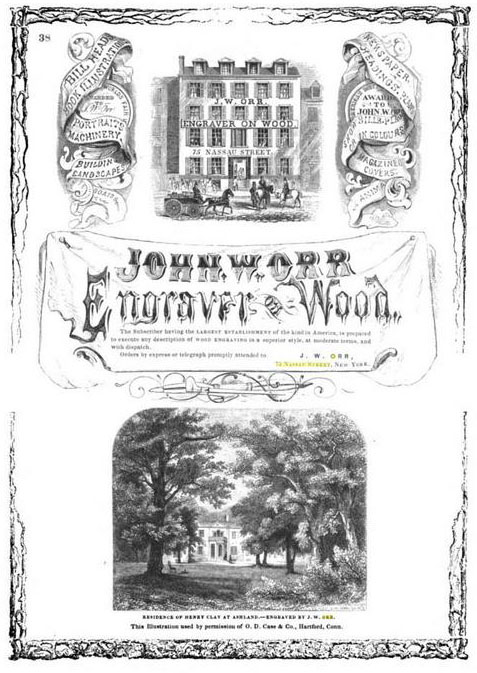 Advertisement for John William Orr placed in the Illustrated American Advertiser, 1856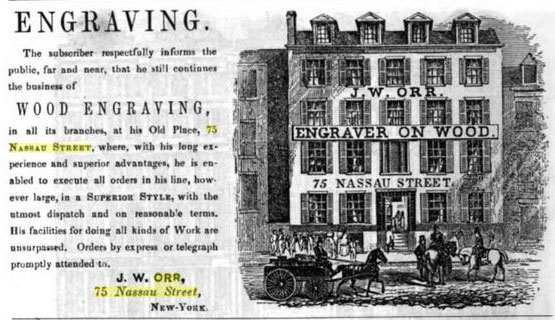 Advertisement for John William Orr placed in the U.S. Post Office Guide, 1851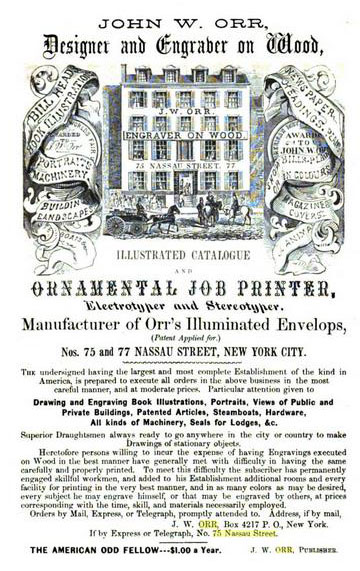 Advertisement for John William Orr placed in the Michigan State Gazetteer and Business Directory, 1863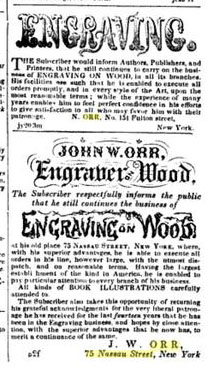 Separate advertisements for Nathaniel Orr and John William Orr placed in The Literary World, June 1850 and each month following for about a year, usually side by side or one on top of the other. The Literary World was located at 109 Nassau Street, a block away from John Orr's shop.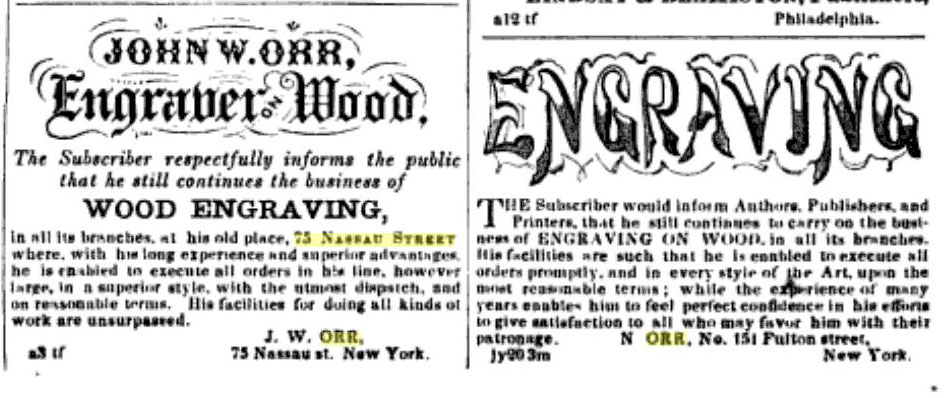 The only logo that has been found for Nathaniel Orr is the one below. From 1851 on, Nathaniel only placed small listings in the city directories, unlike John's large advertisements.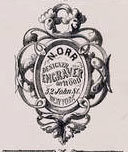 From 1844 to 1847, several wood engravings are signed "J.W.&N.Orr," although the advertisements only list John William Orr. Then, beginning in 1850, Nathaniel sets up his own shop on Fulton Street. Within a year or two, he moves to John Street where he remained for the rest of the 19th century.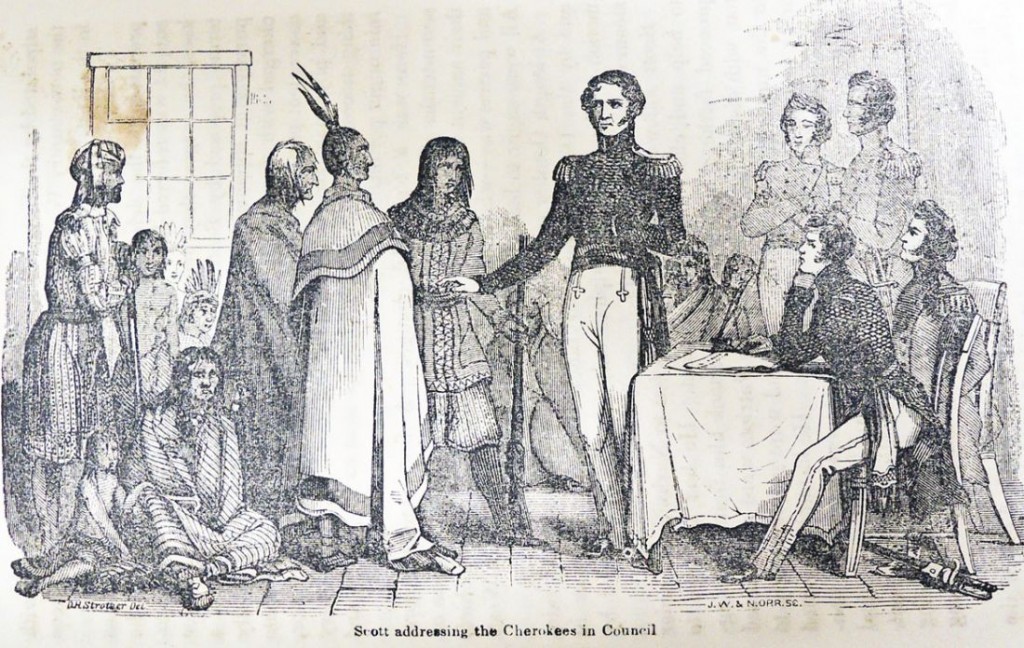 Illustrated Life of General Winfield Scott (New York: Barnes & Co., 1847) Hamilton SS305
In Sinclair Hamilton's extensive index to wood engravers, he only lists John William Orr, with no a biography of Nathaniel: "Born in Ireland, [John] Orr was brought to America at an early age and lived in Buffalo. After studying in New York City with William Redfield in 1836, he set up his wood engraving business in Buffalo in 1837, moving to Albany in 1842 and finally to New York City in 1844. He was one of the best known wood engravers of his generation. He was the older brother of Nathaniel Orr, with whom he was in partnership in 1844-1846."
The National Cyclopaedia of American Biography only has a listing for Nathaniel Orr, with no mention of John: "ORR, Nathaniel, engraver, was born at London, Ont., March 26, 1822, son of Nathaniel and Mary Ann (Donaldson) Orr. His father, a native of Armagh county, Ireland, came to New York, Aug. 20, 1816. Mr. Orr received his education in the public schools of Buffalo, N. Y. He studied wood engraving at Albany under John H. Hall, a noted engraver in his day. Upon Hall's retirement from business he was succeeded by Mr. Orr, who conducted a large establishment in Albany for some years, but removed to New York city to take charge of the illustration department of Duyckinck's Shakespeare and Harper's Bible. Thereafter he remained in New York and his wood engravings were in most of the magazines and illustrated books for more than a generation. His large office at 52 John street became headquarters for many of the finest artists and designers, viz.: Stephens, White, Sol Eytinge, Darley, Harry Fenn, McLennan and others, whose best work he engraved, so that for forty years his office was noted as the centre of book and magazine illustration. . . ."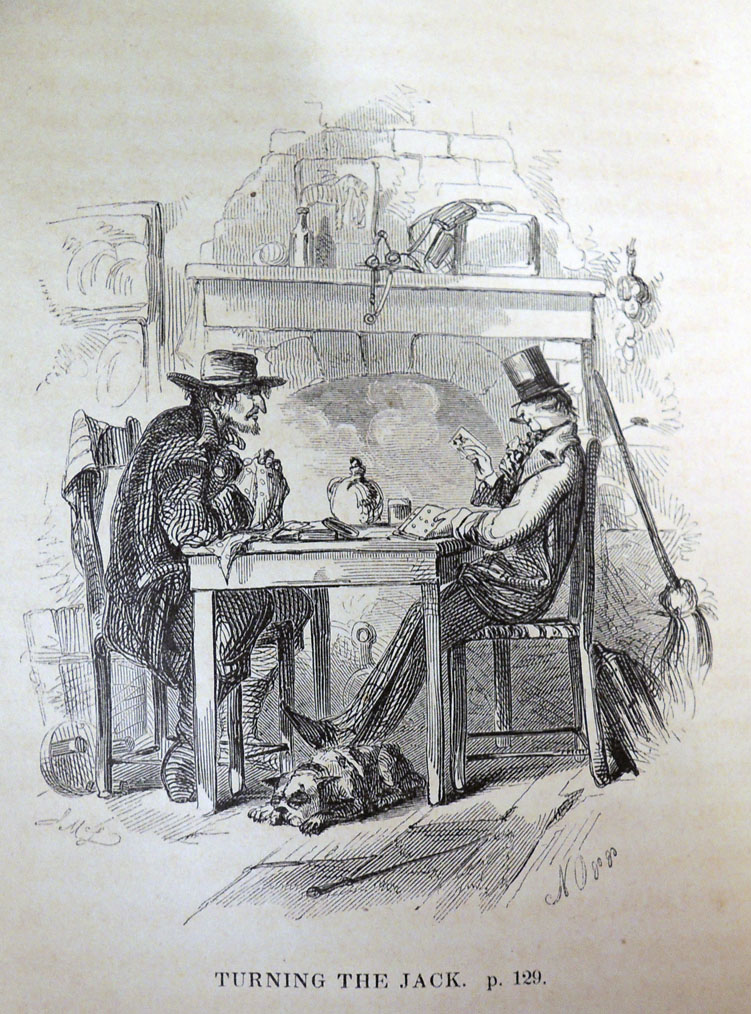 The answer was found in the Orr Family Papers finding aid created by Jennifer Harrold, Jeffrey Barr, and James Cusick at the University of Florida Smathers Libraries Special and Area Studies Collections. That collection documents Nathaniel Orr's family history and a note reads "Orr family history, copied from Uncle John Orr's notes," written by Nathaniel's daughter.
John and Nathaniel were brothers.