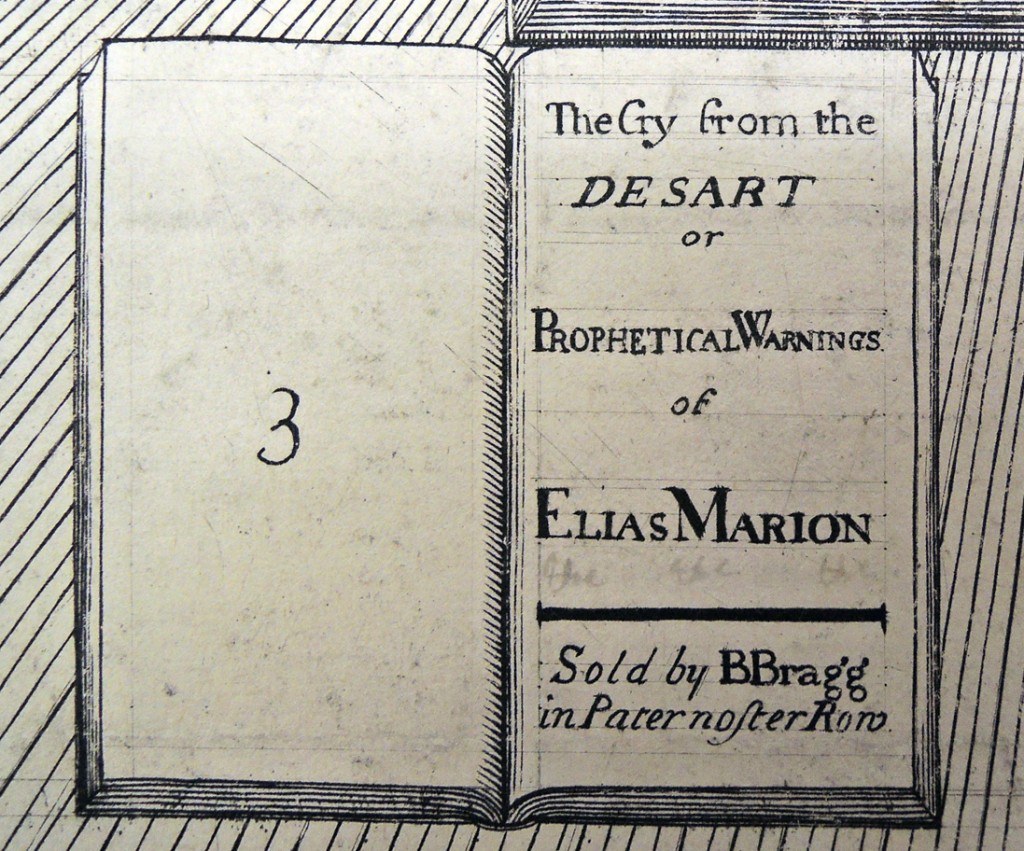 Note the books illustrated in this religious broadside are only ones sold by the publisher of the sheet.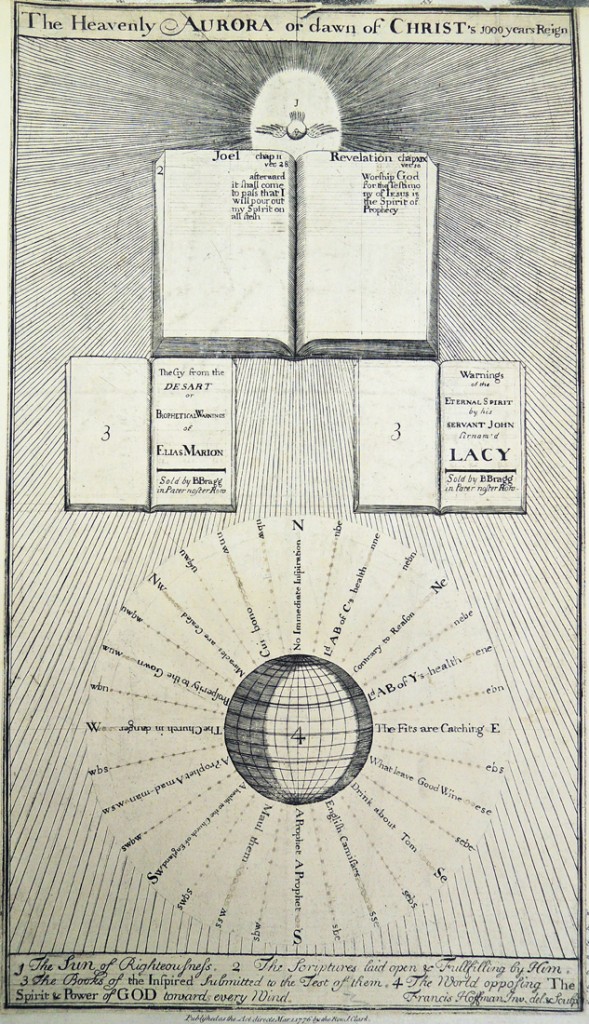 Francis Hoffman (active 1706-1750), The Heavenly Aurora, or, Dawn of Christ's 1000 years reign [written, designed, and engraved by Hoffman] ([London]: Sold by B. Bragg in Pater Noster Row, [ca. 1710]). Graphic Arts Collection (GAX) in process.
Very little is known about the writer and printmaker Francis Hoffman, who was active at the beginning of the 1700s. An attempt at a bibliography was published by Edward Solly in Walford's Antiquarian Magazine and Bibliographical Review (Vol. 9, 1886). "When I commenced this article, I had utterly failed to find any record of Francis Hoffman as a writer, and thought I should have to end by the admission that I could find no evidence of the existence of such a person in 1712; but, even as I write, I have, by one of those curious little accidents which used so much to please Horace Walpole, met with a piece of evidence which is highly suggestive, if not conclusive.
Having read the valuable bibliographical note by Mr. Buckley in Notes and Queries, October 31, 1885, on the first edition, of Gulliver's Travels, 1726, it was natural to turn to copies of the book and examine them by the light of his notes. . . . Attention was drawn to the head-piece, [where] the artist had placed his initials in the centre of the two end flower ornaments, a thing by no means common in such head-pieces, and these initials were F. H. . . . [and] there was clearly at the foot of the altar, "F. Hoffman."
The hint thus given soon led to further inquiry, and, on looking into Bryan's Dictionary of Painters, 1816, vol. ii. p. 695, something like evidence was found. He says: 'This artist was probably a native of Germany, but he resided in England about the year 1711. He engraved a plate representing the portraits of the Right Honourable Henry St. John, one of the principal Secretaries of State; the Right Honourable William Bromley, Speaker of the House of Commons; and the Right Honourable Robert Harley, Chancellor of the Exchequer. Underneath is a printed account of the transactions of the House of Commons for the year 1711. It is etched in a coarse tasteless style, and inscribed Francis Hoffman fecit aqua forte. In Mr. Gulstone's Collection was a portrait of Francis Hoffman drawn and engraved by himself, in which he is styled the inventor of Ships with three bottoms.'"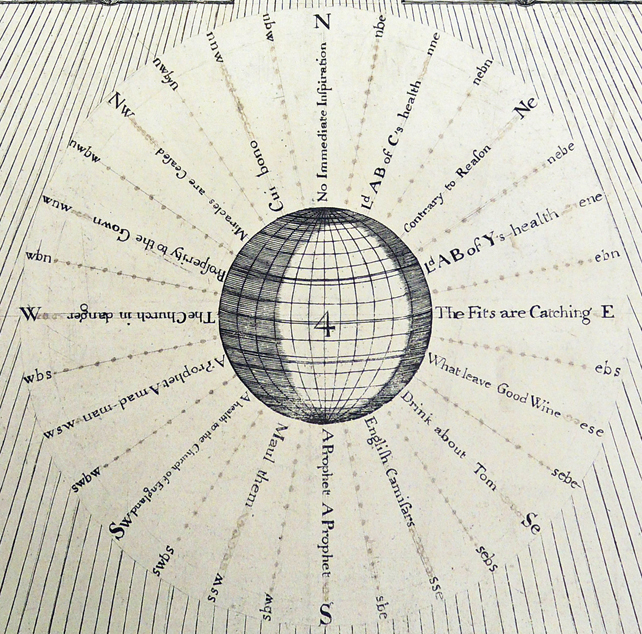 Sully goes on to list a number of books enhanced with ornaments and engravings by Hoffman, including  T. Warner, Dennis's Remarks on Steele's 'Conscious Lovers' (1723); W. Meadows, Heywood's Poems (1724); H. Woodfull, Davys's Works (1725); B. Lintot, Somerville's Poems (1727); T. Astley, Mrs. Thomas's Poems (1727); and C. Ackers, Ralph's Poems (1729) among others.
See also: John Bunyan (1628-1688), The Pilgrim's Progress from This World to That Which Is To Come . . . And now done into verse [by Francis Hoffman] (London: printed by R. Tookey, 1706). Rare Books (Ex) 3653.372.15
Francis Hoffman, Secret Transactions During the Hundred Days Mr. William Gregg Lay in Newgate (London: [s.n.], printed in the year 1711). Rare Books (Ex) 14454.471