The winners of the 2016 Elmer Adler Undergraduate Book Collecting Prize were announced at the Friends of the Princeton University Library's winter dinner that took place last Sunday (April 24). The jury awarded first, second, and third prize.
First prize was awarded to Samantha Flitter, Class of 2016, for her essay, "The Sand and the Sea: An Age of Sail in Rural New Mexico" in which she discusses her collection of books concerning British maritime history and the Age of Sail that, as she explains, allows her to "experience another world as viscerally as if it were my own." Samantha received a prize of $2000, and Peter T. Leeson's book The Invisible Hook: The Hidden Economics of Pirates. Samantha's essay will represent Princeton in the National Collegiate Book Collecting Competition, which is sponsored by the Antiquarian Booksellers' Association of America.
Second prize was awarded to Preston Lim, Class of 2017. Preston's essay, entitled "From Burma to Baku: Travel and the Art of War" is about his interest in military history, specifically the South African War and the First and Second World Wars, that began upon learning of his grandfather's experiences as a partisan fighter in China during World War II. Preston received a prize of $1500, and a copy of Reluctant Accomplice: A Wehrmacht Soldier's Letters from the Eastern Front edited by Konrad H. Jarausch.
Third prize was awarded to Alex Cuadrado, Class of 2016, for his essay, "Memories and Itineraries: The Pilgrim's Guide to the World," in which Alex discusses his collection of pilgrimage itineraries and narratives that includes personal artifacts from his own travels. Alex received a prize of $1,000, and Roxanne L. Euben's book, Journeys to the Other Shore: Muslim and Western Travelers in Search of Knowledge.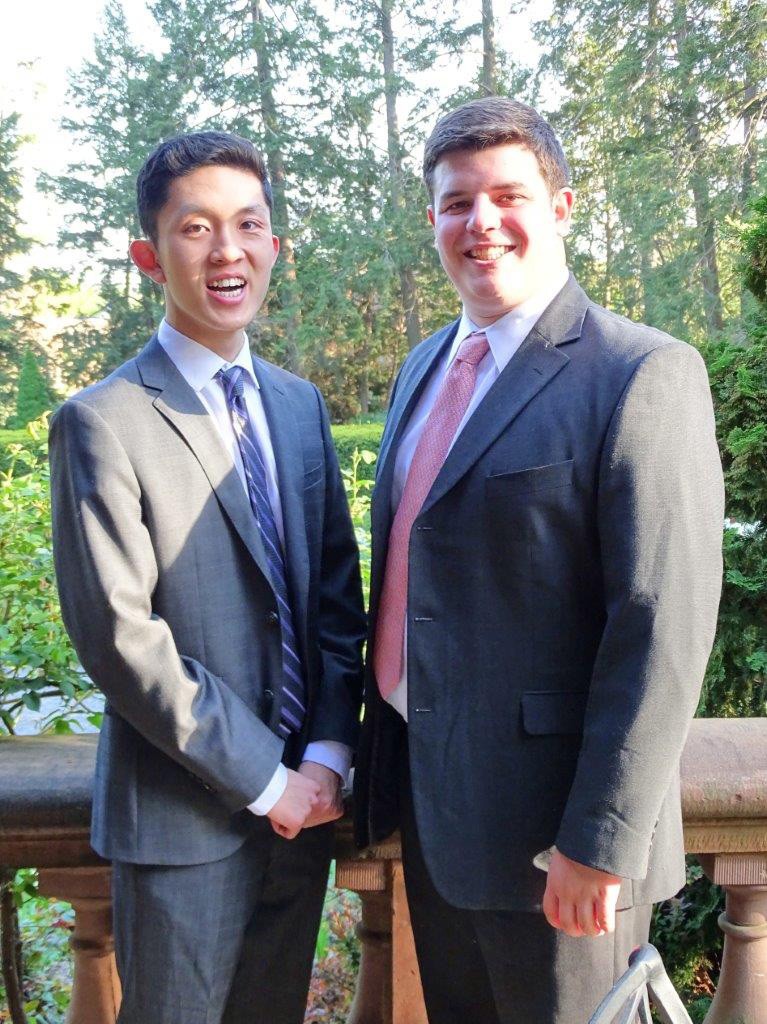 Preston Lim and Alex Cuadrado
Each of the winners will also receive a certificate from the Dean of the College. The book prizes, chosen to complement each student's collecting focus, were donated by the Princeton University Press.
Thanks to this year's judges for their congenial service: Claire Jacobus, member of the Friends; John Logan, Literature Bibliographer; Louise Marshall Kelly, member of the Friends; Eric White, Rare Books Curator; and Melissa Verhey, Department of French and Italian PhD candidate and member of the Student Friends.
Congratulations to our winners!!
Posted by Faith Charlton, Processing Archivist, Americana Collections