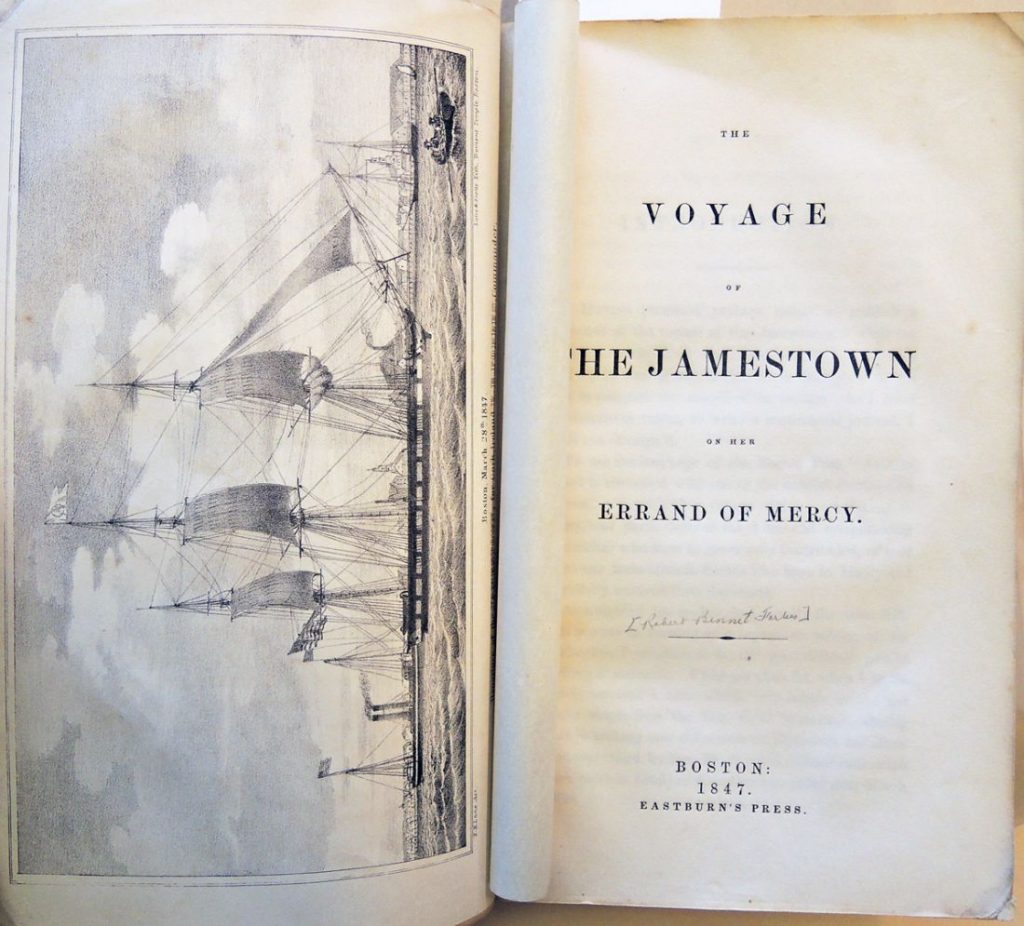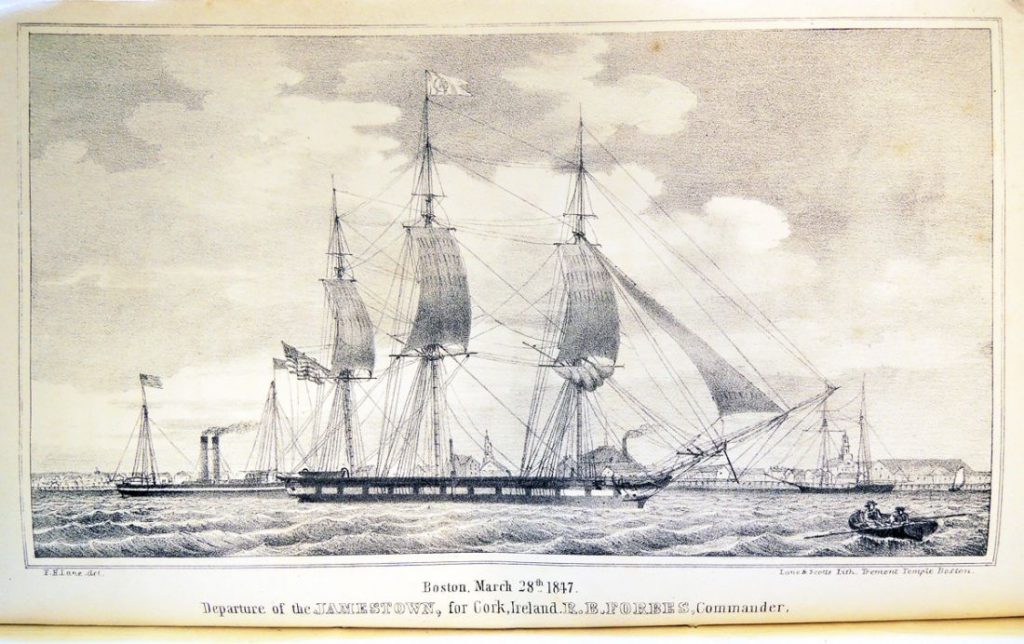 Tucked inside the 1847 volume:
Robert Bennet Forbes (1804-1889), The Voyage of the Jamestown on Her Errand of Mercy (Boston: Eastburn's Press, 1847). Frontispiece signed: F.H. Lane, del. GAX copy is presentation copy to Honble. Josiah Quincy with inscription by author. Graphic Arts Collection (GAX) ND237.L24 F67
is a rare lithograph drawn by:
Fitz Hugh (or Henry) Lane (1804-1865), Boston, March 28th 1847, Departure of the Jamestown, for Cork, Ireland, R. B. B. Forbes, Commander. Lithograph, printed by Lane & Scott's Lith, Tremont Temple, Boston, 1847.
Details on the print and the book can be found at:
http://fitzhenrylaneonline.org/catalog/entry.php?id=475&print=true
Fitz Henry Lane Historical Archive, catalogue raisonné, and educational resource; an online project under the direction of the Cape Ann Museum.
Melissa Geisler Trafton writes, "When news of the second year of the devastating Irish potato famine reached Boston in 1846, Bostonians formed a relief committee and began to look for ways to help. Robert Bennet Forbes lobbied the U.S. Navy for use of the "Jamestown," a sloop that was lying idle in Charlestown Navy Yard. On March 3, 1847, by United States Congressional resolution, R. B. Forbes was authorized to take command of the "Jamestown," while Captain George Coleman McKay was authorized to command USS "Macedonian," then at New York Navy Yard. Tons of food and $151,000 were donated and loaded onto the "Jamestown" by the Boston Labourers Society (mostly Irish), free of charge. On March 28, 1847, the "Jamestown" left Boston at 8:30 a.m. under the command of R. B. Forbes, who managed to complete the Atlantic crossing in a record-breaking seventeen days.
Upon his return, Forbes wrote a book about the voyage, Voyage of the Jamestown in Her Errand of Mercy. In 1847 Lane was running his own lithography shop in Boston with his partner John Scott. Lane had already made two lithographs of Forbes's innovative steam-powered vessels in 1845, Auxiliary Steam Packet Ship Massachusetts (inv. 442) and Steam packet ship Mass., in a Squall, Nov. 10, 1845 (inv. 443). It was natural that, in 1847, Forbes would turn to Lane to make a lithograph for the frontispiece of his book." –Melissa Geisler Trafton