Thanks to the generous gift of William Drenttel, Class of 1976 (1953-2013) the Graphic Arts Collection has a small collection of decorative and handwritten menus. Here is a small sample.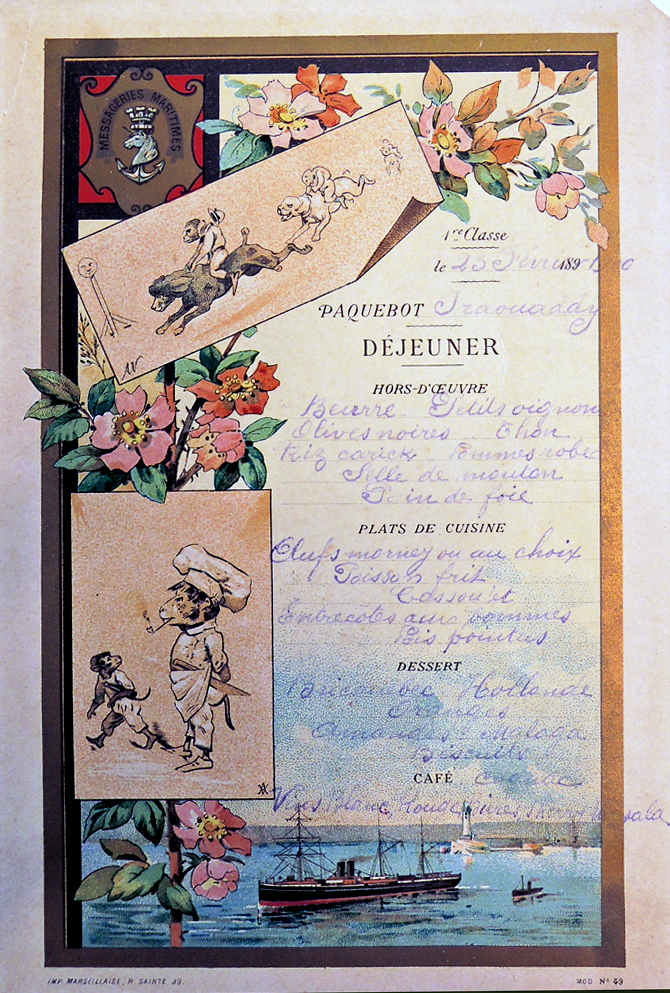 Drenttel was a designer, author, publisher, and president of Winterhouse Institute. He was also editorial director of Design Observer, a website covering design, social innovation, urbanism and visual culture.
The July 9, 2014 Princeton Alumni Weekly notes, "Bill came to Princeton from Tustin High School in California, where he starred on the debate team. Bill devised his own academic program, graduating in 1977 with an independent concentration in European cultural studies. Bill reported for The Daily Princetonian, managed the Student Bartending Agency, and joined Ivy Club. After graduation, Bill joined Compton Advertising, where he managed more than 20 Procter & Gamble brands. He left as senior vice president in 1985 to start the design company Drenttel Doyle Partners. In the 1990s, Bill met and married Jessica Helfand, and they operated Winterhouse in Connecticut while raising their two children.

Theorist and publisher William Drenttel is recognized for advancing critical thinking about design; for his long-standing commitment to integrating design strategy into organizations; for expanding design's role in social innovation; and for his work as cofounder, editor and publisher of Design Observer.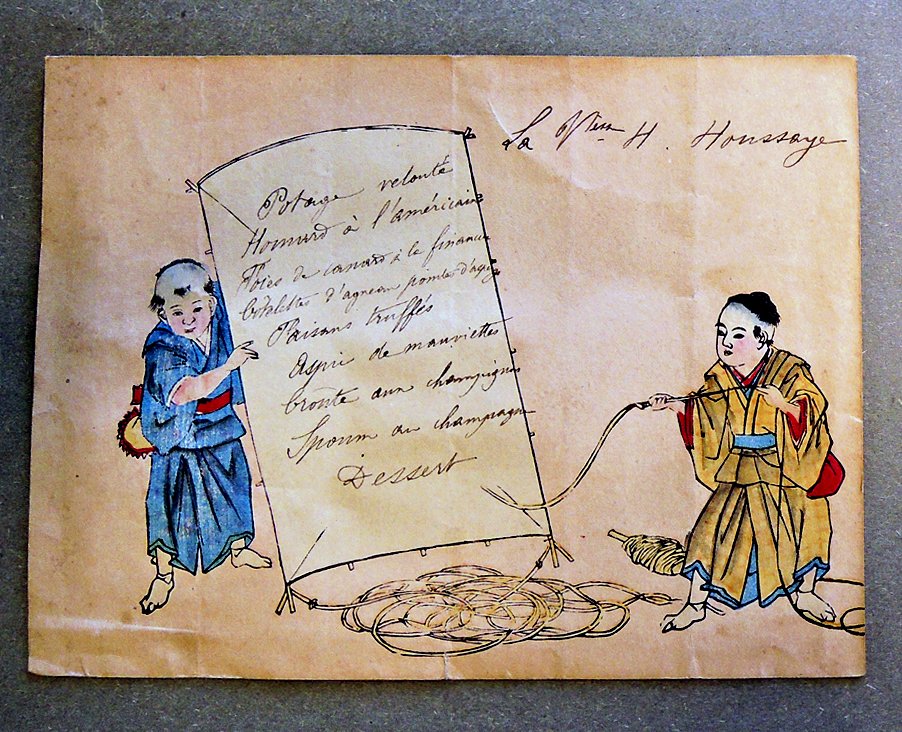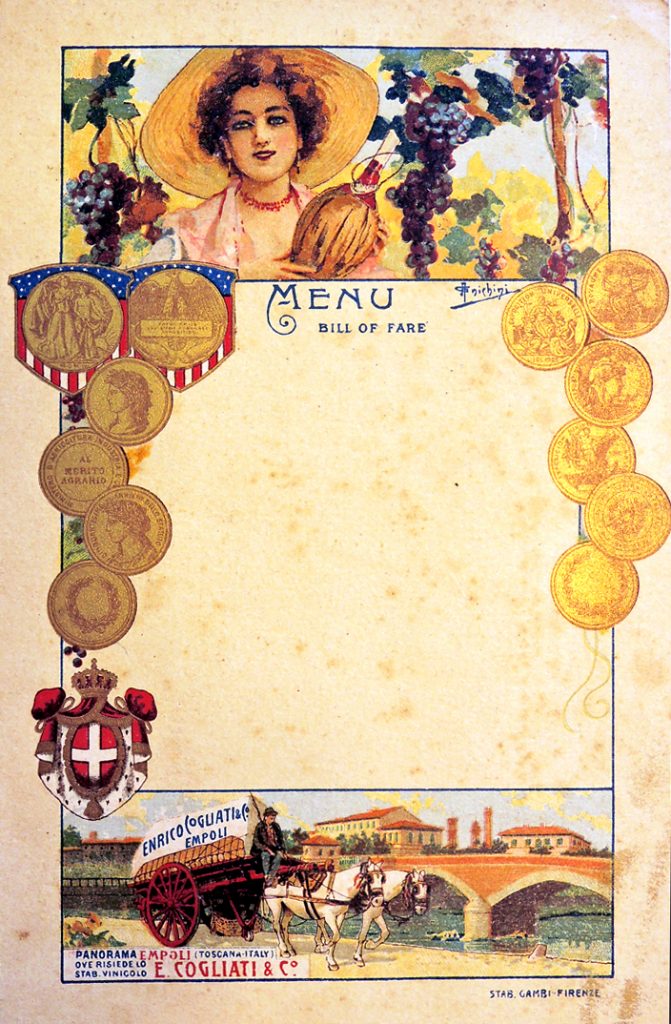 William Drenttel collection of menus, 1650-1981. Gift of William Drenttel (1953-2013). Graphic Arts Collection GC013. Sizes in inches.
1. Handwritten & color lithograph for Joseph Pelmain. French, no date. 6 x 4.5
2. Hand-colored and written menu with image of two Chinese figures holding kite (on which menu items are written), no date. 5 x 7
3. Menu for dinner by Société des Anciens Elèves des Ecoles Nationales d'Arts et Métiers, no date. One-color lithograph. 8.25 x 5.5
4. Menu for "Volontaires 1870-71" dinner at Maison Bovalet, France, no date. 10 x 6.5
5. Menu for dinner at "La Lanterne." Paris, 1881. One-color lithograph. 9 x 5.5
6. Printed menu with ornamental border for Exposition Universelle, 1889. Brown and blue ink. 8.25 x 5.25
7. Representative's card for Chocolat Frey, supplier of cocoa, (1891?). Lithographed in black & gold. 5.5 x 3.5
8. Color-lithographed and handwritten menu. French, 1893. Printed in yellow, red, green, light blue; shows two Japanese figures. 5.75 x 4.25
9. Menu for "Match International de l'Olympique" dinner at Grand-Hotel. France, 1896. Printed, blue type, with red/black Olimpique crest at top left. Gilt edges. 6.5 x 4.5
10. Menu, color lithograph and hand-written, for St. Edine (Etine?). French, 1896. 6.75 x 4.5
11. Printed color litho (blue/brown split fount, plus red type) menu for Centieme Anniversaire Du Diner de Lalsace, 1897. 9.25 x 6.75
12. Two-sided, printed menu for dinner by Association Tulousaine de Paris, 1897. 11 x 7.5
13. Menu for ocean-liner. French, 1900. Color litho; menu blank imprint: Messageries Maritimes. 9 x 6.
14. Printed menu for Restaurant Maire. Paris, 1902. Die cut, with ornamental design at top in raised silver ink; type in dark blue ink. 7.5 x 3.75
15. Printed menu for Société Archéologique dinner. Paris, 1909. With reproduced title-page engraving. 6.75 x 9
16. Printed menu. French, 1912. Card die-cut to suggest scroll forms. 7 x 4.25
17. Printed menu for Société Archéologique dinner. Paris, 1912. With reproduced engravings of Quarter de L'Opéra area of city. 11 x 8.75
18. Printed menu for Société Archéologique dinner. Paris, 1913. With reproduction of ornamental border, human figures, and center scroll formed out of handwriting model-book penstrokes. Inscribed at bottom: Daprés un Modéle d'Écriture de Coulon–coll. R. Havatte). 7.25 x 8
19. Menu for dinner at Cadou restaurant. Blois, France, 1920. Pale green with raised white ink ornamental border, and type printed in dark brown. 6.5 x 4
20. Menu for dinner at C. Jahan restaurant. Blois, France, 1920. Raised gold ink ornamental border, and type printed in black. 6.75 x 3
21. Printed menu for Société Archéologique, Historique & Artistique dinner. Paris, 1926. With reproduced engraving. 11 x 7.75
22. Printed menu for dinner of Le Coronet, Société Artistique et Litteraire, held at Maison de Centraux. Paris, 1931. Menu on front and lithograph on back. 15 x 11, folded
23. Menu for (Gameoli restaurant?). French, 1936. Handwritten onto menu blank. 8 x 3.5
24. Menu for dinner by the Académie des Psychologues du Gout, at Restaurant Tong Yen. Paris, 1963. Four-page booklet, with tipped-in color litho on front cover. 9.75 x 7
Italian Language:
25. Blank menu with color lithos of Tuscany, printed by Enrico Cogliati & Co. (wine merchants), no date. 8 x 5.25
26. Blank menu (color litho. printed by Dott. Botto Micca (liquor distributor?), Italy, no date. 13.5 x 7.0
27. Drawing for plate design, partially watercolored, no date. 9 x 12
28. Menu for Delbinari restaurant. Milan, no date. Six-page folded booklet, printed in brown and grey. 9.25 x 6.75
29. Menu for "La Mora" restaurant. Lucca, Italy, no date. Four-page folded booklet. 8 x 5.75
30. Receipt/bill-of-trade for wine 1649/50 vintage. Printed red ink on laid linen paper, with markings in pen. 4.5 x 6.25
31. Handwritten Italian menu, 1881. 12 x 8.5
32. Booklet of dinner menu with program (with booklet cover) for Musica della Legione Allieve Carabinieri, Rome, 1911. Booklet size 5.75 x 3.5
33. Menu for dinner (at Fert restaurant?), Rome, 1911. Litho, type in brown, crest at upper left in red, brown, gold, silver. 6 x 4
34. Menu for dinner at Villa Savoia, Italy, 1933. Blue ink on pale blue/green backdrop, with crest at top in raised white ink, and border in silver. 7 x 4.5
35. Menu for dinner at Villa d'Este, Italy, 1981. Four-page folded booklet, color litho on front. 7.75 x 6.25
English Language:
36. Menu blank with edges die cut, beveled, and gold-leafed, no date. 6.75 x 4.25
37. Menu for dinner by "S.S. Sado Maru." 1910. Color litho of reeds and flying fish with printed type. 7.75 x 9.75