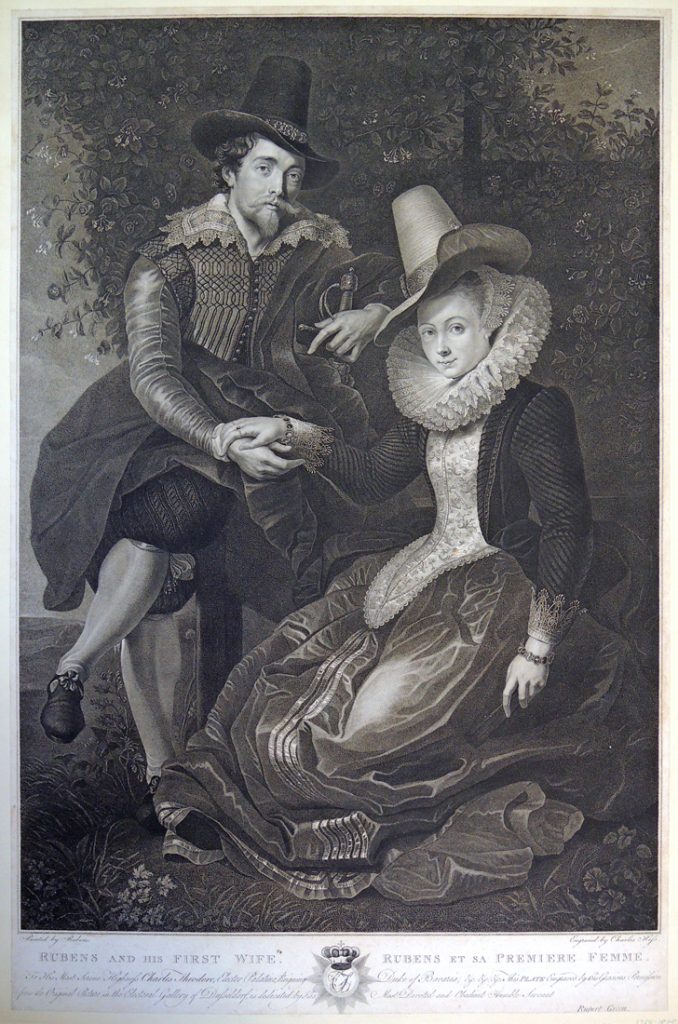 Carl Ernst Christoph Hess (1755-1828) after a painting by Peter Paul Rubens (1577-1640), Rubens et sa Premiere Femme = Rubens and his First Wife, January 1, 1796. Engraving with stipple. GC018 German Prints Collection, Gift of John Douglas Gordon, Class of 1905.
Inscribed in plate: "To the His Most Serene Highness Charles Theodore, Elector Palatin, Reigning Duke of Bavaria. This Plate Engraved by his Gracious Permission // from the Original Picture in the Electoral Gallery of Dusseldorf, is Dedicated by His Most Devoted & Obedient Humble Servant // Rupert."
The print is engraved after Rubens's self-portrait with his first wife in the Alte Pinakothek, Munich, 1609-10. In 1609, around the age of 32, Rubens married Isabella Brant, daughter of the humanist and lawyer Jan Brant. They exemplify new love, posed contentedly in a bucolic setting. Isabella died in 1626 and after traveling for several years, Rubens married again, this time to Helena Fourment.