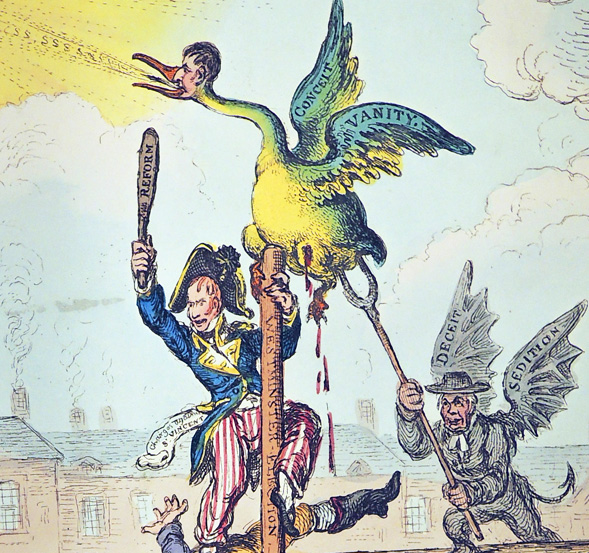 James Gillray (1756-1815), Election Candidates, Or the Republican Goose at the Top of the Pol(l)e. —the Devil Helping Behind! vide Mr. Paull's Letter, article Home Tooke. Also an exact representation of Sawney M'Cockran (Lord Cochrane) flourishing the Cudgel of Naval Reform, lent him by Cobbett, and mounting triumphantly over a small Beer Barrel, together with an old Drury Lane Harlequin trying in vain to make a spring to the top of the pole, and slipping down again; and lastly, poor Little Paull, the Tailor done over! wounded by a Goose, and not a leg to stand on. May 20, 1807. Etching with hand color. Gift of Dickson Q. Brown, Class of 1895. Graphic Arts Collection GA 2006.01406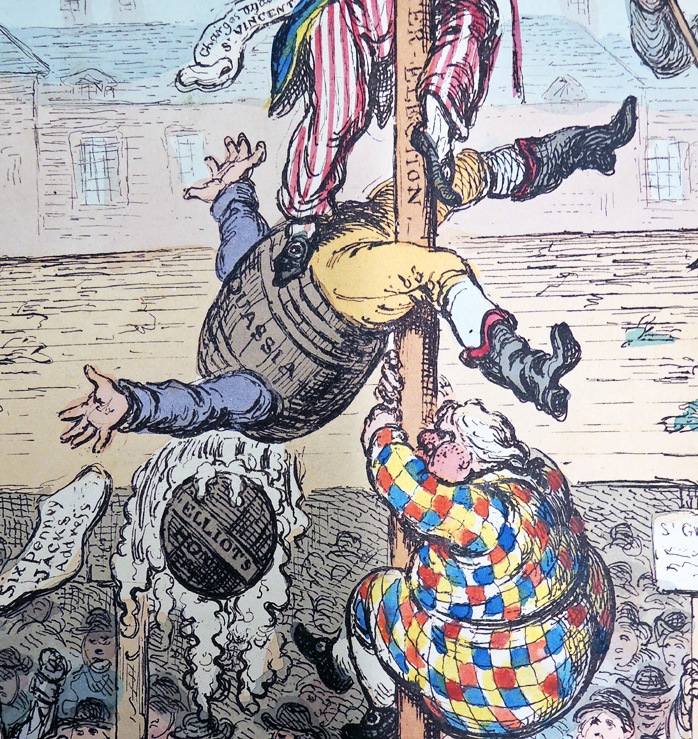 In this caricature, Gillray presents the five candidates for the Westminster election of 1807. The goose at the top of the election pole (poll) is the Republican Sir Francis Burdett (1770-1844) seen with a wounded leg but still in the winning position. This is one of at least seven caricatures that relate Burdett with a goose.
Beneath him is Lord Thomas Cochrane (1775-1860) with a 'Reform' club. The three losers at the bottom of the pole are the Tory John Elliot (active 19th century), Richard Brinsley Sheridan (1751-1816), and finally James Paull (1770-1808). The writer John Horne Tooke (1736-1812) is represented as a Devil who supports Burdett with his pitchfork.
"[Tooke] was the only man in England to be imprisoned for supporting the American Revolution; his enthusiasm for the French Revolution landed him in court; he was a principal agitator for parliamentary reform . . . . He was a close associate of the greatest radicals of the time, including Burdett, Godwin and Tom Paine, and an unrivalled polemicist and brilliant conversationalist." Christina Bewley, Gentleman Radical: Life of John Horne Tooke, 1736-1812 (DA506.T6 B49 1998)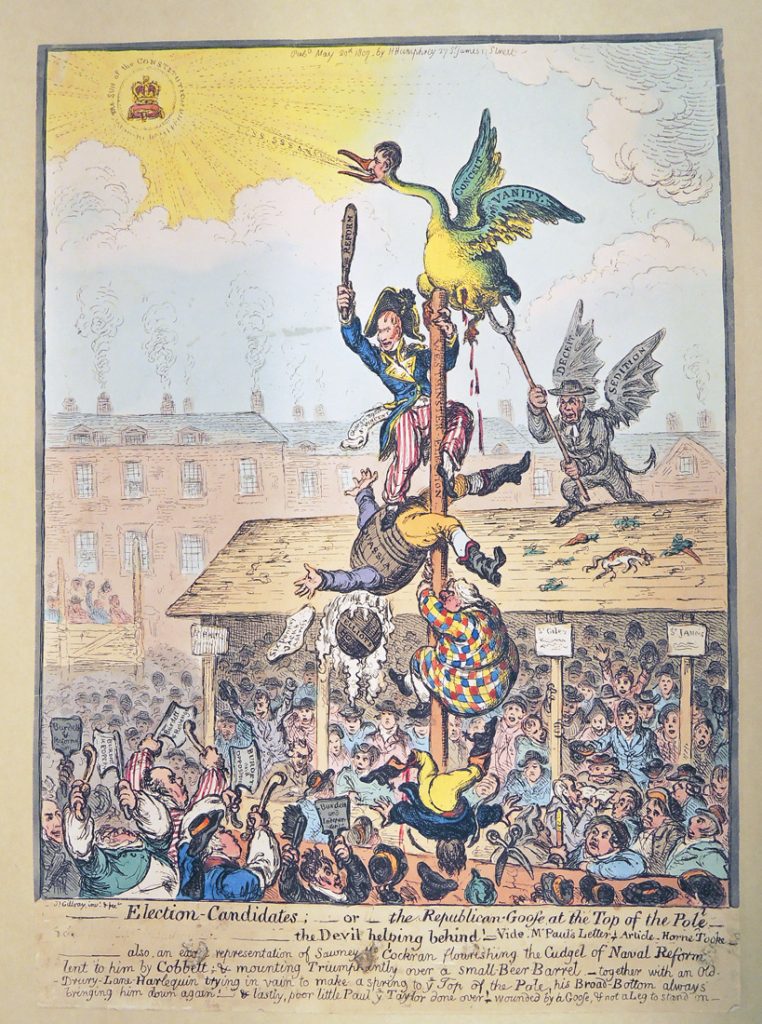 Gillray locates the scene at the husting or meeting at which the candidates address the voting public at Covent Garden. The election results: Burdett 5,134, Cochrane 3,708, Sheridan 2,645, Elliott 2,137, and Paull 269 (who withdrew on 13 May). The new parliament assembled on Friday, June 26, 1807.