"You objects that call from diffusion my meanings and give them shape! . . . you are dear to me."—Walt Whitman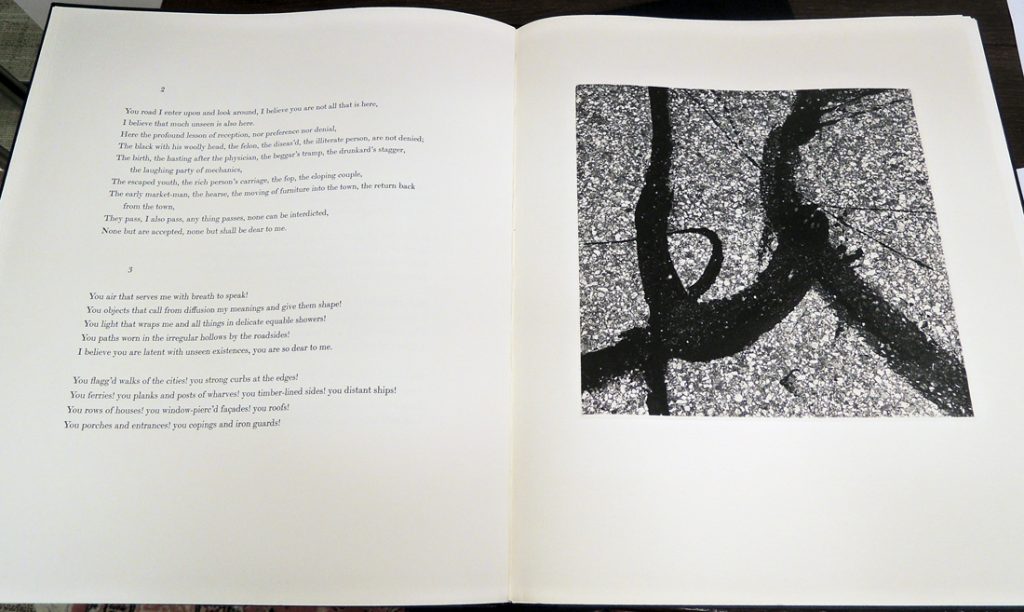 Sidney Shiff (1924-2010) acquired the Limited Editions Club (LEC) from Cardavon Press in 1978. He soon became known for the prominent artists he convinced to work on his books, including Jacob Lawrence, Henri Cartier-Bresson, Elizabeth Catlett, Francesco Clemente, Ellsworth Kelly, Sean Scully, and in 1990, Aaron Siskind.
Siskind was 86 years old when he agreed to collaborate on a LEC volume with Shiff. Having once aspired to be a poet himself, Siskind chose Whitman from Shiff's list suggested authors, just as Edward Weston did for his LEC volume in 1942.
To complete the commission, Siskind walked outside his Providence, Rhode Island home and photographed the tar recently poured into the cracks of the local concrete road. Six of his detailed negatives were transferred to copper plates by Paul Taylor and printed as intaglio prints by Clary Nelson to Renaissance Press.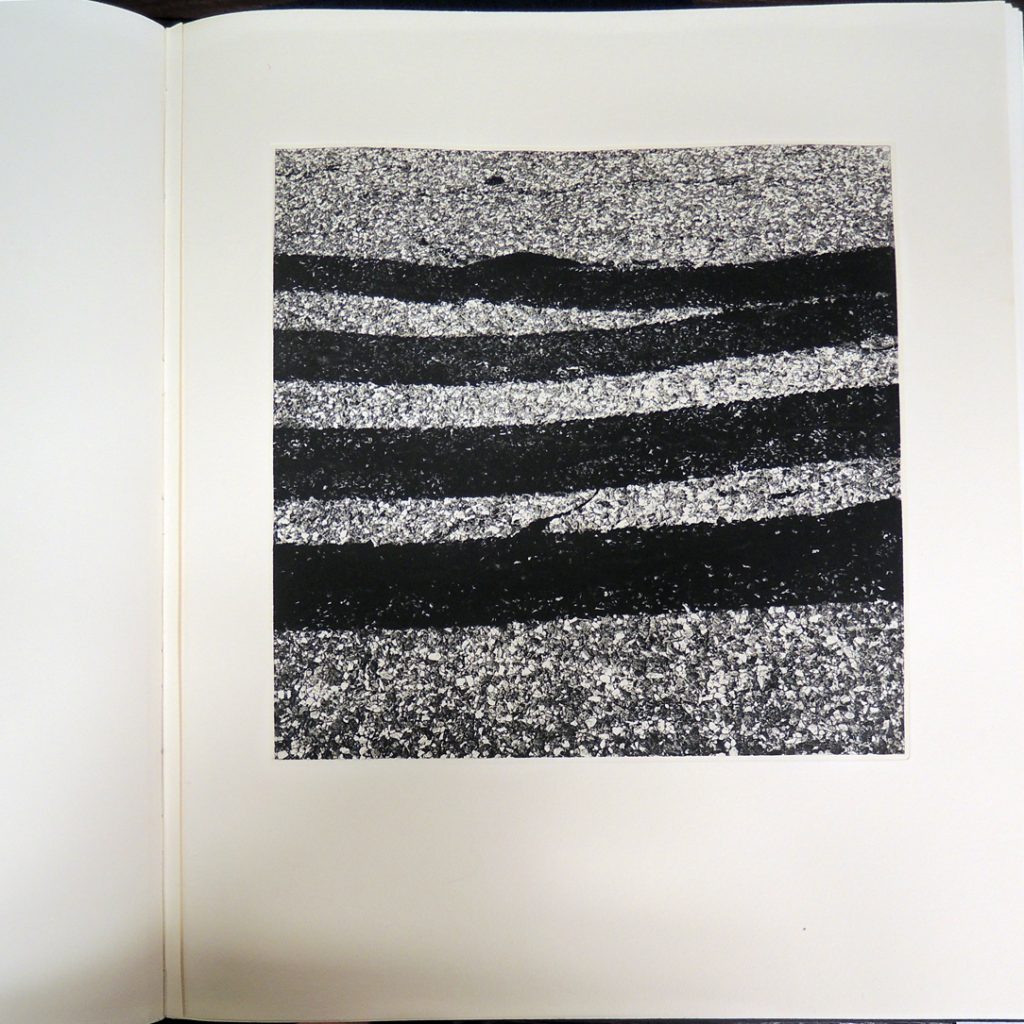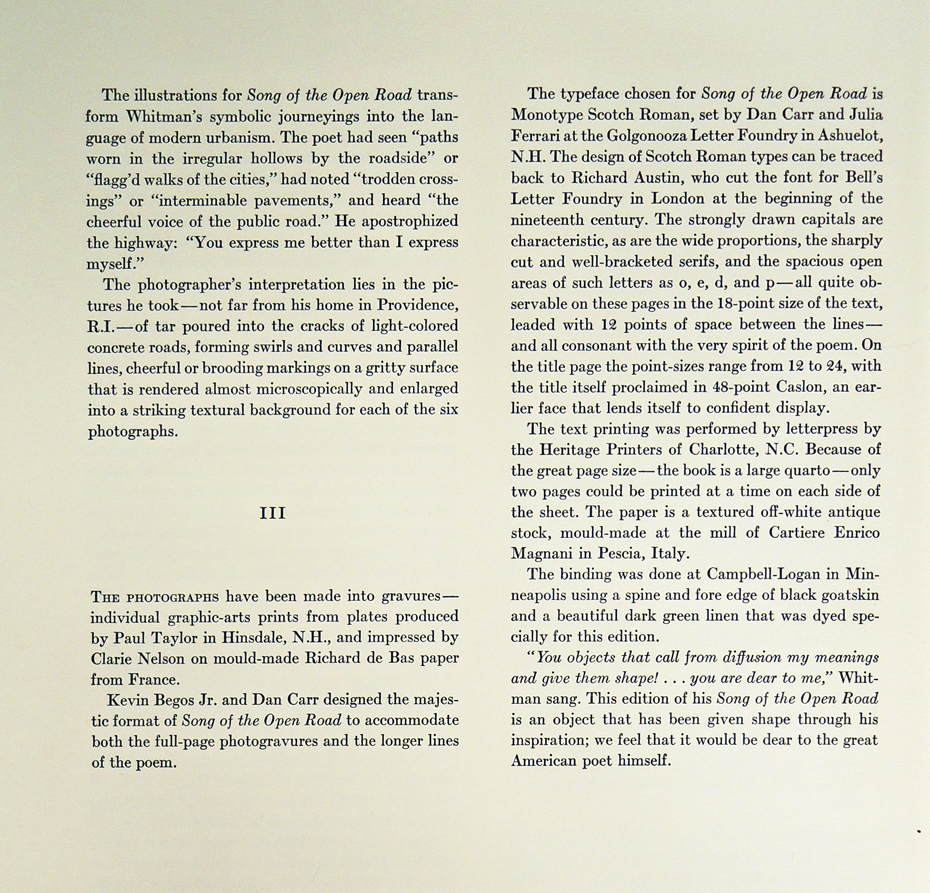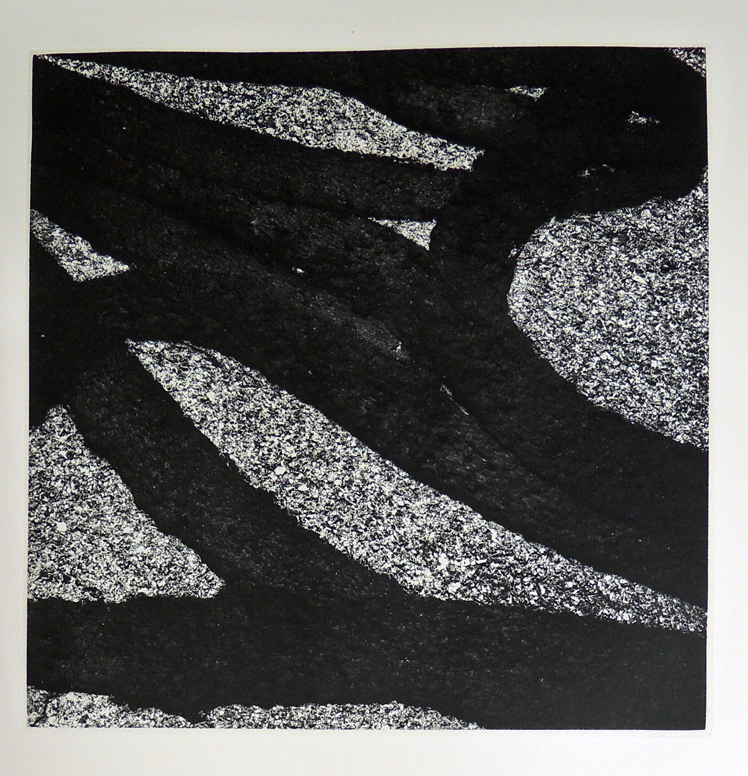 Walt Whitman (1819-1892) and Aaron Siskind (1903-1991), Song of the Open Road (New York: Limited Editions Club; printed by Paul Taylor, 1990). Letterpress with six photogravures. Designed by Kevin Begos Jr. and Dan Carr. Setin English Monotype Scotch at Golgonooza Letter Foundry by Julia Ferrari and Dan Carr. The text was printed by Heritage Printers on a paper made at Carterie Enrico Magnani. Edition: 89/550. Graphic Arts Collection 2016- in process
Song of the Open Road
By Walt Whitman
3. You air that serves me with breath to speak!
You objects that call from diffusion my meanings and give them shape!
You light that wraps me and all things in delicate equable showers!
You paths worn in the irregular hollows by the roadsides!
I believe you are latent with unseen existences, you are so dear to me.
You flagg'd walks of the cities! you strong curbs at the edges!
You ferries! you planks and posts of wharves! you timber-lined sides! you distant ships!
You rows of houses! you window-pierc'd façades! you roofs!
You porches and entrances! you copings and iron guards!
You windows whose transparent shells might expose so much!
You doors and ascending steps! you arches!
You gray stones of interminable pavements! you trodden crossings!
From all that has touch'd you I believe you have imparted to yourselves, and now would impart the same secretly to me,
From the living and the dead you have peopled your impassive surfaces, and the spirits thereof would be evident and amicable with me.