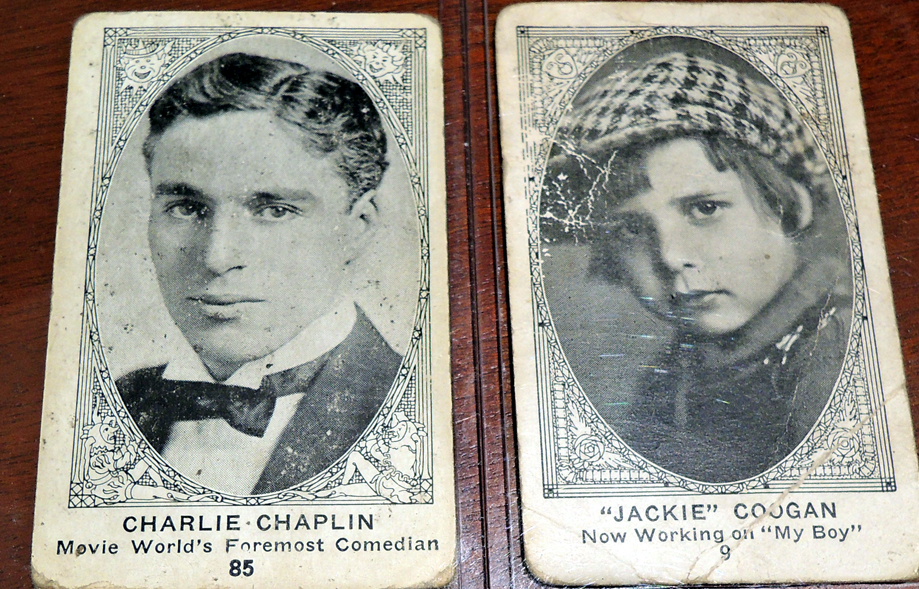 American Caramel Company. Trade cards featuring actors and actresses of the silent film era (Lancaster and York, PA: American Caramel Company, [1921]). 120 photolithographic cards. Graphic Arts Collection 2016- in process
The Graphic Arts Collection holds a collection of printed candy wrappers, begun as a joke by Princeton University students: https://blogs.princeton.edu/graphicarts/2008/11/graphic_candy.html. Since then, we continue to add to the collection, such as cookie trading cards from the LU company:  https://blogs.princeton.edu/graphicarts/2008/09/who_likes_our_biscuits.html
We recently acquired actor trading cards distributed with caramels.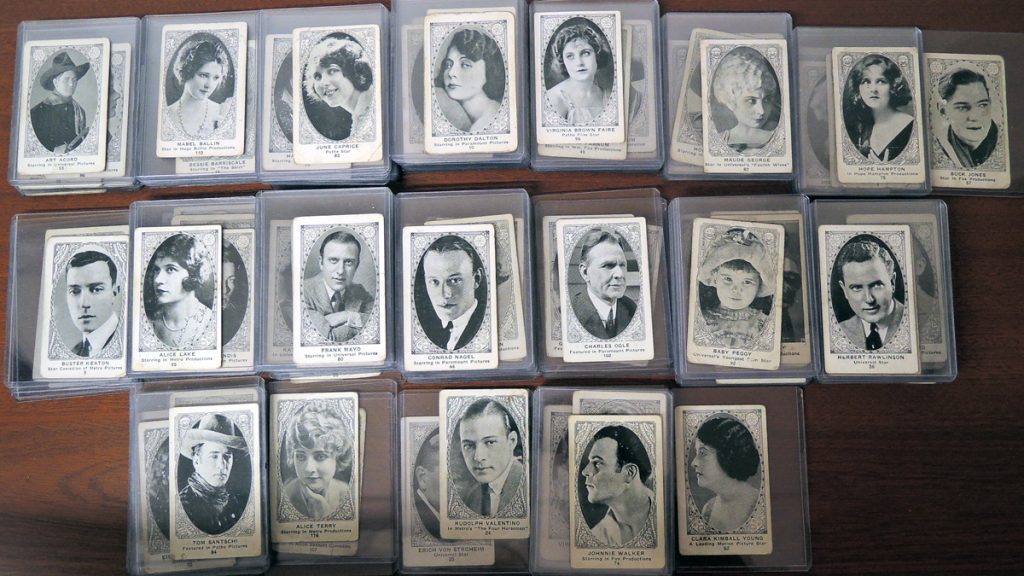 According to the Hershey Community Archives, "Milton Hershey started the Lancaster Caramel Company in 1886 after he returned to Lancaster, Pennsylvania following the failure of his New York City candy business. The Lancaster business would be his third confectionery venture. . . . When Milton Hershey sold the Lancaster Caramel Company on August 10, 1900 to the American Caramel Company for $1 million, he retained the rights to the Hershey Chocolate Company."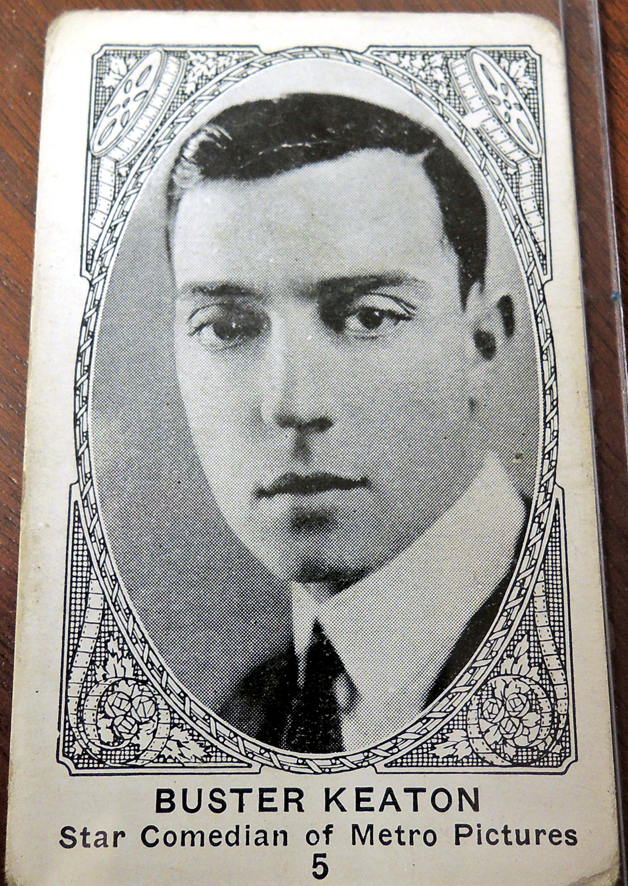 In the 1920s, the American Caramel Company manufactured sets of photolithographic trade cards with collectable portraits of actors and actresses. Information about the current projects and studio are also included. Anyone who bought a caramel, also received a trade card. The more caramels you bought, the closer you got to acquiring a whole set.
The set was issued twice, one in a set of 80 cards and another in a set of 120. The set of 120 cards includes the same portraits as the set of 80 with 40 additional images. Unfortunately, we do not have the 15 cent album to hold our set.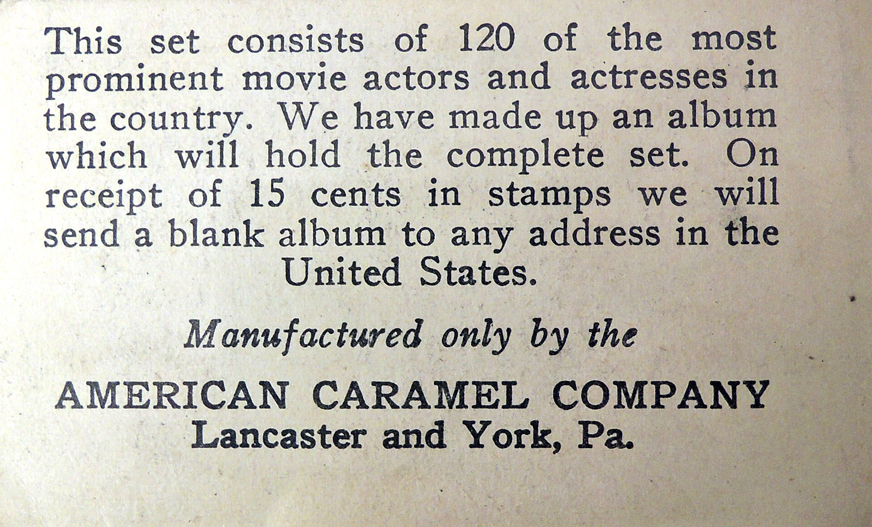 Here's a list of the actors and actresses:
1. William S. Hart; 2. Anita Stewart; 3. Wesley Barry; 4. Geraldine Farrar; 5. Buster Keaton; 6. May Allison; 7. Will Rogers; 8. Pearl White; 9. Jackie Coogan; 10. Dorothy Dalton; 11. Tom Moore; 12. Shirley Mason; 13. Theodore Roberts; 14. Eva Novak; 15. Thomas Meighan; 16. Bessie Barriscale; 17. George Beban; 18. Kathlyn Williams; 19. Mabel Normand; 20. Sessue Hayakawa; 21. Colleen Moore; 22. Jack W. Kerrigan; 23. Mary Alden; 24. Rudolph Valentino; 25. Priscilla Dean; 26. Wallace Reid; 27. Gladys Walton; 28. Pauline Frederick; 29. Irene Castle; 30. Bert Lytell; 31. Rubye De Remer; 32. Lois Weber; 33. Marshall Neilan; 34. Irene Rich; 35. Eileen Sedgwick; 36. Herbert Rawlinson; 37. Max Graf; 38. Erich Von Stroheim; 39. Texas Guinan; 40. William Russell; 41. Jack Holt; 42. Marie Prevost; 43. Eddie Polo; 44. Conrad Nagel; 45. Viola Dana; 46. Renee Adoree; 47. Hoot Gibson; 48. Agnes Ayres; 49. William Farnum; 50. Edna Murphy; 51. David Powell; 52. Clara Kimball Young; 53. Art Acord; 54. Ethel Clayton; 55. Harry Carey; 56. Betty Compson; 57. Buck Jones; 58. Helene Chadwick; 59. Elliott Dexter; 60. Ann Forrest; 61. Monte Blue; 62. Eileen Percy; 63. Dustin Farnum; 64. Miss Du Pont; 65. Lila Lee; 66. Jack Gilbert; 67. Hazel Daly; 68. Doris Kenyon; 69. James Kirkwood; 70. Lois Wilson; 71. Nell Shipman; 72. Naomi Childers; 73. Richard Dix; 74. Johnnie Walker; 75. Hope Hampton; 76. Tom Mix; 77. John Bowers; 78. Gloria Swanson; 79. Cullen Landis; 80. Frank Mayo; 81. Mae Busch; 82. Maude George; 83. June Caprice; 84. Tom Santschi; 85. Charlie Chaplin; 86. William De Mille; 87. Harold Lloyd; 88. Robert McKim; 89. Harry "Snub" Pollard; 90. Claire Adams; 91. Katherine Spencer; 92. Baby Peggy; 93. Mildred Davis; 94. Josephine Hill; 95. Alice Lake; 96. Virginia Brown Faire; 97. Nazimova; 98. Louise Lorraine; 99. Kathleen Meyers; 100. Gertrude Olmsted; 101. Elmo Lincoln; 102. Charles Ogle; 103. Pat O'Malley; 104. Jack Perrin; 105. Lee Moran; 106. Milton Sills; 107. Ben Turpin; 108. Cecil B De Mille; 109. Marcella Pershing; 110. Mabel Ballin; 111. Betty Ross Clarke; 112. Anna Q Nilsson; 113. Ina Claire; 114. Marie Mosquini; 115. Pola Negri; 116. Alice Terry; 117. Ruth Roland; 118. Virginia Warwick; 119. Mary Astor; 120. Mary Philbin; 121. Billie Dove; 122. Jack Mulhall; 123. Martha Mansfield; 124. Gareth Hughes; 125. Myrtle Lind; 126. Conrad Nagel; 127. Jane Novak; 128. Clarence Burton; 129. Mary Jane Sanderson; 130. George Larkin; 131. Dorothy Phillips; 132. Eugene O'Brien; 133. Mabel Juliene Scott; 134. Walter Hiers; 135. Mary Glynn; 136. Carl Gantvoort; 137. Constance Binney; 138. William Boyd; 139. Marguerite Courtot; 140. May McAvoy