The Graphic Arts Collection is fortunate to have acquired a mid-nineteenth century illustrated folding Funeral Book/Book of Merit containing a collection of Buddhist texts in Pali and Thai languages, in Khmer (Cambodian) script. Executed in watercolor, gilt, and ink, the stories include the legend of Phra Mali and the Ten Birth Tales. Although it is not dated, this wonderful volume is likely from Central Thailand between 1850 and  1900.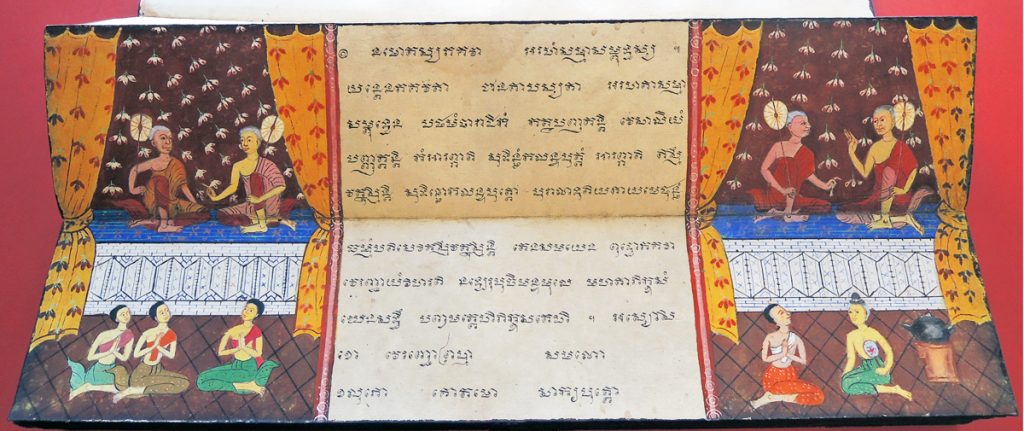 This large folding leporello of heavy paper (probably made from mulberry bark) is comprised of 48 leaves penned in a single neat hand in Khmer script and completed on both recto and verso. The work includes 17 paintings: 8 pairs of vibrant watercolors, several embellished with gilt, and one full double-page panel depicting scenes in Hell.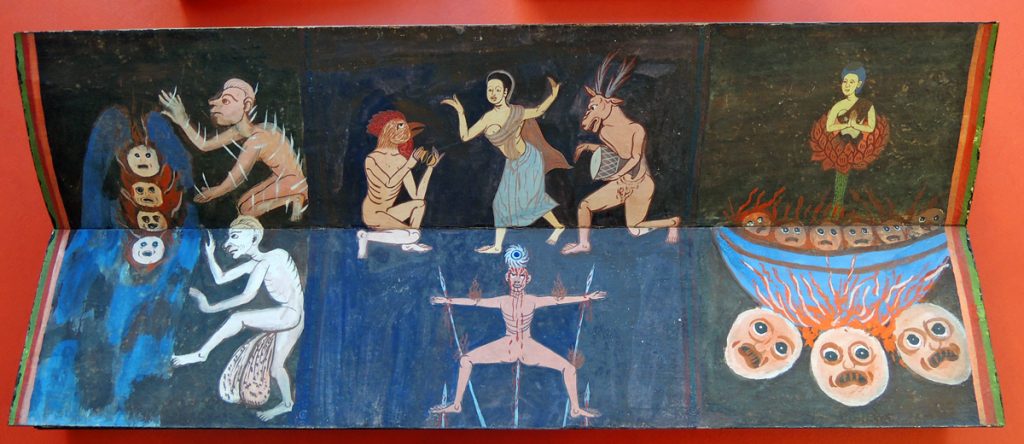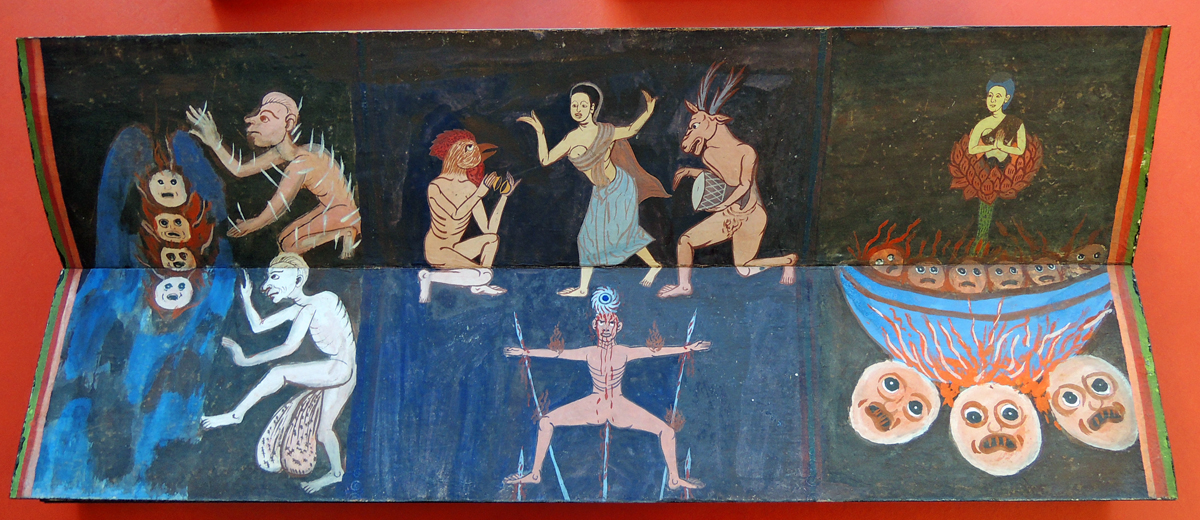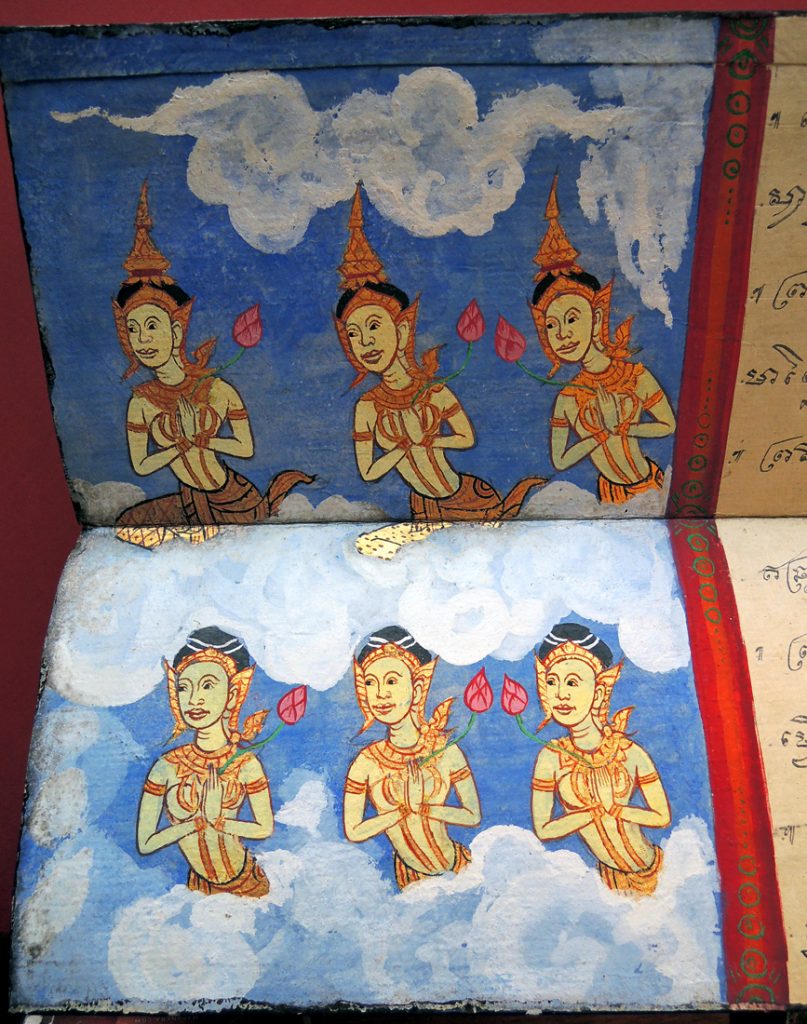 The British Library online notes: "The production of illustrated folding books ranks as one of Thailand's greatest cultural achievements. They were produced for different purposes in Buddhist monasteries and at the royal and local courts, as well. First of all, such books served as teaching material and handbooks for Buddhist monks and novices. Classical Buddhist literature, prayers (Sutras) and moral teachings were also read to the lay people during religious ceremonies. The production of folding books-–and even sponsoring their production–was regarded as a great act of merit making. Therefore, folding books quite often are a kind of "Festschrift" in honour of a deceased person."
http://www.bl.uk/onlinegallery/onlineex/remarkmanu/thai/index.html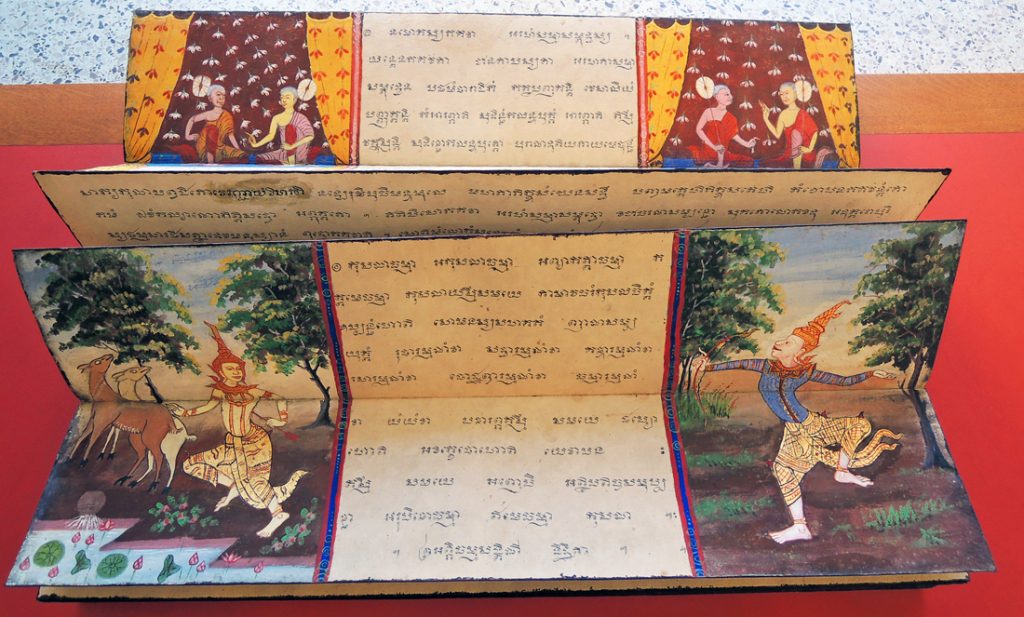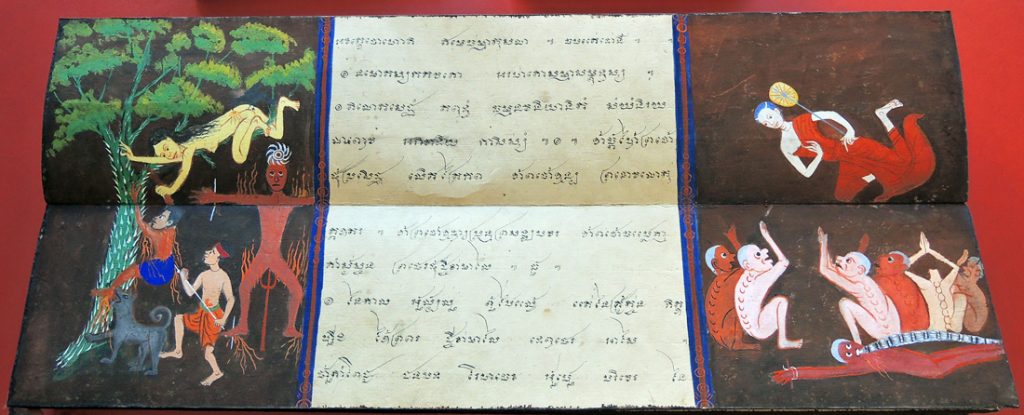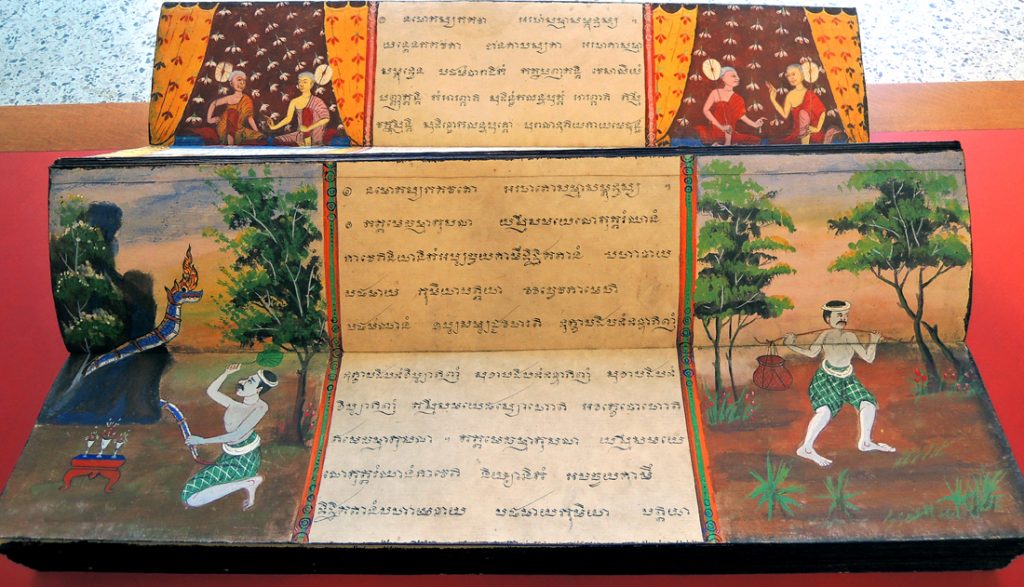 Thanks to the assistance of Deborah Cotham and Dr Jana Igunma at the British library, we believe that the present example is one such funeral book, most probably completed by one scribe in Khmer script, though the language of the text is a mixture of Pali and Thai. I quote their notes in full:
The first part of the manuscript refers to the ten qualities of the Buddha, which are usually illustrated by the Buddha's last Ten Birth Tales (Thai thotsachat). This section would be written in Pali, the language of the Buddhist canon. Funeral books were often commissioned by family members in order to make merit on behalf of the deceased person and to ensure that their family would not end up in hell, but be reborn in one of the Buddhist heavens. Thus the manuscript also includes the legend of Phra Malai, the famous Buddhist Saint, who traveled to the Buddhist heavens and hells.

During his visits to hell (naraka), Phra Malai was said to bestow mercy on the creatures suffering there, and who implore him to warn their relatives on earth of the horrors of hell and how they can escape it through making merit on behalf of the deceased, meditation and by following Buddhist precepts. Indeed, one of the most striking of the illustrations found in the present example, is the double-page depiction of the horrors of hell. Most of the text is in black ink on thick paper, most probably made from the bark of the khoi tree (streblus asper).

The first part in particular, has been accurately and quite beautifully penned and with great care taken, suggesting the work of a skilled scribe. It is impossible to say whether he also illustrated the work, although academics believe that they were more often the work of a different artist. A number of the vibrant illustrations have been embellished with in gilt, which further added value and prestige to such manuscripts, and a way of earning further merit on behalf of the deceased. In this instance, some of the images appear to have been influenced by Western painting techniques, suggesting that the painter may have been a student experimenting with new styles and techniques.

The legend of Phra Malai, a Buddhist monk of the Theravada tradition said to have attained supernatural powers through his accumulated merit and meditation, is the main text in a nineteenth-century Thai folding books (samut khoi). He figures prominently in Thai art, religious treatises, and rituals associated with the afterlife, and the story is one of the most popular subjects of nineteenth-century illustrated Thai manuscripts.
Thanks to Martin Heijdra, Ph. D. 何義壯, Director, East Asian Library, for his help with this acquisition.
For further information see Henry Ginsburg, Thai Art and Culture. Historic manuscripts from Western Collections (London: British Library, 2000).