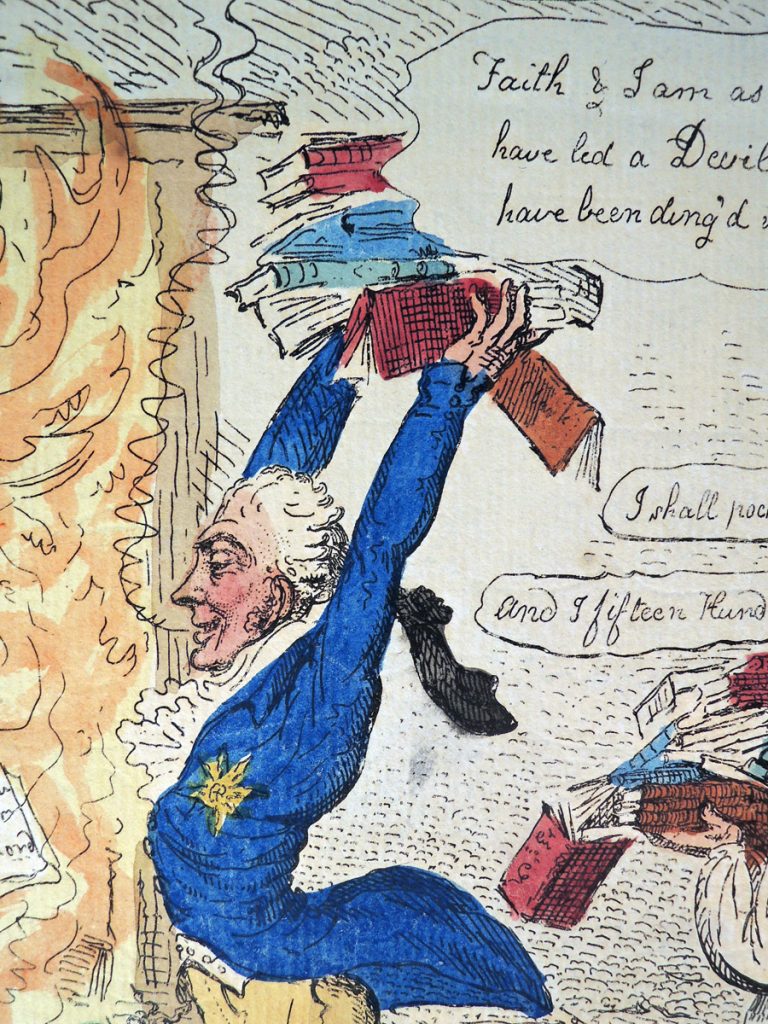 As he tosses books into the flames, the Prince of Wales says, "Echod this is a fine Stroke, my observations on the Family & Letters, all burned, John Bull will still be left in the Dark, & he must pay for it at last." The Duke of Portland (seen here) replies, "And the Duchess will think me as Chaste as Joseph—So much for my Darling."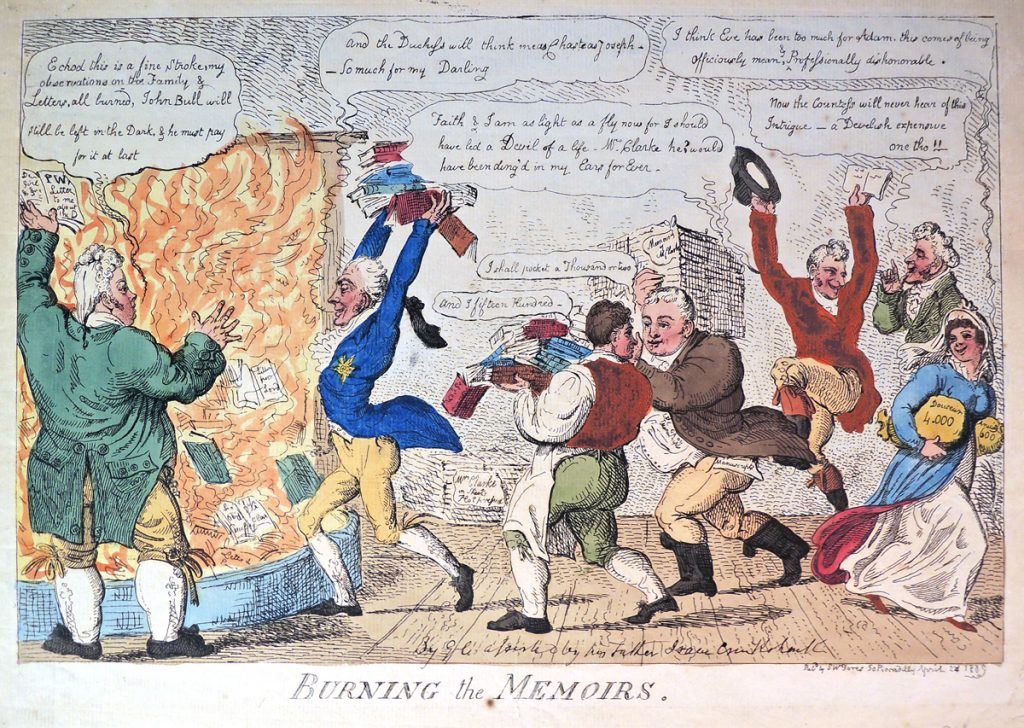 Isaac and George Cruikshank, Burning the Memoirs, April 24, 1809. Etching with hand coloring. Graphic Arts Collection GC022 Cruikshank
Beginning in 1803, actress Mary Anne Clarke (1776-1852) became the mistress of Frederick Augustus, Prince, Duke of York and Albany (1763-1827), the second son of King George III. Although he provided a mansion and generous allowance, she wanted more.
Clarke used her influence with Frederick (who was Commander-in-Chief of the British Army) to obtain promotions for anyone who paid her price. In January 1809, the scheme was made public and by March, Frederick was forced to resign.
Isaac Cruikshank and his 16-year-old son George worked together to caricature Mary Anne and Frederick, publishing their print on April 24, 1809. Thomas Rowlandson beat them by a few days, with two caricatures: Burning the Books, on April 21, and A Piece Offering!! on April 22. The Graphic Arts Collection holds at least 32 prints on the controversy.
Clarke, seen at the far right, was paid a large sum to keep her diaries secret but in the end, could not keep quiet.
This scandalous case raised a cloud of pamphlets, some of which are very amusing, and most of them full of falsehoods; but the most curious of all was Mrs. Clarke's own book, 'The Rival Princes,' in which she freely discussed the attitude towards each other of the Dukes of York and Kent, and attacked the leaders of the party who had brought on the investigation, especially Wardle, M.P. for Salisbury, and Lord Folkestone. This work was answered by two of much weaker character, The Rival Dukes, or Who is the Dupe? and The Rival Queens, or What is the Reason? by P. L. McCallum, a spy upon Mrs. Clarke, who prided himself on being the real author of the investigation. – Henry Morse Stephens for the Dictionary of National Biography
See also: A Letter to Mrs. Clarke: on her Late Connection with the Duke of York, and the charges preferred against His Royal Highness by G. L. Wardle, Esq. by a Friend to Church and State (London: Printed for and published by J. Bell …, 1809). Rare Books 14463.999 v.27
Mary Anne Clarke (1776-1852), The Rival Princes ; or, A Faithful Narrative of Facts, relating to Mrs. M.A. Clarke's political acquaintance with Colonel Wardle, Major Dodd, &c. &c. &c., who were concerned in the charges against the Duke of York (London: printed for the author, and published by C. Chapple, 1810). Firestone 14463.361.25