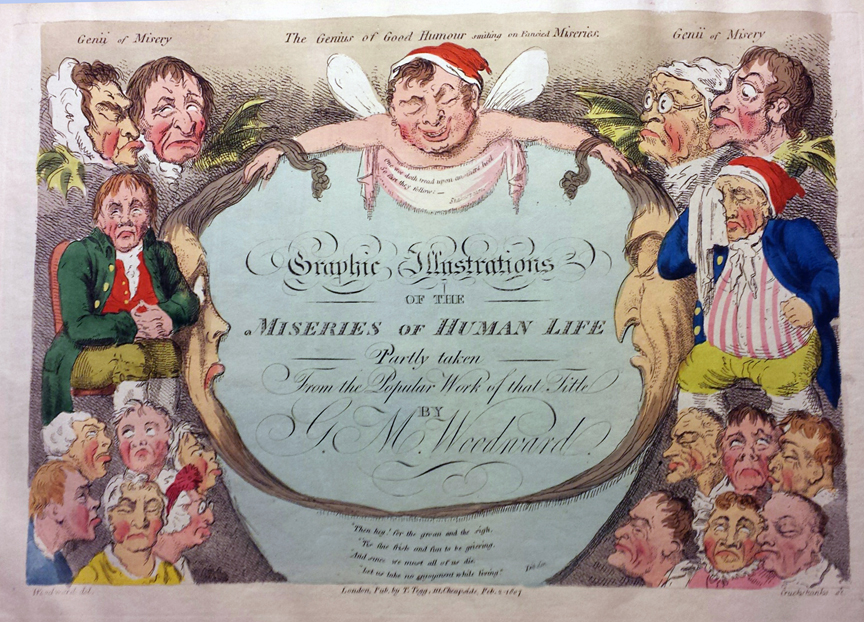 One of the rarest items of British caricature can only be found with a visit to the New York Public Library's outstanding Arents collection (under the book division, not prints). Although many collections, including Princeton's, hold various prints around the popular book Miseries of Human Life drawn by Rowlandson, Gillray, Cruikshank and other lesser known artists, only NYPL holds the entire set of prints and wrappers for the series commissioned by Thomas Tegg from the artist George Woodward.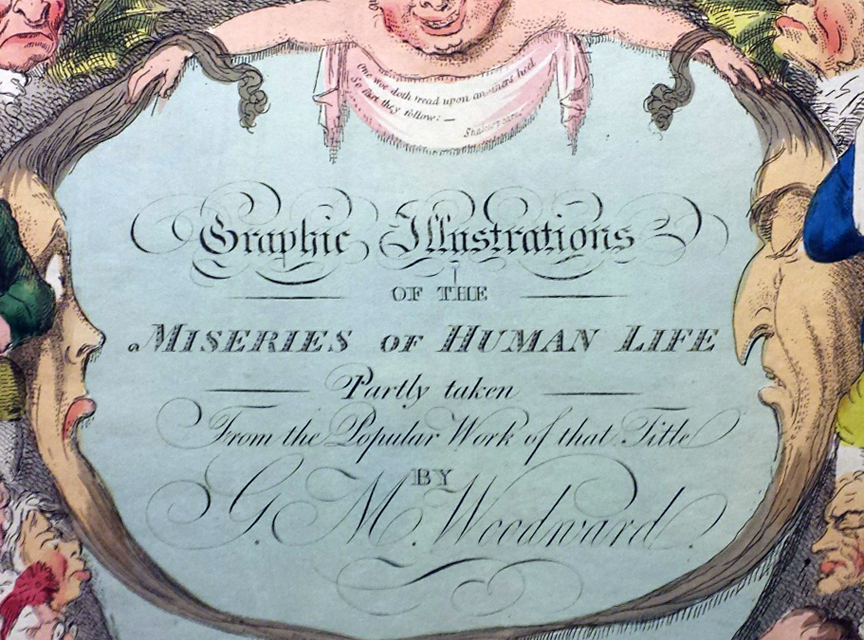 Isaac Cruikshank transferred Woodward's drawings to copper plates and printed them on a biweekly schedule until the entire set was published. Dull blue paper wrapper open to a surprisingly bright and complex title page, finally explaining a project that has never been fully described in collections worldwide.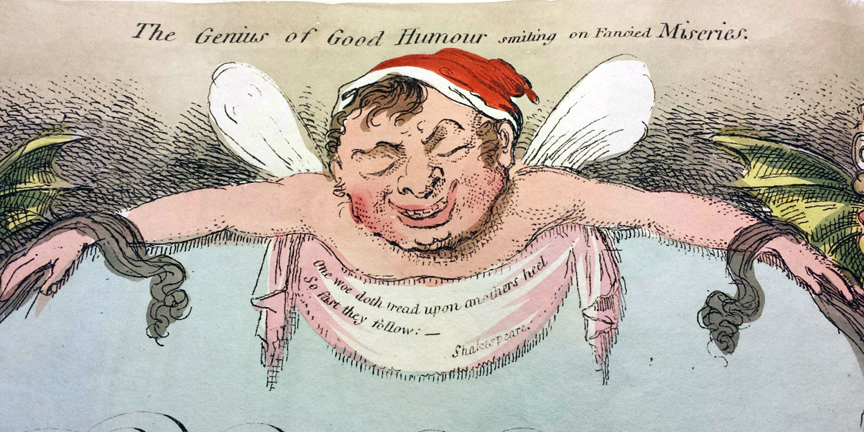 Queen Gertrude: "One woe doth tread upon another's heel, So fast they follow; your sister's drown'd, Laertes." —The Tragedy of Hamlet by William Shakespeare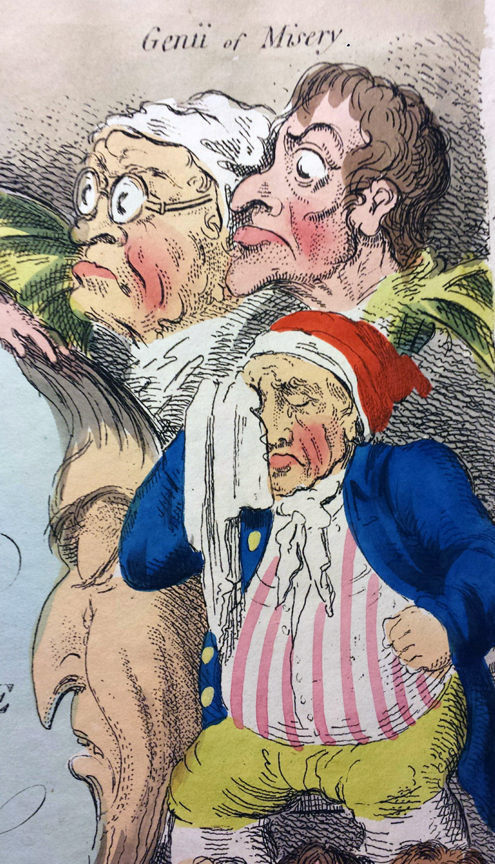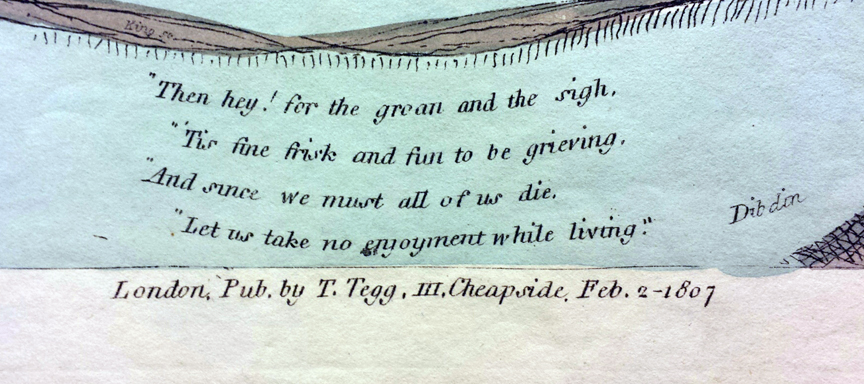 "Then hey! for the groan and the sigh. / 'Tis fine frisk and fun to be grieving. / And since we must all of us die. / Let us take no enjoyment while living." –Charles Dibdin "Sound Argument" from The Wags, 1791.
Isaac Cruikshank (1756?-1811?) after designs by George Moutard Woodward (1760-1809), Graphic Illustrations of The Miseries of Human Life: Partly Taken from the Popular Work of that Title [by James Beresford (1764-1840] (London: T. Tegg, 1807). 3 parts ([6] leaves): all illustrations; 28 x 43 cm. Each part (no.) in the original slate blue paper covers, as issued biweekly. Publisher's advertisements on p. [4] of covers of parts. Engraved t.p. in pt. 1, dated Feb. 2, 1807. "To be published regularly every fortnight … until completed"–Covers of parts.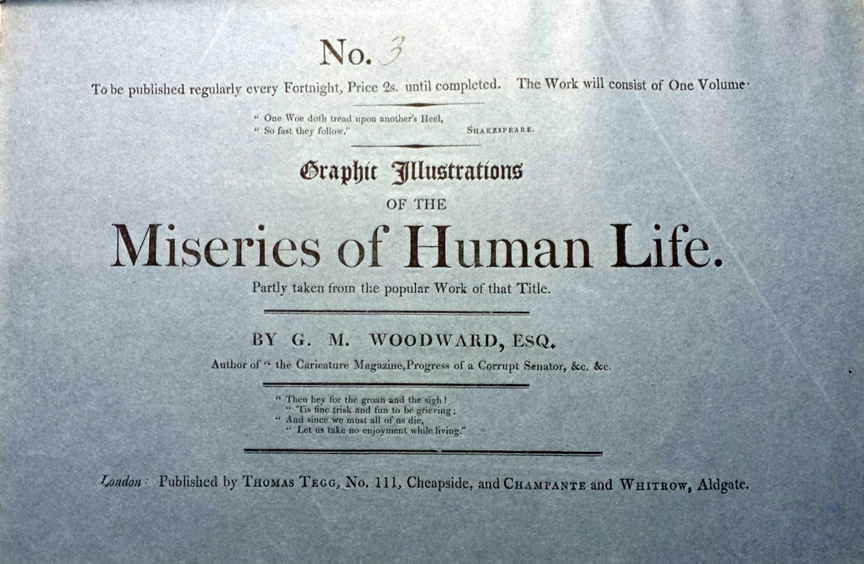 Thanks to the NYPL staff for their help. https://digitalcollections.nypl.org/divisions/george-arents-collection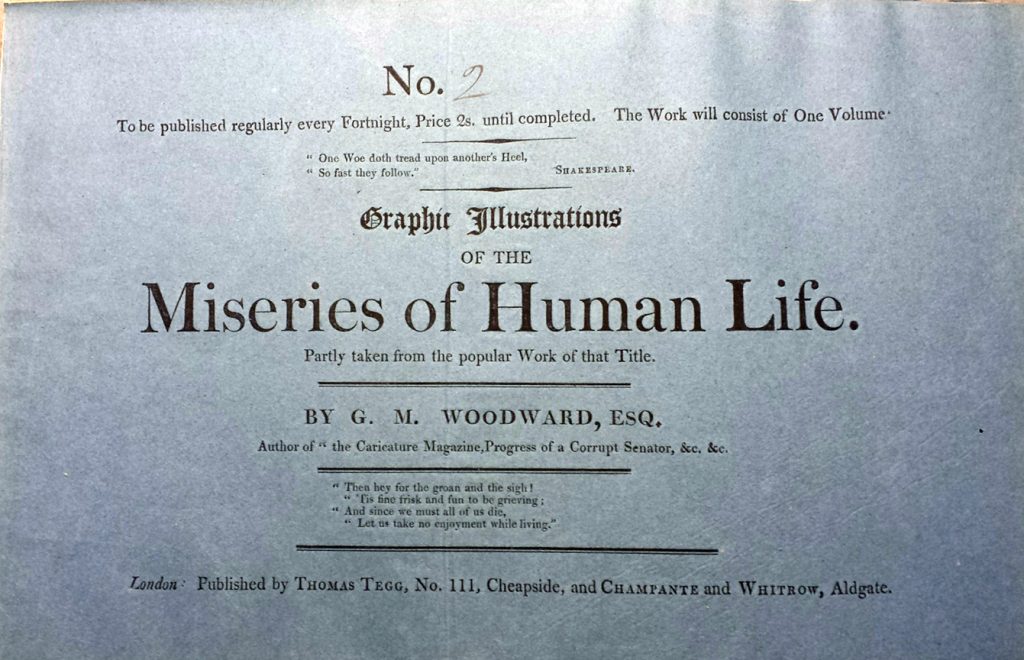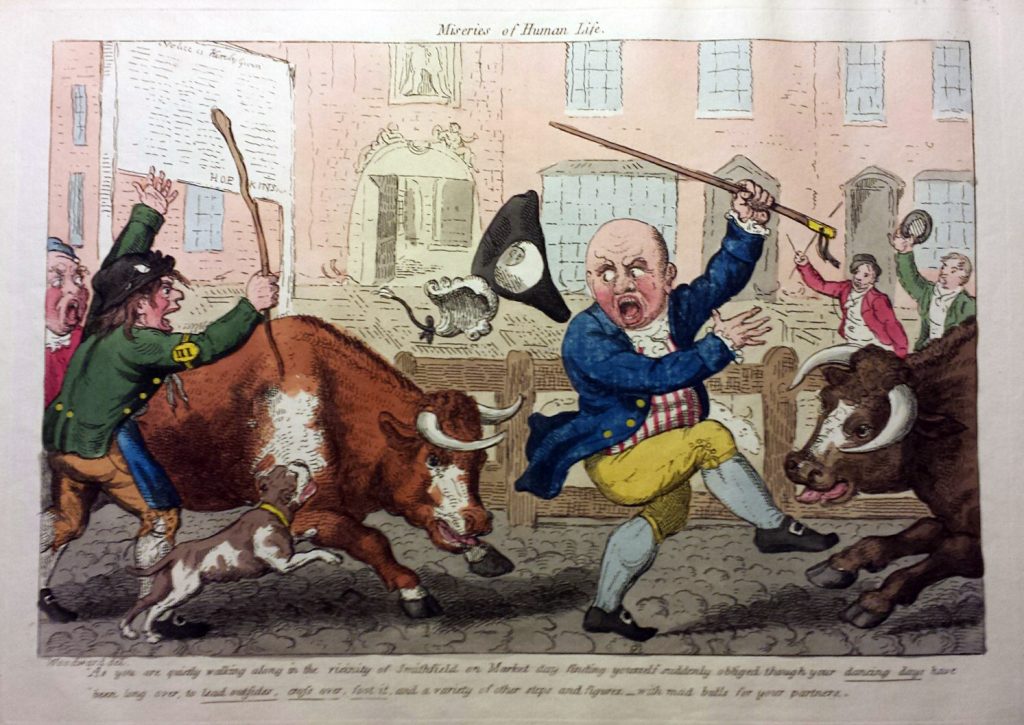 Sound Argument by Charles Dibdin
We bipeds, made up of frail clay,
Alas! are but children of sorrow;
And though brisk and merry to-day,
We all may be wreathed to-morrow, —
For sunshine's succeeded by rain:
Then, fearful of life's stormy weather,
lest pleasure should only bring pain,
Let us all be unhappy together.
I grant, the best blessing we know
Is a friend—for true friendship's a treasure;
And yet, lest your friend prove a foe,
Oh taste not the dangerous pleasure:
Thus friendship's a flimsy affair;
Thus riches and health are a bubble;
Thus there's nothing delightful but care,
Nor anything pleasing but trouble.
If a mortal would point out that life
Which on earth would be nearest to heaven,
Let him, thanking his stars, choose a wife
To whom truth and honour are given:
But honour and truth are so rare,
And horns, when they're cutting, so tingle,
That, with all my respect for the fair,
I'd advise him to sigh and live single.
It appears, from these premises, plain
That wisdom is nothing but folly,
That pleasure's a term that means pain,
And that joy is your true melancholy;
That all those who laugh ought to err,
That 'tis fine frisk and fun to be grieving,
And that since we must all of us die,
We should take no enjoyment while living.