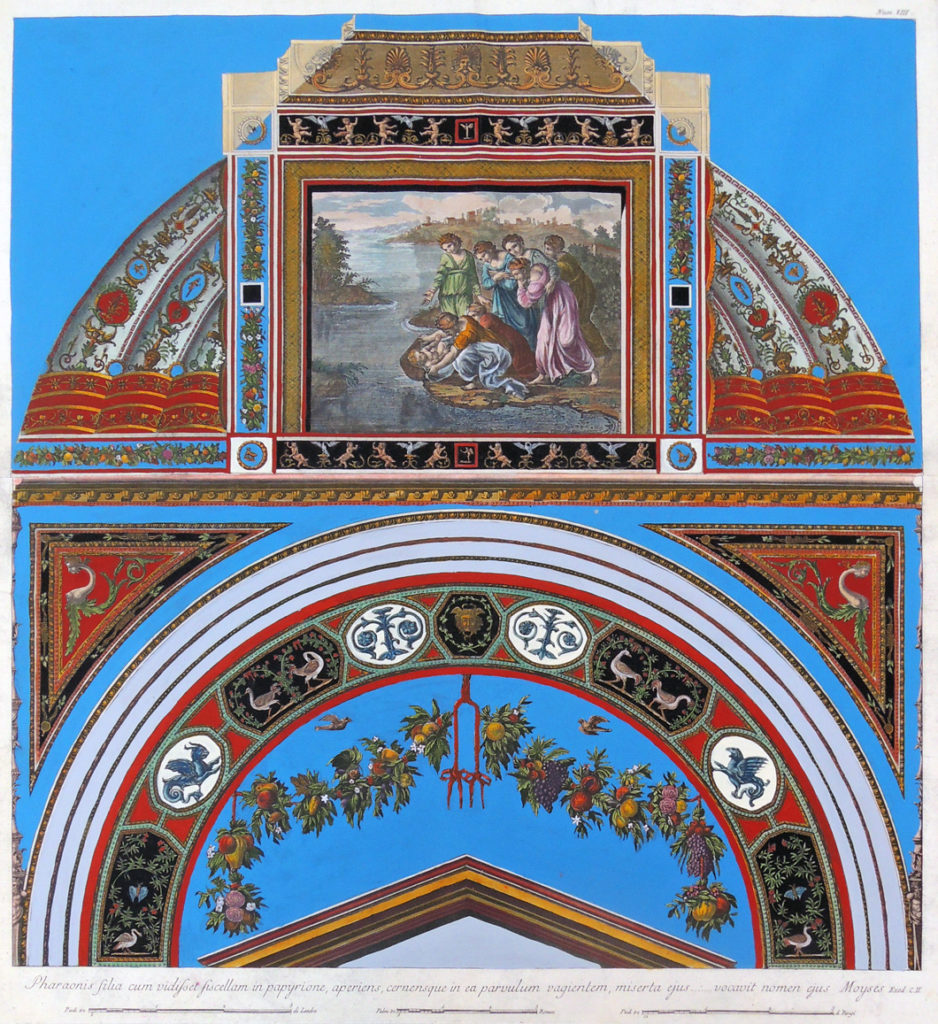 Giovanni Ottaviani (1735-1808), "Pharaonis filia cum vidisset fiscellam in papyrione Aperiens, cernensque in ea parvulum vagienlem, miserta ejus, ….vocavit nomen ejus Moyses" (Exodus, Chapter 2) [When the Pharaoh's daughter saw the ark among the reeds, she opened it and seeing an infant inside and having compassion for it, she called him Moses], from Raphael (1483-1520), Seconde Parte delle Logge di Rafaele nel Vaticano che contiene XIII. Volte ed i loro respettivi Quadri (Rome: Stamperia di Marco Pagliarini, 1776). Engraving with gouache hand coloring. Graphic Arts Collection GAX in process
This hand colored print in the Graphic Arts Collection was recently identified as one of the thirteen plates published in the second of the three-part Loggie di Rafaele by Ottaviani, engraved after drawings by Gaetano Savorelli and Pietro Camporesi, after the Vatican decoration by Raphael.
The second section of Ottaviani's great work concentrates on the quadrants above the windows and doors in the Vatican Logge. Raphael's decoration took place between 1518 and 1519, while this volume of prints was accomplished more than two hundred years later, between 1774 and 1776.
"The project was carried out by the painter Gaetano Savorelli, the draughtsman Ludovico Teseo, the architect Pietro Camporesi and the engravers Giovanni Ottaviani and Giovanni Volpato. The plates were remarkable not just for their size and magnificent colouring, but also because of the influence they had on contemporary taste. The decision was made to borrow elements from Raphael's Vatican tapestries and insert them where the original frescoes were in too poor a state to be legible. The finished plates therefore represented an amalgam of design elements presented with a crisp freshness of colour that held enormous appeal and did much to stimulate taste in the neo-classical period."
Istituto nazionale per la grafica (Italy), Raphael invenit: stampe da Raffaello nelle collezioni dell'Istituto nazionale per la grafica (Roma: Quasar, 1985). Marquand Library (SA) ND623.R2 I77.  Ottaviani 18, 21-33