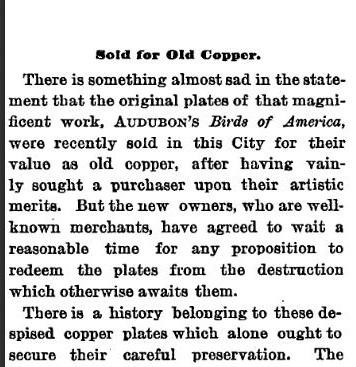 "Sold for Old Copper," New York Times, March 1, 1871
John James Audubon (1785-1851) had the copper printing plates for The Birds of America shipped to the United States in 1839. The plates survived a warehouse fire in 1845 and after his death, Lucy Audubon tried unsuccessfully to find a home for the collection. They were eventually sold in an 1870 "trade book" sale to Phelps, Dodge, & Co., where they were stored for an unknown time. In 1871 articles appeared in NY, Boston, and Chicago papers, voicing sadness that there was no one to save these important artifacts.
update**
It has been suggested that around 1873, William E. Dodge Jr. arranged various donations to museums around the country but in fact, earliest documented donation was a large group to the Metropolitan Museum of Art in 1876 and then another seven went to the National Museum of American History, Smithsonian Institution in 1884-85. The Dodge family gave others to the Peabody Museum and four to Princeton University but we do not know when. The Smithsonian corresponded with William Dodge Jr. but credits his son, Cleveland Dodge. It is a difficult family to chronicle.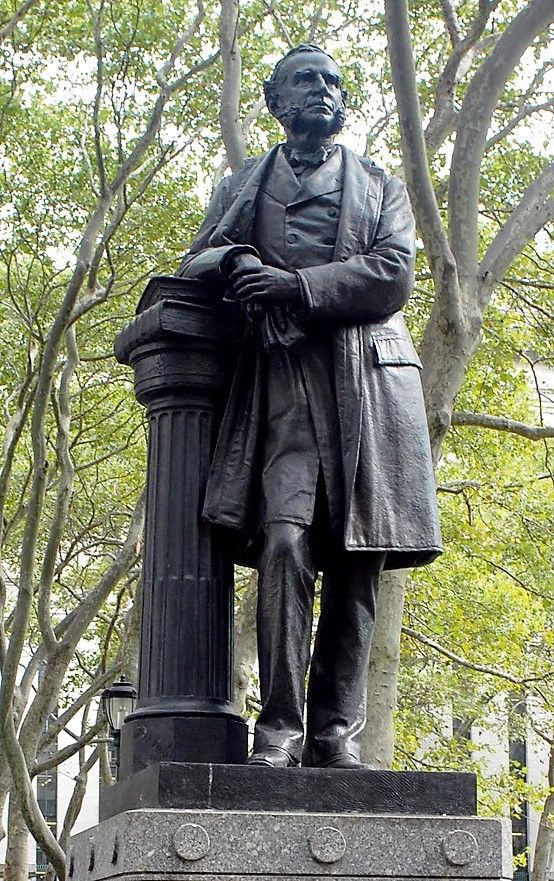 William Earle Dodge I (1805-1883) married Melissa Phelps (1809-1903), the daughter of Anson Green Phelps, a metal merchant. In 1833, Dodge and his father-in-law founded the mining firm Phelps, Dodge and Company. The company imported metals, mainly tin, from Great Britain and distributed them throughout the United States. Dodge also helped start the Young Men's Christian Association (YMCA), and staunchly supported the Prohibition Movement, serving as President of the National Temperance Society from 1865 to 1883. A statue honoring his good work was commissioned by John Quincy Adams Ward (1830–1910), which stands today at the northeast corner of Bryant Park.
William Earl Dodge II (1832-1903) took over Phelps, Dodge, & Co. together with his cousin, Daniel Willis James, and transformed the company into one of the world's largest and wealthiest mining corporations. Dodge II was a member of the Linnean Society, American Historical Association, New York Academy of Sciences, American Fine Arts Society, New York Geographical Society, New-York Historical Society, the New England Society of New York, the Century Association, and the National Academy of Design, among other clubs.

William Earl Dodge III (1858-1884) entered Princeton with the class of 1879, together with his younger brother Cleveland (1860-1926) and Woodrow Wilson (1856-1924). "Earl Dodge" was a born athlete and played every possible sport Princeton had to offer. His abilities are credited with influencing the success of the 1876 conference at which Yale, Harvard, Columbia, and Princeton formed a football association and a new era in college sports began. When W.E. Dodge III graduated, he went to work at his father's company Phelps, Dodge & Co., while Cleveland went into the lumber industry under his uncle, Arthur Murray Dodge. With the unexpected death of his brother in 1885, Cleveland became president of Phelps, Dodge & Company.

Cleveland commissioned a bronze sculpture of his brother by the artist Daniel Chester French (1850-1931), unveiled in 1913. The seven foot, six-inch figure of a young man in a football uniform was modeled from a photograph of Dodge III. The object of many student pranks, it was taken off-view in 1931 and later, loaned to the Daniel Chester French Foundation. Today, it can be seen in the lobby of Jadwin Gymnasium.
William Dodge Jr. preserved the plates and made some donations to various institutions but records vary. Brothers William Dodge III and Cleveland are also mentioned in donor records.
See in particular: Waldemar Fries, "Where are Audubon's Copper Plates," Audubon Magazine, July-August 1966.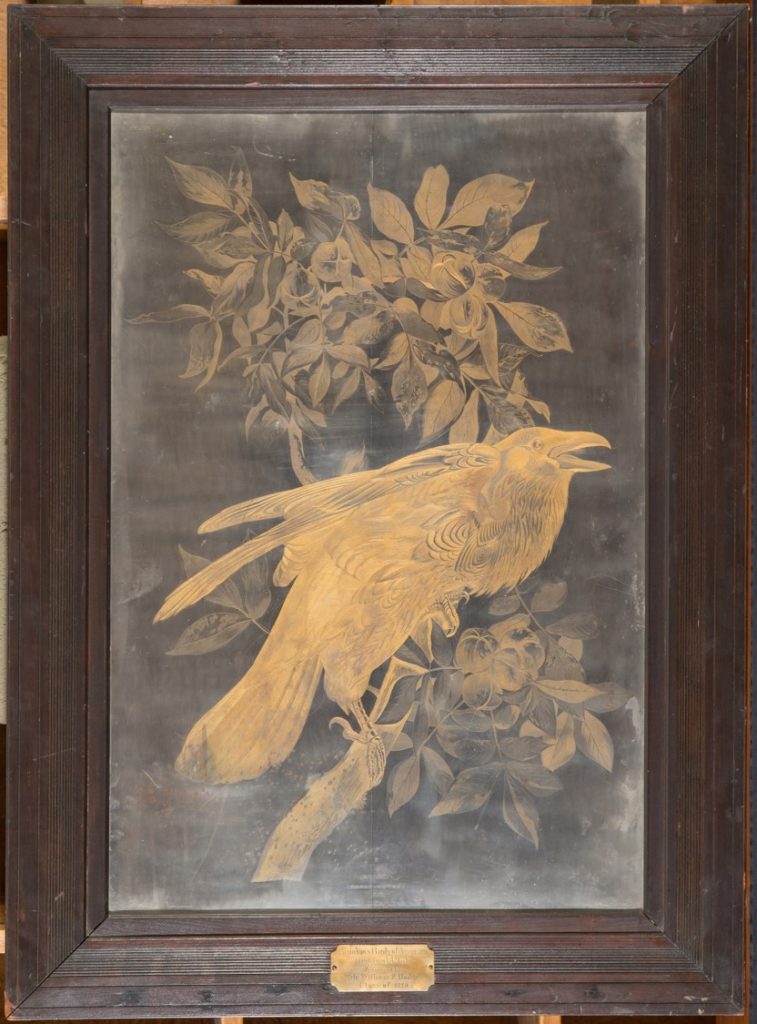 Princeton's Murray-Dodge Hall consists of two buildings, joined by a cloister, each a memorial to a Princetonian who died young. Murray Hall was built in 1879 with a bequest left by Hamilton Murray 1872, who went down with the S.S. Ville de Havre when it sank in mid-ocean on November 22, 1873; he had written his will the night before he sailed. Dodge Hall was built in 1900 in memory of Earl Dodge (William Earl Dodge III, class of 1879), who died five years after graduation. The funds were given by his father William Earl Dodge II and his brother Cleveland. Dodge Hall continues to be a center for religious activities, housing the offices of the dean and assistant dean of the chapel, the denominational chaplains, and various student religious and social service organizations. Murray Hall has since the 1920s been the home of Theatre Intime.
Read the full story of the Audubon printing plates in Print Quarterly: http://www.printquarterly.com/8-contents/69-contents-2020.html