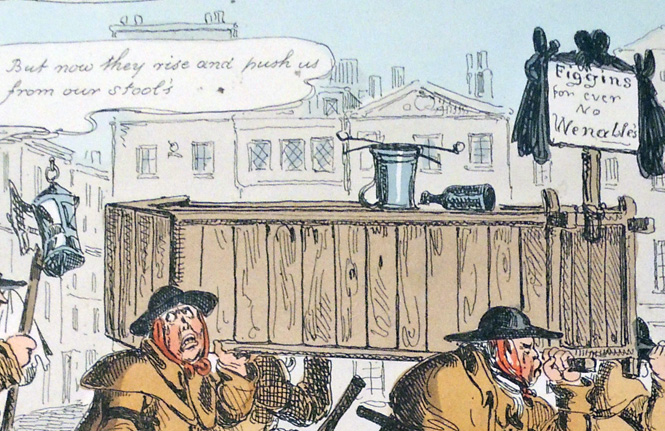 Macbeth to Lady Macbeth:
the time has been,
That, when the brains were out, the man would die,
And there an end; but now they rise again,
With twenty mortal murders on their crowns,
And push us from our stools: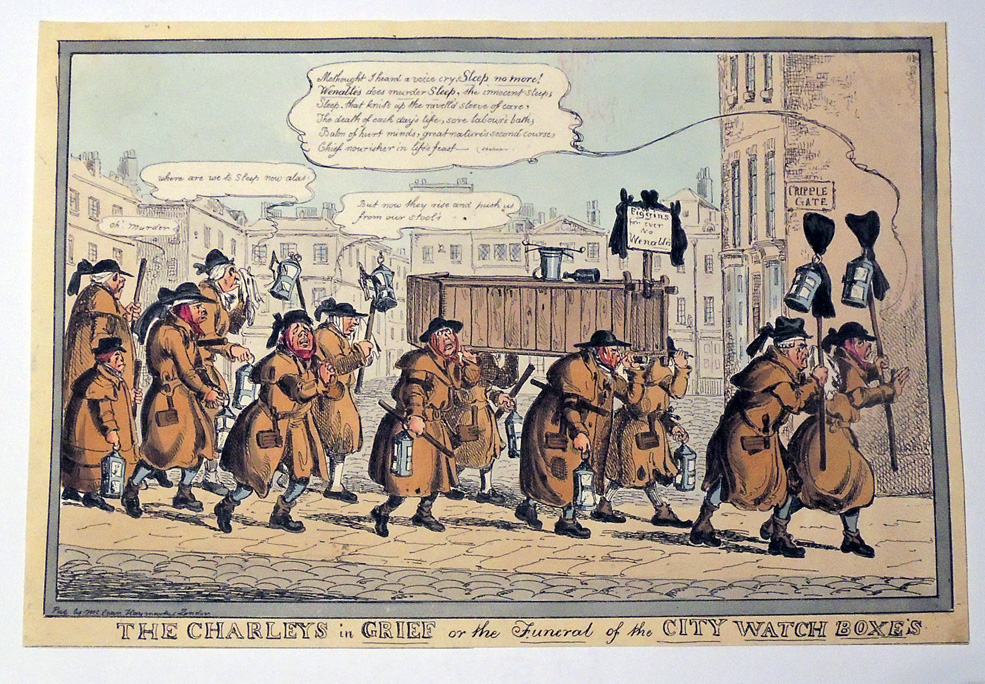 William Heath, The Charleys in Grief or the Funeral of the City Watch Boxe's, ca.1829. Etching with hand coloring. Graphic Arts Collection GA 2011.00923
Chapter 8 of Pierce Egan's Life in London has a night scene on the east side of Temple Bar, in which Tom and Jerry catch a watchman sleeping and overturn his station or watchbox. George Cruikshank printed the original etching and one year later, William Heath was one of several artists who illustrated the sequel Real Life in London.
The night watchmen were first nicknamed Charleys during Charles II's reign. See the history here: http://www.artinsociety.com/watchmen-goldfinders-and-the-plague-bearers-of-the-night.html. Charleys were ridiculed by caricaturists as elderly, often drunk, and incompetent.
Thanks to the Metropolitan Police Act in 1829, introduced by Sir Robert Peel, the old watchmen were replaced with a new metropolitan police force. Heath created another series of etchings for Thomas McLean to mark the last of the Charleys.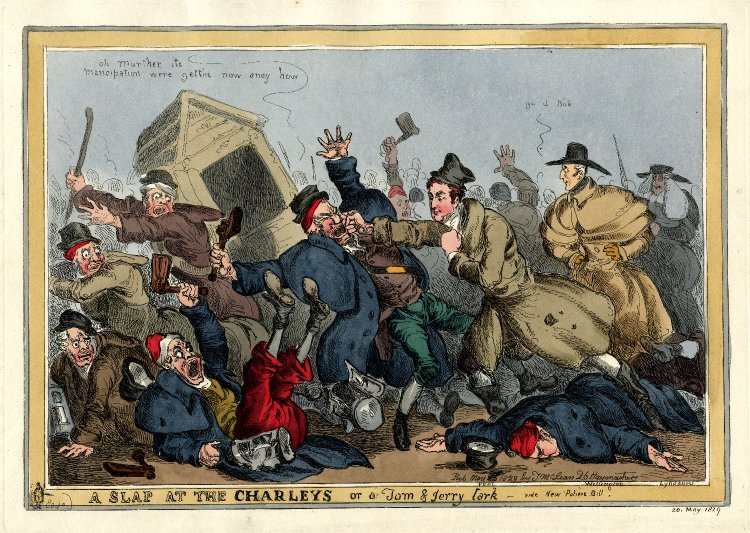 Attributed to William Heath, A Slap at the Charleys or a Tom & Jerry Lark, May 26, 1829. Etching with hand coloring. Graphic Arts Collection GA 2011.00870. This is probably a pirated etching after Heath, given the incorrect signature in the bottom left.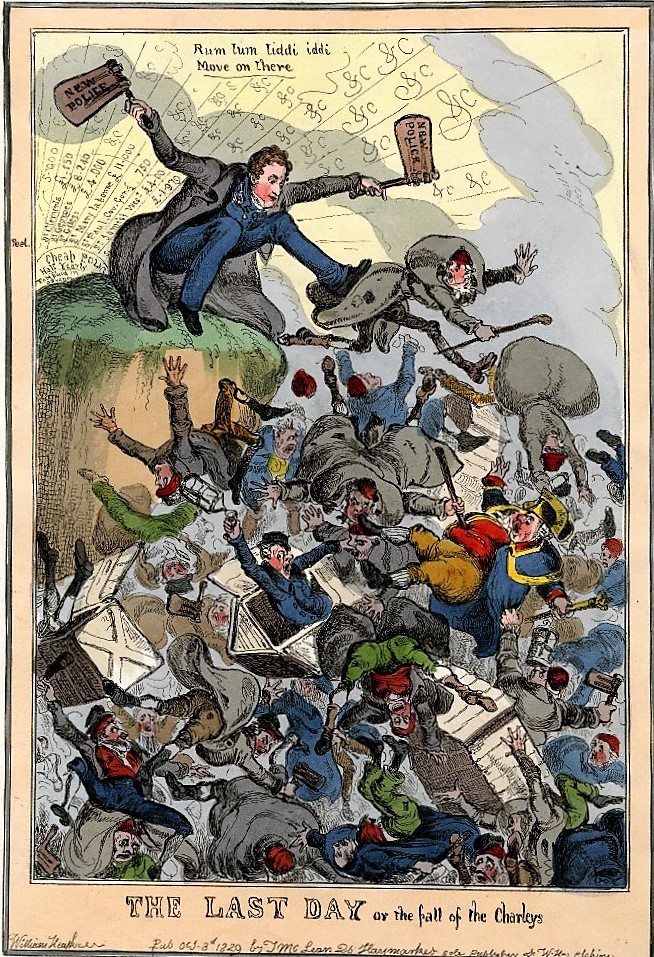 Anonymous artist, The Last of the Charley's !!!!, September 1829. Etching with hand coloring. British Museum.
William Heath, Peeling a Charley, September 29, 1829. Etching with hand coloring. British Museum
William Heath, The Last Day or the Fall of the Charleys, October 3, 1929. Etching with hand coloring. British Museum
Pierce Egan (1772-1849), Life in London; or, The day and night scenes of Jerry Hawthorne, esq., and his elegant friend Corinthian Tom, accompanied by Bob Logic, the Oxonian, in their rambles and sprees through the metropolis. …designed and etched by I. R. & G. Cruikshank (London: Printed for Sherwood, Neely, and Jones, 1821). Graphic Arts Collection (GAX) Cruik 1821
Real Life in London, or, The Rambles and Adventures of Bob Tallyho, Esq.: and his cousin the Hon. Tom. Dashall, &c…. by an amateur, illustrated by William Heath , Richard Dighton , Henry Thomas Alken and Thomas Rowlandson (London: Printed for Jones & Co. … , 1821-1823). Graphic Arts Collection (GA) Rowlandson 1821.2
W. T. (William Thomas) Moncrieff (1794-1857), Tom and Jerry: or, Life in London: an operatic extravaganza, in three acts (London: Thomas Richardson, [1828]). "Performed upwards of three hundred nights at the Adelphi Theatre, and recently revived at Covent Garden Theatre, Surrey, &co." — T.p. Rare Books: Theatre Collection (ThX) 3593.686 v. 116