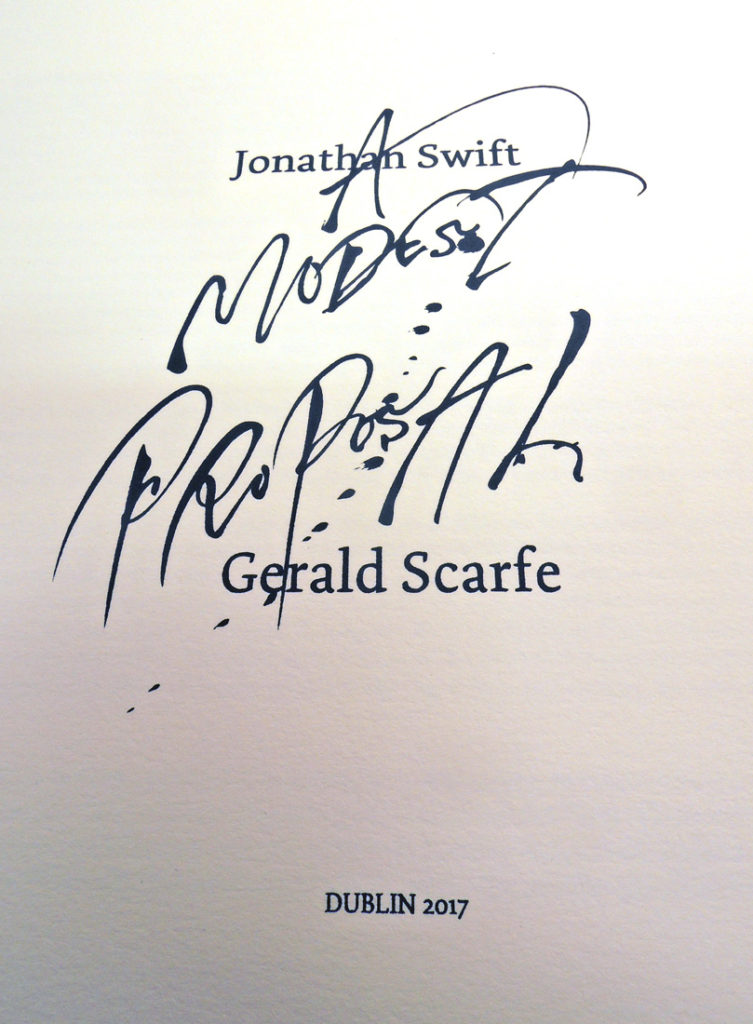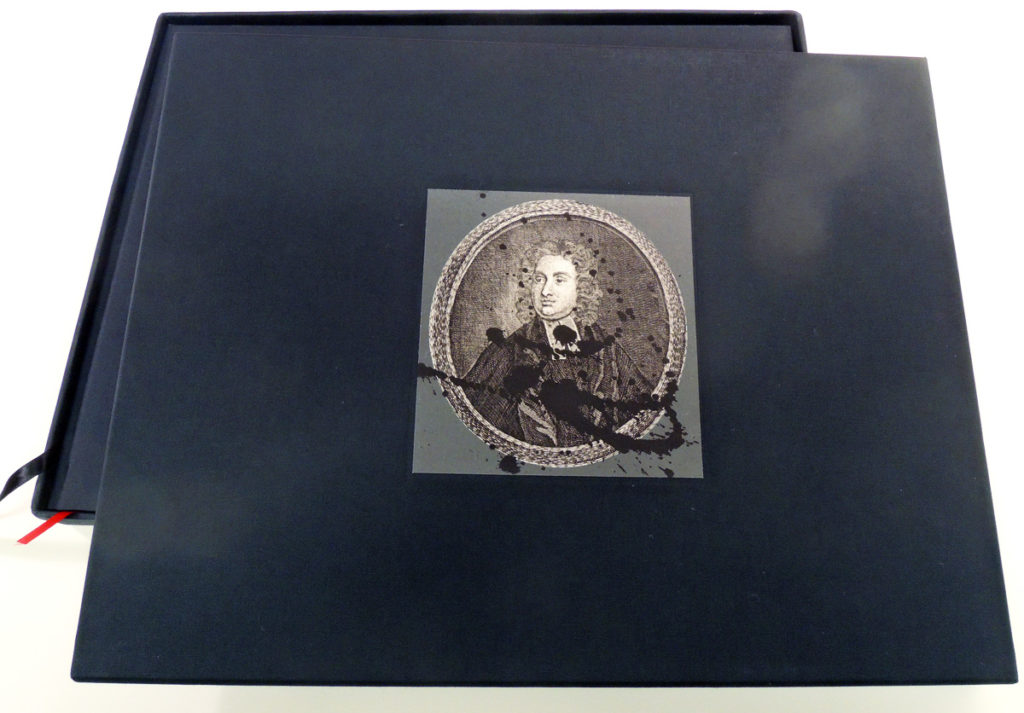 Jonathan Swift, Gerald Scarfe, and Fintan O'Toole, A Modest Proposal, 2017. Graphic Arts Collection GAX 2017- in process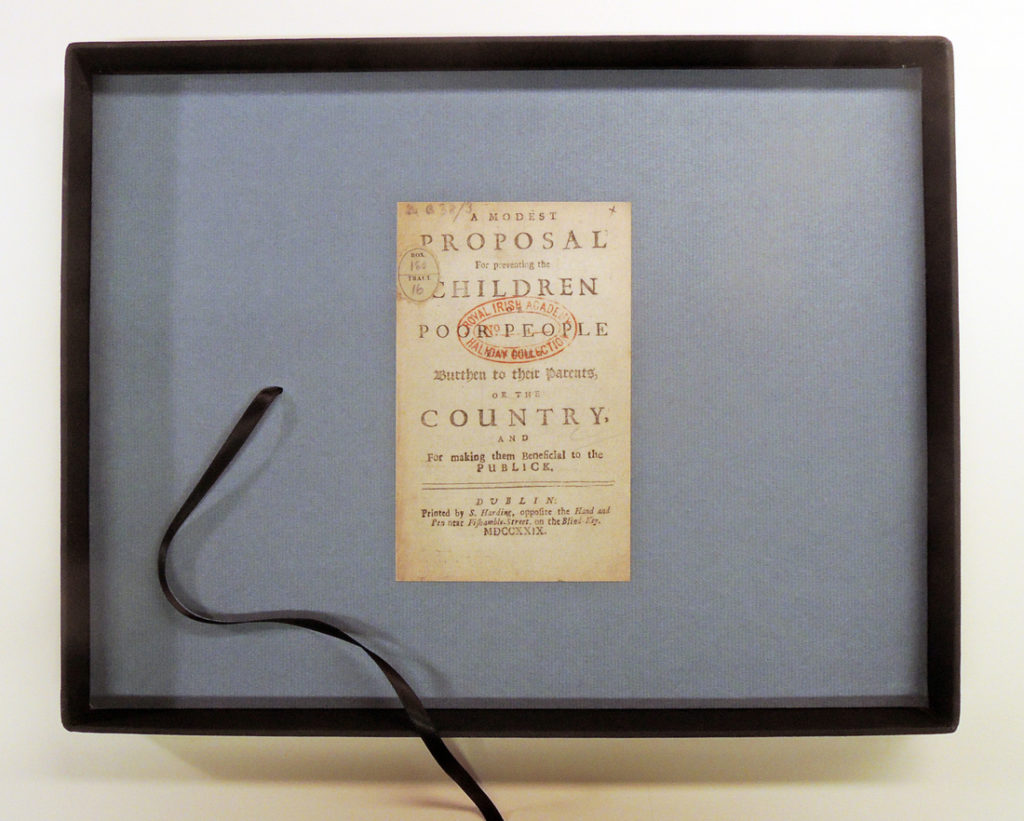 To celebrate the 350th anniversary of the birth of Jonathan Swift (1667-1745), Stoney Road Press has published a limited, boxed edition of the satirical essay A Modest Proposal, illustrated with three etchings by satirical cartoonist Gerald Scarfe and an introduction by Fintan O'Toole, The Irish Times literary editor and Princeton University Visiting Lecturer in Theater; Acting Chair, Fund for Irish Studies (Spring 2018).
A launch party was held June 17 at the Dalkey Book Festival, hosted by O'Toole, His remarks were followed by a reading of Swift's essay by actor Nick Dunning.

It was noted that  Dunning got further than Peter O'Toole did in 1984. As Fintan O'Toole wrote, "When the Gaiety Theatre held a gala performance to mark its reopening after refurbishment, Peter O'Toole was invited to do the opening turn. Presumably, the expectation was that he would do a bit of Shakespeare, perhaps, or a Yeats poem. He decided to read, slowly and deliberately, Jonathan Swift's A Modest Proposal, with its suggestion that the children of the Irish poor be sold as food for their landlords, 'who, as they have already devoured most of the parents, seem to have the best title to the children.' Some members of the dress-suited audience began to heckle; others walked out. RTÉ, which was broadcasting the show live, cut O'Toole off in the middle of the reading and went to an ad break." –Fintan O'Toole, "The Genius of Creative Destruction," New York Review of Books, December 19, 2013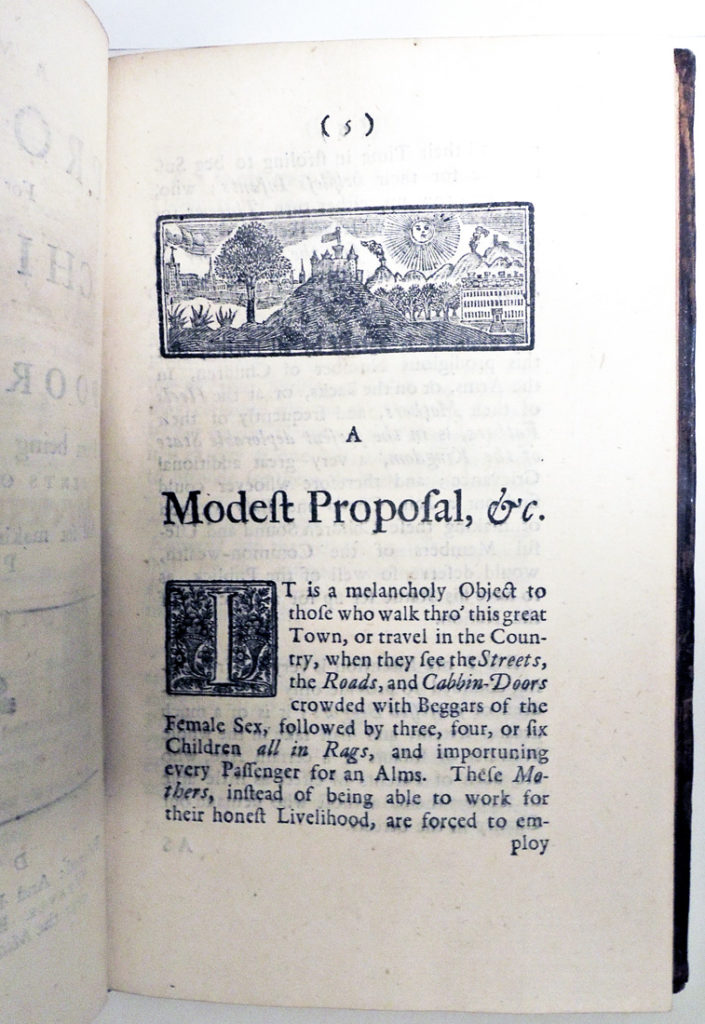 Jonathan Swift (1667-1745), A Modest Proposal for Preventing the Children of Poor People from being a Burthen to Their Parents or the Country: and for Making Them Beneficial to the Publick ([London]: Dublin, printed, and reprinted at London, for Weaver Bickerton, in Devereux-Court near the Middle-Temple, 1730). Rare Books (RB) RHT 18th-587
"In the large body of stories about him in the collections of the Irish Folklore Commission," O'Toole continued, "Swift is almost always 'the Dean' or, in popular pronunciation, 'the Dane'. The name shows immediate awareness that he was a high functionary of the established, Protestant, Church of Ireland—an institution unpopular with the oppressed Catholic majority. Yet he transcends these sectarian divisions. He was revered by middle-class Protestants, who named inns and ships after him and built bonfires to celebrate his birthday. Catholics, meanwhile, attached to 'the Dean' many of the common trickster stories that circulated around Europe. Swift and his servant, usually called Jack, form a comic double act."