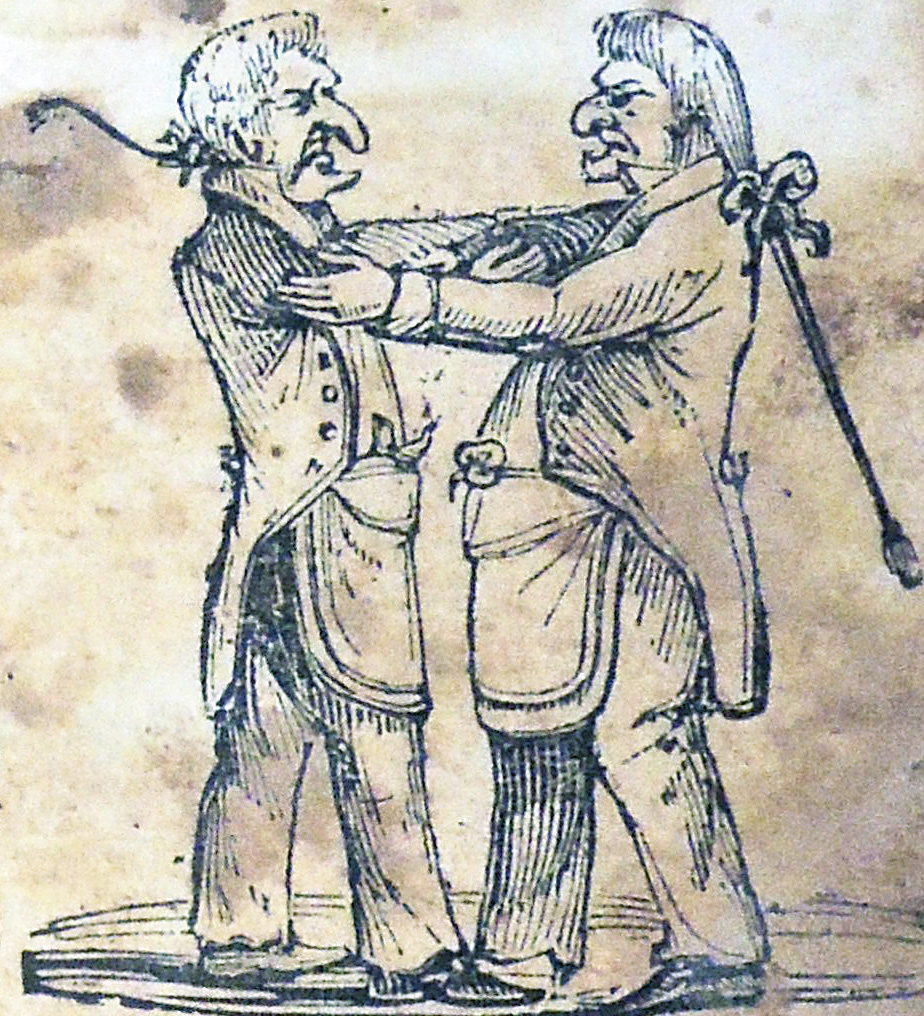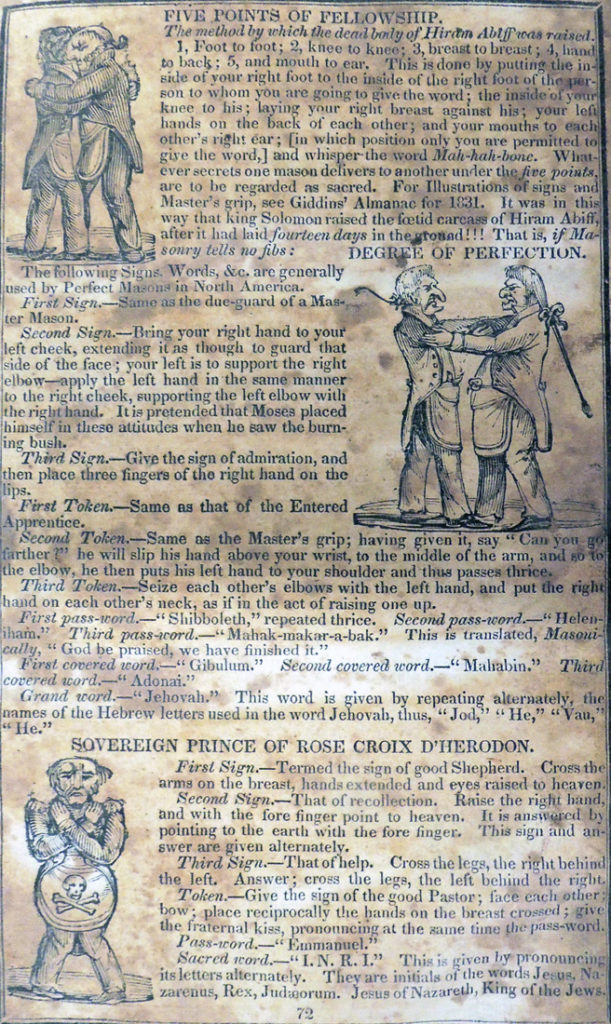 The Graphic Arts Collection recently acquired this early almanac focused on the anti-masonic movement in the United States. So much was written and published, this poem appeared in 1829:
O books! books! books! it makes me sick
To think how ye are multiplied,
Like Egypt's frogs, ye poke up thick
Your ugly heads on every side.
If a new thought but shake its ear
Or way its tail, tho' starved it look,
The world the precious news must hear,
The presses groan, and lo! a book.
The American anti-masonic movement was officially formed in 1828 following the disappearance and presumed murder of William Morgan (1774–1826?). Morgan was about to publish a book exposing Freemasonry's secrets and so, the fraternal society was thought to have killed him to keep their information secret.
A congressional convention took place in Philadelphia in 1930. Eli Bruce, Loton Lawon, Nicholas Chesebro and Edward Sawyer were each convicted of taking part in the kidnapping and served time in prison.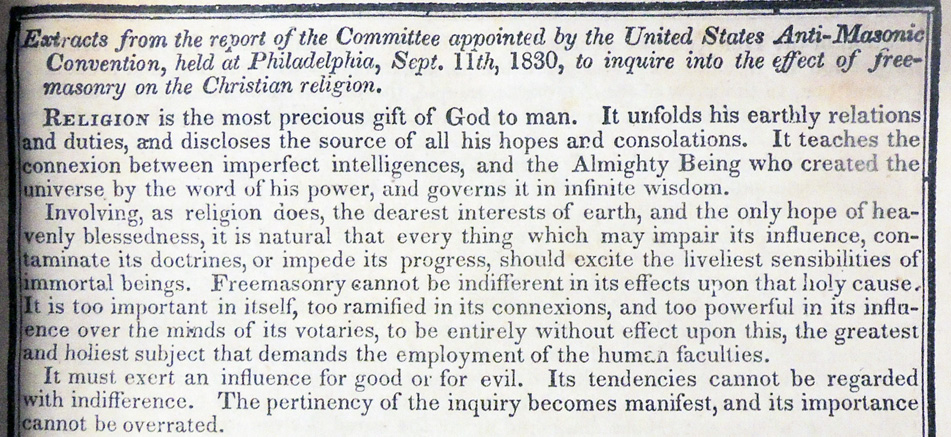 We have dozens of other publications in our collections. Of particular interest are those in the Sinclair Hamilton collection with early American wood engravings and gritholaphic plates. Here are a few others.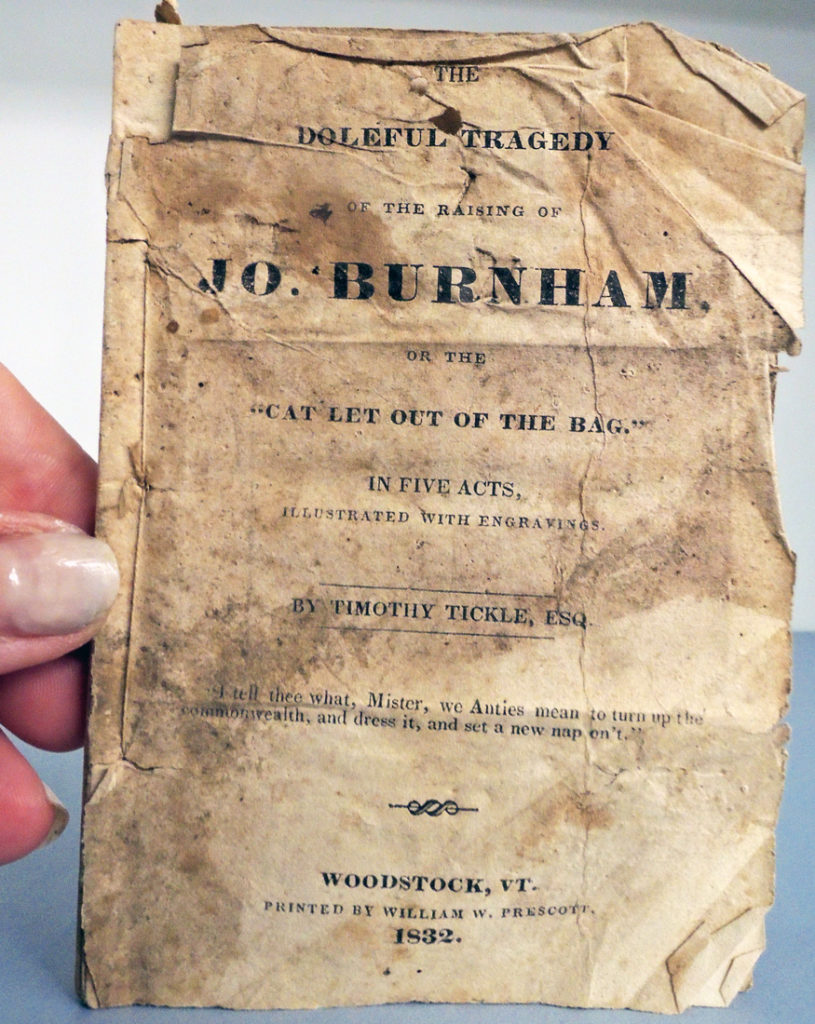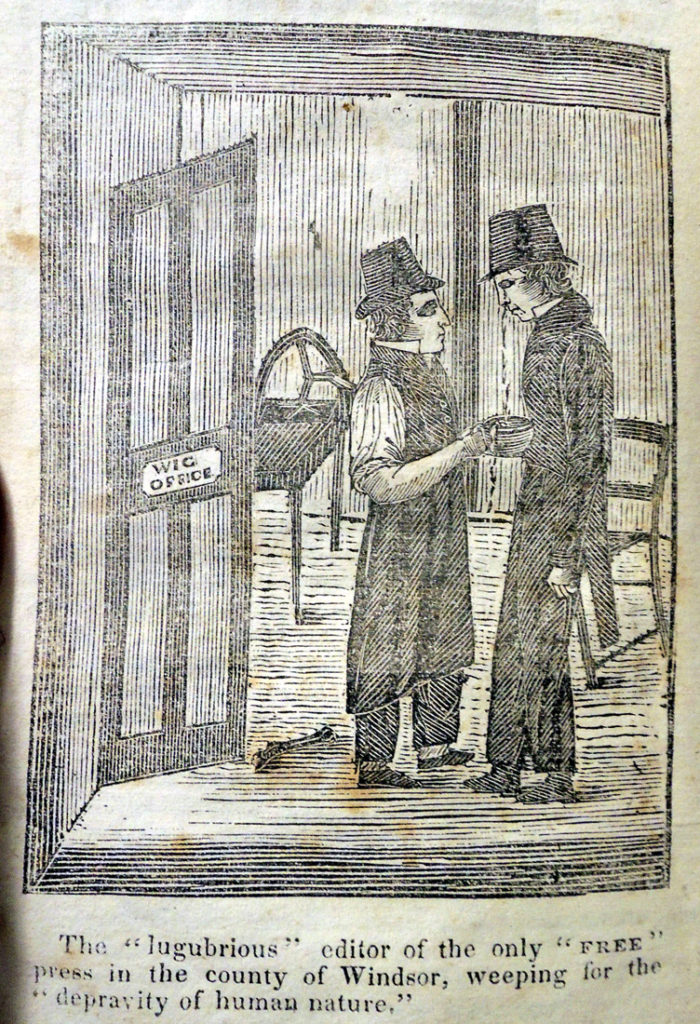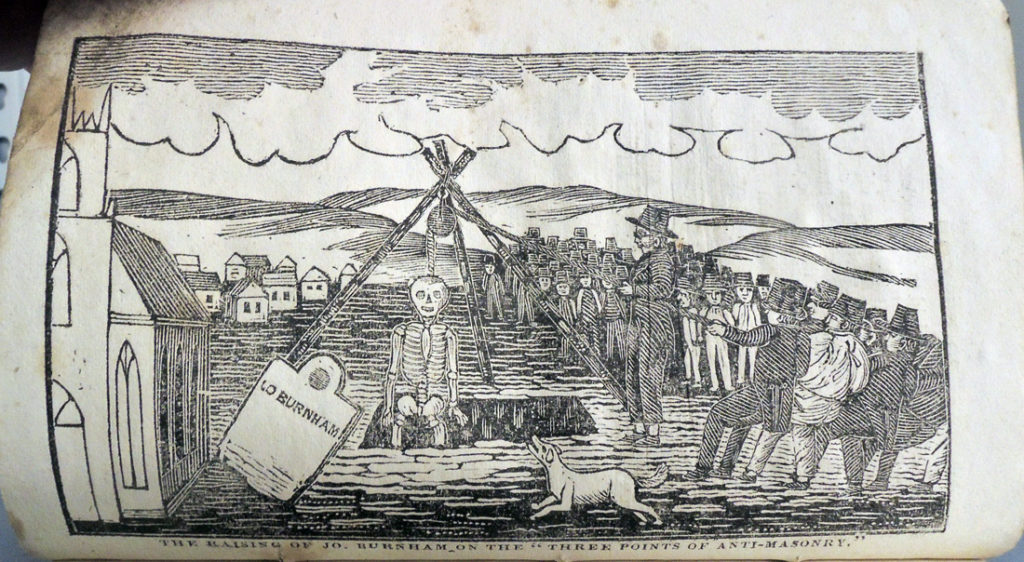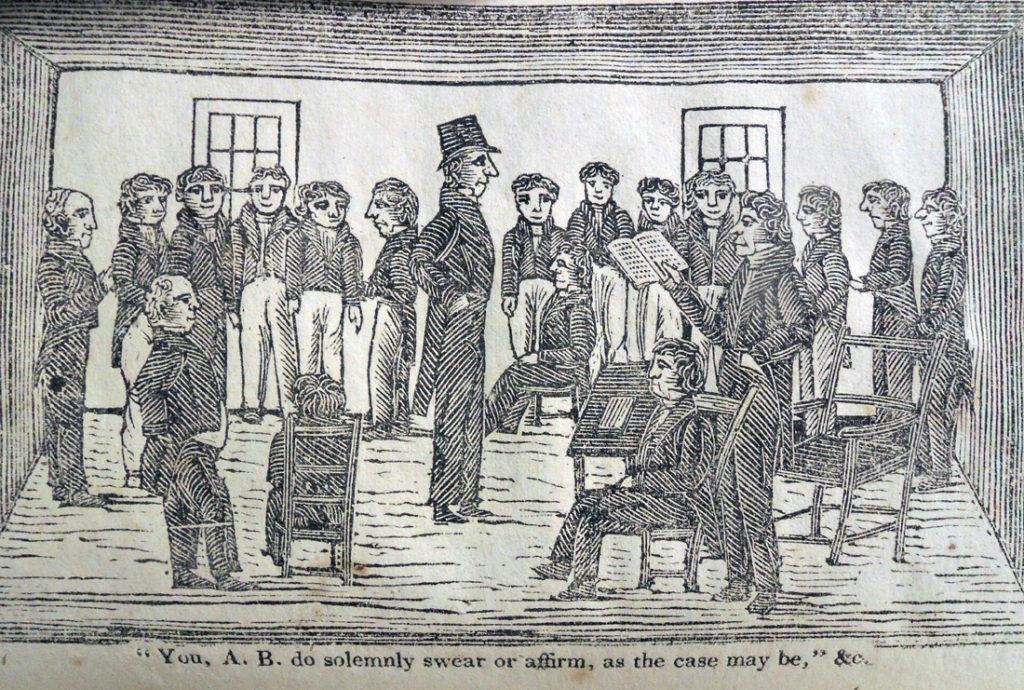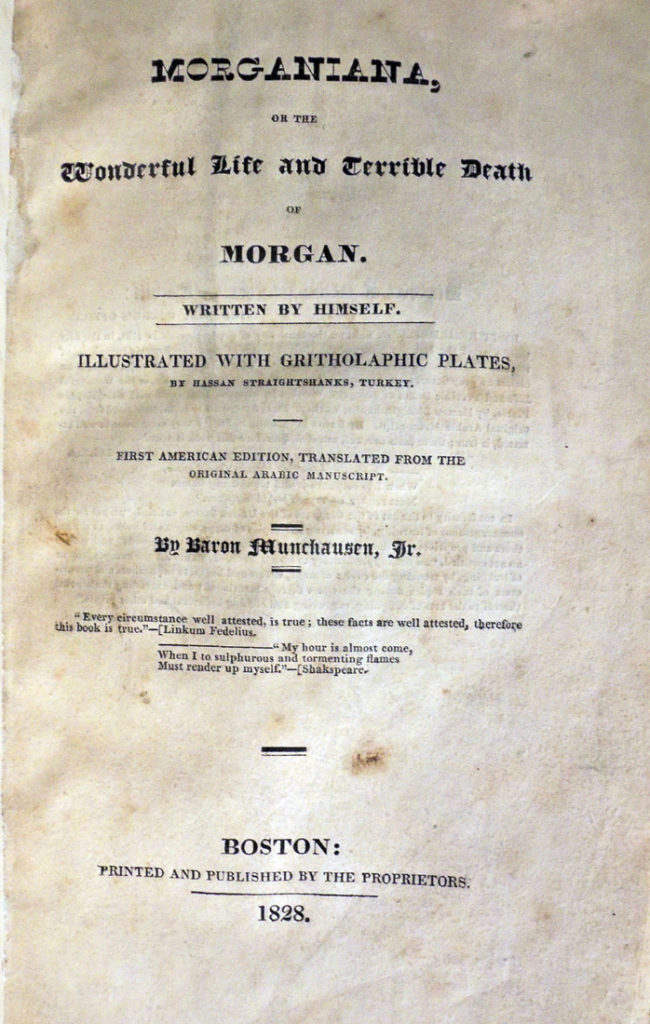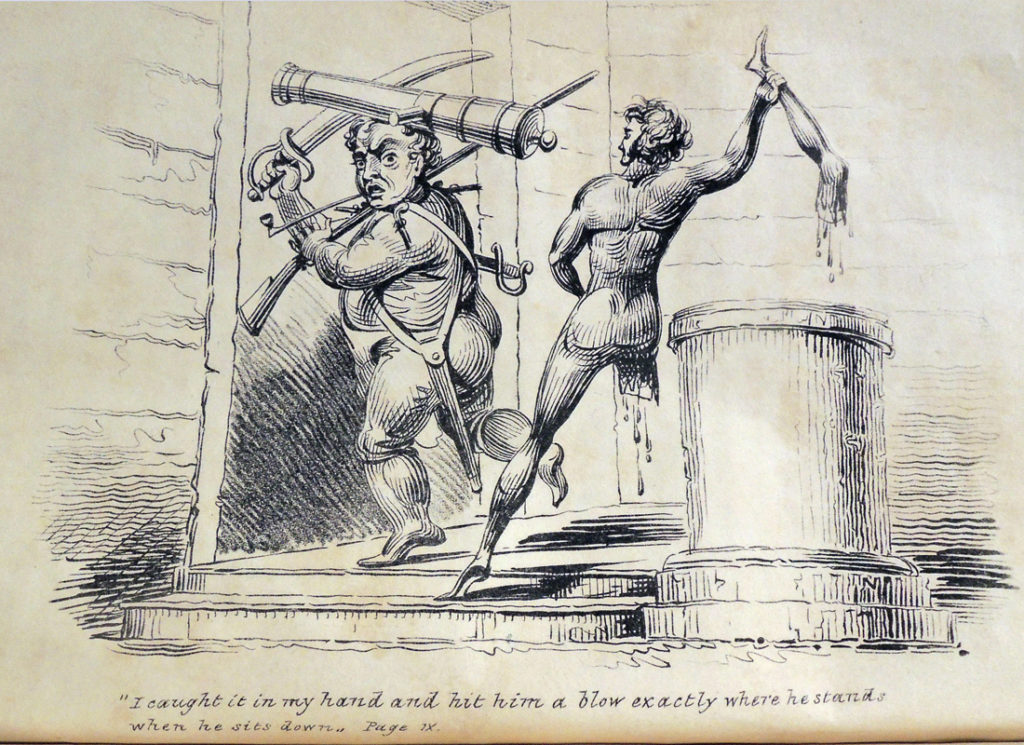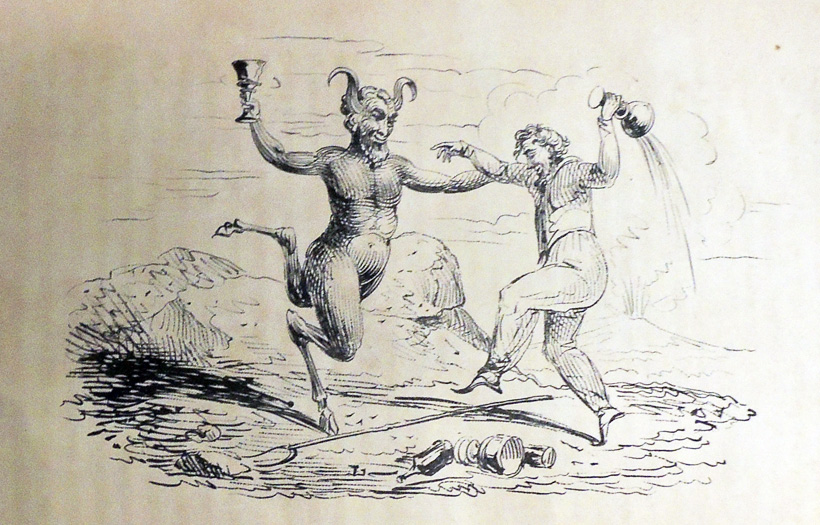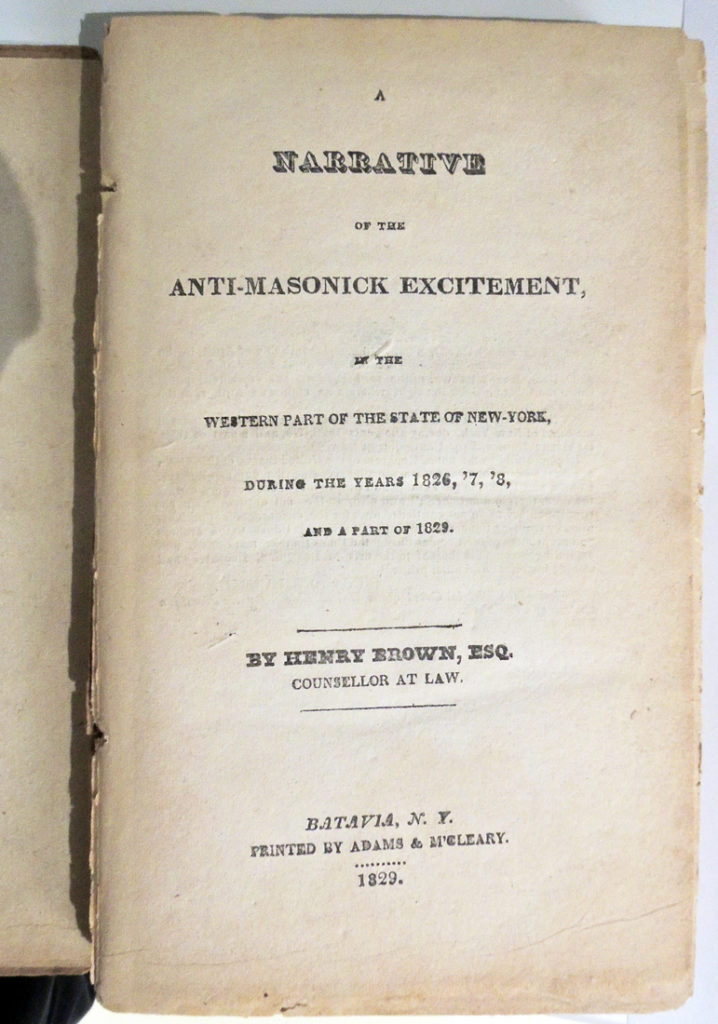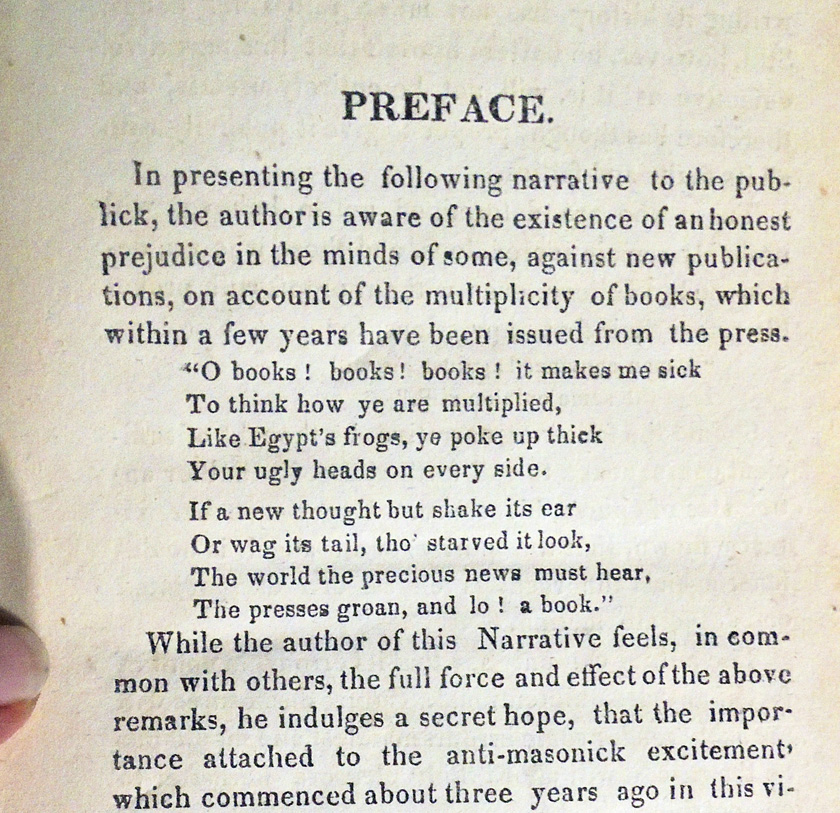 Edward Giddins, Anti-Masonic Almanac for the year 1832, no. 4. (Utica, [N.Y.]: William Williams [et al], (1831]). Illustrated by D. C. Johnston. 1st ed. Graphic Arts Collection GAX 2017- in process
Timothy Tickle, The doleful tragedy of the raising of Jo. Burnham; or the "cat let out of the bag": in five acts, illustrated with engravings  (Woodstock, Vt.: Printed by W.W. Prescott, 1832). Illustartions attributed to Benjamin Tuel by Hamilton and others. Graphic Arts Collection (GAX) Hamilton 1958
Morganiana, or, The wonderful life and terrible death of Morgan / written by himself. Illustrated with gritholaphic [i.e. lithographic] plates, by Hassan Straightshanks, Turkey. First American ed., tr. from the original Arabic manuscript. By Baron Munchausen, jr. … (Boston: Printed and published by the proprietors, 1828). "Johnston was fond of using pseudonyms and, as the name Straightshanks is an obvious play on Cruikshank, and as the plates are in the style of Johnston, it seems plausible to attribute them to him."–Cf. Hamilton. Graphic Arts Collection (GAX) Hamilton 937
Henry Brown (1789-1849). A narrative of the anti-masonick excitement, in the western part of the state of New York, during the years 1826, '7, '8, and a part of 1829 (Batavia, N.Y.,: Printed by Adams & M'Cleary, 1829). Rare Books (Ex) HS525 .B7