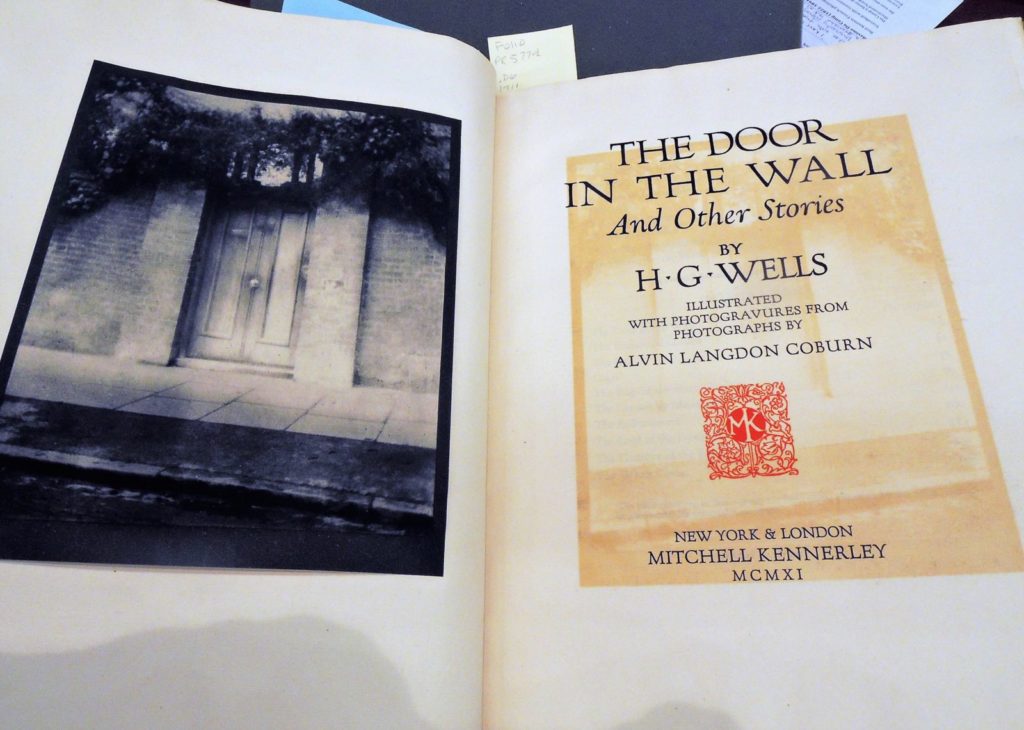 The Graphic Arts Collection holds two copies of The Door in the Wall by H.G. Wells with photogravures from negatives by Alvin Langdon Coburn (1882-1966). Princeton's first book has ten mounted prints with letterpress captions while the second has only one.
The text was set by Bertha S. Goudy (1869-1935) at the Village Press, New York, with types and decorations designed by Frederic W. Goudy (1865-1947), under whose supervision it has been printed by Norman T. A. Munder & company, Baltimore, Maryland. Six hundred copies were printed on French hand-made paper in November, 1911.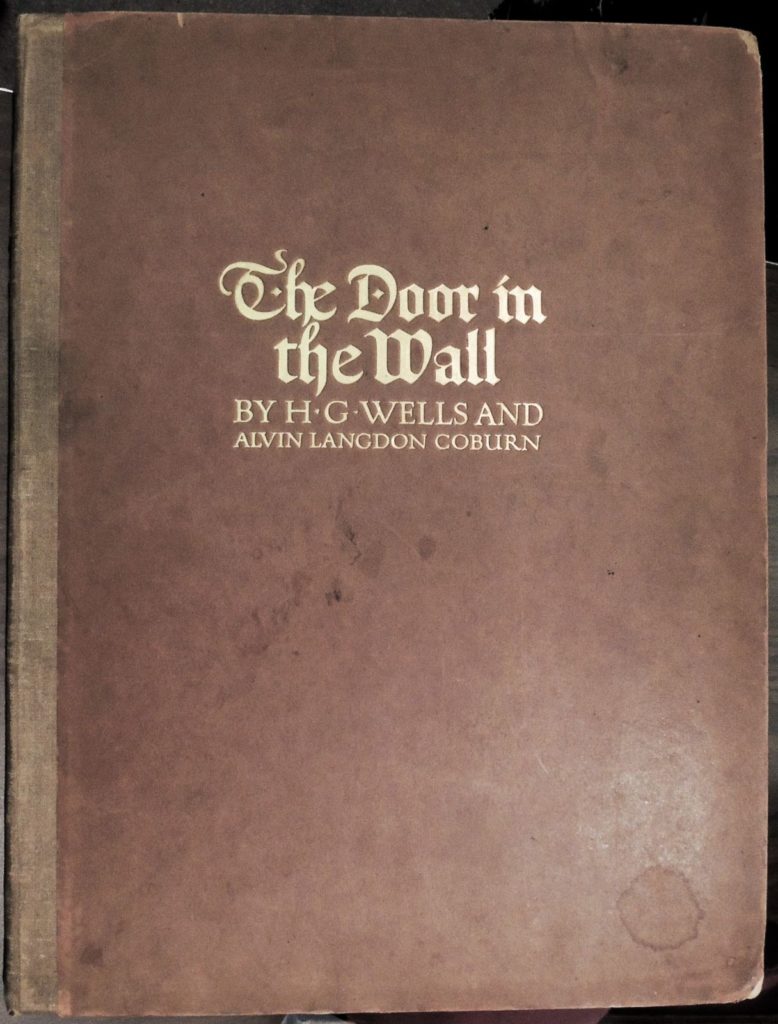 When Coburn's photogravures arrived in New York, an assistant mistakenly pounded a nail through the top of one crate destroying half of the prints. 600 photogravures had been prepared in England and only 300 were left for Frederic Goudy to fit into the New York edition.
Some books have 10 and the rest are missing one or more images. Princeton's second copy is missing all but one. A slip is tipped onto the front board of each incomplete book. Some give the explanation that missing photogravures are replaced with prints made by the aquatone process. The slip in Princeton's book reads "It was for this volume that Frederic W. Goudy designed his now famous Kennerley Type. Six hundred copies were printed. Unfortunately, only three hundred sets of the illustrations were complete, so that there remain three hundred copies of the book lacking one or more illustrations, of which this is a copy. The text is perfect."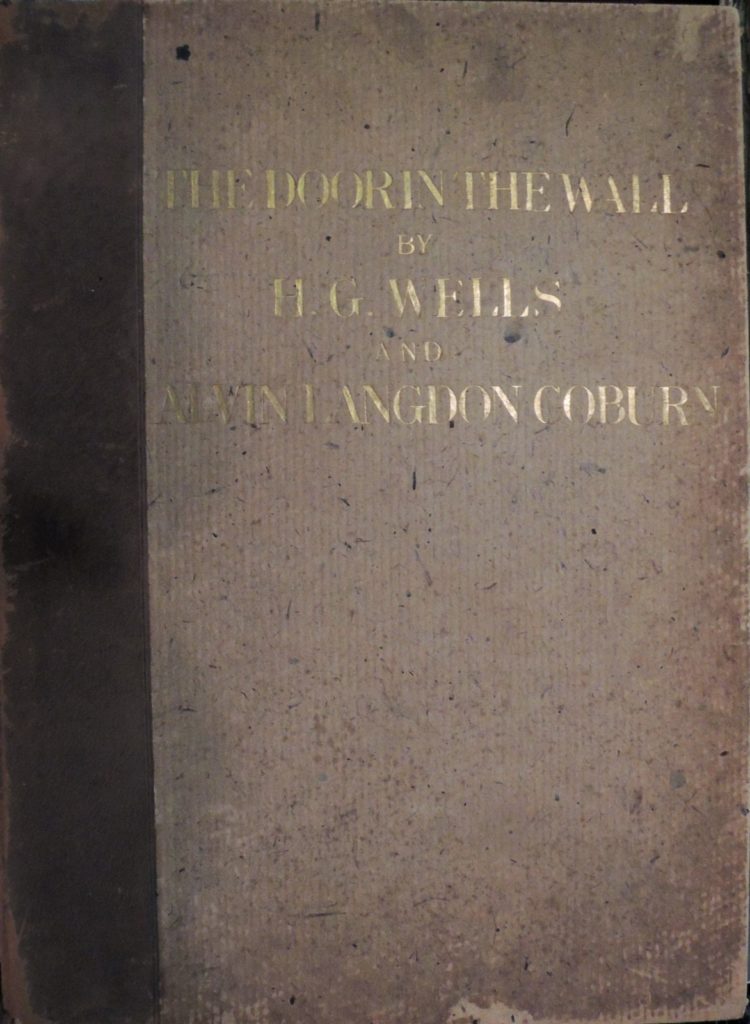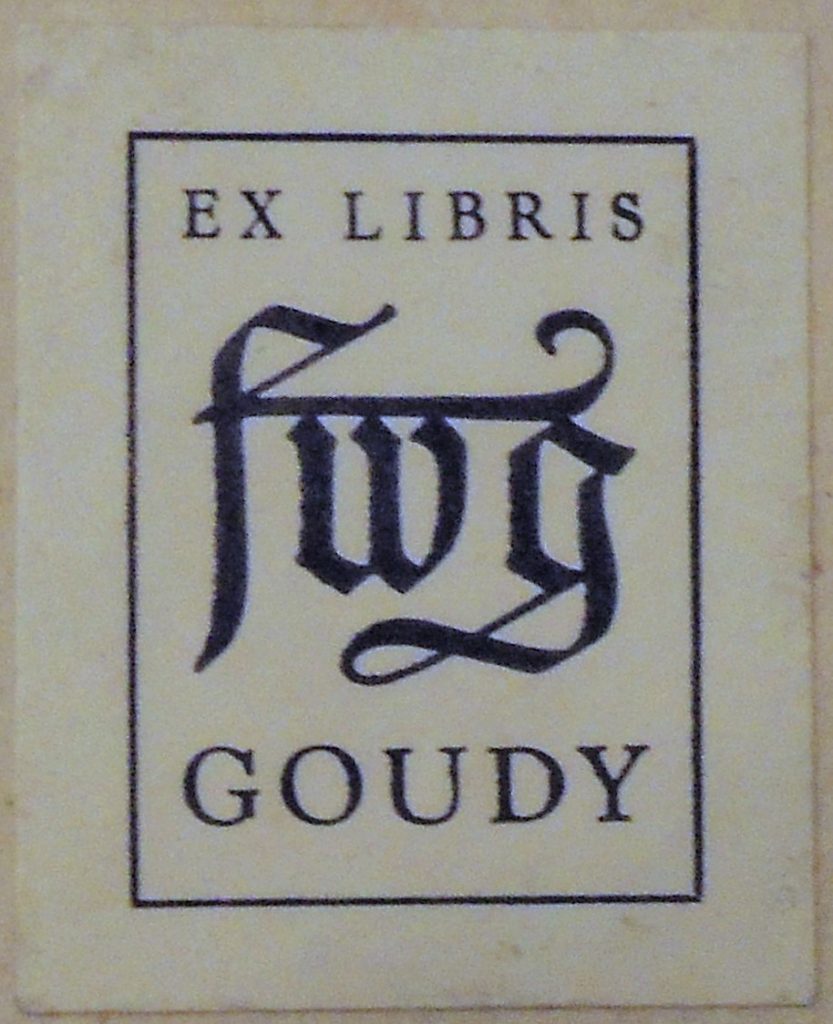 It was a complete surprise today to find the Rare Book division of the Library of Congress not only holds both complete and incomplete copies of Door in the Wall, but they also have Goudy's own copy of the book's maquette, originally placing the photographs on the right instead of the left and without his special type.
The binding and pages are larger in the maquette than the published version. The layout of the cover text is uniformly printed in plain type. Published books used a fancier, pseudo-Gothic face and reduce the size of Coburn's name, giving his contribution less importance.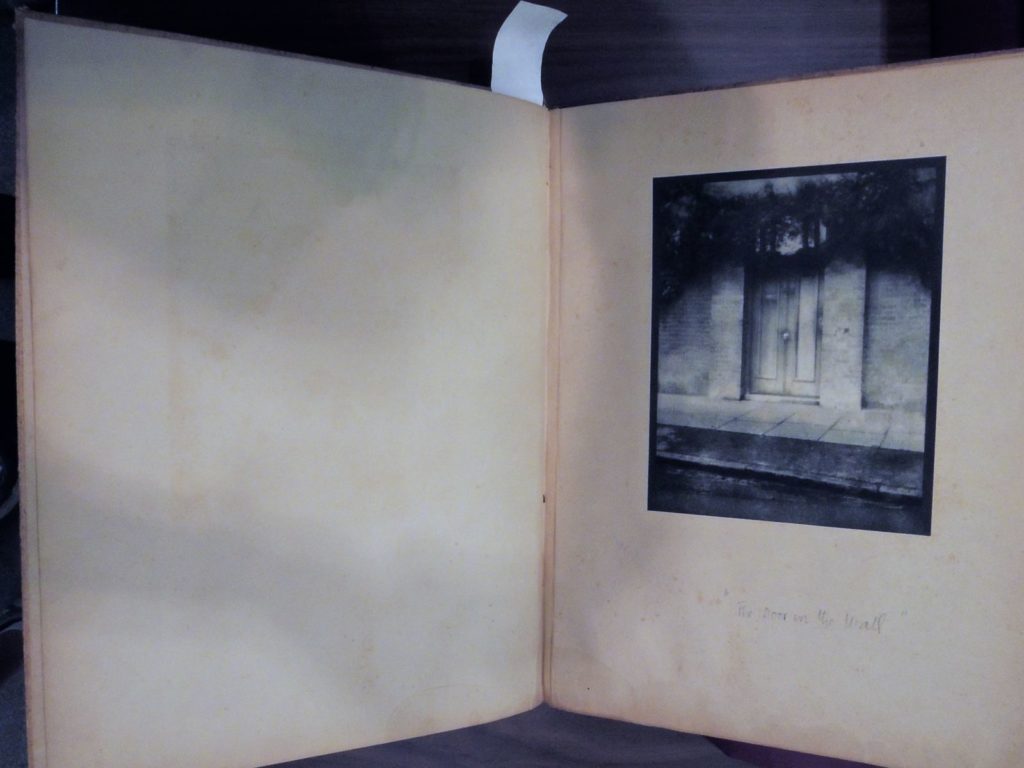 Library of Congress, Rare Books, Wells c.4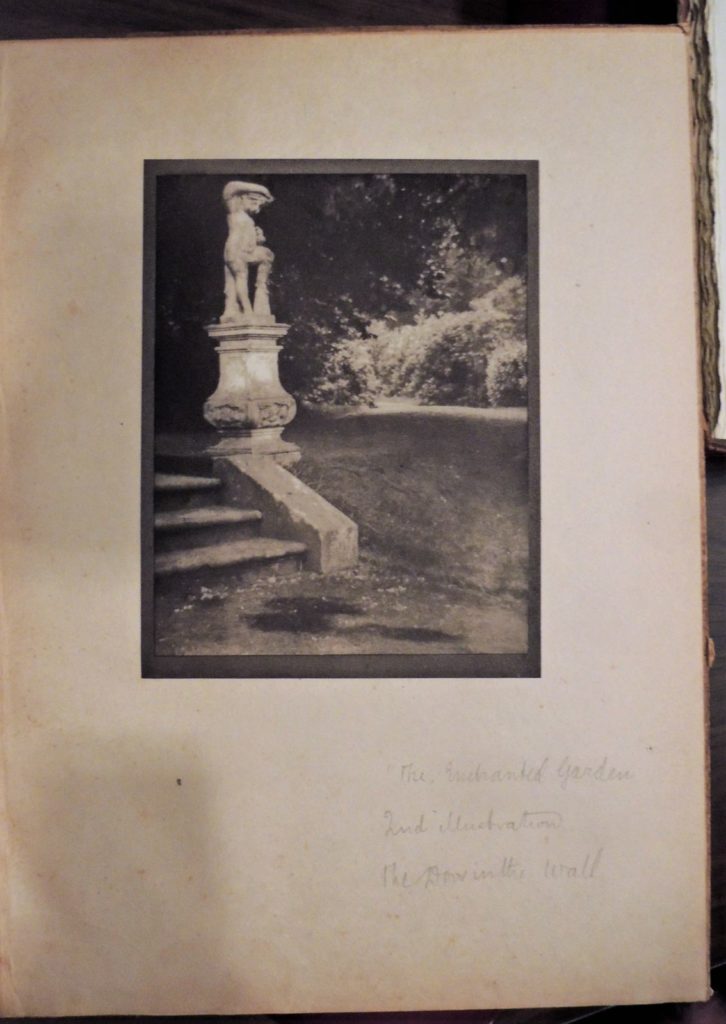 Library of Congress, Rare Books, Wells c.4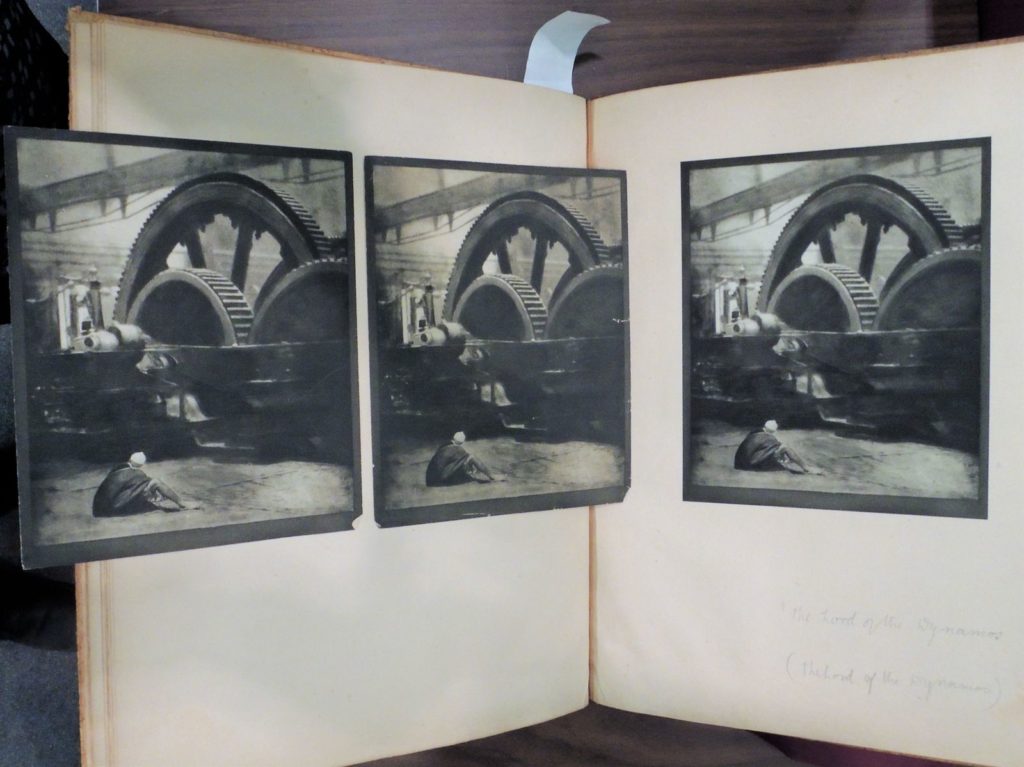 The maquette also holds additional prints, seen here laying side by side to check for variations.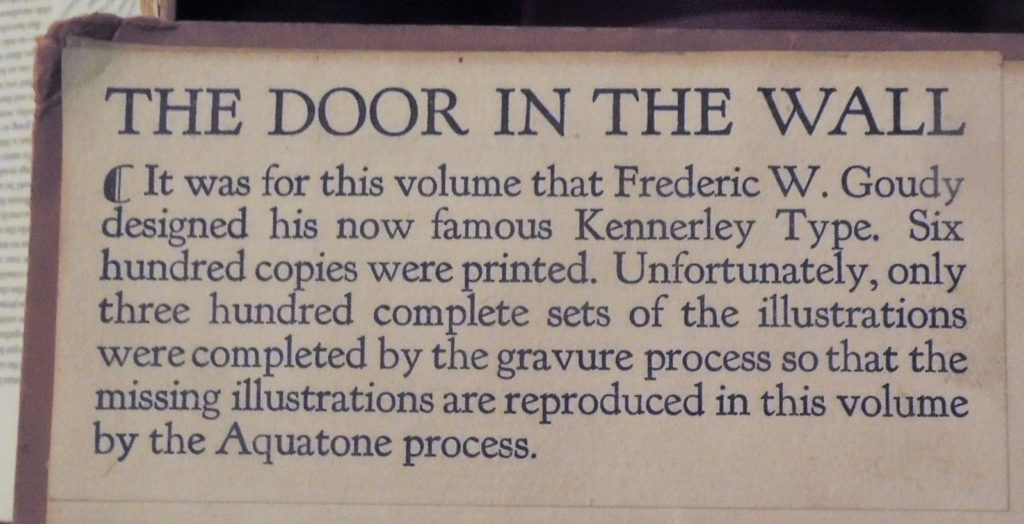 H. G. Wells (1866-1946), The Door in the Wall and Other Stories by H. G. Wells, Illustrated with photogravures from photographs by Alvin Langdon Coburn (New York: Mitchell Kennerley, 1911). Graphic Arts Collection GAX 2006-0844Q previously owned by Elmer Adler and GAX 2006-0845Q previously owned by Edwin Hooper Denby.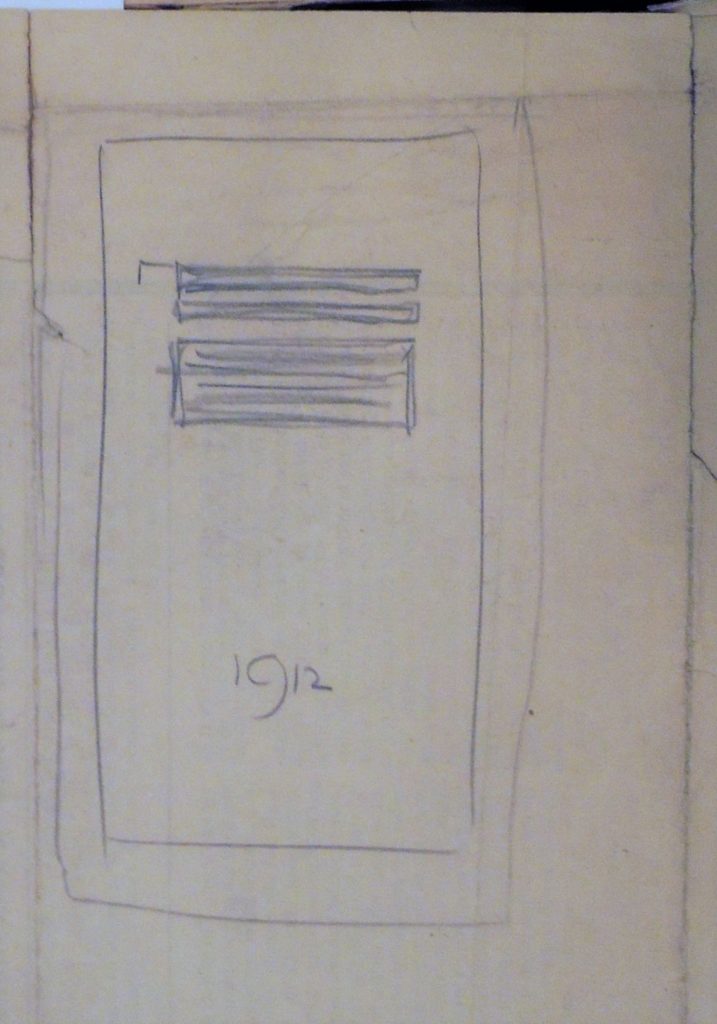 Goudy's pencil design for the title page layout, at the Library of Congress. He might have anticipated a longer production schedule, assuming the publication date would be 1912 instead of 1911.
See also: Alvin Langdon Coburn and H.G. Wells: the photographer and the novelist: a unique collection of photographs and letters from the University Library's H.G. Wells collection ([Urbana]: University Library : Krannert Art Museum, University of Illinois at Urbana-Champaign, 1997). Marquand Library (SA) No call number available