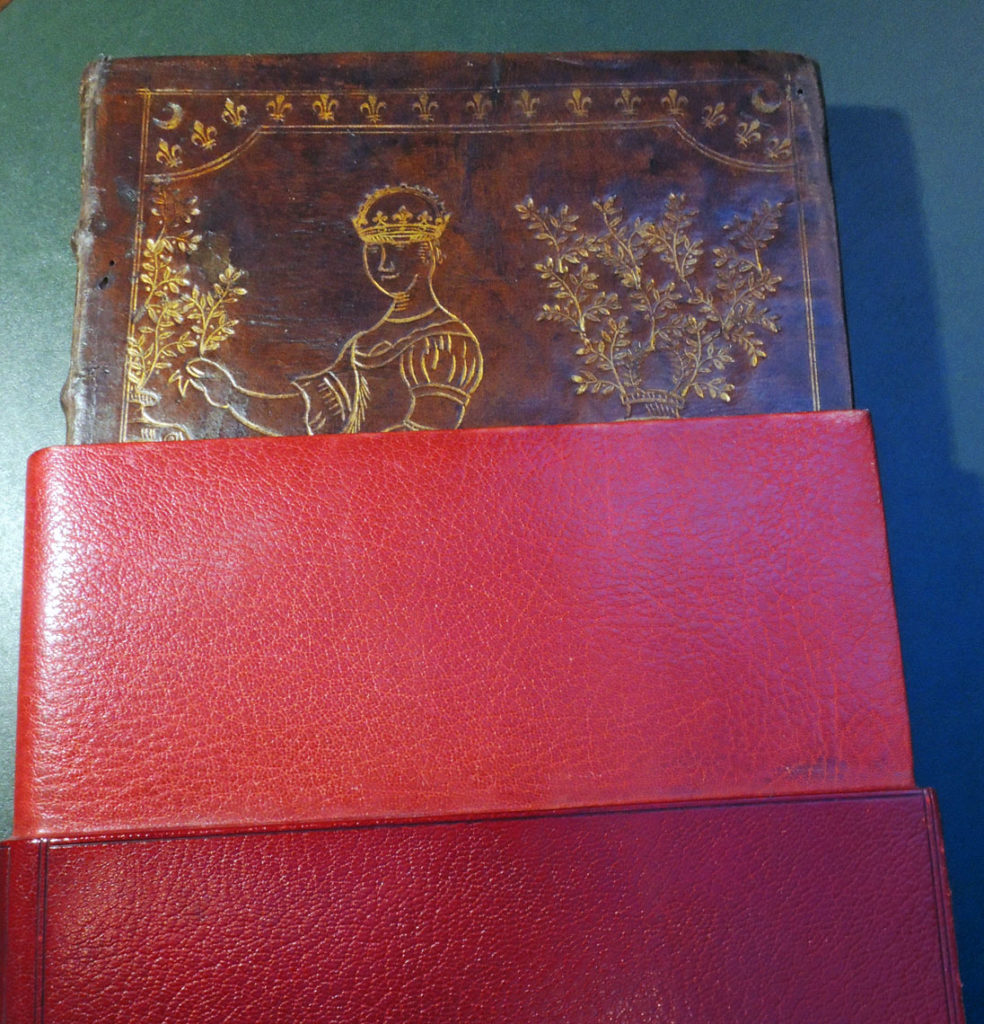 The Graphic Arts Collection recently acquired a 1691 edition of poems by Lodovico Adimari (1644-1708) dedicated to Louis XIV, king of France (1638-1715). While the poems may be interesting, it is the binding that first drew our attention.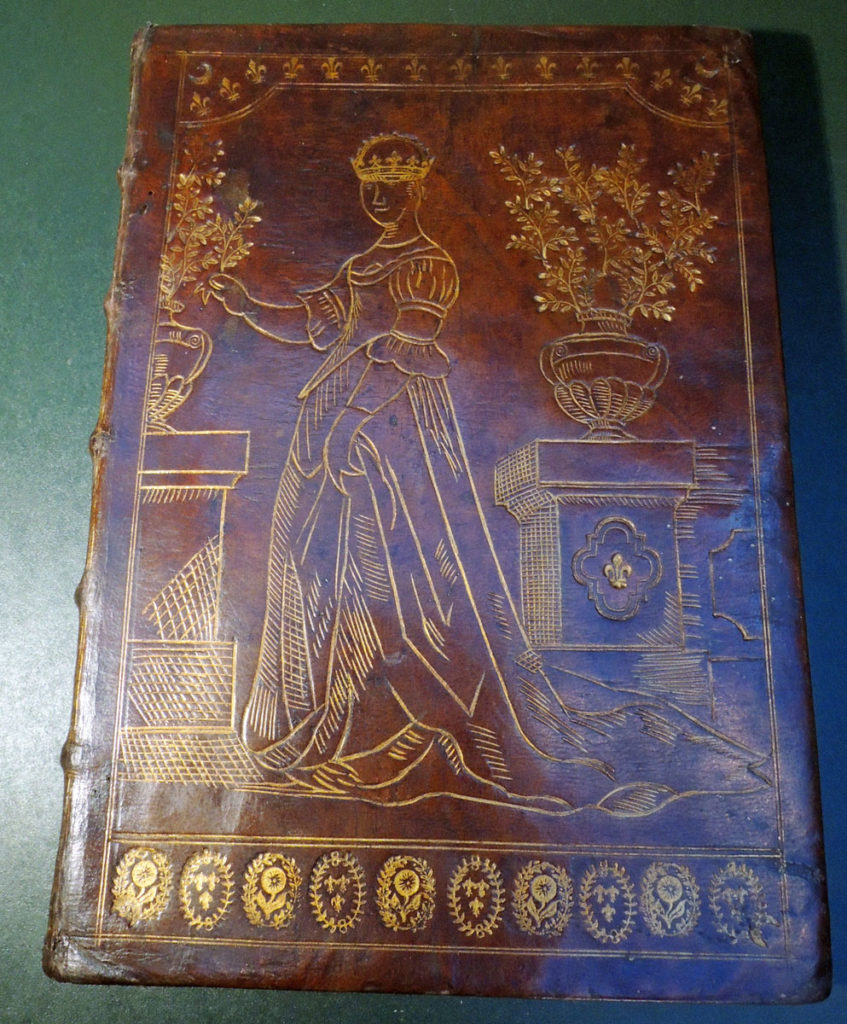 In the 1903 Book-Prices Current: A Record of Prices at which Books Have Been Sold at Auction, entry 6057 describes a book sold for £16:
Adimari (Lodovico). Poesie, alla Maiesta del Re Lodovico XIV. il Grande. Old morocco, full gilt back with stars and crescents . . . and a full-length figure of a crowned queen in gilt outlines, all apparently hand-tooled except a fieur-de-lis on one of the plinths, which appears to be stamped, a very peculiar and unique specimen of binding, Bologna, 1691.
When this volume was in the hands of Mortimer L. Schiff (1877-1931) he appears to have also considered the binding contemporary with the text.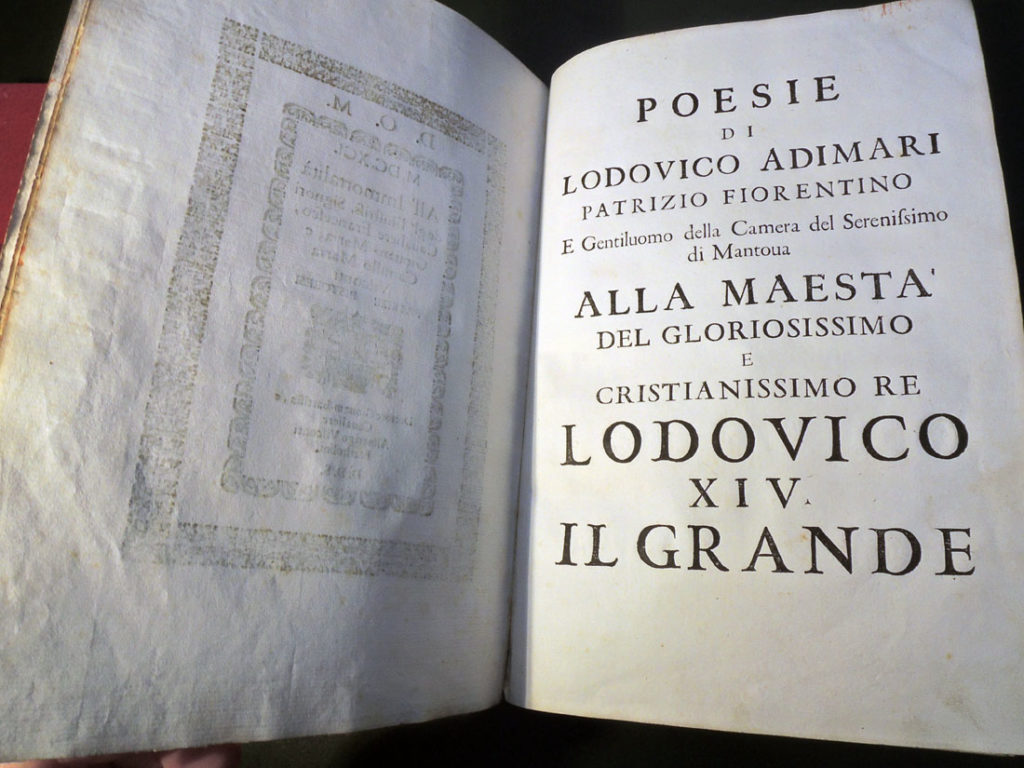 But in the 1997 article, "A binding decorated c. 1880-1890, probably in Bologna – English and foreign bookbindings 77" in The Book Collector (1997), Anthony Hobson attributed the binding to "a gang of Bolognese forgers . . . torn between conflicting ambitions." Should the book look Italian to fit the poet and publisher or should it appear French, to fit the larger market for French antiquarian books at the time? This is the concern that led to the book's unique and hard to classify binding, according to Hobson.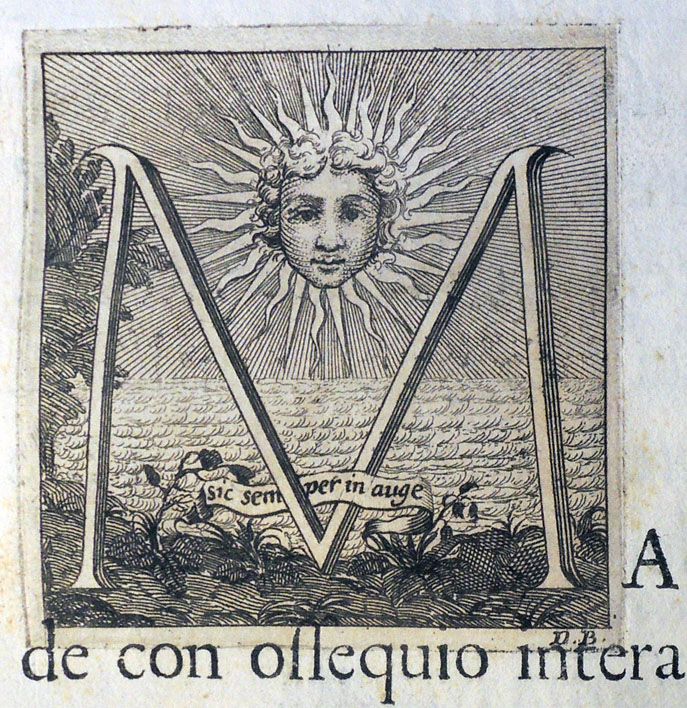 Detail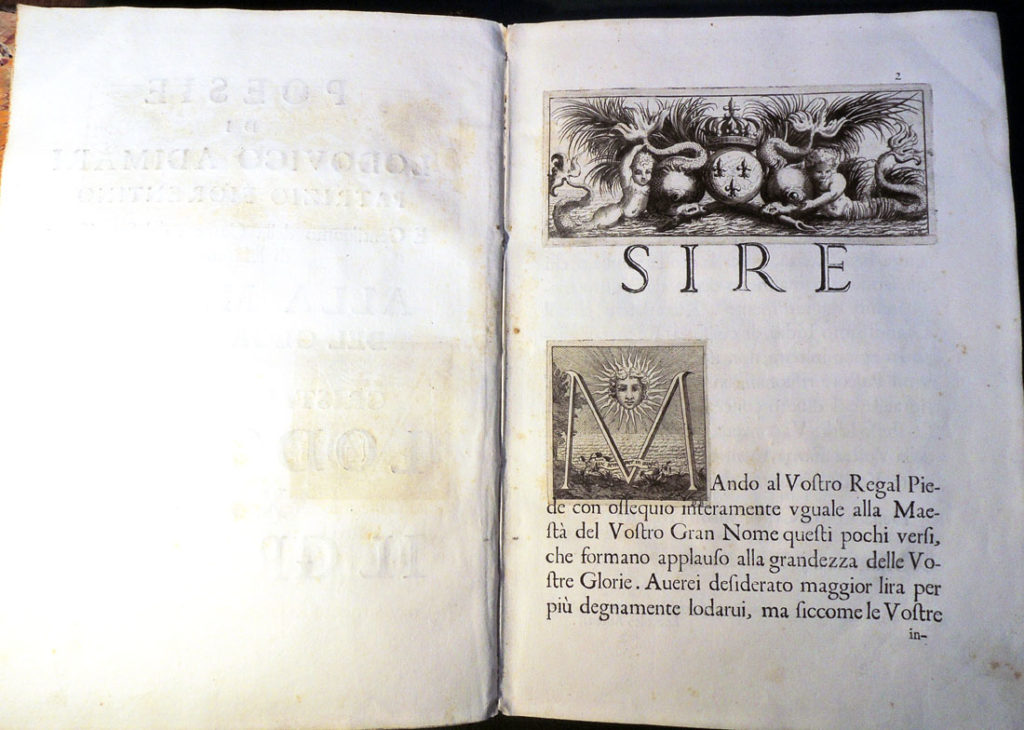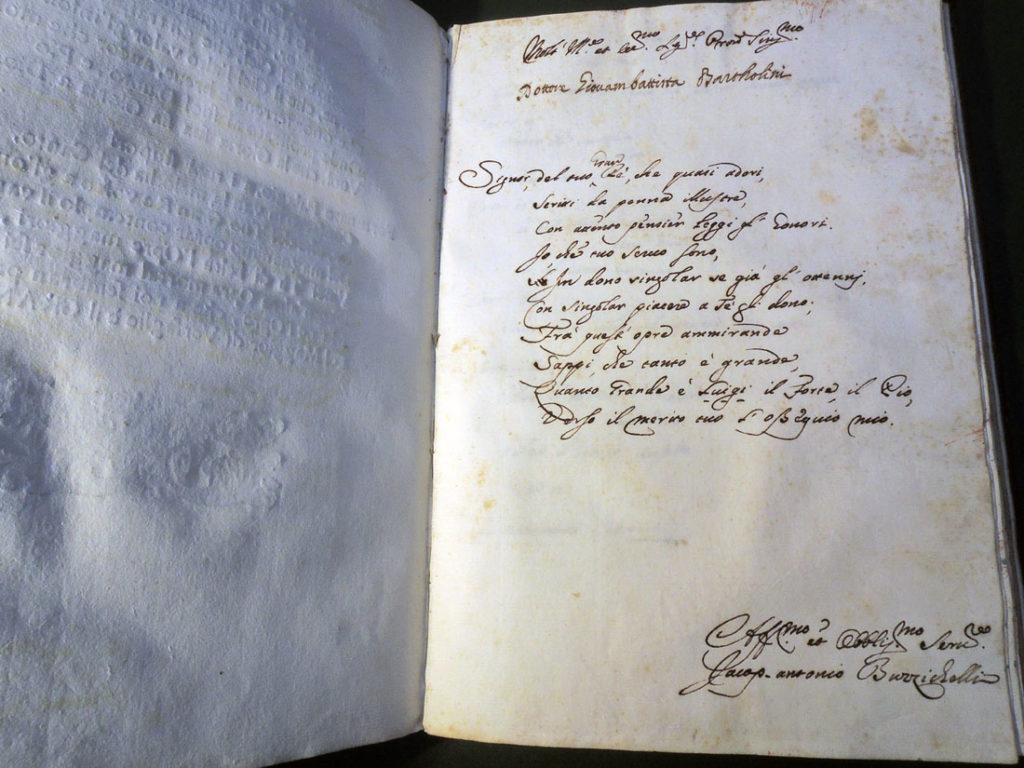 Lodovico Adimari (1644-1708), Poesie di Lodovico Adimari, patrizio fiorentino e gentiluomo della camera del serenissimo di Mantoua alla maesta del gloriosissimo e cristianissimo re Lodovico XIV, il Grande ([Mantua?]: [publisher not identified], [1691?]) with Alla sacra reale maesta christianissima di Luigi il Grande (Bologna: Per gle Eredi di Antonio Pifarri, 1691). Graphic Arts Collection. Acquired with funds provided by the Rare Book Division, French Studies, and Graphic Arts Collection.
Printed presentation leaf from "Dottore Giouam-battista, e Caualiere Almerigo Visconti Bartholini", to "Caualiere Francesco, Giouan-Maria, e Camillo Maria Visconti", bound in at front. Manuscript presentation leaf to Dottore Giovambattista Bartholini from J.A.. Buzzichelli, with two leaves of manuscript verses by Buzzichelli, bound in at end.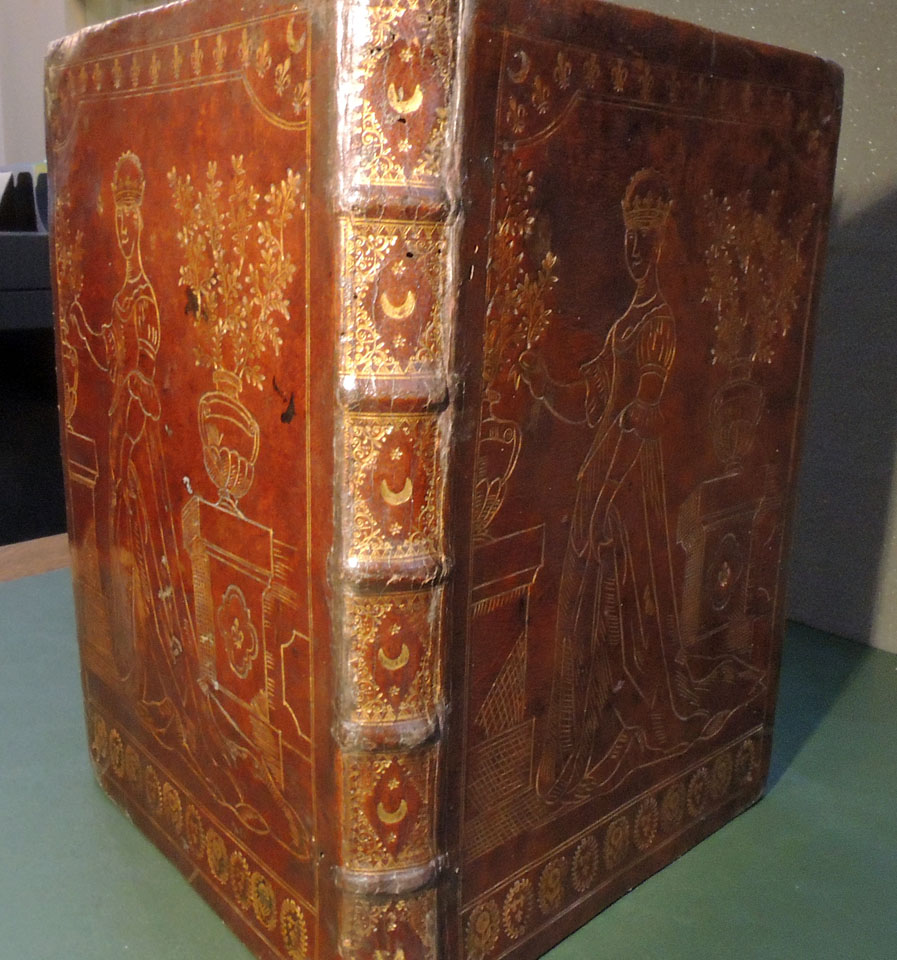 On both front and rear covers, a double-rule frames a crowned woman in a long robe standing between two plinths that support potted laurels; crescents in three corners, an upper border of lilies and lower border of daisies and lilies; the crescent repeated in the spine compartments, edges sprinkled red and blue.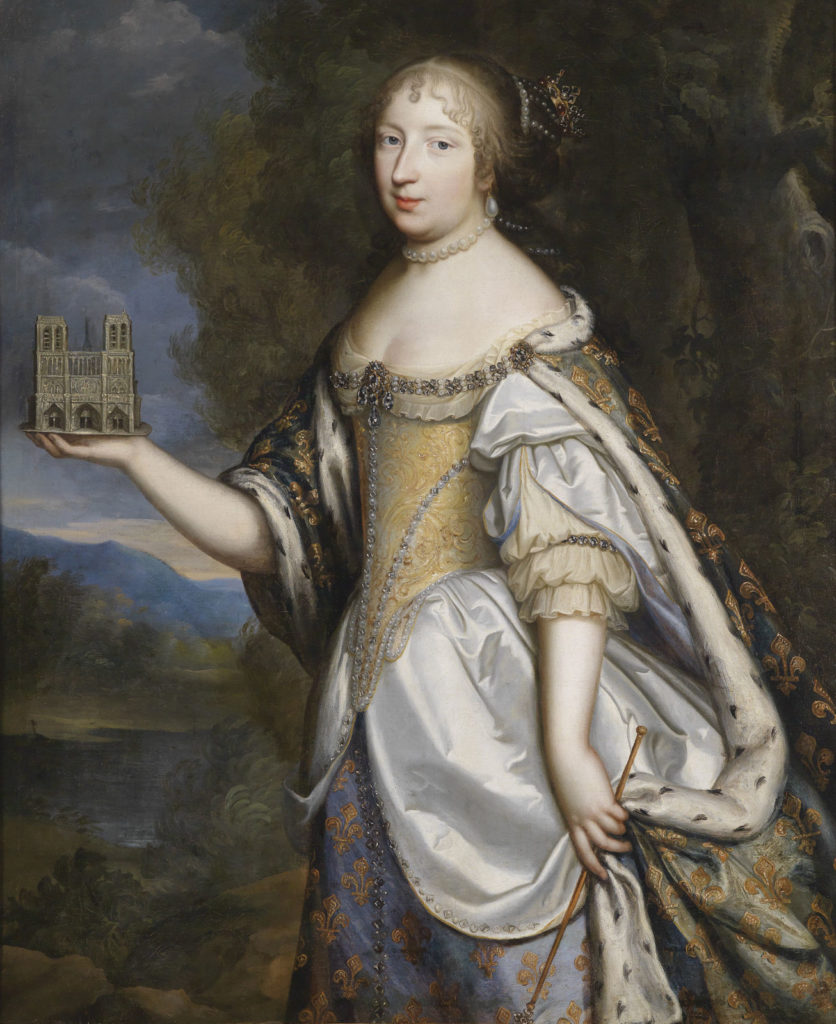 One source identified the female figure standing in silhouette as Queen Marie-Thérèse of Austria (1638-1683). Here is the queen's official portrait by Charles Beaubrun (1604–1692) and Henri Beaubrun the younger (1603–1677), which matches the binding surprisingly well.