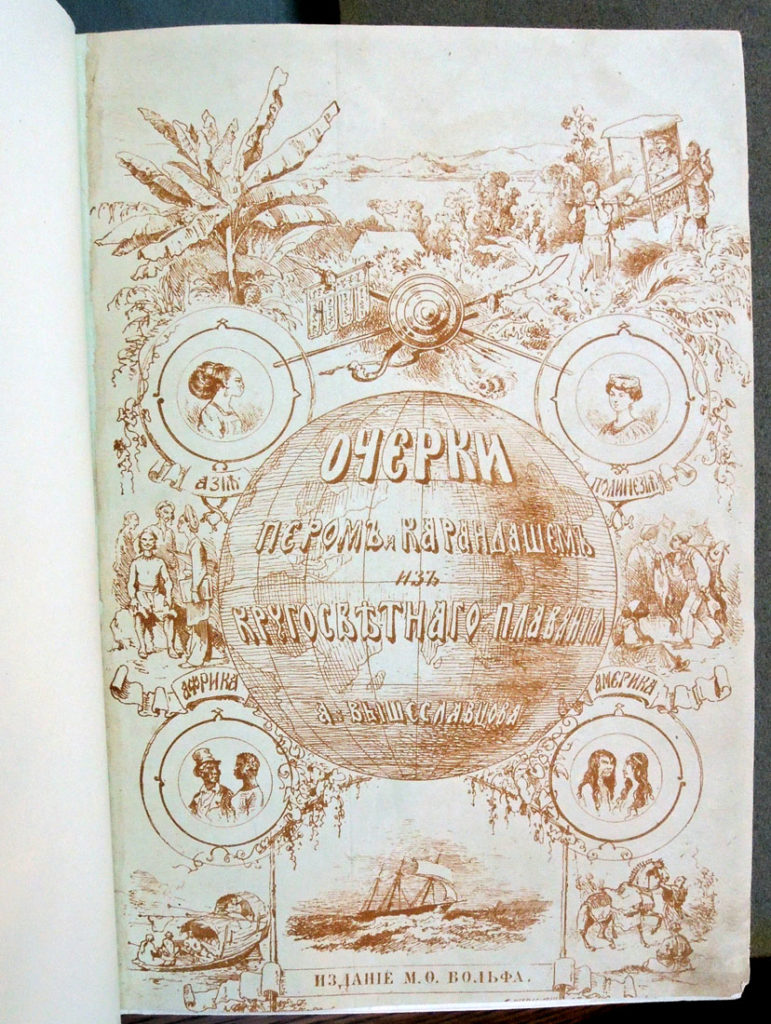 Aleksei Vysheslavt︠s︡ev (1831-1888), Ocherki perom i karandashem iz krugosvi︠e︡tnago plavanīi︠a︡ v 1857, 1858, 1859 i 1860 [Sketches in Pen and Pencil from a Trip Around the World in the Years 1857, 1858, 1859 and 1860]. 2nd corrected edition (Saint Petersburg: M.O. Wolf, 1867). Graphic Arts Collection GAX 2918- in process.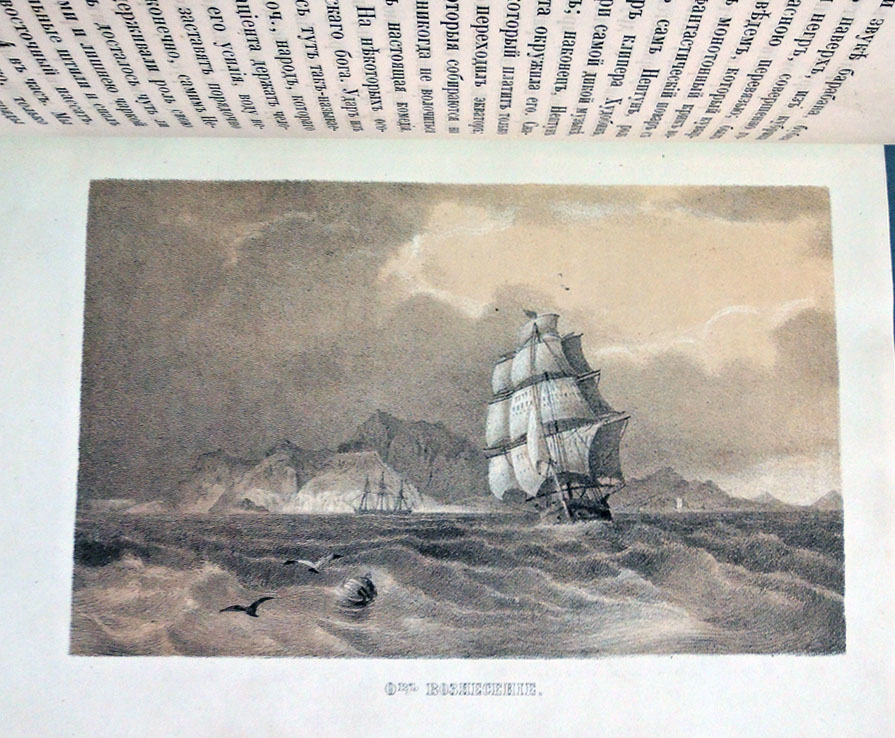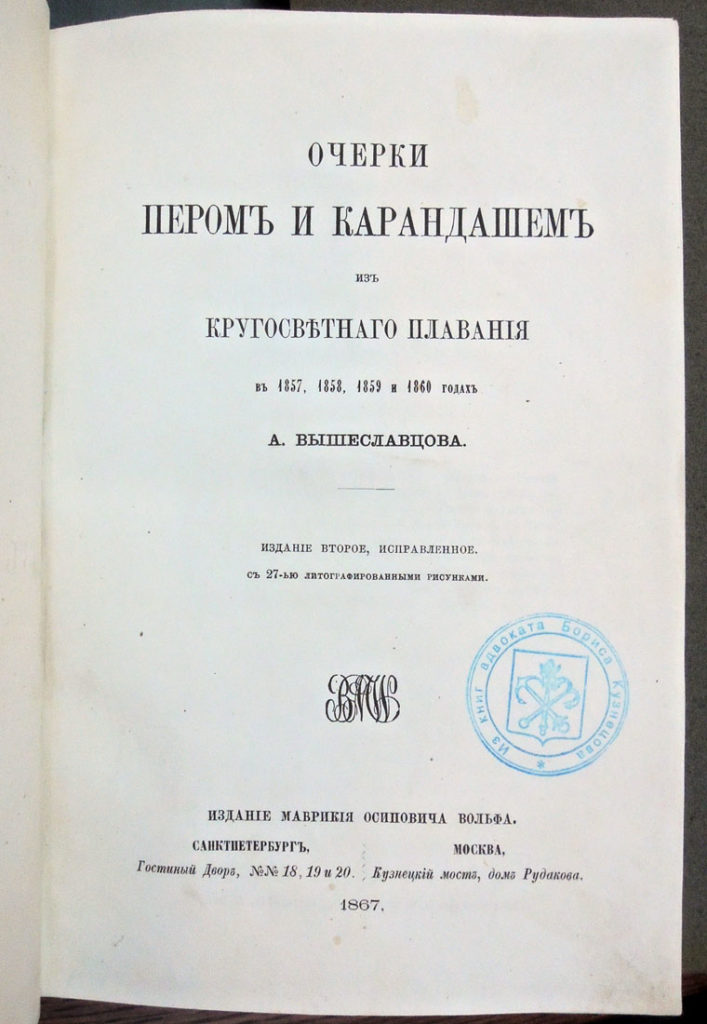 Illustrated with 24 tinted lithographs (including the title page seen at the top), this Russian travelogue takes the reader around the Cape of Good Hope to Singapore, Hong Kong, Japan, Hawaii, and Tahiti. Vysheslavt︠s︡ev was a doctor sailing around the world from 1857 to 1860, writing and sketching along the way.
He traveled with a military commission inspecting the Russian territories acquired with the Russian-Chinese Treaty of Aigun. The ship returned by way of the Strait of Magellan, Buenos Aires, and Rio de Janeiro.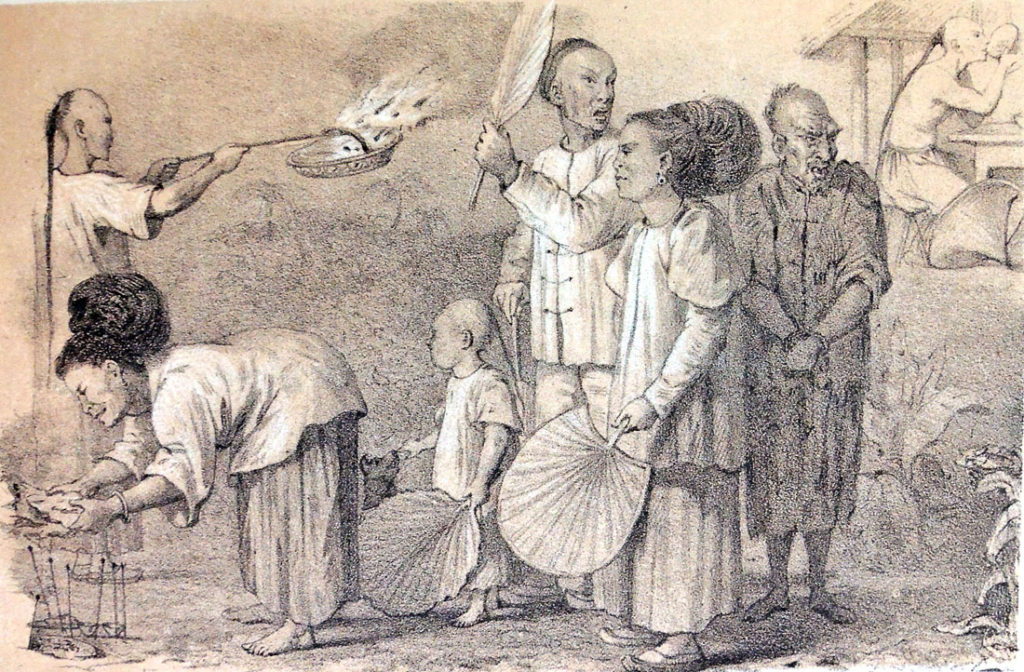 Vysheslavt︠s︡ev's "Letters from the Clipper Plastun" appeared from 1858 to 1860 in the Russky Vestnik, later known as the Russian Herald, where Leo Tolstoy and Fyodor Dostoyevsky also published. By 1862, the doctor was back in Saint Petersburg and published his collected letters with lithographs printed from his sketches by from the studio of Paul Petit. This second edition was published five years later by Mauritius Osipovich Wolf (1825-1883) with the same illustrations.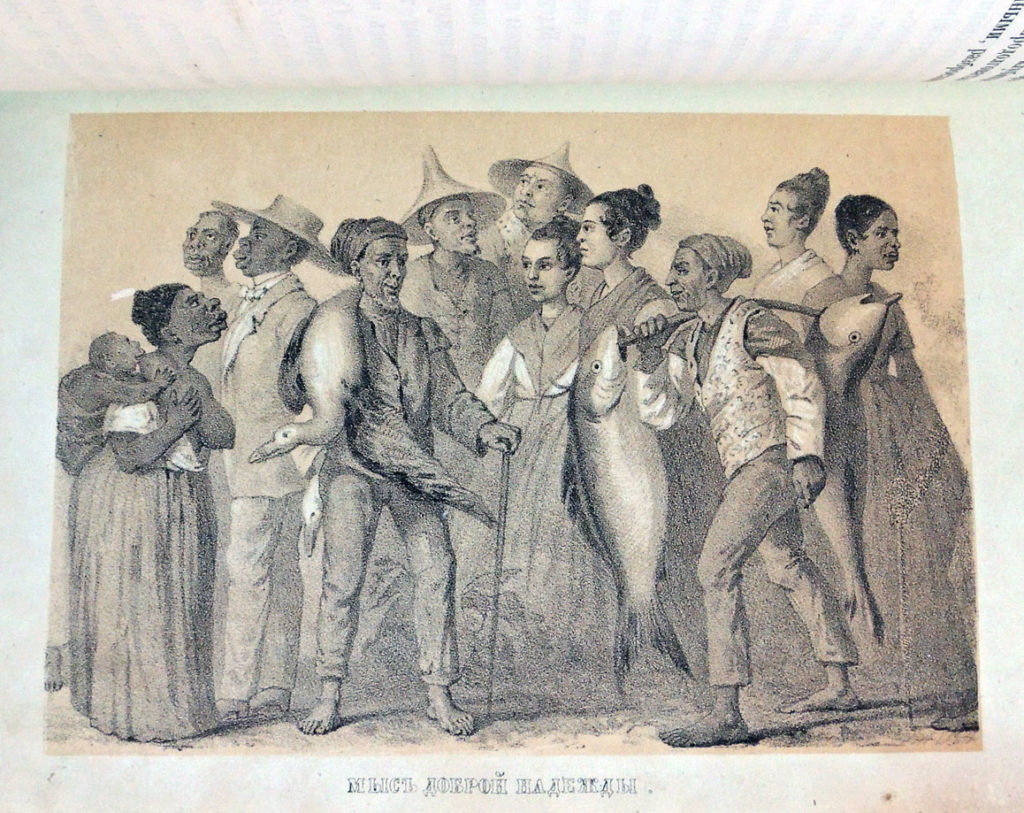 Professor Ella Wiswell notes,
"In Montevideo the Plastun had to undergo some repairs, and the author was transferred to the corvette Novik which was also returning from Japan. The transfer saved Vysheslavtsev's life because the Plastun was sunk by an explosion just as the two ships were approaching the home port of Kronshatdt in Russia.

Only nine members of the 79-member crew were rescued. The cause of the explosion was never determined, but it was suspected that a fire was started by a sailor resentful of ill treatment by the commanding officer. The final page in the book describes the disaster." https://evols.library.manoa.hawaii.edu/bitstream/10524/390/2/JL17076.pdf