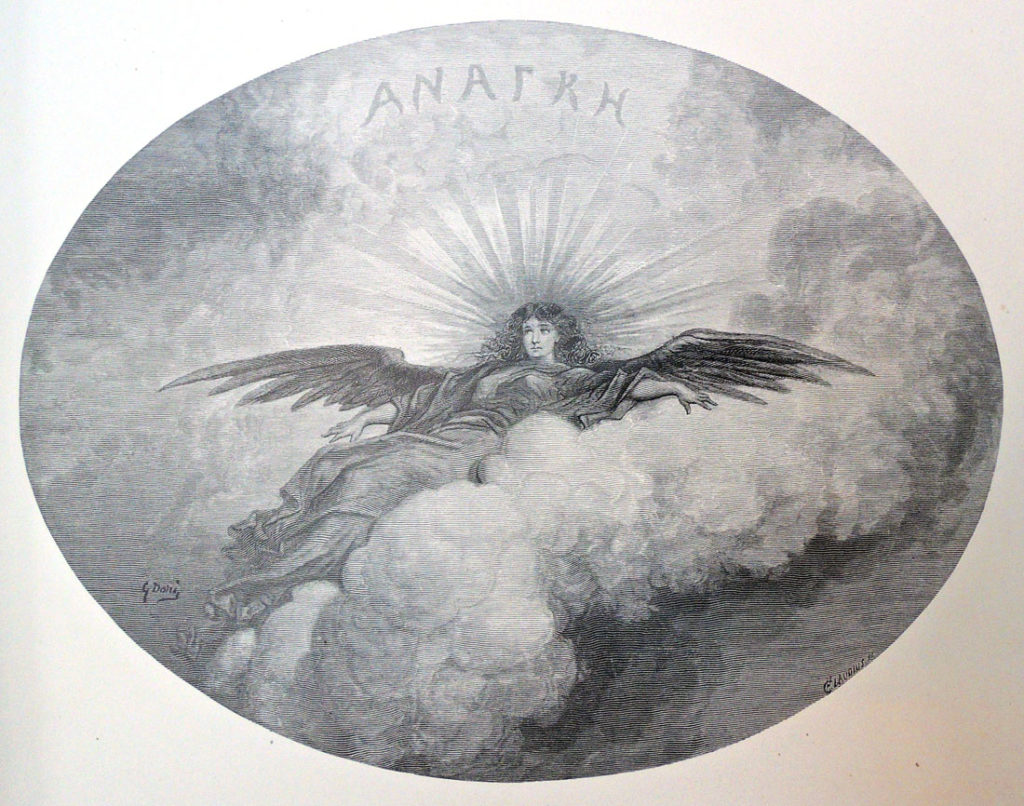 Edgar Allan Poe (1809-1849), The Raven (New York: Harper & Brothers, 1884). Steel engraving after drawings by Gustave Doré (1832-1883). Graphic Arts Collection Oversize 2004-0014F and Oversize 2004-0015F
I was asked today what the original cost was for Gustave Doré's The Raven, poem by Edgar Allen Poe. The volume is being studied by ART 564 "Seminar in 19th-Century Art–Word and Image."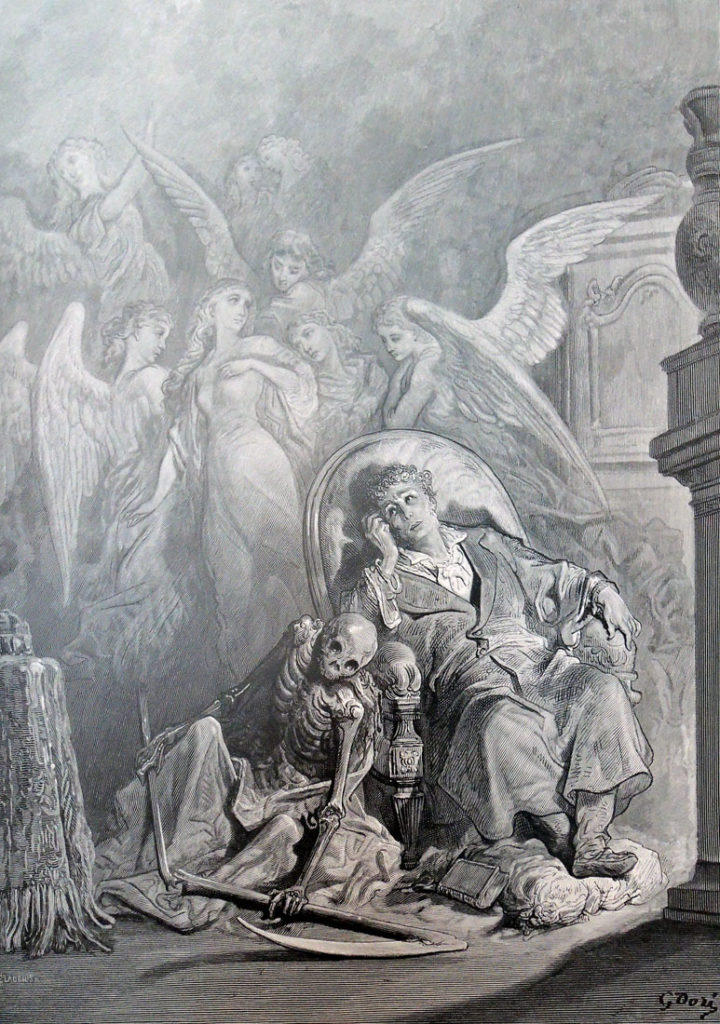 This was Doré's last project, completed weeks before his death on January 23, 1883. His drawings were turned over to Harper & Brothers in New York City, where fourteen master engravers were hired to rush the volume to press. Few of the artists are known today except by last names: H. Claudius; R. A. Muller; W. Zimmerman; Frederick Juengling; G. F. Buechner; R. G. Tietze; F. S. King; T. Johnson; R. Standenbaur; Frank French; R. Schelling; George Kruell; Victor Bernstrom; and Robert Hoskin.
The plates had to be cut in steel rather than copper because of the size of the edition: 10,000 copies with 26 engravings each, requiring at least 260,000 full-page sheets to be printed, collated, and bound.
First mentions of a Doré Raven began appearing almost immediately, such as the "Literary Note" in the Detroit Free Press February 4, 1883, that read,
"A few months before his death, Gustave Dore completed a series of illustrations to Edgar Allan Poe's 'The Raven.' The sketches–between twenty and thirty in number–are now the property of Messrs. Harper & Brothers. They will be engraved in this country and published with the text of 'The Raven,' as a companion volume to Messrs. Harper & Brothers' sumptuous edition of 'The Ancient Mariner,' illustrated by Dore."
By October, the title was advertised as one of Harper & Brothers Christmas gift books at a cost of $10 (equivalent to $244 today). Sales were heavy and Doré's work received critical praise, unlike the poor reception Édouard Manet's lithographs for The Raven (Le Corbeau) received in 1875.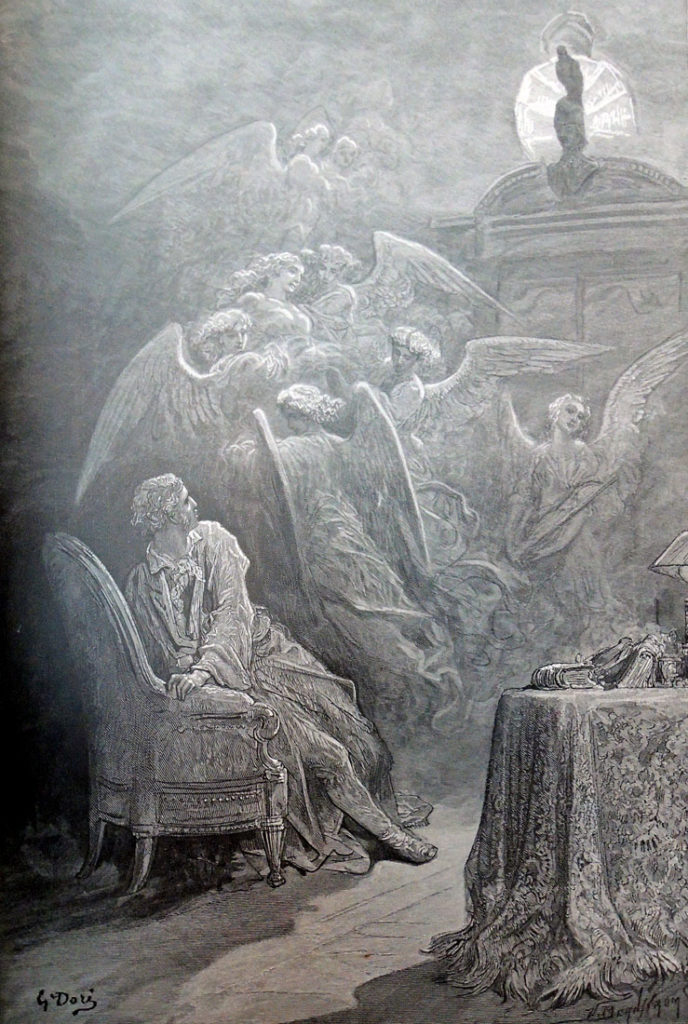 The quality of the plates varies widely, according to the skill of the individual engraver. The steel plate added coldness and flatness of the images. However, when they succeed, the result is striking.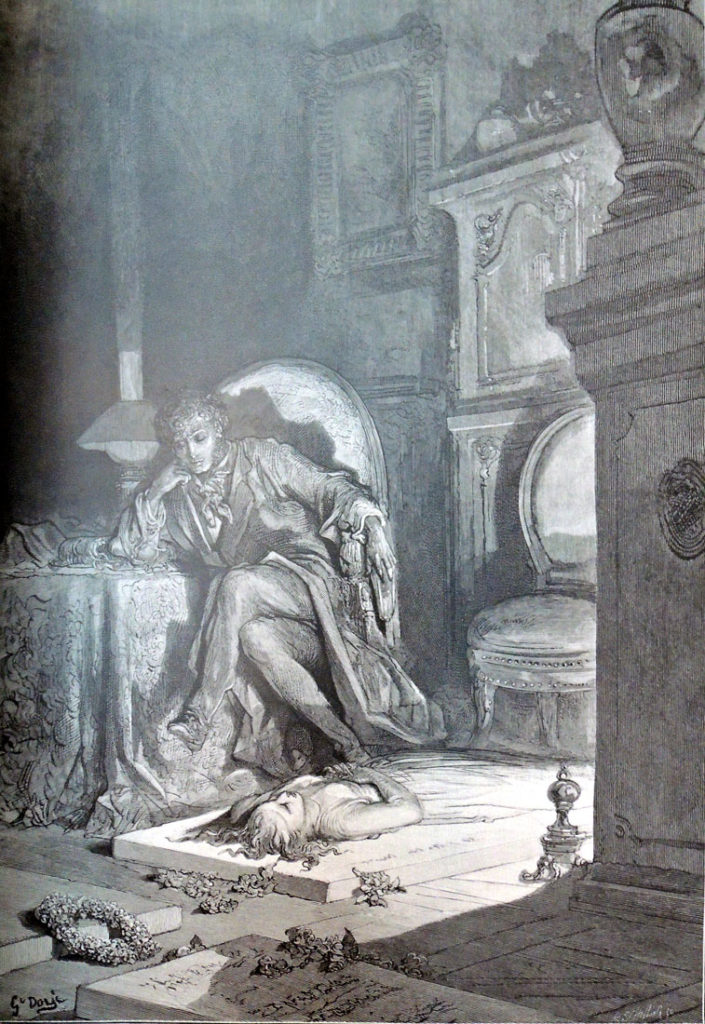 Ah, distinctly I remember it was in the bleak December;
And each separate dying ember wrought its ghost upon the floor.
Eagerly I wished the morrow;—vainly I had sought to borrow
From my books surcease of sorrow—sorrow for the lost Lenore—
For the rare and radiant maiden whom the angels name Lenore—
Nameless here for evermore.