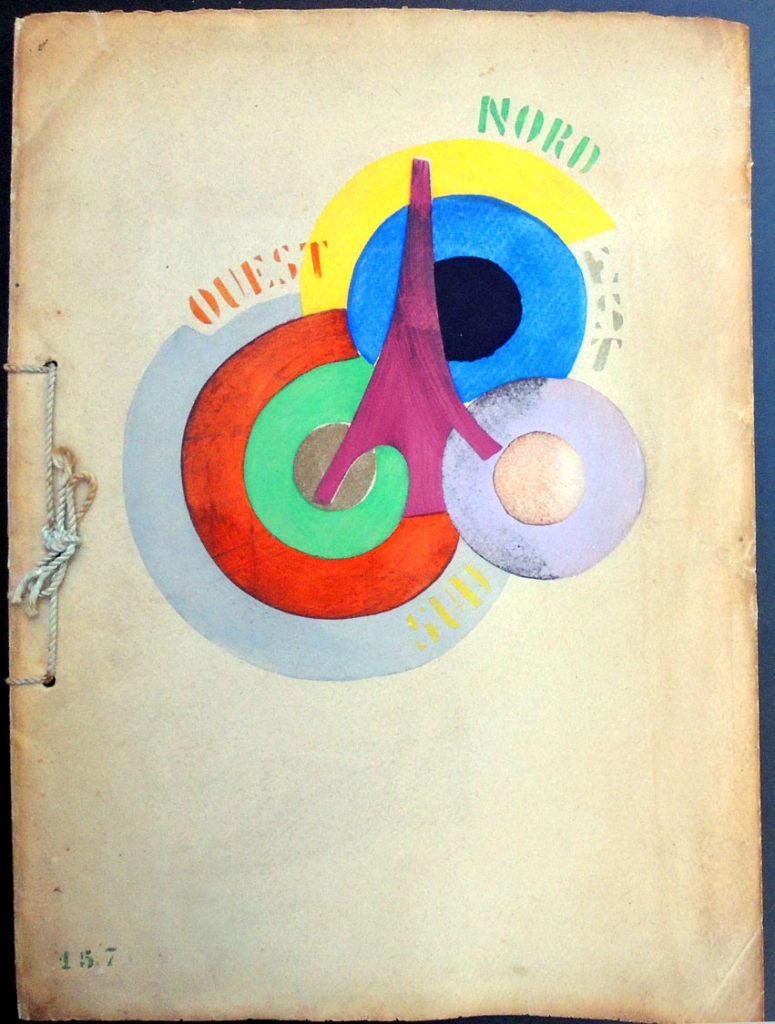 Vicente Huidobro (1893-1948) and Robert Delaunay (1885-1941), Tour Eiffel. Poème par Vincente Huidobro; peintures par Robert Delaunay (Madrid: privately printed, 1918). Graphic Arts Collection GAX 2018- in process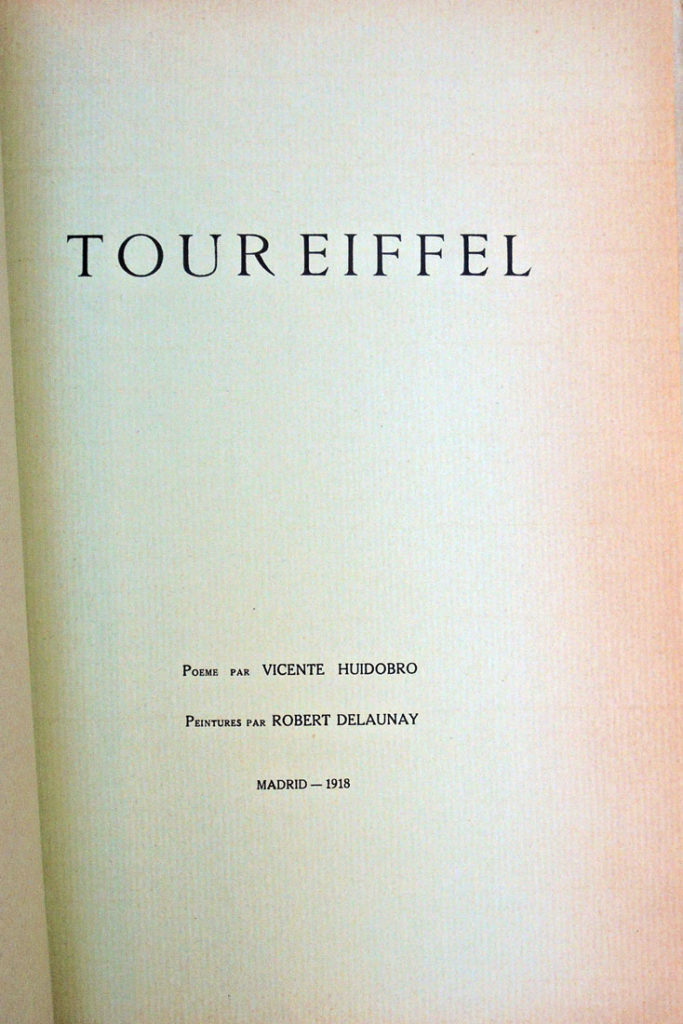 In 1908, the painters Robert Delaunay (1885-1941) and Sonia Terk (1885-1979) met and fell in love but had to wait a year for her divorce to come through before they could marry. To celebrate their new life together Delaunay painted the Eiffel Tower, the first of thirty canvases depicting that  symbol of French modernity.
For the next few years the Eiffel Tower became he primary focus, just as Claude Monet painted dozens of haystacks a generation earlier. Through these paintings, he developed a personal style of Cubist fragmentation, interweaving various perspectives with the light and color from different times of the day.
When the series was finally exhibited in Paris, their friend Guillaume Apollinaire (1880-1918) proclaimed Delaunay "an artist who has a monumental vision of the world." Apollinaire wrote a visual poem or Calligram in honor of Delaunay's towers and coined the term Orphism to describe the painter's style.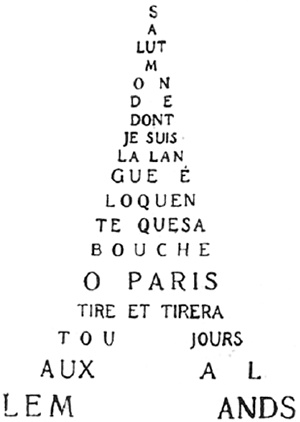 In 1913, Sonia Delaunay-Terk collaborated with the Swiss-born poet Frédéric-Louis Sauser (1887-1961), better known as Blaise Cendrars, on an epic narrative, La prose du Transsibérien et de la Petite Jehanne de France, describing a Trans-Siberian railway journey concluding at the Eiffel Tower.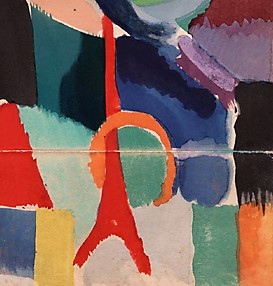 Deborah Wye wrote, "Comprised of brightly colored arabesques, concentric circles, triangles, and rectangles, Delaunay-Terk's pochoir illustrations for Blaise Cendrars's poem and its radical format have made this a landmark in the history of the modern book. . . . Calling their creation "the first simultaneous book," Delaunay-Terk and Cendrars drew on the artistic theory of simultaneity, espoused by the artist's husband, the painter Robert Delaunay, and modern poets."–Artists and Prints: Masterworks from The Museum of Modern Art (2004).
When war was declared, the Delaunays left Paris and in 1918 moved to Madrid, where they opened Casa Sonia to sell Delaunay-Terk's designs for interior decoration and fashion. That summer, Robert collaborated with the Chilean concrete poet Vicente Huidobro (1893-1948) on another simultaneous book, Tour Eiffel. Huidobro's visual poem, dedicated to Delaunay, was letterpress printed on multi-colored papers bound with a silken cord.
They used one section of a poem published the year before in the journal Nord-Sud (named for the metro line that linked Montmartre to Montparnasse). As a nod this, Delaunay added these directional terms to his cover design: a brightly stenciled (pochoir) Eiffel Tower embedded in colorful rings, as if picking up where La prose du Transsibérien left off. 
The Graphic Arts Collection has finally acquired a copy of this important volume for Princeton.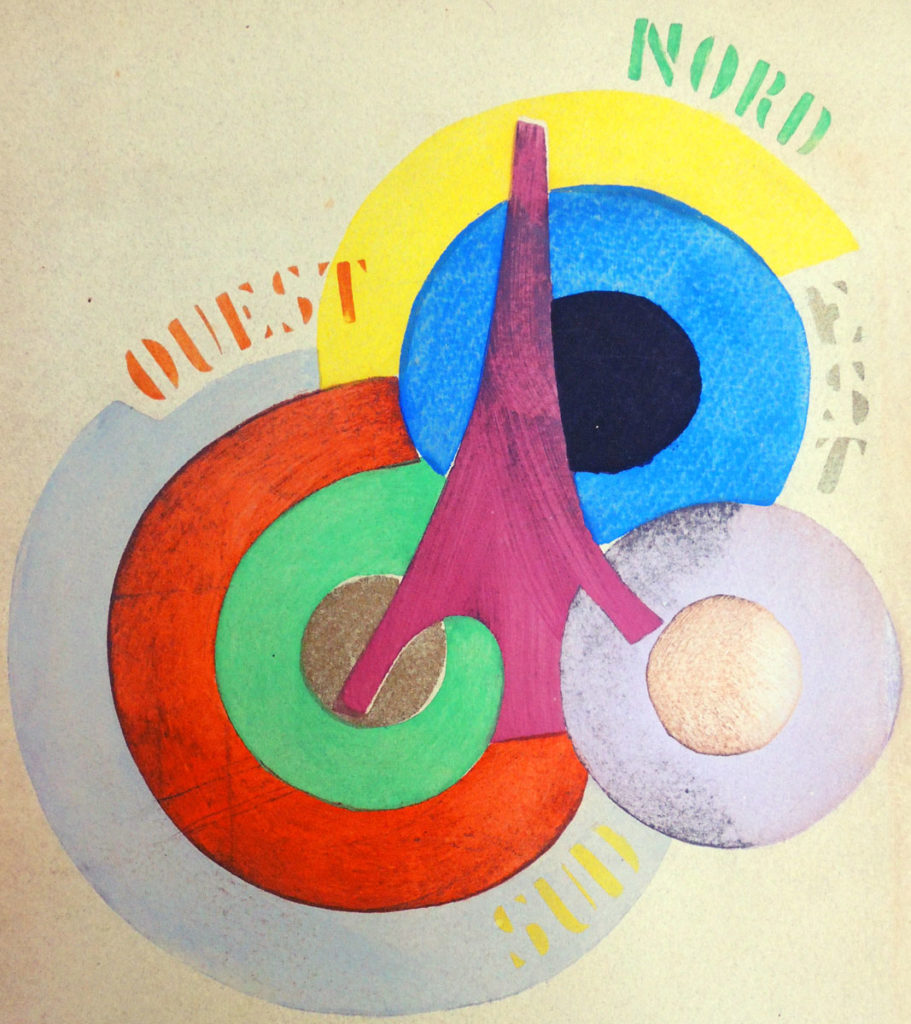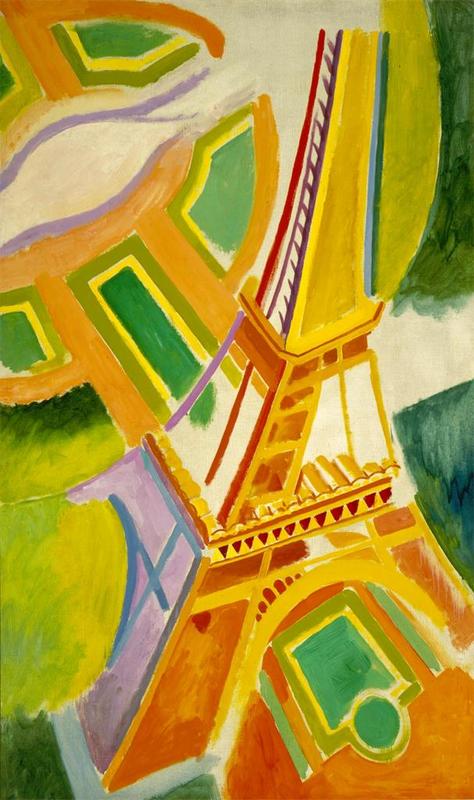 After the war, they returned to Paris and Delaunay went back to the Eiffel Tower as subject matter, further exploring his colorful Orphism. Delaunay-Terk expanded her textile design business, creating fashions for individual clients and for theatrical performances.
Robert Delaunay, "Eiffel Tower," 1924. Oil on Canvas, 161.6 cm x 96.8 cm. Saint Louis Art Museum, Saint Louis.