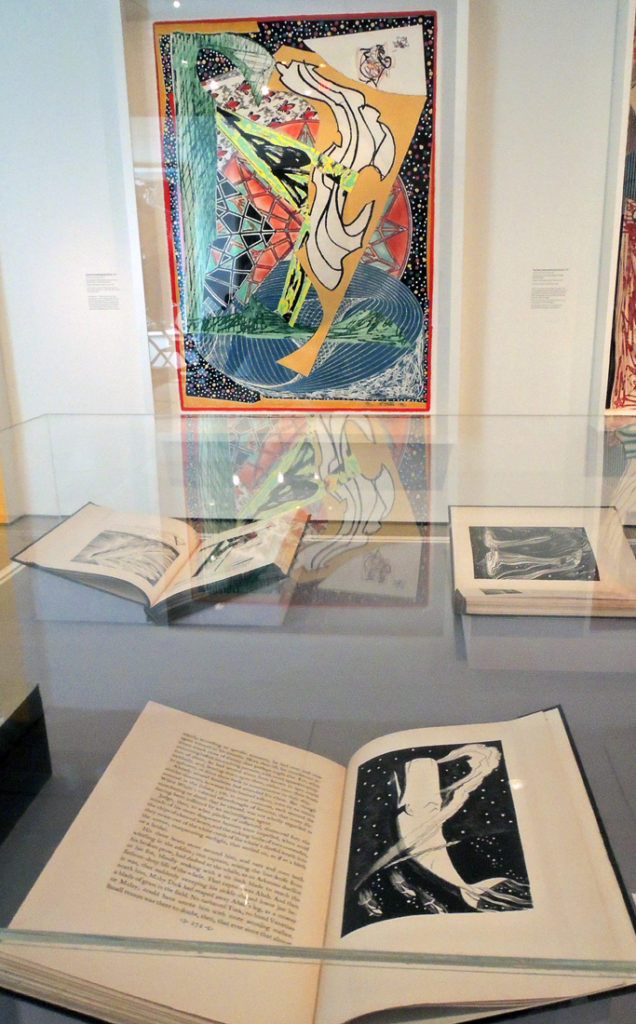 Congratulations to our colleagues at the Princeton University Art Museum, where the exhibition Frank Stella Unbound: Literature and Printmaking opened this weekend and can be seen through Sunday, September 23, 2018. The show features a number of books from our collections and highlights Stella's inspiration from literature. Organized in conjunction with the 60th anniversary of the artist's graduation as a member of the Class of 1958, the exhibition will travel to the Museum of Contemporary Art Jacksonville.
See above our three volume Moby Dick, with prints by Rockwell Kent, installed so you can see Stella's responding print on the wall. Label copy gives the viewer a quote from the book's text, rather than an art historical commentary.
"Frank Stella Unbound: Literature and Printmaking focuses on a revolutionary period in the artist's printmaking career, between 1984 and 1999, when Stella executed four ambitious print series, each of which was named after a distinct literary work: the Passover song Had Gadya, a compilation of Italian folktales, the epic American novel Moby-Dick, and the illustrated The Dictionary of Imaginary Places. In the four series titled after these sources, Stella created prints of unprecedented scale and complexity, transforming his own visual language—as well as his working process in all media—and reaching a technical and expressive milestone in printmaking."—PUAM press release.
See more: http://artmuseum.princeton.edu/art/exhibitions/3331