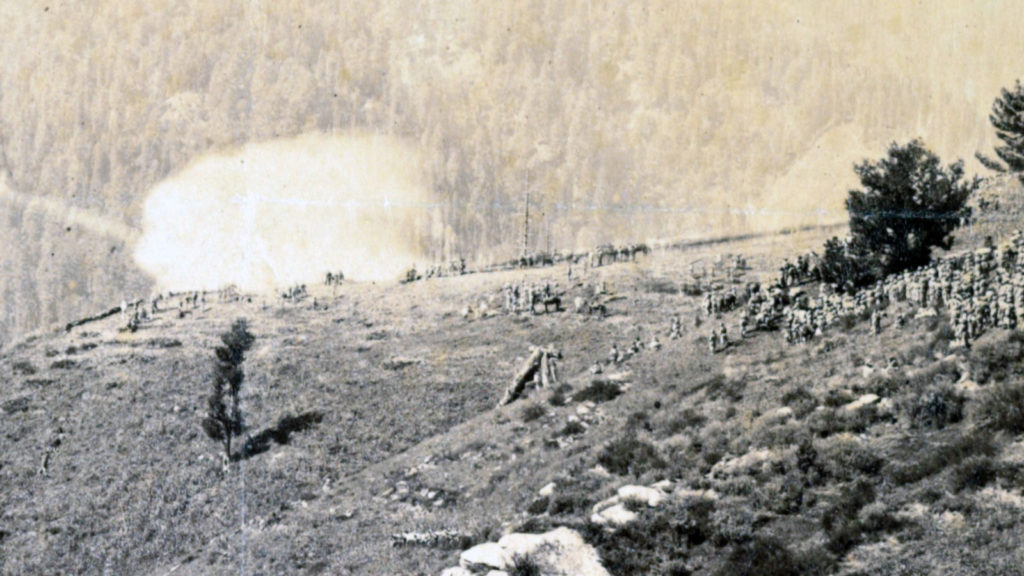 This photograph [a detail] is labeled: "The Attack on Mhunnah-Ka-Dhunnah," although we are told common orthography for that place in the Agror Valley (Pakistan, not too far from Abbotabbad) is Mana-ka-Dana (probably not too far from here https://goo.gl/maps/28gZ8NvrJ6q).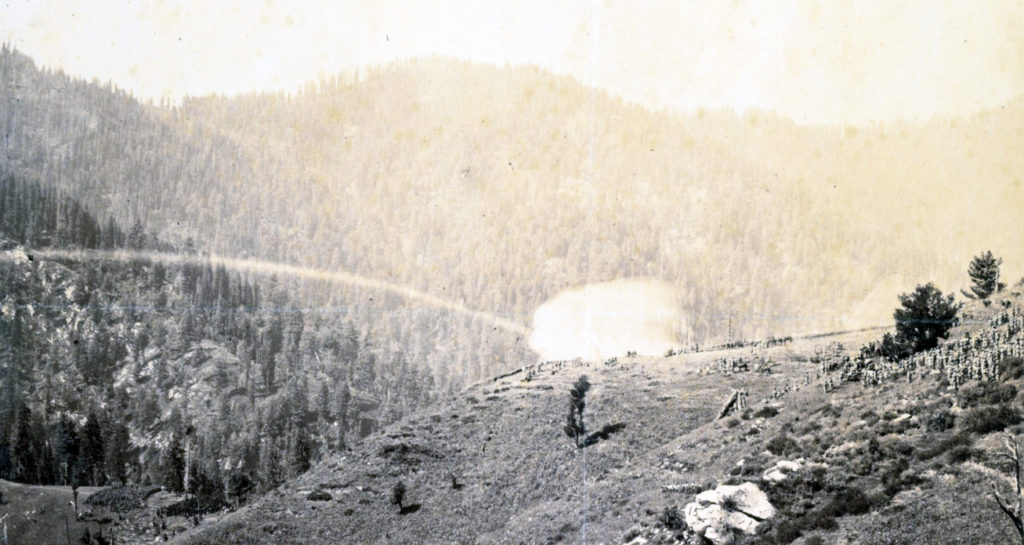 Most researchers who ask about our photography album attributed to the British Army officer Alexander Dudgeon Gulland M.D. with 165 albumen silver prints ca. 1868, are looking for the section covering the rebellion in Jamaica.
Equally compelling is the next section (digitized here: http://pudl.princeton.edu/objects/736664580) with photographs of Kashmir and, in particular, the 1868 camp of the Hazara Field Force under Major General Wylde O.B. at Oghi. In one print [see above] the photographer caught a cannon ball in mid-air, leaving a trail of smoke arching across the sky.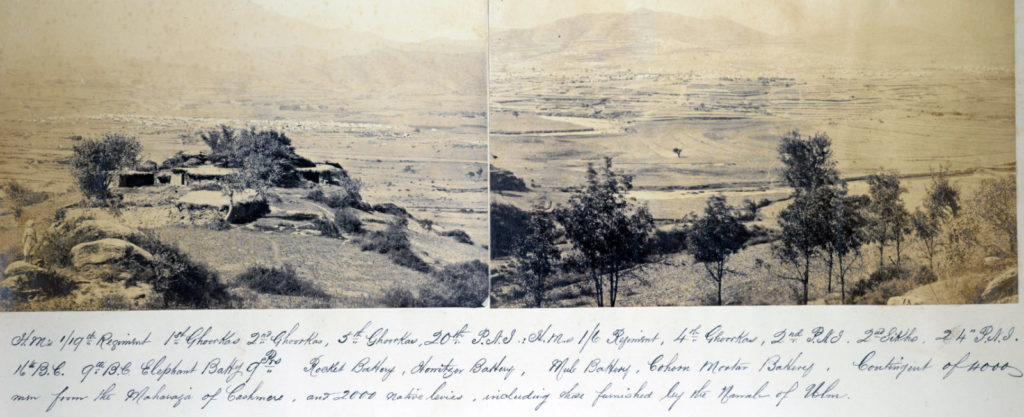 …An expedition thus became necessary, and as the country inhabited was mountainous and difficult, and it was possible that more tribes beyond the Indus would join the enemy, the invading force had of necessity to be a large one. A force under Major-General Wylde, O.B., was collected at Oghi, and the Mahdrdja of Kashmir was also called upon to furnish a contingent, which he did with readiness.

The force left Oghi, October 3rd, and occupied the Machai peak after an ineffectual resistance on the part of the enemy, and returned to British territory on the 22nd idem. The submission of all the tribes was secured, except the chief Syad of Pardri, and a petty chief named Shal Khdn of Tahkd, who fled. Some villages of the Pathans were destroyed, and fines levied on the offending Swatis. List of killed and wounded Europeans, 1 wounded ; Natives, 35 wounded, 9 killed. –"Historical Record of No 4 (Hazara) Mountain Battery Punjab Frontier Force" https://archive.org/details/in.ernet.dli.2015.278775
Attributed to Alexander Dudgeon Gulland, Photography album documenting the Morant bay Rebellion in Jamaica (1865), the Indian Northwest Frontier Hazara Campaign (1867-1870), views of Malta, Ireland, Guernsey, Spain, and elsewhere, no date [1860s-1880s]. Graphic Arts Collection (GAX) (GAX) 2009-0016E