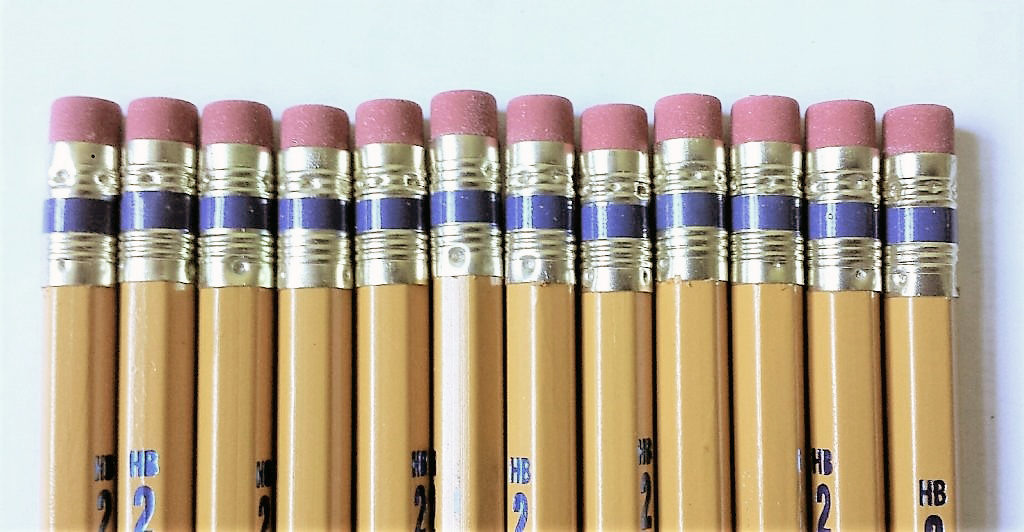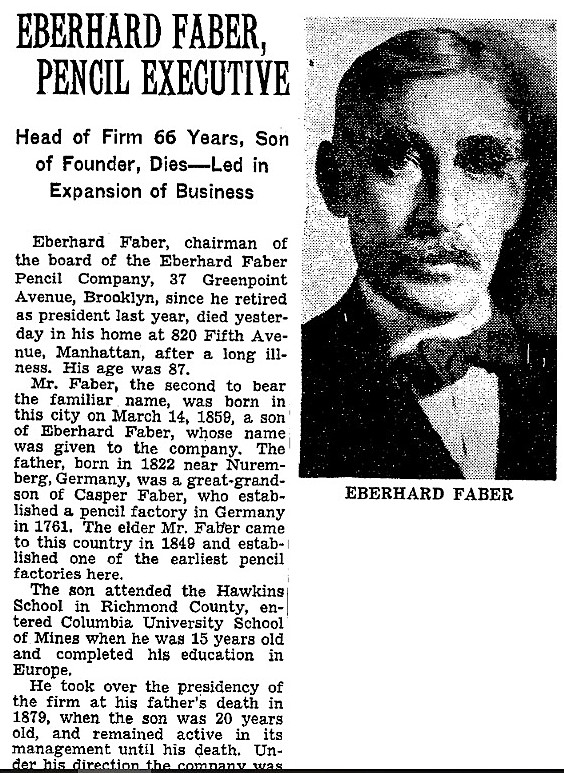 In 1761, Kaspar Faber (1730-1784) started a pencil factory in Stein (outside Nuremberg, Germany), which he named "A.W. Faber" after his son Anton Wilhelm Faber (1758-1819).
A subsidiary of this firm, The Eberhard Faber Pencil Company, had its first American office at 133 William Street in Manhattan. In 1858, Eberhard Faber (1822-1879) expanded its operations to include the manufacture of rubber bands and rubber erasers with a factory in Newark, New Jersey.
Three years later, the company opened its first U.S. pencil factory on 42nd Street near the East River. After a fire destroyed the factory in 1872, Faber moved its pencil company to Greenpoint, Brooklyn, where it remained until 1956 when it moved to Wilkes-Barre, PA. In 1987, Eberhard Faber Pencil Company was sold to A.W Faber-Castell.– From the "Guide to the Eberhard Faber Pencil Company Collection" ARC.028, Brooklyn Historical Society.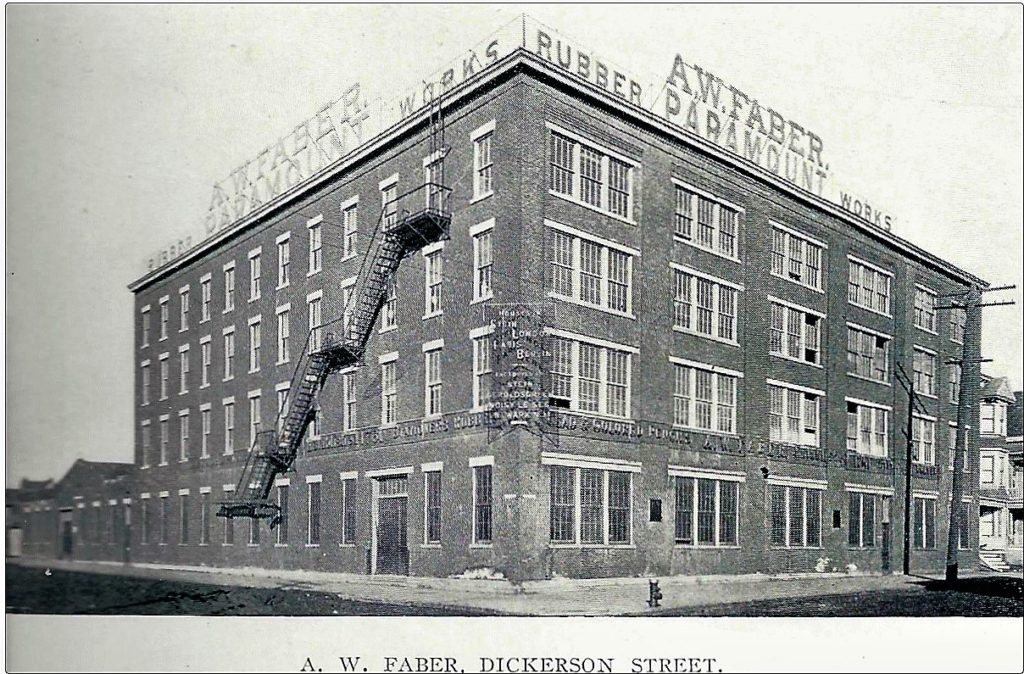 [above] Faber Rubber Company in 1912 where rubber erasers and rubber bands were made.
[below] The building still stands today, although it is not occupied.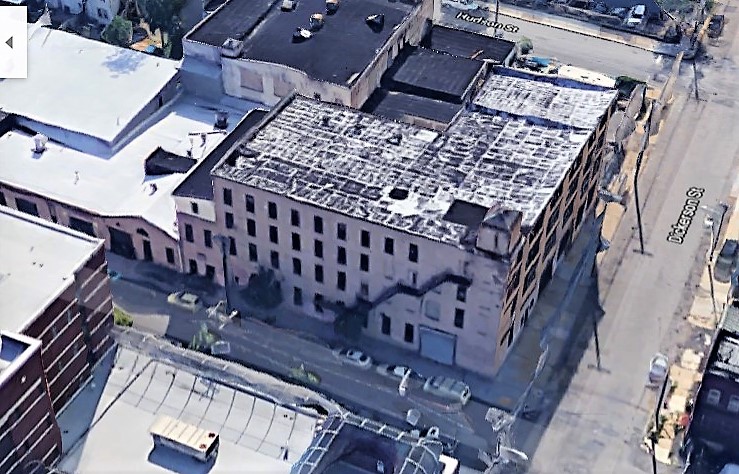 In 1858, Hymen Lipman (1817-1893) patented the first pencil / eraser combination and hoping to make a fortune off this invention, Joseph Reckendorfer (1836-1883) bought the patent from Lipman for $100,000, The Faber company fought this patent (they had a similar attachment) and in 1875, the Supreme Court ruled that the eraser-tipped pencil wasn't unique and didn't warrant a patent.
This was only the first of many confrontations the Faber boys  had with government agencies. https://supreme.justia.com/cases/federal/us/92/347/case.html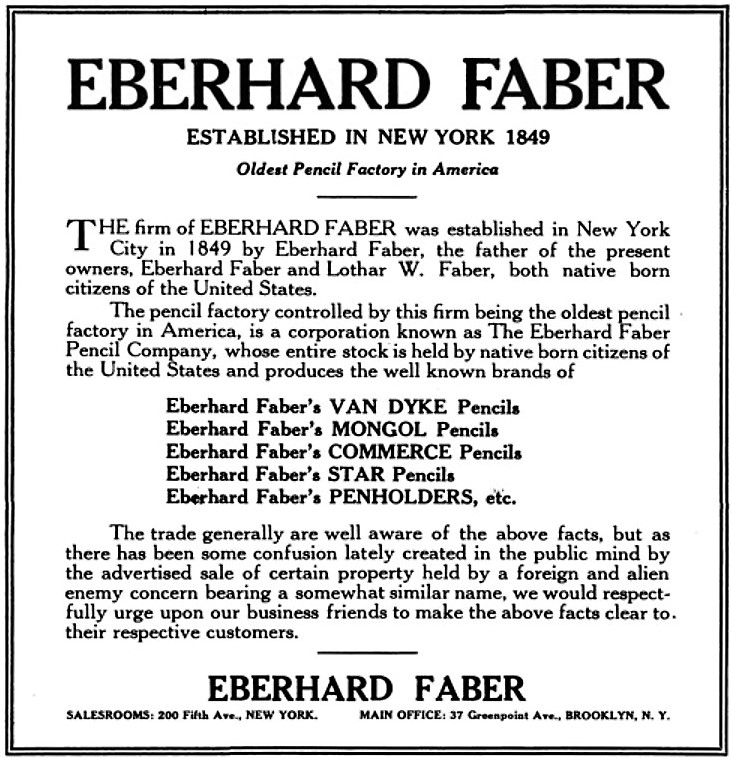 During World War I, Eberhard Faber fought to separate his American firm from his German relatives, placing advertisements in newspapers and magazines, such as the one above in Walden's Stationer and Printer 41 (1918). However, sale of the property on Dickerson Street was ordered under a ruling by the Alien Property Act and the American businessman Theodore Friedeburg bought the factory for $145,000.
This is where President Woodrow Wilson (1856-1924) stepped in and by executive order, demanded that the sale be cancelled because the bid was clearly below market value. Read more about that era: https://www.smithsonianmag.com/history/us-confiscated-half-billion-dollars-private-property-during-wwi-180952144/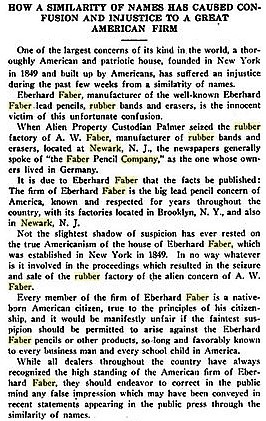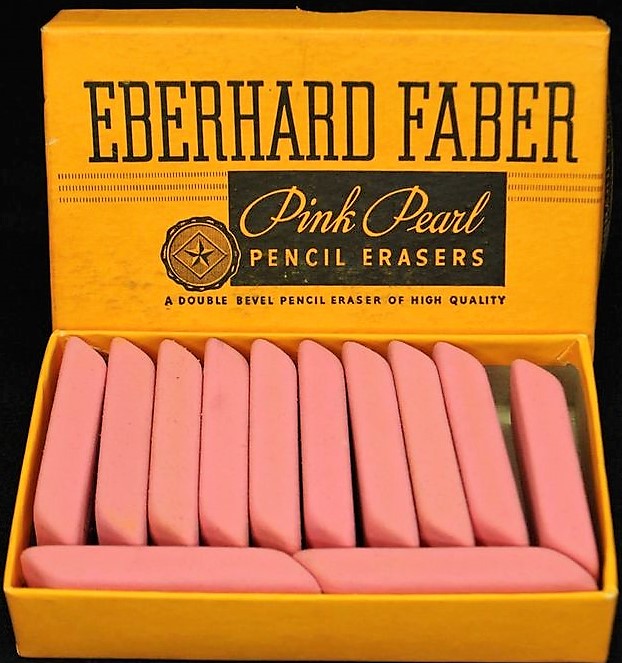 Then, in 1938, the Federal Trade Commission charged Faber and other rubber eraser manufacturers (and later, thirteen pencil manufacturers) of price fixing. The eraser firms included the American Lead Pencil Company, in Hoboken; Eagle Pencil Company, New York; Joseph Dixon Crucible Company, Jersey City (today a condominium complex), and Weldon Roberts Rubber Company, Newark; along with both A.W. Faber and Eberhard Faber companies.
They all appear to have pleaded no contest.
See also:
https://contrapuntalism.blog/2015/06/02/a-w-faber-dickerson-street-new-jersey/
Faber-Castell USA. http://www.faber-castell.us/14798/About-Us/index_ebene3.aspx
Habstritt, Mary. "Eberhard Faber's Pencil Factory," Archive of Industry. http://www.archiveofindustry.com/images/EberhardFaberHistory.pdf