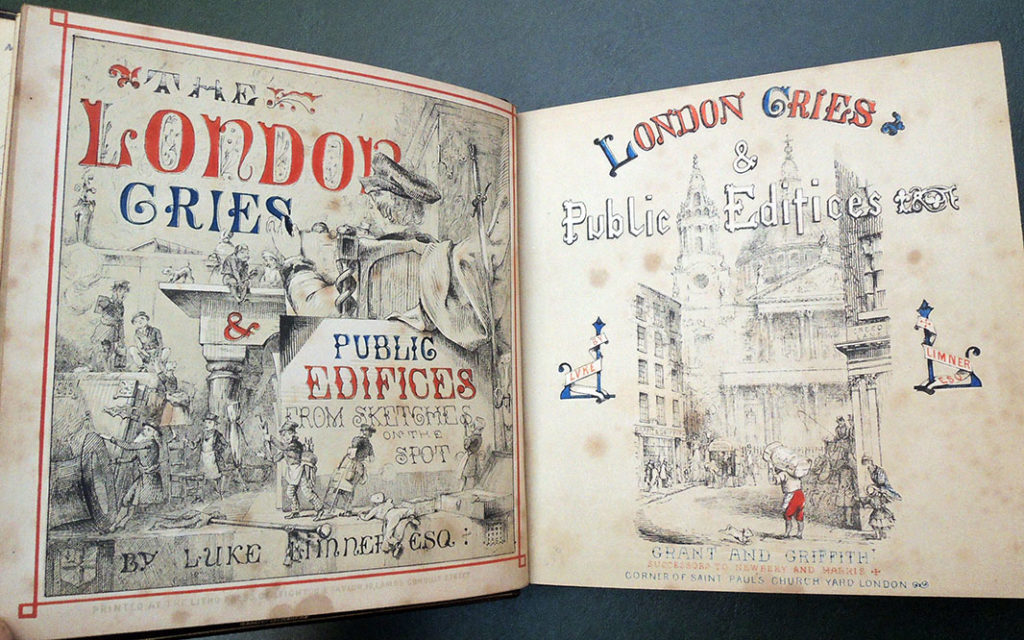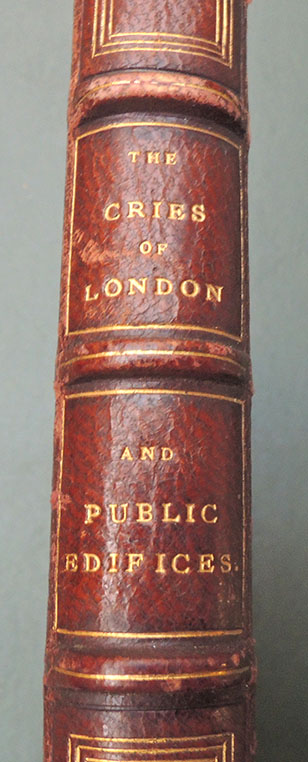 John Leighton [pseudonym Luke Limner] (1822–1912), London Cries & Public Edifices (London: Grant and Griffith, successors to Newberry and Marris, [1847]). Graphic Arts Collection GAX 2018- in process
Writing for the DNB, Edmund M. B. King notes "Leighton created over 400 cover designs in the 1850s and 1860s, some of which were for serial publications, though the majority of his work was for monographs. For The Keepsake his cover design was first used in 1849. It was repeated each year until 1857. He made different upper cover vignettes for each year of the Court Album from 1850 to 1855.
He carried out much work for two publishers in these years: for Griffith and Farran he made over forty designs; for Routledge he created over eighty. The series Routledge's British Poets provides an early example of the reuse of vignette design by Leighton for many of the individual volumes published in the 1850s.
…Distinguishable by his sheer proficiency as well as by his artistic talent, Leighton's work as a book illustrator also showed him capable of providing a rich vein of comic art in the 1840s and 1850s. He also created more studied work in the 1850s and 1860s, often within the prevailing fashion for gothic design and motifs. He designed covers for a wide range of subject material, including religion, engineering, history, natural history, and particularly imaginative literature. His commissions from a few publishers spanned many years. His cover and spine designs are frequently a marvel of intricate line within a confined space. Above all, Leighton provided designs that the publishers wanted, often incorporating deft touches of humour with a flourish."
First published at the end of 1847, Leighton's Cries was issued in three different formats, plain at 2s 6d; tinted at 5s; and hand colored at 7s 6d, which is the format the Graphic Arts Collection recently acquired. Beall E51; Hiler p. 536; Gumuchian 3700; and Lipperheide Gcb 19.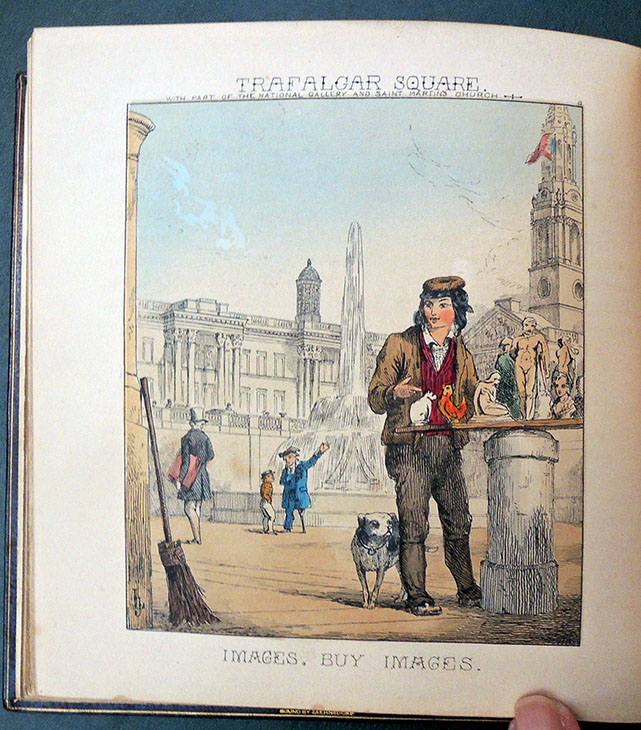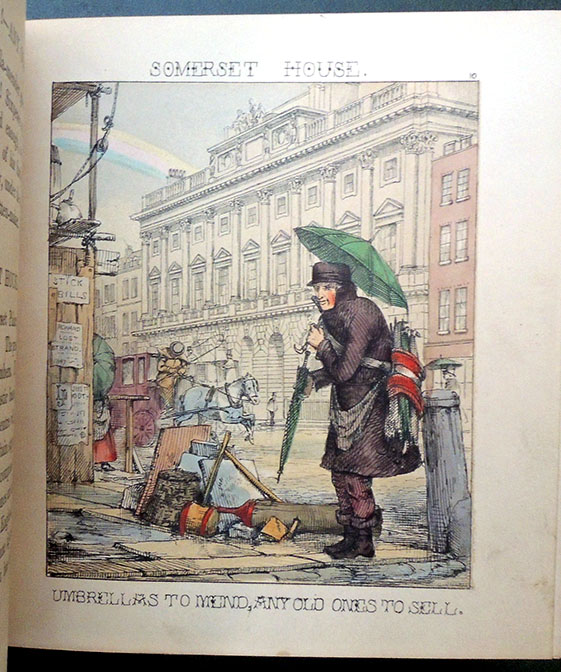 The Cries of London and Public Edifices [lithographic plate list]
The Tinker and the Tower of London
The East India House and Rhubarb
The Bank of England and Matches
The Royal Exchange and Oranges, Sweet St. Michael Oranges
The Mansion House and Buy a Cage . . .
Old College of Physicians and Old chairs to Mend . . .
Smithfield & Cat's Meat! — Dog's Meat!
St. Johns Gate, Clerkenwell, and Dust Oh!
Temple Bar & Pity the Poor Blind!
Somerset House & Umbrellas to Mend!
Covent Garden Theatre and the Costard-Monger
Trafalgar Square — Images! Buy Images
Charing Cross — Baked Potatoes, All Hot!
White Hall — Bow Pots!
Burlington House — Wild Duck, Rabbit, or Fowl!
St. George's, Hanover Square — New Mackarel!
St. James' Palace — Old Clothes!
Westminster Abbey — Milk Below!
Lambeth Palace — Water Cresses
New Hall, Lincolns Inn — Knifes and Scissors to Grind!
The Foundling Hospital — Sweep! — Soot Oh!
The North-Western Railway — Muffins! — Crumpets!
The Coliseum — Buy a Broom!