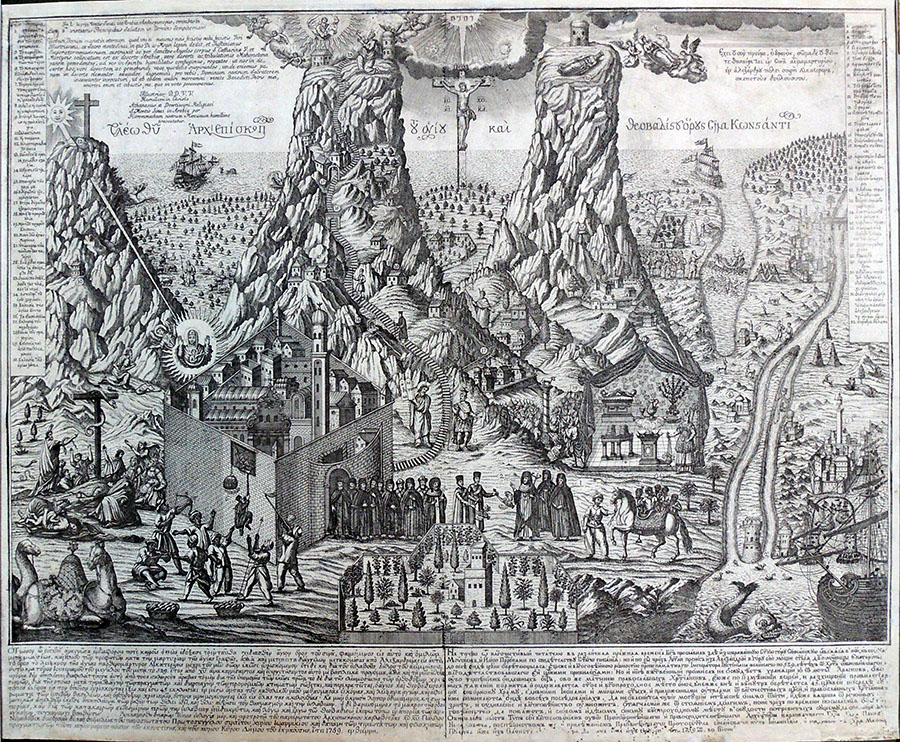 In anticipation of the 40th anniversary of Hellenic Studies at Princeton University, 2019-2020, the Graphic Arts Collection is honored and delighted to receive the gift of this wonderful paper icon of St. Catherine/Mt. Sinai, published in Vienna, 1759 (59 x 72.5 cm). The engraving is a perfect complement to earlier gifts of Mt. Sinai paper icons https://catalog.princeton.edu/catalog/10650622 and https://catalog.princeton.edu/catalog/10668428.
Our sincere thanks go to the Program in Hellenic Studies with the support of the Stanley J. Seeger Hellenic Fund and matching funds provided by a gift of The Orpheus Trust to the Seeger Center for Hellenic Studies, in honor of the 40th anniversary of Hellenic Studies at Princeton University.
In addition, I would be remiss not to single out Dimitri H. Gondicas, Stanley J. Seeger '52 Director, Seeger Center for Hellenic Studies / Lecturer in the Council of the Humanities and Hellenic Studies, '78, who was instrumental in making these gifts possible.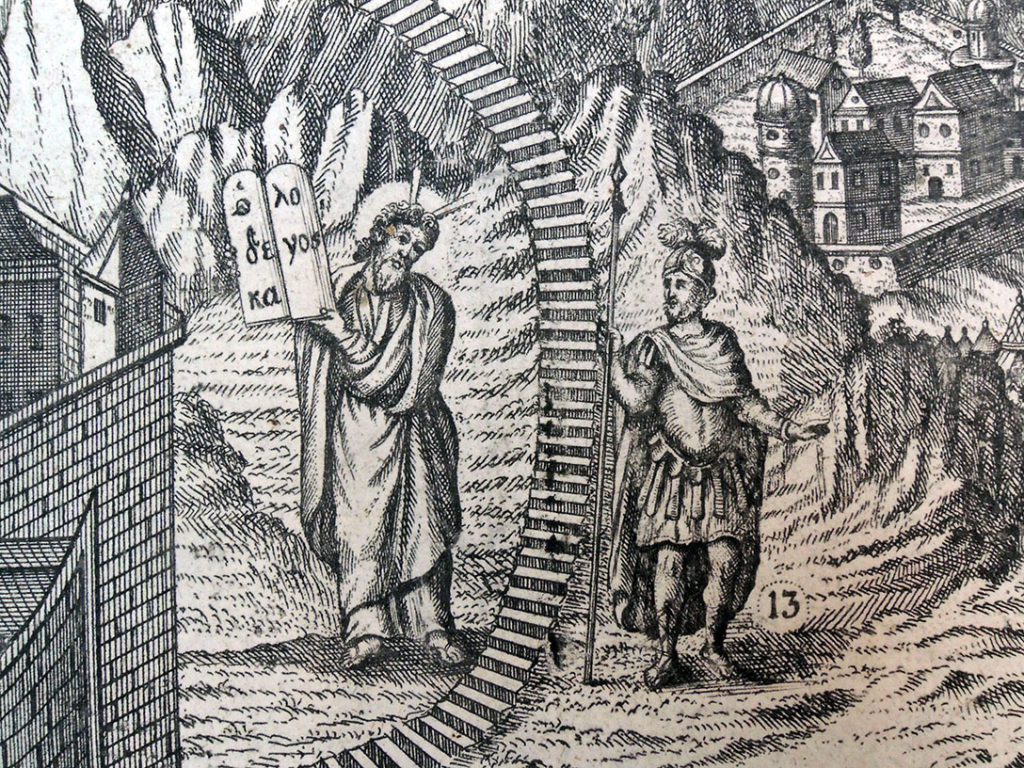 The inscription at the top of this view reads: "Eleō theou Archiepiskopos tou hagiou kai theovadistou horous [sic] Sina Kōnstantios." Our thanks to Kalliopi Balatsouka, Modern Greek Archivist for Special Collections, who worked on the icon's description and the transcription of the Greek text (which also appears in Latin and Slavonic).
The main composition is divided into two symmetrical parts by the scene of the crucified Christ under a cloud in the top middle of the image. To the upper left, predominates a scene of the Old Testament where Moses [seen above], according to the Book of Exodus, ascended Mount Sinai to receive the Tables of Law from the hand of God, who offers to Moses two pieces of stone inscribed "ho dekalogos" (the Ten Commandments).
To the upper right, a scene of the New Testament, shows winged angels transporting the relic of the Great Martyr Saint Catherine from Alexandria, Egypt to the highest mountain, now called Mt. Saint Catherine, next to Mount Sinai. A Greek inscription, next to this scene, from the megalynarion of St. Catherine reads: "Echei to son pneuma, ho houranos, sōma de to theion / tethēsauritai en Sina haima martyriou, / en alexandrou polei sophē Haikaterina [sic] / skepe tous doulous sou."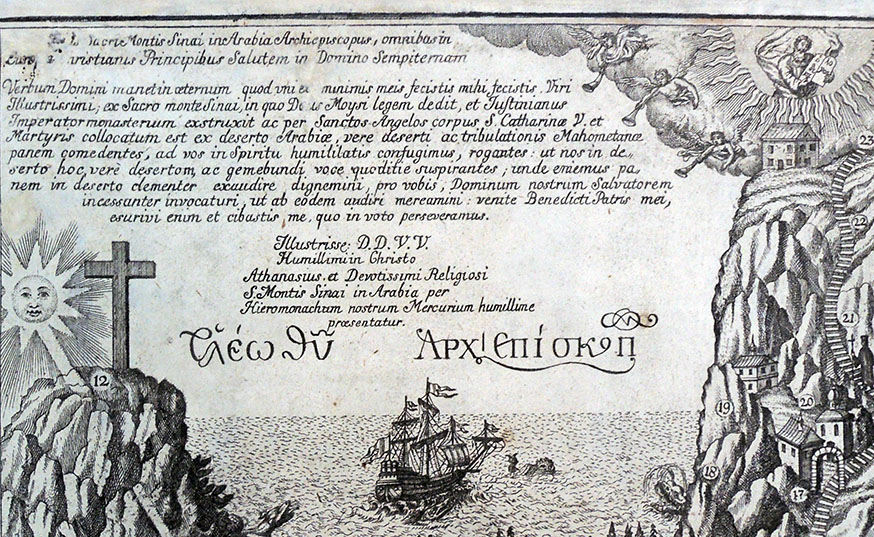 Inscription in the top left corner in Latin reads: "… Sacri Montis Sinai in Arabia Archiepiscopus… Illustrisse D.D.V.V. … Hieromonachum nostrum Mercurium humillime presentatur."
The print is rich with history and iconography. To the left and right of the central composition there are two explanatory numbered lists, 62 in total (30+32) about the events taking place in the picture, such as: "Hē proypantēsis tou archiepiskopou," "to perivoli," "to koimētērio tōn paterōn," "to monastērion," "hoi araves lamvanoun trophēn," "to mega orama tou prophētou mōyseōs," hē anodos tou orous," "hē thyra tēs exomologēseōs," "Monē tou prophētou Ēliou," "ho Mōysēs hopou elave tas plakas tou nomou," "ai pyramēdes," "aphanismos tou pharaōn," "hē skēnē tou martyriou," "Hē phylakē tou klēmakos," "Hoi hagioi saranta martyres," "hoi angeloi pherousi tēs hagias to leipsanon apo tēn alexandreian to sineian oros," and "hē erythra thalasa."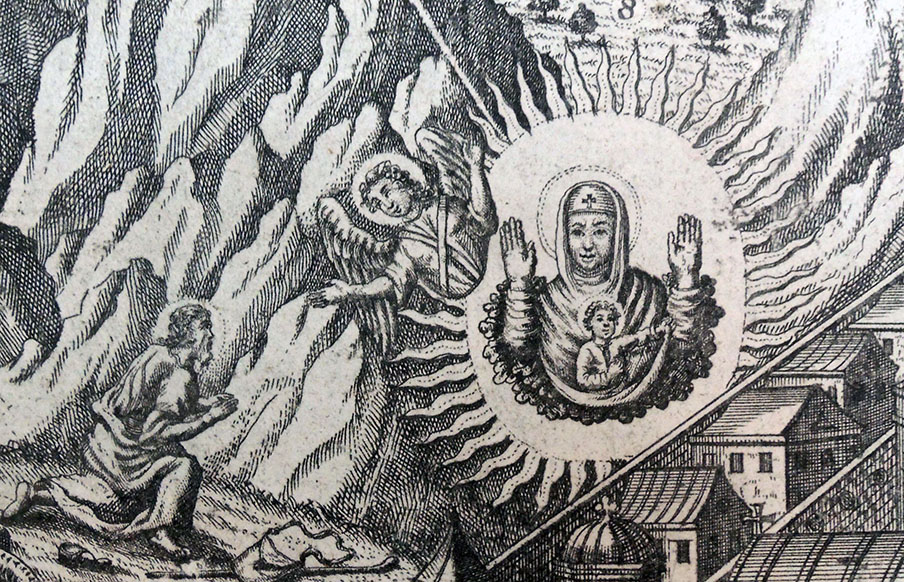 At the foot of Mount Sinai is depicting Saint Catherine's monastery and next to it the image of the Virgin Mary as "The Burning Bush." At the entrance of the monastery, monks welcome an archbishop.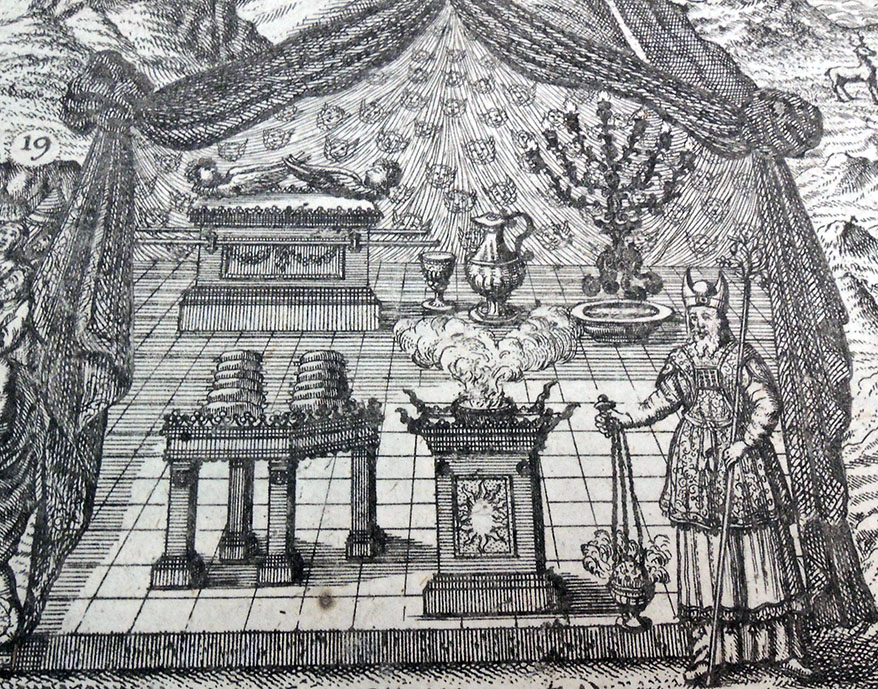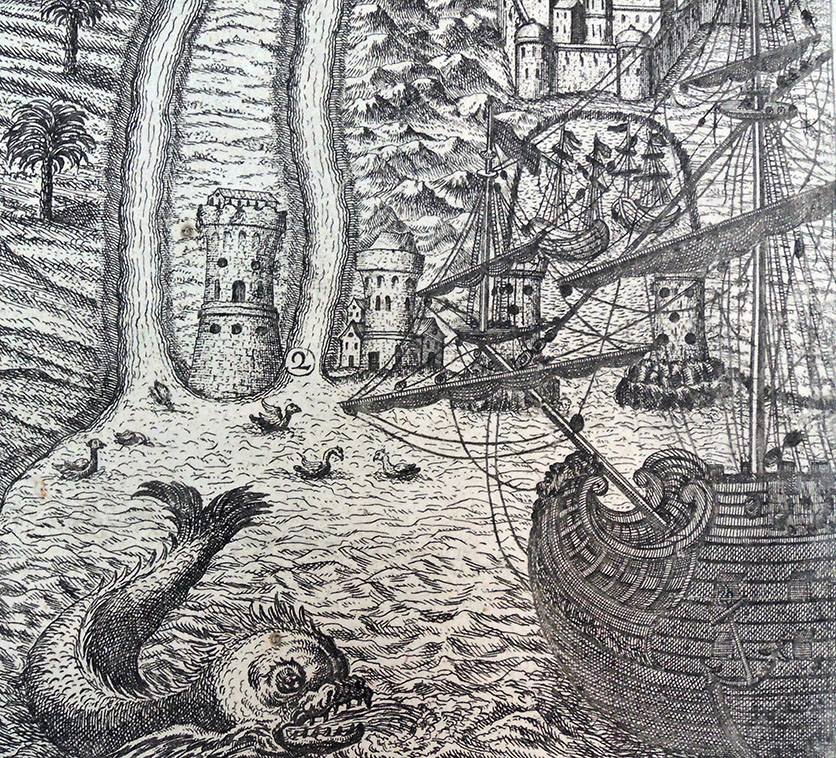 Text below the main scene in two columns both in Greek and in Slavonic refers among other things, to the restoration of the print:
"Ou monon ō eusevē anagnōsta en diaphorois pote kairois ho theos edoxase to entautha schediasthen hagion oros tou sina, phainomenos eis auto kai homilōn / meta mōyseōs, kai Hēliou tōn prophētōn tën martyrian tēs hagias Graphēs, alla kai metepeita di'angelōn metakonisas apo Alexandreias eis auto / to oros to leipsanon tēs hagias parthenomartyros Aikaterinēs …. Anekainisthē ho parōn Typos eulogia men, kai protropē tou panierōtatou Archiepiskopou Karlovitzas k[yriou] k[yriou] Paulou / Nenadovik syndromē de kai epimeleia tou panosiötatou Prōtosyngelou sinaitou kyriou Iōannikiou kai dapanē ton timiōtatōn kai philochristōn pragmateōtōn tou te markou pouliou tou ek siatistēs, kai tou kyriou Kyrou Dēmou tou ek naousēs, etei 1759. en viennē."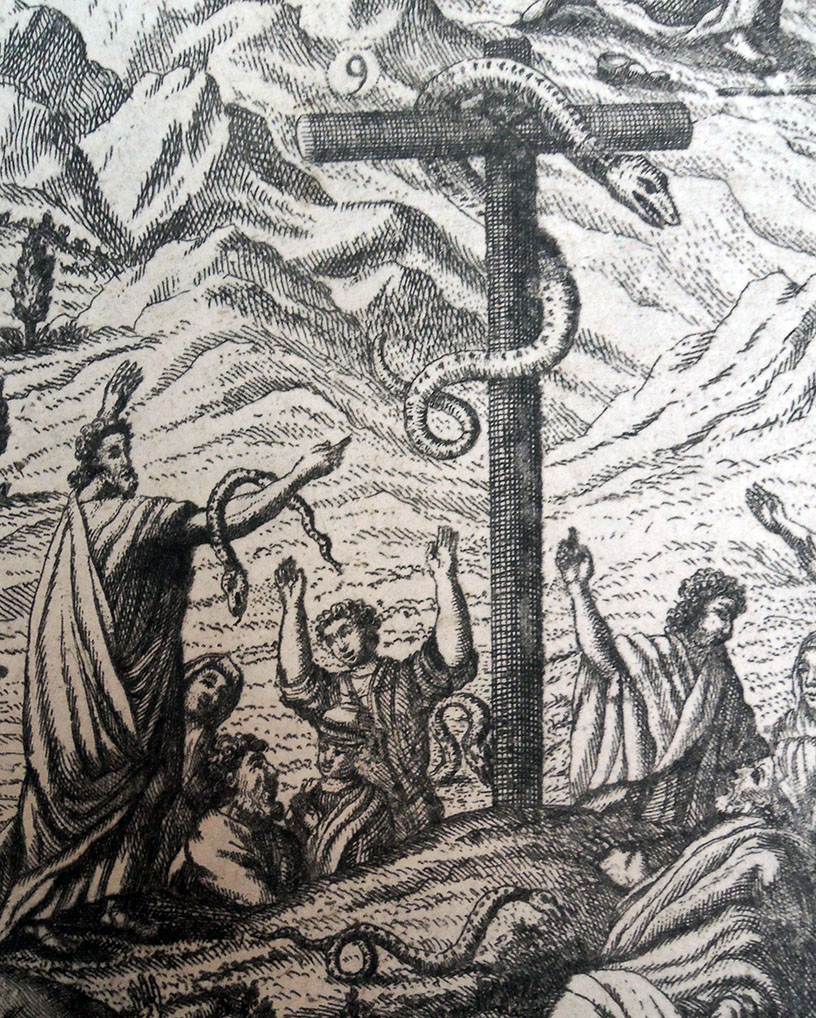 Note, this print is not listed in the Papastratou catalogue, but might be a revised or updated version of no. 385.
More celebrations to come in 2019-2020. Watch for upcoming events here: https://hellenic.princeton.edu/events