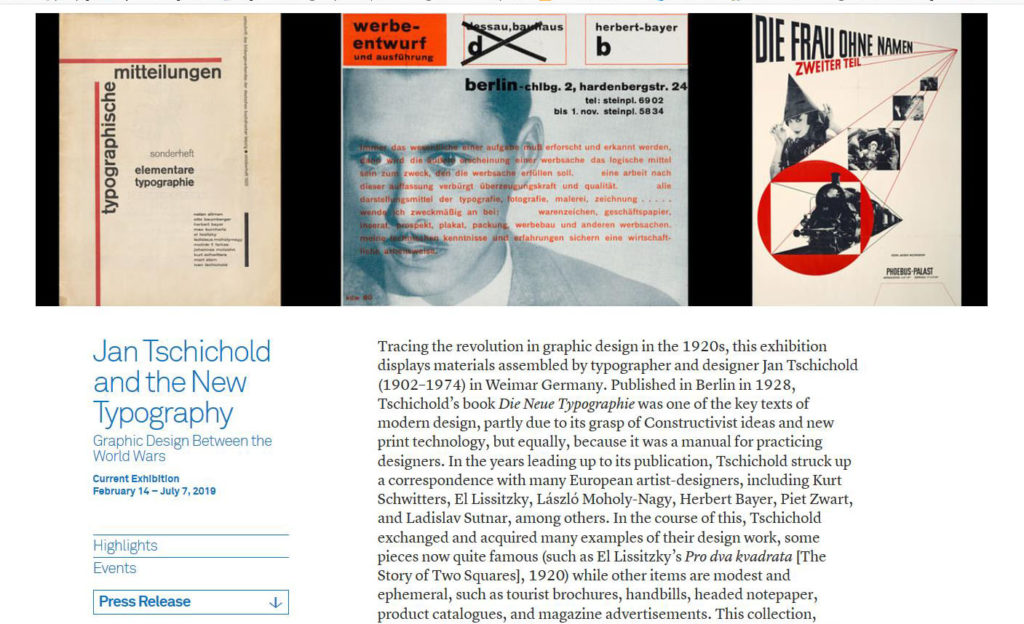 Two exhibitions are in New York City this spring featuring masters of typography. Already open is a show at the Bard Graduate Center Gallery titled, Jan Tschichold and the New Typography, which examines the role of graphic design in the broader context of Weimar culture (1919-1933). Here is the press release:
https://www.bgc.bard.edu/files/Tschichold_PressBrochure_Final.pdf
They write,
"Tracing the revolution in graphic design in the 1920s, this exhibition displays materials assembled by typographer and designer Jan Tschichold (1902–1974) in Weimar Germany. Published in Berlin in 1928, Tschichold's book Die Neue Typographie was one of the key texts of modern design, partly due to its grasp of Constructivist ideas and new print technology, but equally, because it was a manual for practicing designers. In the years leading up to its publication, Tschichold struck up a correspondence with many European artist-designers, including Kurt Schwitters, El Lissitzky, László Moholy-Nagy, Herbert Bayer, Piet Zwart, and Ladislav Sutnar, among others. In the course of this, Tschichold exchanged and acquired many examples of their design work, some pieces now quite famous (such as El Lissitzky's Pro dva kvadrata [The Story of Two Squares], 1920) while other items are modest and ephemeral, such as tourist brochures, handbills, headed notepaper, product catalogues, and magazine advertisements.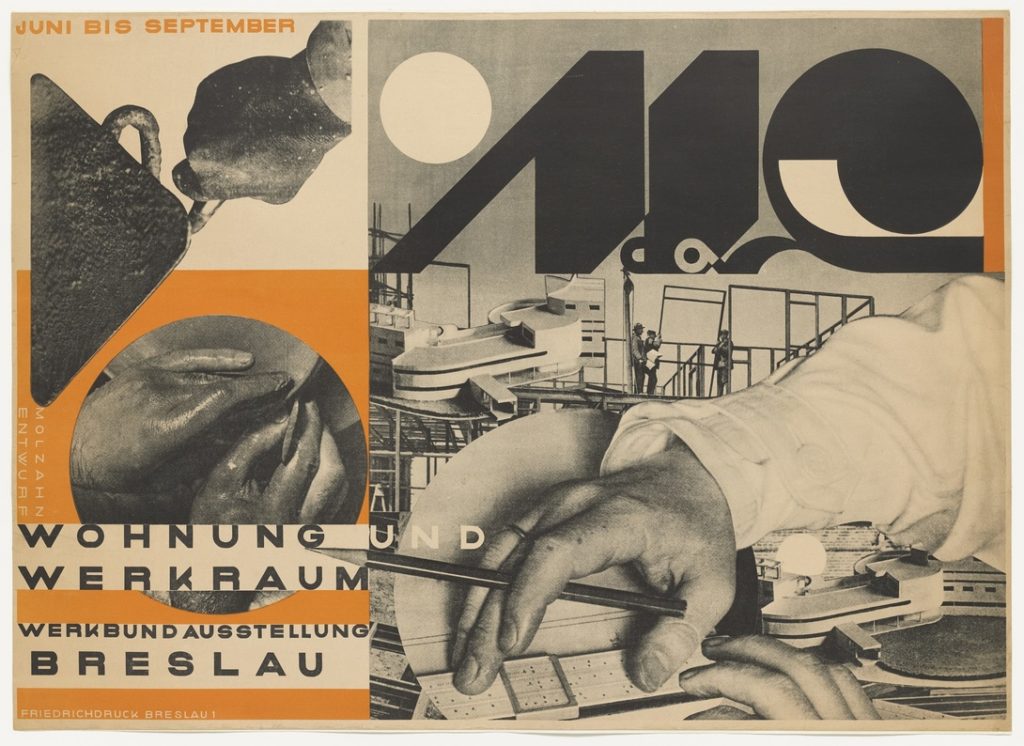 In conjunction with the exhibition is a symposium, The New Typography: Graphic Design in Weimar Germany 1919–1933 at Bard on Friday, March 22, 2019 from 1:00 to 5:30. Admission is free but you must register. They promise to address the broader history of design, technology, economics, and aesthetics that played a similarly decisive role in the formation of modernist graphic design.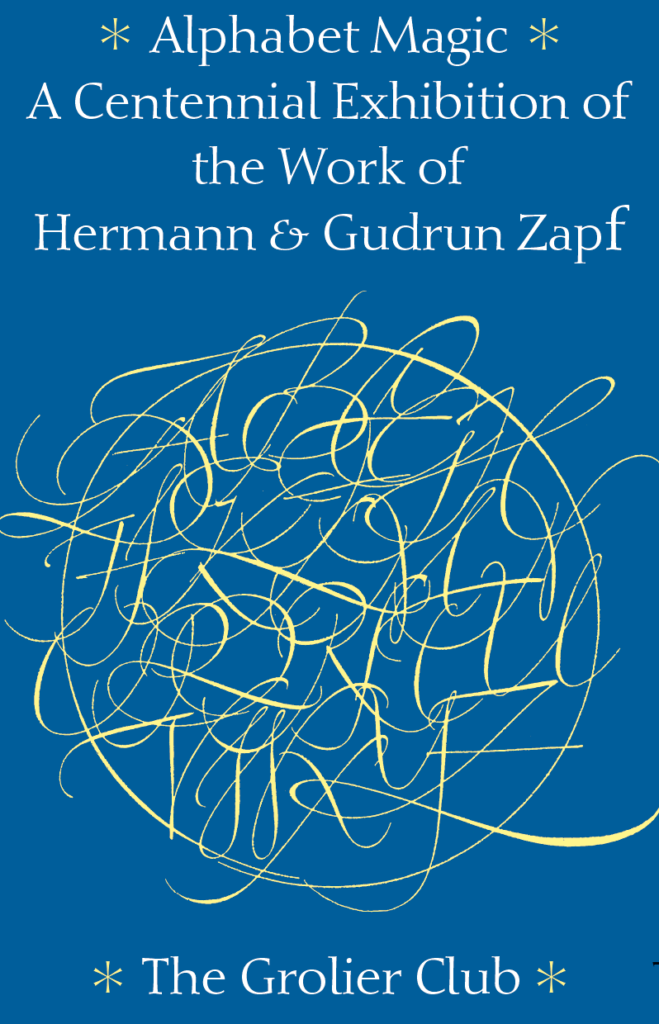 From February 20 to April 27, 2019, the exhibition Alphabet Magic: Gudrun & Hermann Zapf and the World They Designed will be on view at the Grolier Club on East 60th Street.
2018 marked the 100th anniversary of the birth of both Hermann Zapf and Gudrun Zapf von Hesse, and the show, Alphabet Magic will chronicle the extraordinary artistic achievements of both with the most comprehensive display of their work to date.
The curators write, "Zapf's typefaces Palatino, Optima, and Zapfino (to name a few) are a part of our everyday lives in the United States and Europe, as well as around the world. He was also at the forefront of type technology. Zapf's Marconi alphabet design was the first typeface ever created specifically for digital typography. Gudrun Zapf Von Hesse secured her own design legacy through typefaces such as Diotima, Carmina, and Shakespeare Roman."
The show draws mainly on two collections: The Melbert B. Cary Jr. Graphic Arts Collection at the Rochester Institute of Technology, where Dr. Steven K. Galbraith is curator and the private collection of Jerry Kelly, a leading calligrapher, book designer, type designer and typographer, who has co-curated the show with Dr. Galbraith.
In conjunction with the exhibit, the Club will host the New York premier of the film: Alphabet Magic, by Alexandra Albrand, on Thursday, February 27, beginning at 6:00 p.m. Then, on Wednesday, March 20, there will be a panel discussion with author Robert Bringhurst (Canada), type historian Ferdinand Ulrich (Germany), calligrapher Julian Waters, and moderator David Pankow (USA). As far as I know, these events are open to the public.