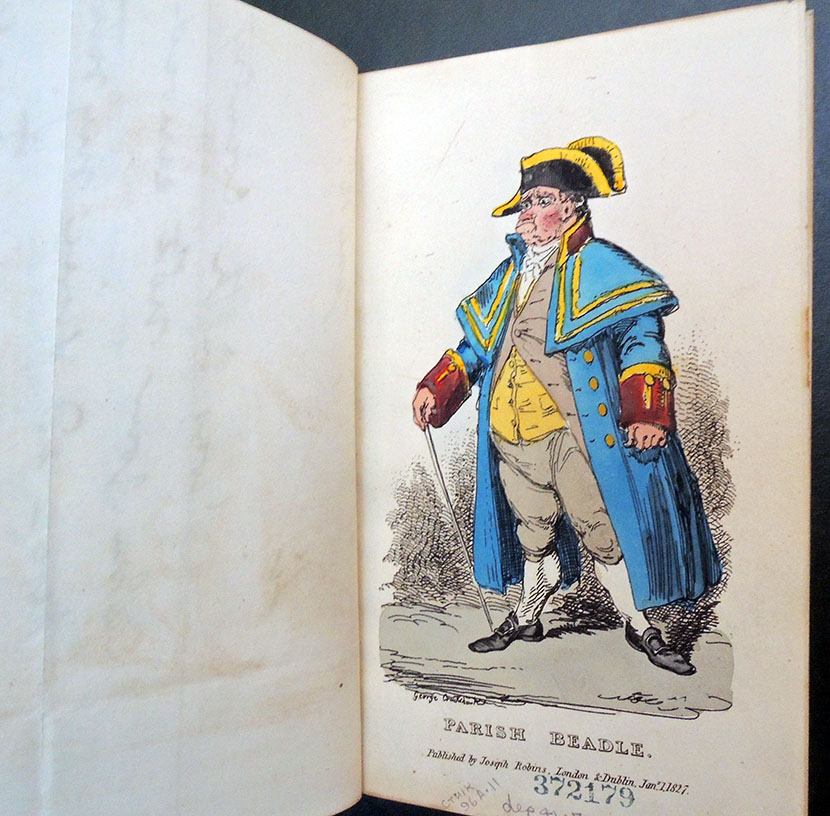 George Cruikshank (1792-1878), [Cries of London] ([London, Dublin; J. Robins, 1827-29?]). Graphic Arts Collection Cruik 1827.4 (9 pl. by R. Cruikshank, and the remainder by G. Cruikshank). Autograph letter written and signed by G. Cruikshank, to J. Hawkins, esq. June 1850, inserted at beginning. Gift of Richard Waln Meirs, class of 1888
This small volume of Cries of London by Robert and George Cruikshank has no title page. In its place is pasted a letter from George to J. Hawkins: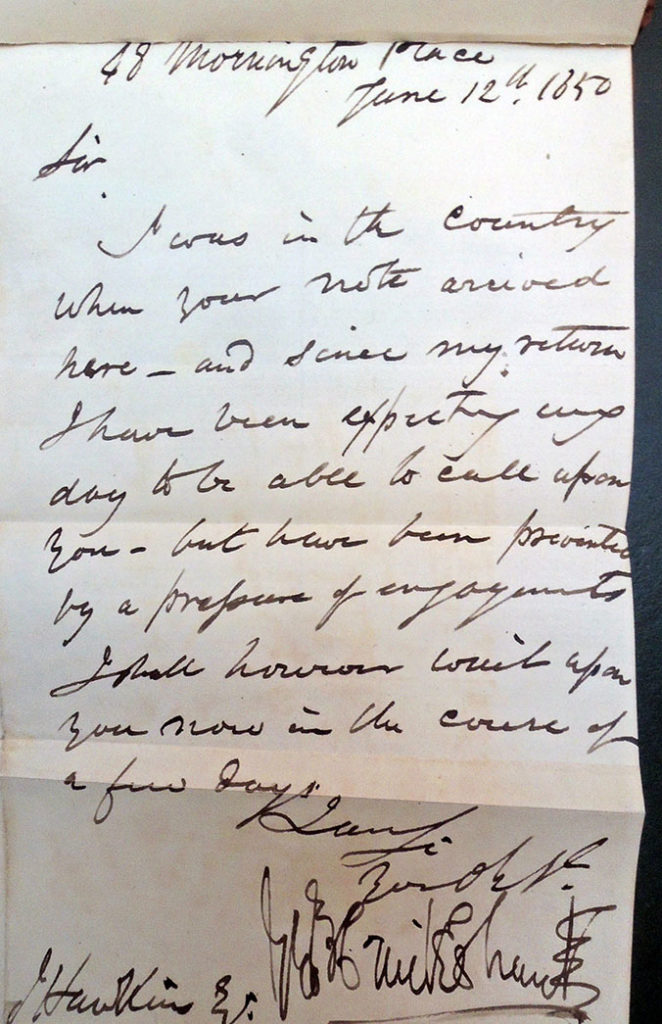 [George Cruikshank] 48 Mornington Place. June 12th, 1850
Sir. I was in the country when your note arrived here – and since my return I have been expecting any day to be able to call upon you – but have been prevented by a [?pressure] of enjoyments. Shall however visit upon you now in the course of a few days,
Might this be a note to the print collector mentioned in the British Museum database:
John Heywood Hawkins (1802/3-1877). Major British print collector and member of Parliament; of Bignor Park, Sussex. Gave some prints in 1849. Part of collection in sale of prints and drawings, Sotheby's, 29.iv. -8.v.1850. Hawkins retained many of the rest. In 1854/5 he sold his Netherlandish prints to Colnaghi's who gave the first refusal to the BM (see 1855,0114.206 to 229, and 1855,0414.231 to 280, purchased for £508 1s). In 1857 he sold his early Italian prints to Colnaghi, who again gave the first refusal to the BM. Carpenter successfully asked the Trustees to purchase 58 for £450 (1858,0417.1571 to 1628). Hawkins sold a number of drawings directly to Sotheby's in 1861, whence the BM purchased 31. Others of his prints and drawings came to the BM later via other routes.