One of the last remaining subscription libraries in New York City, along with the Library of the General Society of Mechanics and Tradesmen (GSMT) and the New York Society Library, is the Center for Fiction (formerly known as the Mercantile Library). Memberships for the GSMT Library begin at $50; for the Society Library $270; and for the new Center for Fiction $150.
The Center's new home at 15 Lafayette Avenue, Brooklyn, is now open to the public on the first floor and to members on the upper floors.
For members, the Center for Fiction's library includes a circulating collection of 70,000+ classic and contemporary fiction titles. Approximately 3,000 books from its antiquarian book collection are currently on display on the ground floor, clearly marked "do not touch". Their website notes:
"The 19th Century collection is comprised of volumes from both the Mercantile Library's own collection and volumes donated to the Center by the Philadelphia Athenaeum. Contained in this collection are works by well-known authors, hand-pressed books from the 18th and early 19th centuries, and books with especially attractive designs and bindings."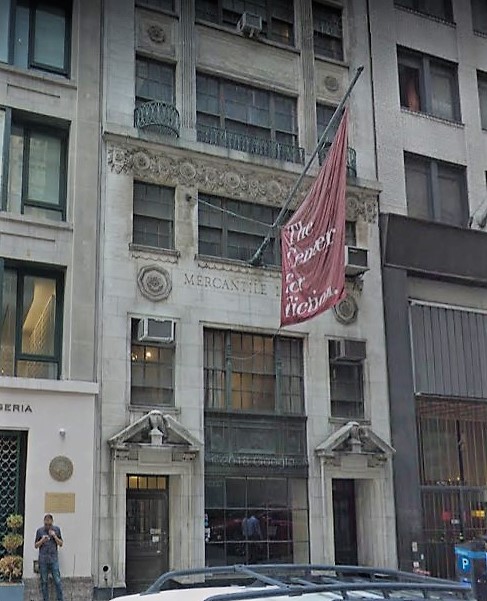 The Mercantile Association has had many homes in Manhattan, beginning with rented rooms in 1821 at 49 Fulton Street in lower Manhattan and ending with its 1932 building at 17 East 47th Street in midtown. http://www.centerforfiction.org/about/history/
In 2005, with the advent of a new director, the Library moved to strengthen its new focus on fiction by renaming itself the Mercantile Library Center for Fiction.
In February 2019, the Center opened a 18,000 square foot space across from the Brooklyn Academy of Music. The first floor offers a bookshop, cafe, and a 160-seat state-of-the-art auditorium. The second floor has a reading room and terrace; classroom space for discussion groups, seminars, and writing workshops; and a new Writers' Studio with floor to ceiling windows.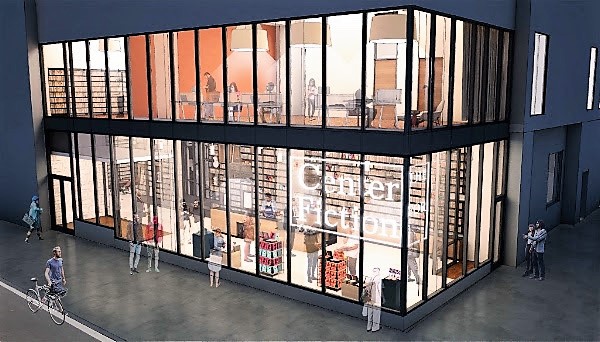 http://www.centerforfiction.org/
15 Lafayette Avenue
Brooklyn, NY 11217
Email: info@centerforfiction.org