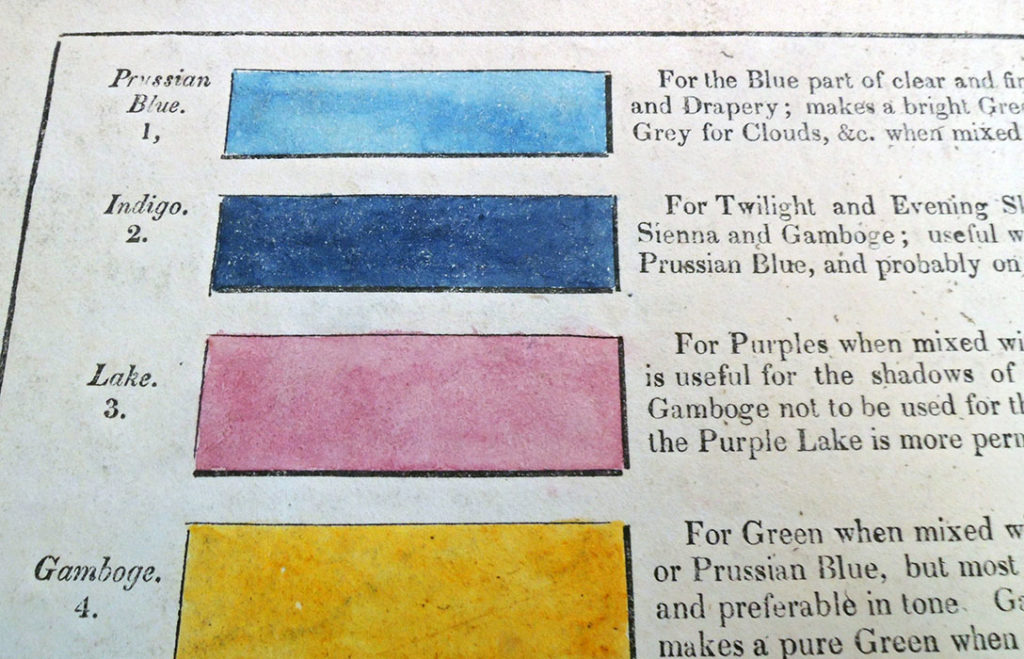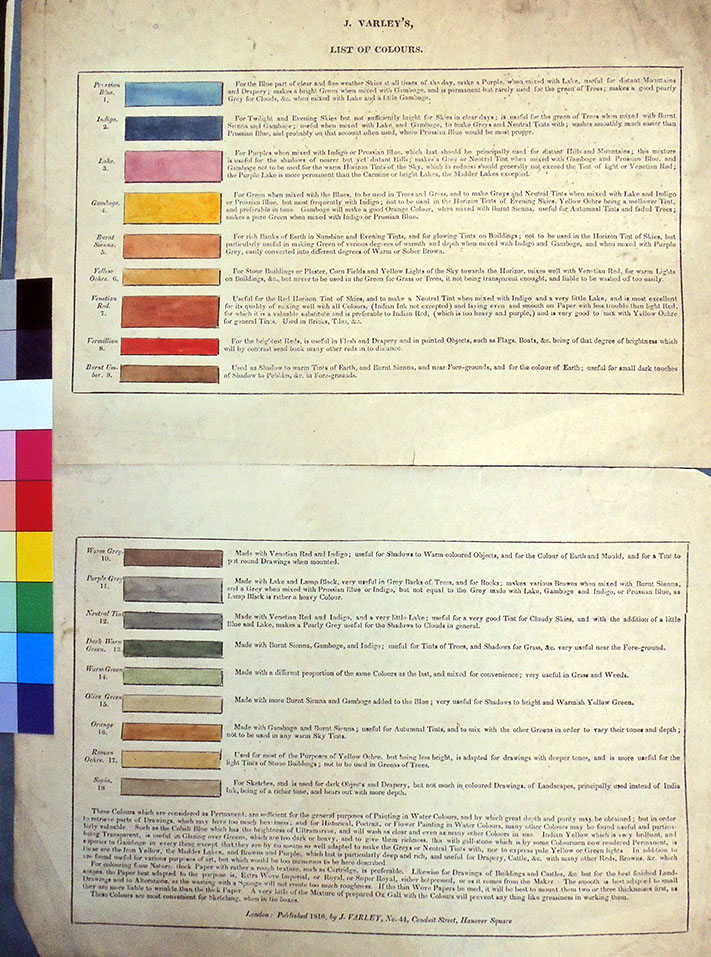 Watercolorist John Varley (1778-1842) helped to establish the first Watercolour Society in London, and later the Society of Painters in Oil and Watercolours, serving as one of the leading instructors in the medium. In his cottage at Twickenham, Varley's students learned to draw and paint from nature, among them William Mulready, John Linnell, and Samuel Palmer.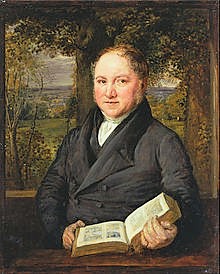 This sheet, recently placed on deposit in the Graphic Arts Collection, is assumed to have been created for his students rather than the general public. Eighteen colors are illustrated with hand-painted samples and explanations of their qualities along with recommendations for use. The upper nine painted in pure pigment colors are Prussian blue, indigo, lake, gamboge, burnt sienna, yellow ochre, Venetian red, vermilion and burnt umber. The lower nine painted in mixed tints are warm grey, purple grey, neutral tint, dark warm grey, warm green, olive green, orange, roman ochre and sepia.
The copy of Varley's list held by the British Museum illustrates nineteen colors, beginning with cobalt blue, not found on the sheet in the Graphic Arts Collection at Princeton.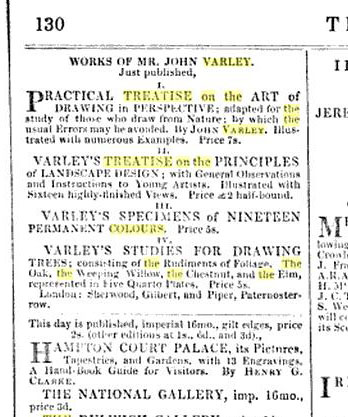 The Art Journal, 1841 Vol. 3-5
In conjunction with his classes, Varley published a number of instruction manuals including:
A Practical Treatise on the Art of Drawing and Perspective, 1815.
Precepts of Landscape Drawing, exemplified in fifteen views, 1818.
Varley's List of Colours, 1818 (Princeton's 1816)
A Treatise on the Principles of Landscape Design, illustrated by sixteen views on eight aquatint plates, issued in eight parts at 5s., between 20 Feb. 1816 and 1 May 1821.
A Treatise on Zodiacal Physiognomy (five illustrations), 1828.
The final volume was developed with his closest friends John Linnell (1792-1882) and William Blake (1757-1827). The two portraits above are by Linnell.
The works that brought Blake most notoriety in his lifetime, and were most responsible for accusations that he was mad, were the 'Visionary Heads' he did for the delectation of the landscape watercolourist John Varley, whom he had met in 1818 through one of Varley's pupils, John Linnell, the great patron of Blake's later years. These Heads … portray biblical and historic individuals such as David, Socrates and Richard Coeur de Lion, semi-historical characters such as Wat Tyler's Daughter and imaginary beings such as The Man who built the Pyramids. They were executed from 1819 onwards, mainly in the evenings at Varley's house. –selection from "Blake, Linnell and Varley and A Treatise on Zodiacal Physiognomy" by Martin Butlin.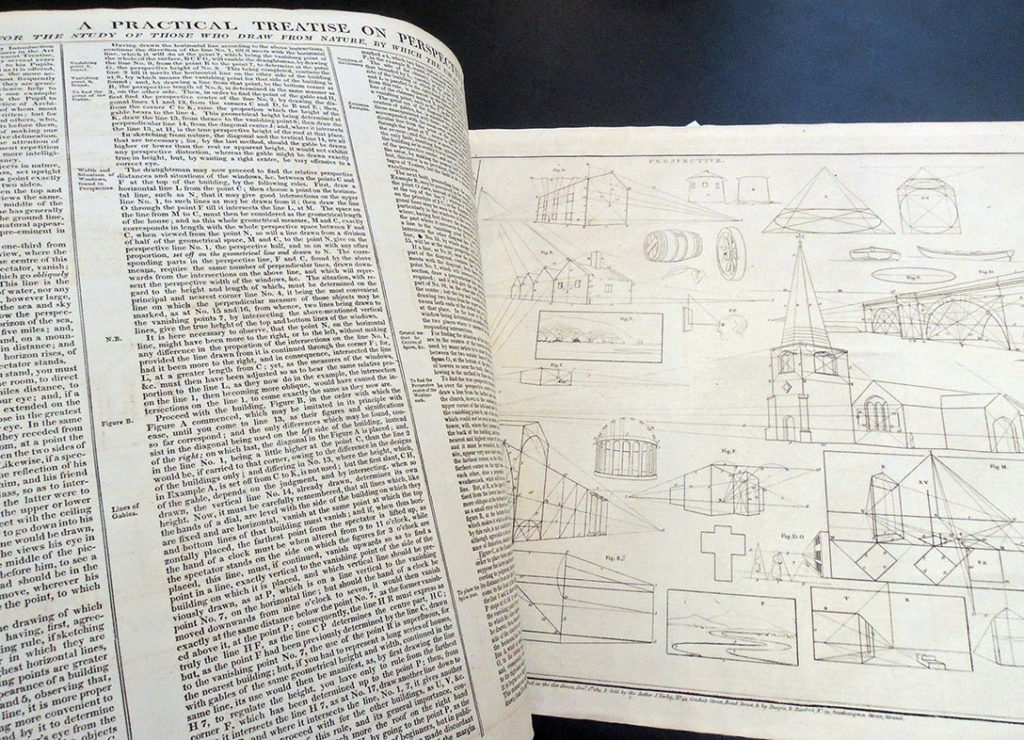 John Varley (1778-1842), J. Varley's List of Colours, 1816. Letterpress and watercolor. Graphic Arts Collection. On deposit from Bruce Willsie, Class of 1986.
See also:
John Varley (1778-1842), A Practical Treatise on Perspective [adapted for the study of those who draw from nature … by] (London: The author, 1815). Rare Books » Oversize NC730 .V43f
John Varley (1778-1842), A Treatise on the Principles of Landscape Design; with general observations and instructions to young artists ... (London: Sherwood, 1821). Rare Books » Oversize NC730 .V42f
John Varley (1778-1842), A Treatise on Zodiacal Physiognomy : illustrated by engravings of heads and features, and accompanied by tables of the time of rising of the twelve signs of the Zodiac : and containing also new and… (London: Published by the author … ; and sold by Longman and Co. … , 1828). Rare Books 2005-2238N