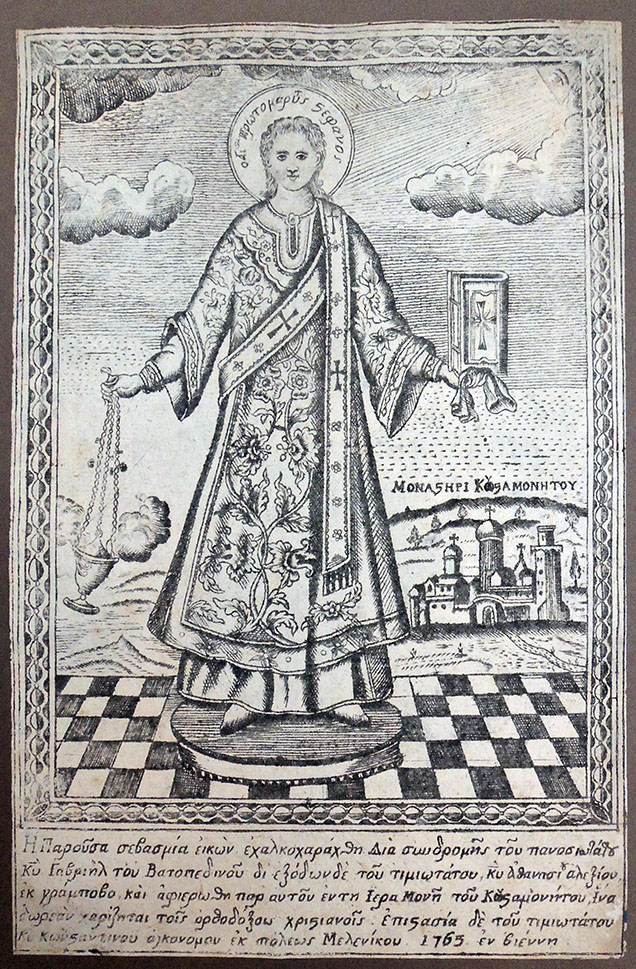 The Graphic Arts Collection recently acquired a new print, "Copper icon cast of Saint Stephen the Prōtomartyr," with text in modern Greek, printed in Vienna in 1765. Thanks to our Modern Greek Archivist for Special Collections, Kalliopi Balatsouka, for her expert cataloguing:
The devotional woodcut shows an icon of Saint Stephen the Prōtomartyr cast in copper, for veneration at the Eastern Orthodox monastery of Kōnstamonitou on Mount Athos in Greece. Commissioned by Abbot Gabriel of Vatopedi, and financed by Athanasios Alexiou of Grabovo, the icon was displayed at Kōnstamonitou. Saint Stephen, the central image within woodcut border, is depicted frontal in the deacon's attire, holding the censer with his right hand and with his left hand extended the Holy Book. A halo around his head bears the inscription: "Ho Hagios Prōtomartys Stephanos."

The Eye of God in an equilateral triangle with a single eye inside it and rays emanating from it towards the saint's head is positioned off center to the right corner; a replica of the monastery with the inscription "Monastēri Kōnstamonētou" is shown next to the saint's figure." At the bottom of the scene, a five-line legend in Greek runs as follows: "Hē Parousa sevasmia eikōn echalkocharachthē Dia syndromēs tou panosiōtatou / ky[riou] Gavriēl tou Vatopedinou di exodōn de tou timiōtatou, ky[riou] athanasiou alexiou / ek grabovo, kai aphierōthē par autou en tē Hiera Monē tou Kōnstamonētou, hina / dōrean charizētai tois orthodoxou christianois. epistasia de tou timiōtatou / ky[riou] Kōnstantinou oikonomou ek poleōs Melenikou. 1765. en viennē."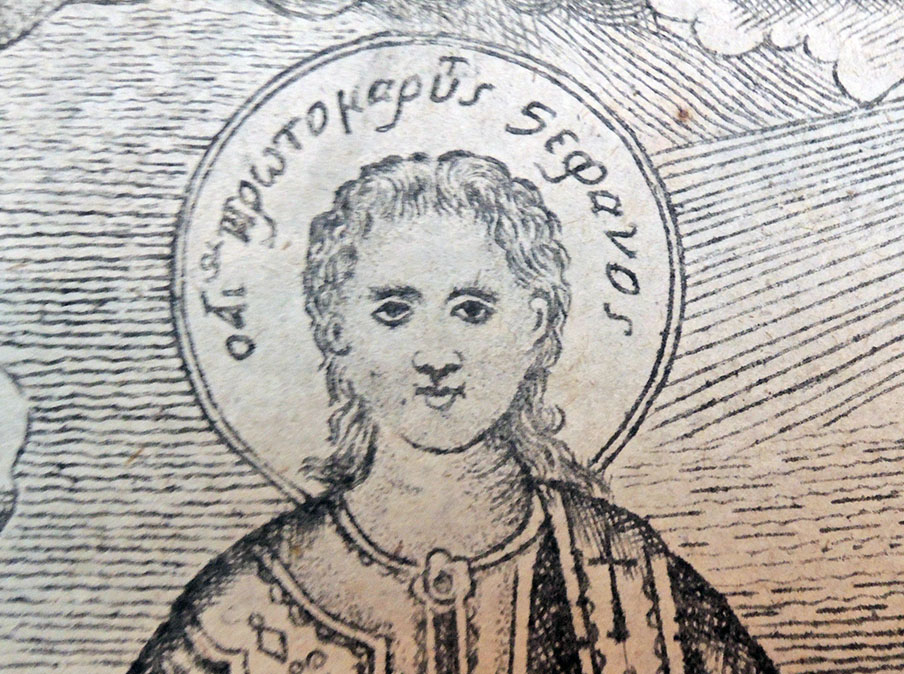 https://ima.princeton.edu/2018/09/21/spring-symposium-eclecticism-at-the-edges/
The print comes in time for the symposium "Eclecticism at the Edges: Medieval Art and Architecture at the Crossroads of the Latin, Greek, and Slavic Cultural Spheres," hosted by the Index of Medieval Art, the Princeton Institute for International and Regional Studies, the Department of Art & Archaeology at Princeton University, The Seeger Center for Hellenic Studies with the support of the Stanley J. Seeger Hellenic Fund, the Mary Jaharis Center for Byzantine Art and Culture, the International Center of Medieval Art, and the Society of Historians of East European, Eurasian, and Russian Art and Architecture.
This two-day symposium, April 5-6, 2019, focuses on the art, history, and culture of Eastern Europe between the 14th and the 16th centuries. Rare Books and Special Collections welcomes a small group of visitors over to view our collections during the event, including this new acquisition.