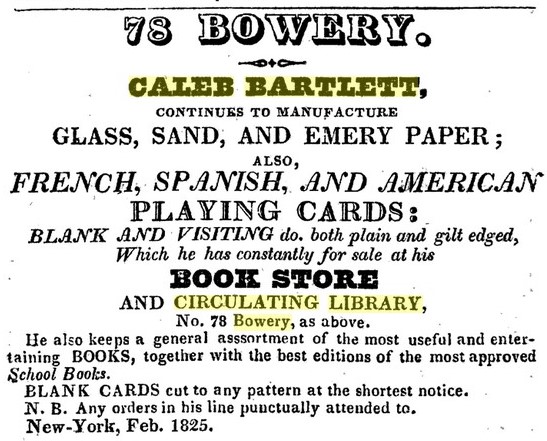 The Graphic Arts Collection holds a number of books with tickets indicating they were sold from a shop at 76 Bowery in New York City but listing different names for the booksellers. When you check the address today, there is only an empty lot. This led to a search of who and what had been at 76 Bowery, just north of Canal Street on the West side.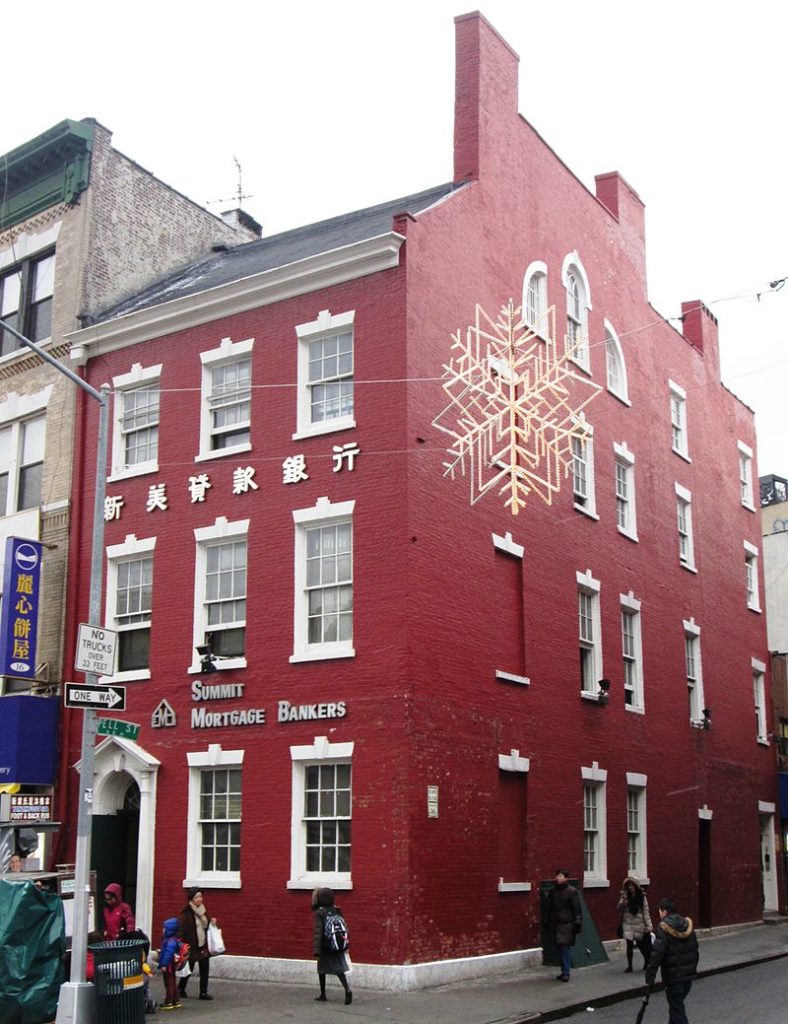 According to the U.S. Dept. of the Interior, National Park Service register, "No. 76 Bowery was built sometime ca. 1780, with later alterations. The late-eighteenth-century Georgian-style building features splayed stone window lintels with double keystone blocks," often compared to the Edward Mooney House [left] built around the same time at 18 Bowery.
The earliest book in this search actually leads to 78 Bowery, dated 1823, from the small shop of Caleb Bartlett, known as The Bowery Circulating Library. Bartlett quickly moves next door to 76 Bowery, where James Hardie's 1827 The Description of the City of New York, lists:
"Circulating Libraries, of which the following are the most distinguished, viz. that belonging to A. T. Goodrich, No. 124 Broadway, corner of Cedar-street, which is the first of the kind established in this city; the Minerva circulating Library 283 Broadway, opposite Washington Hall, of which W. B. Gilley is proprietor; one kept at No. 4 Chamber-street, owned by Mr. Ed. M. Murden ; the Bowery Circulating Library, No. 76 Bowery, of which Mr. Caleb Bartlett is proprietor. . ."
Bartlett printed and published his own books, while also selling almanacs, fancy papers, and playing cards. He was joined by Richard Bartlett (possibly his son) in the 1820s and a young clerk named Samuel Raynor.
"Samuel Raynor (1810-1888) was 12 years old, he left his home in Hempstead, Long Island, and took a job in a stationery company owned by Richard [Bartlett] at No. 76 Bowery. The small business printed playing cards, legal blanks and blank books. In 1835, when Raynor was now 25 years old, Bartlett took him as a partner. When Bartlett died two years later, Raynor brought his brother, Hiram, into the business, renaming it H. & S. Raynor."

"Hiram retired in 1847 and Samuel forged on. His fortunes soared when, in 1858, he began manufacturing envelopes at a time when most people made their own by folding a sheet of paper and sealing it. His pioneering spirit did not stop there. He introduced fast-running machines, ordering twelve of the $500 devices in a brave but risky investment. By 1888 Samuel Raynor & Co. was one of the largest envelope manufacturers in the nation." —http://daytoninmanhattan.blogspot.com/2012/06/samuel-raynor-house-no-136-east-16th.html


As early as 1832, Richard Bartlett & Samuel Raynor are listed as the owners at No. 76 Bowery: "published and sold, wholesale and retail, by R. Bartlett and S. Raynor, (successors to Caleb Bartlett.)." In 1838 an advertisement lists the shop as H. & S. Raynor, (formerly Bartlett & Raynor,) now run by brothers Hiram and Samuel. By 1847, Hiram is gone and Samuel Raynor, (late H. & S. Raynor) continues alone.

In the 1850s, the top floor is leased to a daguerreotypist and printer named Richard Garrison Barcalow (1826-1891), who offers stereotyping on the side. Downstairs two others join the bookshop as: "Raynor, Howe & Ferry (late Samuel Raynor)", then Howe & Ferry, and by 1874, only J. Milton Ferry is left at 76 Bowery. The final book from the shop is dated 1889 and soon after, the building was either renovated or completely rebuilt.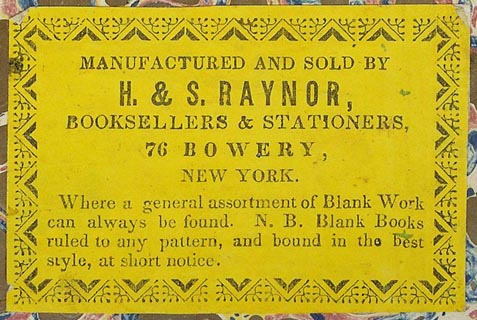 Mrs. Lovechild, The Christmas tree, and other stories for the young (Phila., J. Ball, 1850). Hamilton 1461. "Sold at [Raynor] Bookstore, 76 Bowery N.Y."–booksellers' ticket, p. 1 of cover.
Mrs. W.E. Boardman, Haps and mishaps of the Brown family (Phila., Perkenpine & Higgins [1865]). Hamilton 1285. "Howe & Ferry, booksellers, 76 Bowery, N.Y."–bookseller's label, p. 2 of cover.