When in 1821, the Greeks rose in violent revolution against the rule of the Ottoman Turks, thousands of Greek Christians were raped, murdered, and hanged. In William St. Clair's history, That Greece Might Still be Free: The Philhellenes in the War of Independence (Firestone DF807 .S25 1972), he chronicles the many Turkish and Greek campaigns:
"The Ottoman Government in Constantinople, faced with violent revolutions in different parts of the Empire, decided to answer terror with terror. A policy of exterminating all Greeks in the Ottoman Empire seems to have been seriously considered, as it had been at earlier periods of Turkish history, but when the Sultan remembered how great a proportion of the imperial revenues was derived from his Christian subjects, he decided upon a more selective policy.
The Patriarch of Constantinople occupied a special place in the administration of the Empire. He was regarded as their leader by all the Greek Orthodox community, but at the same time he was a high Ottoman official responsible to the Government for a wide range of administrative, legal, and educational subjects. . .
On Easter Sunday, the reigning Patriarch, Gregorios, was formally accused of being implicated in the Greek rebellion and was summarily hanged. His body remained for three days suspended form the gate of the Patriarchate, and was then dragged through the streets and thrown into the sea."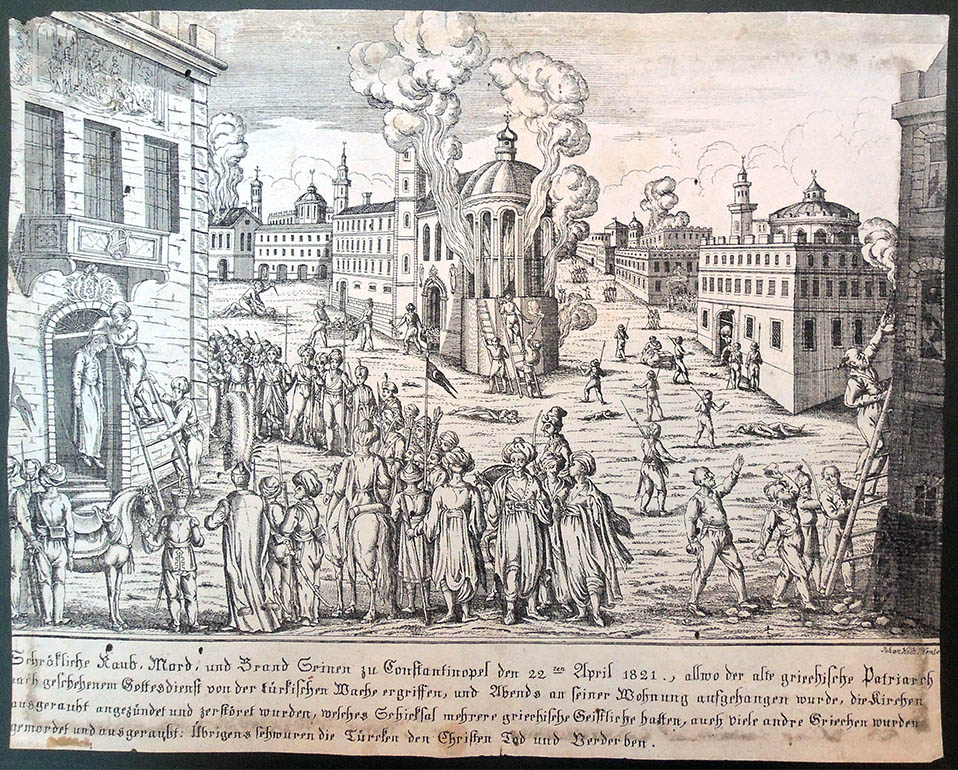 Thanks to a gift of the Program in Hellenic Studies with the support of the Stanley J. Seeger Hellenic Fund, the Graphic Arts Collection has a tightly trimmed German print depicting the massacre in Constantinople in April 1821. Ours is a variant of the Greek print in the Athens Gennadios Library, seen on Wikipedia and elsewhere on the internet with the English and Greek title:
"Attrocities committed by Ottoman religious fanatics and Janisaries in Constantinople/Istanbul in the Greek quarter, April 1821" = "Ελληνικά: Βιαιότητες των Τούρκων εναντίον των Ελλήνων στην Κωνσταντινούπολη, μετά την κύρηξη της Επανάστασης του 1821, Απρίλιος 1821". [A closer translation might be: "Violent acts of the Turks against the Greeks in Constantinople (Istanbul) after the Declaration of the Greek War of Independence (also known as the Greek Revolution) of 1821, April 1821"].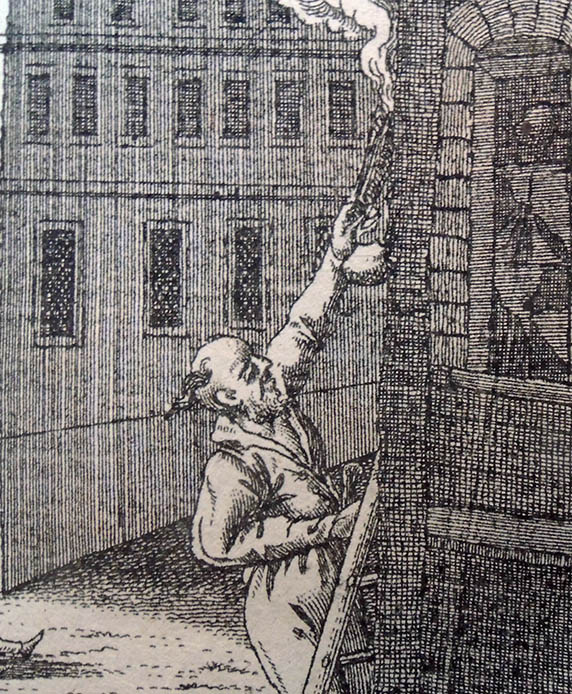 There is no title on our print, only a description in German of the massacre, crediting the German engraver Johann Koch for the scene.