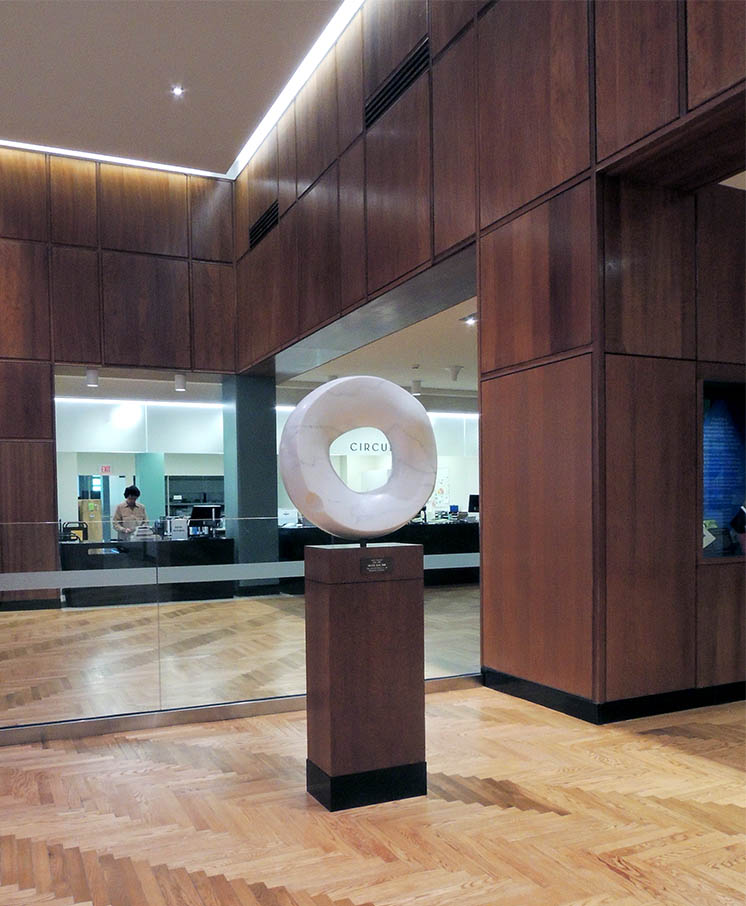 After many long years renovating and reconfiguring Firestone Library, Isamu Noguchi's White Sun has returned to the Firestone front lobby. Created in 1966 and installed in 1970, Noguchi's beautiful work is part of Princeton's Putnam Collection of Sculpture, under the campus art collections managed by Lisa Arcomano. https://artmuseum.princeton.edu/campus-art
The Putnam Collection of Sculpture is a memorial to John B. Putnam, Jr. '45, Lieutenant U.S.A., who was killed in World War II. It consists of the works of twenty major twentieth-century sculptors purchased in 1969 and 1970 through a fund given by an anonymous donor.
These sculptures were selected by a committee of alumni who were directors or former directors of art museums: Alfred H. Barr, Jr. '21 (Museum of Modern Art), Thomas P. F. Hoving '53 (Metropolitan Museum of Art), P. Joseph Kelleher Ph.D. '47 (The Art Museum, Princeton University), William M. Milliken '11 (Cleveland Museum of Art).
John B. Putnam, Jr. '45, who came to Princeton from Cleveland, Ohio, left college at the end of his sophomore year to enlist in the Army Air Corps. He made a brilliant record as a squadron flight leader with the Eighth Fighter Command in England, winning the Distinguished Flying Cross and the Air Medal with six Oak Leaf Clusters. He was killed in a crash in England shortly after D Day in 1944.
http://www.princeton.edu/Mapfiles/sculpture/whitesun.html
Welcome home.