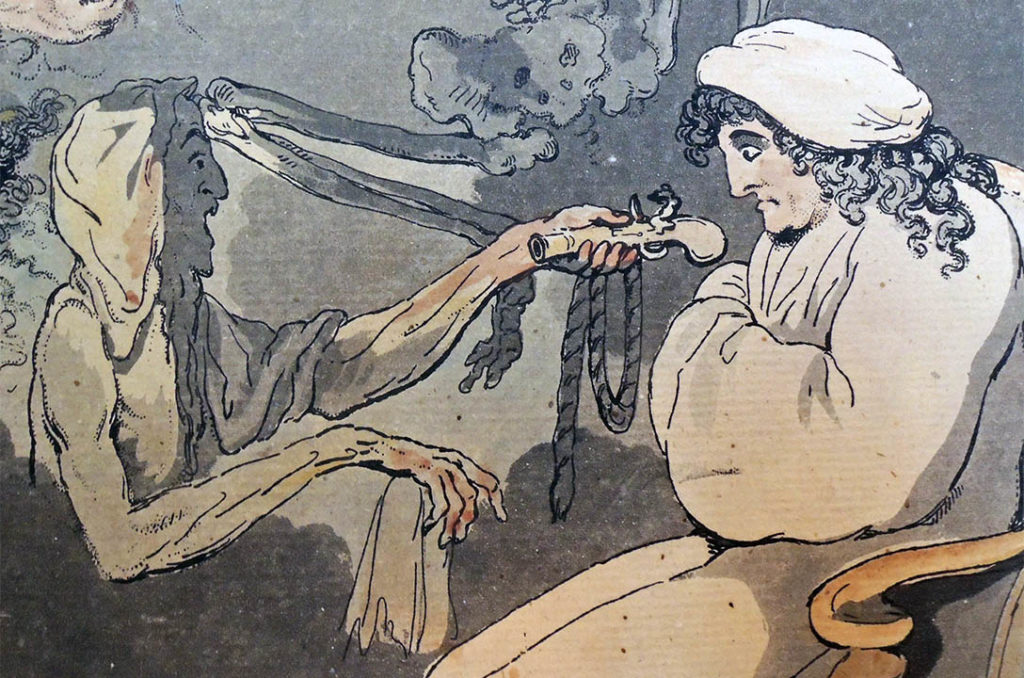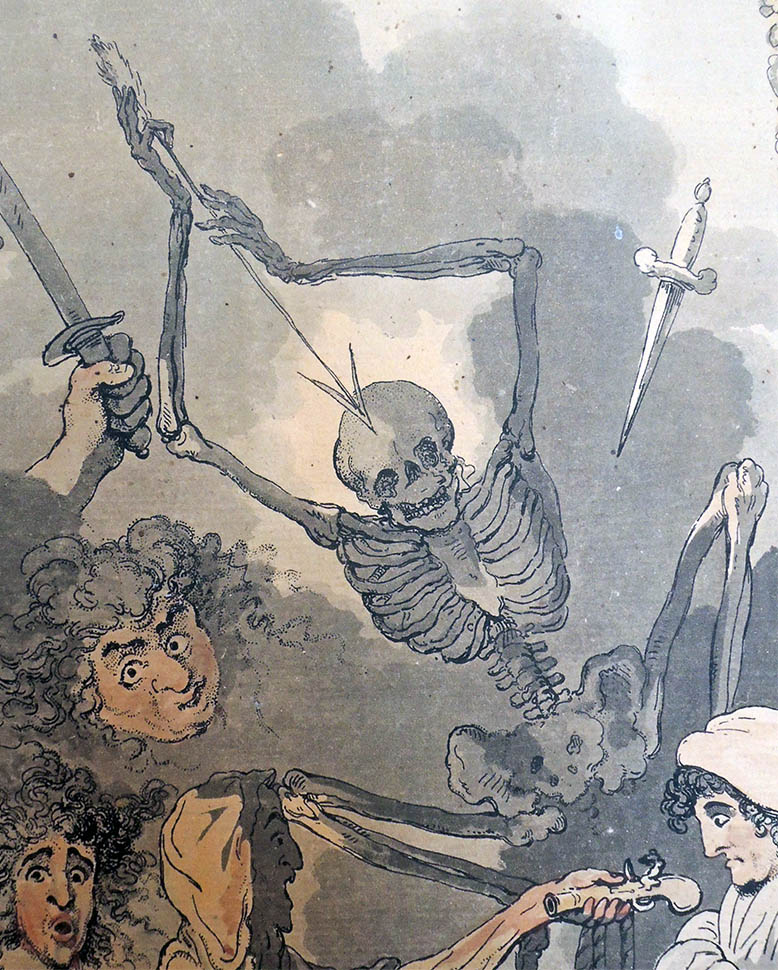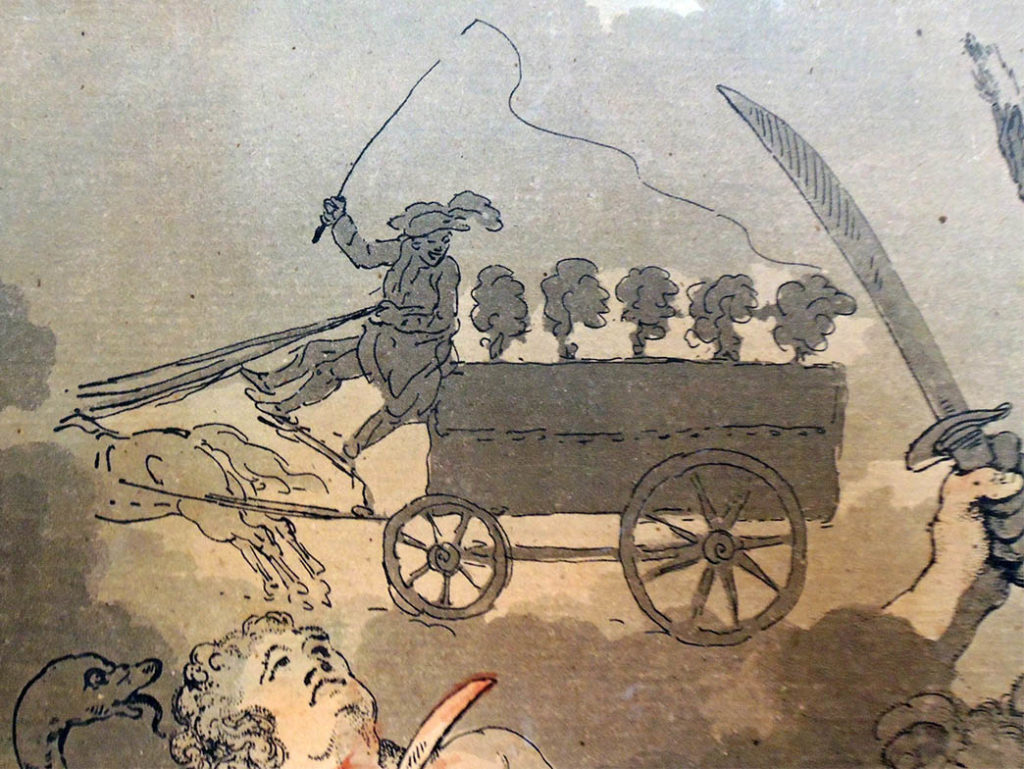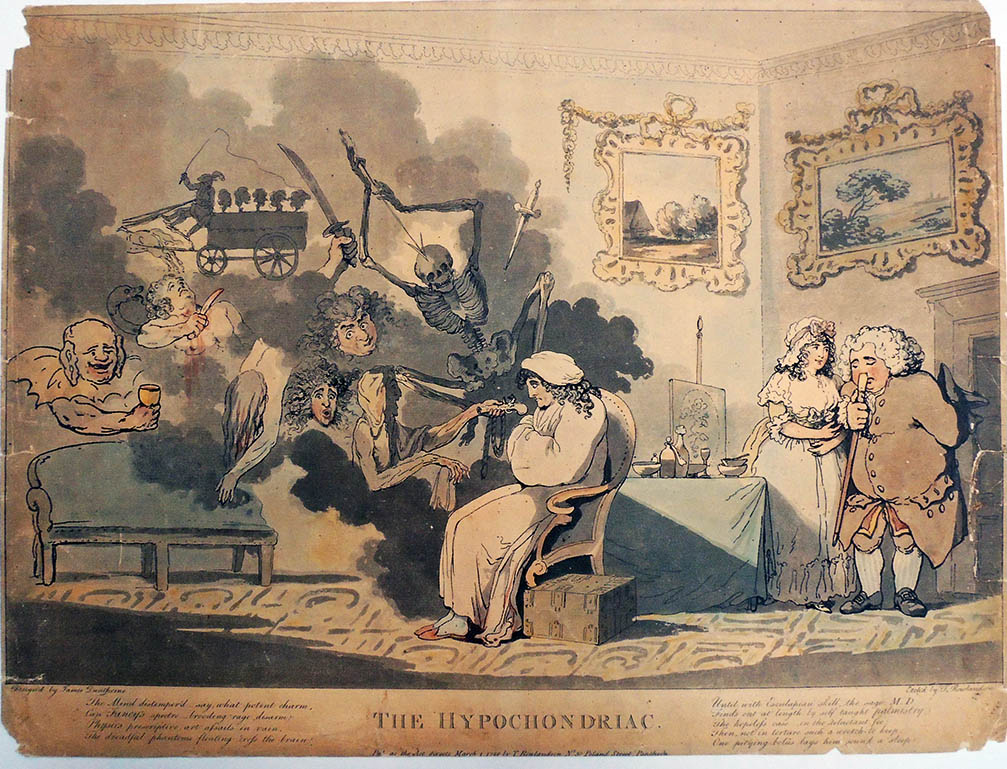 Thomas Rowlandson (1757–1827) after James Dunthorne II (ca. 1758–ca. 1792/93), The Hypochondriac, March 1, 1788. Hand-colored etching and aquatint. Graphic Arts collection GA 2014.00796. Gift of Dickson Q. Brown, Class of 1895.
This aquatint of a man suffering from hypochondria, depicts various demons and ghosts flying about his head offering the choice of death by stabbing, shooting, poison, slitting your throat, or a serpent's bite, among others. Given the complicated lineage of the British artist Dunthorne, this print is often attributed solely to Rowlandson although it clearly lists Dunthorne as the designer.
James Dunthorne I (British painter, 1730-1815)
James Dunthorne II (English portraitist and caricaturist, born ca. 1758, died 1792 or 1793)
John Dunthorne I (British painter, active 2nd half of the 18th century)
John Dunthorne II (British painter, active 1783-1794)
John Dunthorne III (British painter, 1770-1844)
John Dunthorne IV (English painter, 1798-1832)
We agree with the Metropolitan Museum of Art that the artist who collaborated with Rowlandson here was James Dunthorne II, also known as the Colchester Hogarth. Judy Crosby Ivy, writing for the DNB explains:
Two other artists named Dunthorne (mistakenly identified in the Dictionary of National Biography and in the standard references as John) lived and worked in Colchester and may have been distantly related to the East Bergholt Dunthornes. James Dunthorne (c. 1730–1815), portrait and miniature painter and map-maker, was apprenticed to Joshua Kirby in 1745 for £25. He was also possibly the topographer responsible for several drawings of historic Essex buildings and tessellated pavements reproduced in various antiquarian publications in the 1760s and 1770s. James Dunthorne had nonconformist and whig connections and may have been related to John Dunthorne, a dissenting pastor in Colchester. He and his wife Elizabeth had nine children, the eldest of whom, James Dunthorne (c. 1758–c. 1794), painter and surveyor, was known as the Colchester Hogarth and exhibited several genre scenes at the Royal Academy between 1783 and 1792. Works by both father and son are in the Colchester and Essex Museum and in the British Museum, department of prints and drawings. —https://www.oxforddnb.com/view/10.1093/ref:odnb/9780198614128.001.0001/odnb-9780198614128-e-8297
See also https://suffolkartists.co.uk/index.cgi?choice=painter&pid=203


Perhaps it was Dunthorne who wrote:
The mind disemper'd – say, what potent charm,
Can Fancy's spectre-brooding rage disarm?
Physics prescriptive, art assails in vain,
The dreadful phantoms floating cross the brain!
Until with Esculapian skill, the sage M.D.
Finds out at length by self-taught palmistry,
The hopeless case – in the reluctant fee,
Then, not in torture such a wretch to keep
One pitying bolus lays him sound asleep.'
See also: Resumé by Dorothy Parker
Razors pain you;
Rivers are damp;
Acids stain you;
And drugs cause cramp.
Guns aren't lawful;
Nooses give;
Gas smells awful;
You might as well live.