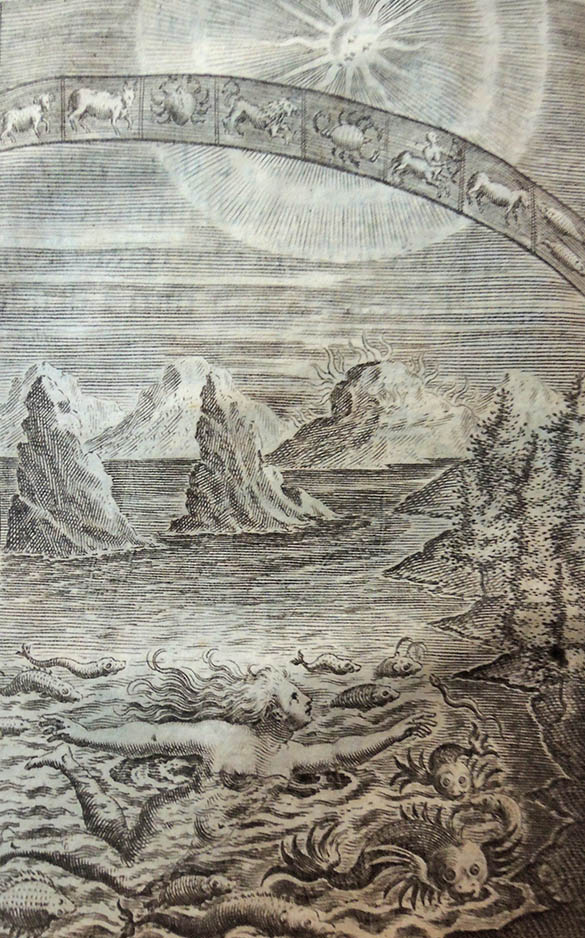 Attributed to Girolamo Priuli (1476-1547), La Galatea: Poema Lirico con l'Allegorie dell'Academico Veneto Sconosciuto ([Place of publication not identified]: [publisher not identified], 1620? Graphic Arts Collection GAX 2910- in process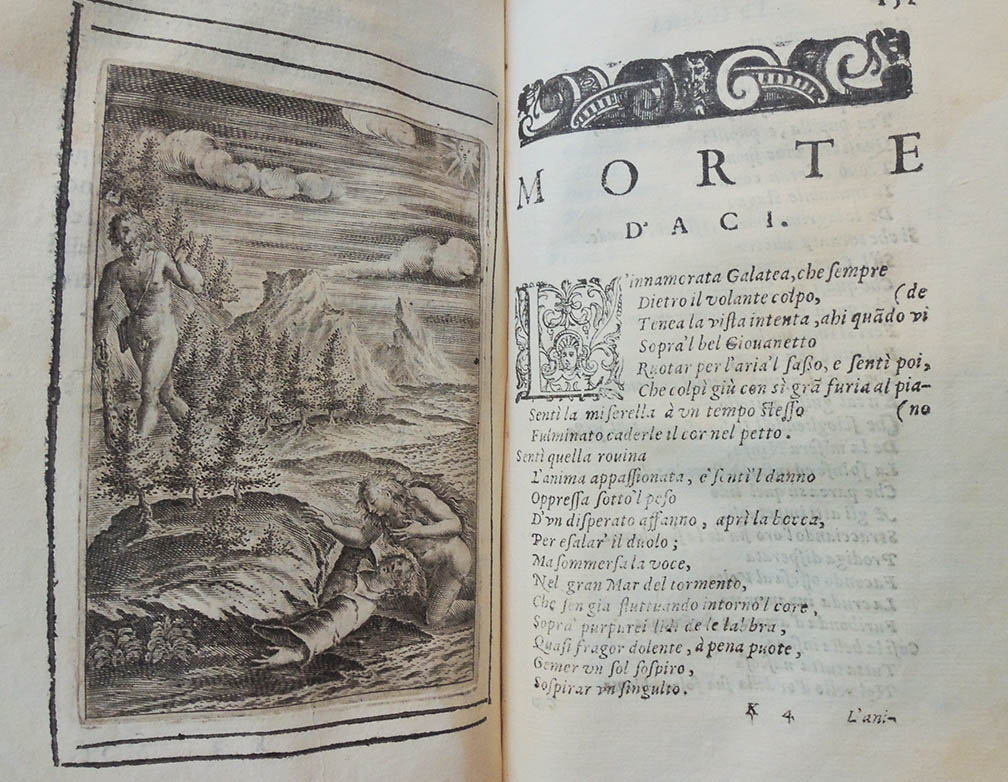 An unexpected treasure came this week in an unusual first edition of La Galatea. Poema lirico con l'allegorie dell'accademico Veneto sconosciuto cavalleresco (pseudonym of the Venetian poet Girolamo Priuli), variously dated 1620 to 1625. An unidentified artist created sixteen engravings illustrating the poetic epic of Acis and Galatea. Strangely, the first six plates are all of the same scene with Galatea in the water, looking left, looking right, in the rain, in the sunshine, etc. Readers must look twice to realize they have subtle differences.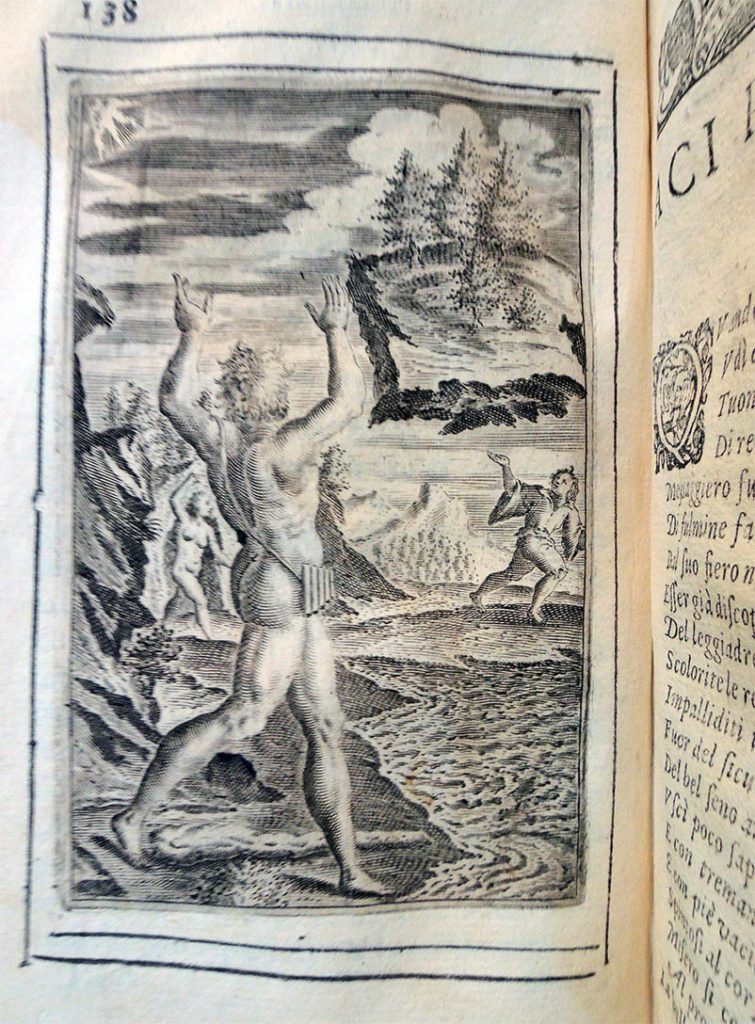 http://ovid.lib.virginia.edu/trans/Metamorph13.htm
Once while Galatea let Scylla comb her hair, she addressed these words to her, sighing often: 'At least, O virgin Scylla, you are not wooed by a relentless breed of men: and you can reject them without fear, as you do. But I, whose father is Nereus, and whose mother is sea-green Doris, I, though protected by a crowd of sisters, was not allowed to flee the love of Polyphemus, the Cyclops, except through sorrow', and tears stopped the sound of her voice. When the girl had wiped away the tears with her white fingers, and the goddess was comforted, she said: 'Tell me, O dearest one: do not hide the cause of your sadness (I can be so trusted)' The Nereid answered Crateis's daughter in these words: 'Acis was the son of Faunus and the nymph Symaethis, a great delight to his father and mother, but more so even to me, since he and I alone were united. He was handsome, and having marked his sixteenth birthday, a faint down covered his tender cheeks. I sought him, the Cyclops sought me, endlessly. If you asked, I could not say which was stronger in me, hatred of Cyclops, or love of Acis, both of them were equally strong.

Oh! Gentle Venus, how powerful your rule is over us! How that ruthless creature, terrifying even to the woods themselves, whom no stranger has ever seen with impunity, who scorns mighty Olympus and its gods, how he feels what love is, and, on fire, captured by powerful desire, forgets his flocks and caves. Now Polyphemus, you care for your appearance, and are anxious to please, now you comb your bristling hair with a rake, and are pleased to cut your shaggy beard with a reaping hook, and to gaze at your savage face in the water and compose its expression. Your love of killing, your fierceness, and your huge thirst for blood, end, and the ships come and go in safety.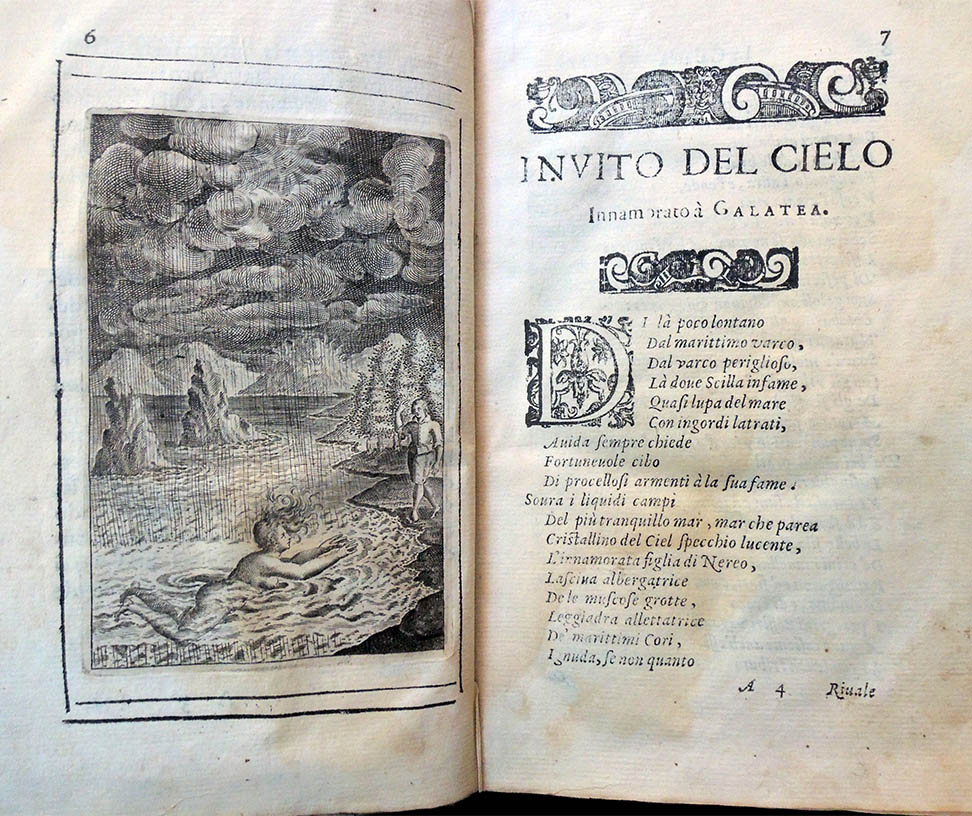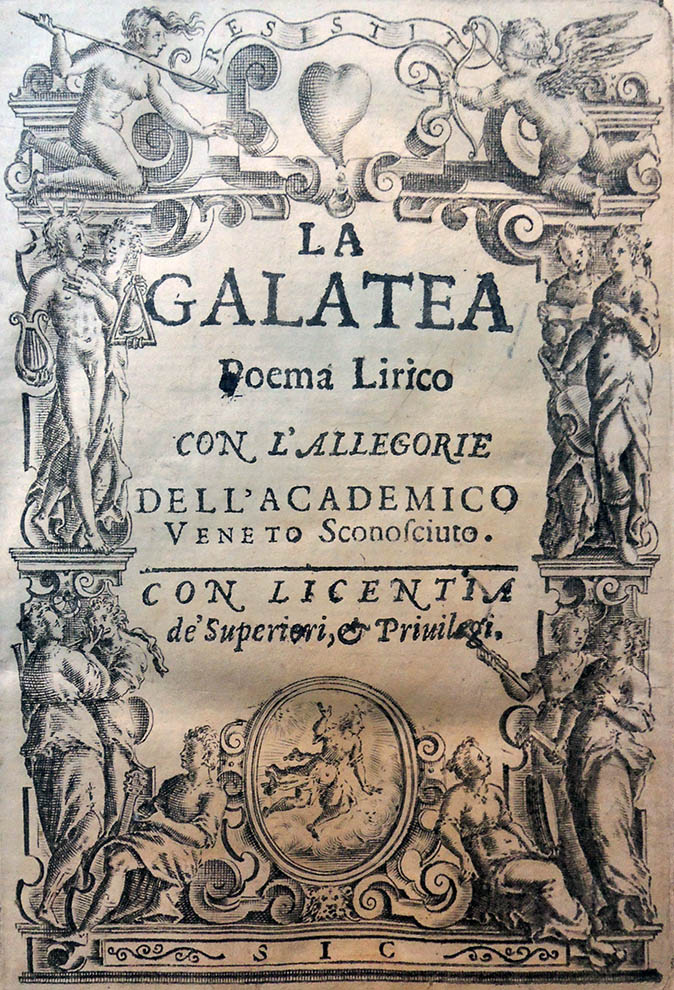 The title page is especially appealing with its architectural frame [recycled?] topped with the word Resistit (Withstands). The allegorical figures have been described elsewhere as "the Temperance that resists Love, Apollo with the nine Muses; below the Aurora brand; adorned with little heads, large initials and xylographed endings."