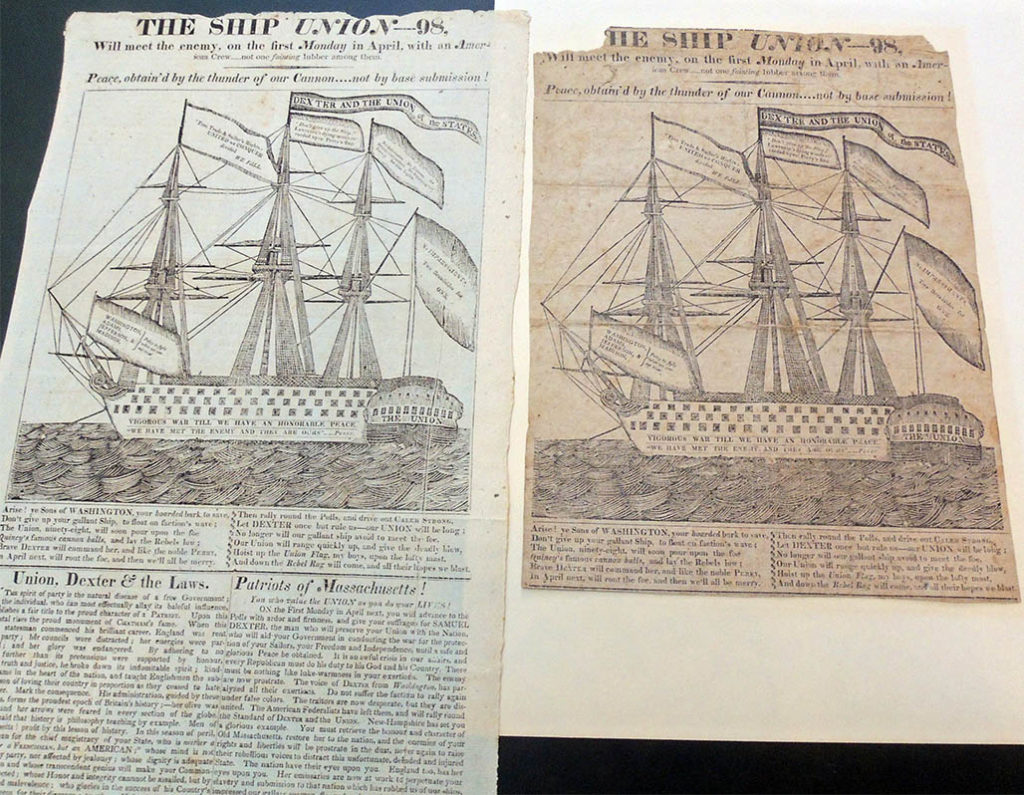 The Graphic Arts Collection holds two copies of a rare broadside prepared for the 1814 gubernatorial campaign of Samuel Dexter (1761-1816): The Ship Union — 98, will meet the Enemy on the First Monday in April, with an American Crew, …not one fainting lubber among them. Peace, obtained by the thunder of our Cannon … not by base submission! ([Boston: Yankee-office, 1814]).
The two stanzas of verse beneath the woodcut were written to encourage people to vote against Governor Strong and for Dexter.
Arise! Ye Sons of Washington, your boarded bark to save,
Don't give up your gallant Ship, to float on faction's wave;
The Union, ninety-eight, will soon pour upon the foe
Quincy's famous cannon balls, and lay the Rebels low;
Brave Dexter will command her and like the noble Perry,
In April next, will rout the foe, and then we'll all be merry.
Then rally round the Polls, and drive out Caleb Strong,
Let Dexter once but rule us—our Union will be long;
No longer will our gallant ship avoid to meet the foe,
Our Union will range quickly up, and give the deadly blow,
Hoist up the Union Flag, my boys, upon the lofty mast.
And down the Rebel Rag will come, and all their hopes we blast.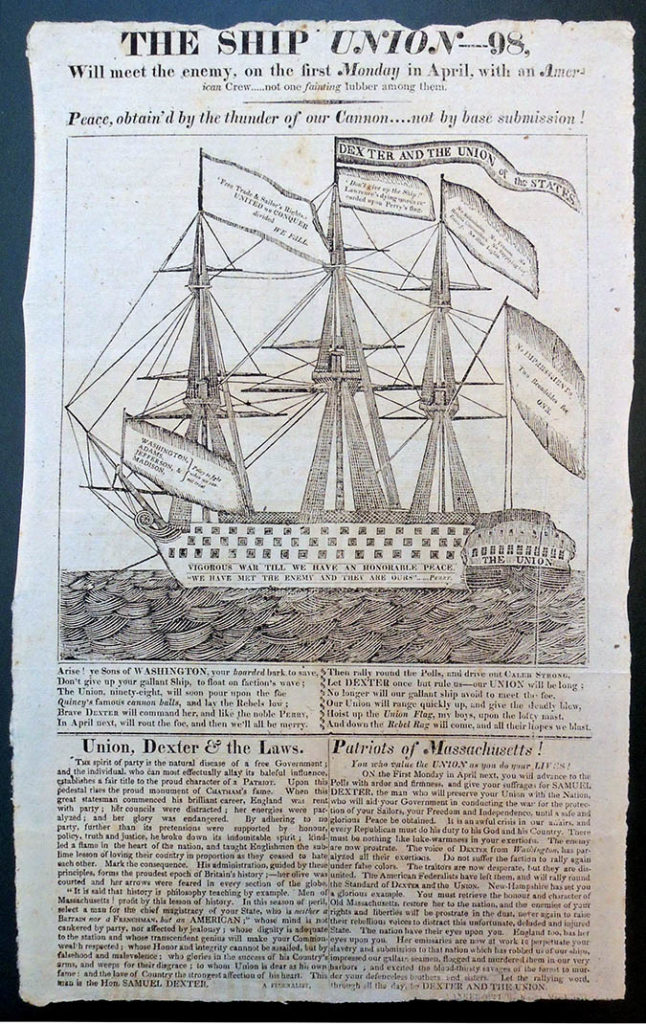 When the United States Congress voted to join the War of 1812 on June 18, there were still many who opposed it, in particular Caleb Strong (1745-1819), Governor of Massachusetts. Eight days later, the Massachusetts House of Representatives condemned the war and voted against it 406 to 240. When the war continued into 1814, Strong's position gained in popularity and instead of retiring, the 69-year-old Federalist ran for a second term.
"…Such was the political atmosphere in Massachusetts, for instance, that the Republicans put forth moderate Federalist Samuel Dexter as their gubernatorial candidate in 1814. Dexter was careful to say that although he shared mainstream Federalists' sense of grievance, he differed with them as to "their indiscriminate opposition to the war, especially their convention project." The 1814 election therefore represented a referendum on the proposed Hartford convention above and beyond the war itself, and Caleb Strong beat Dexter handily, drawing 55 percent of the vote."–Matthew Mason, "Slavery and Politics in the Early American Republic" (Univ of North Carolina Press, 2009).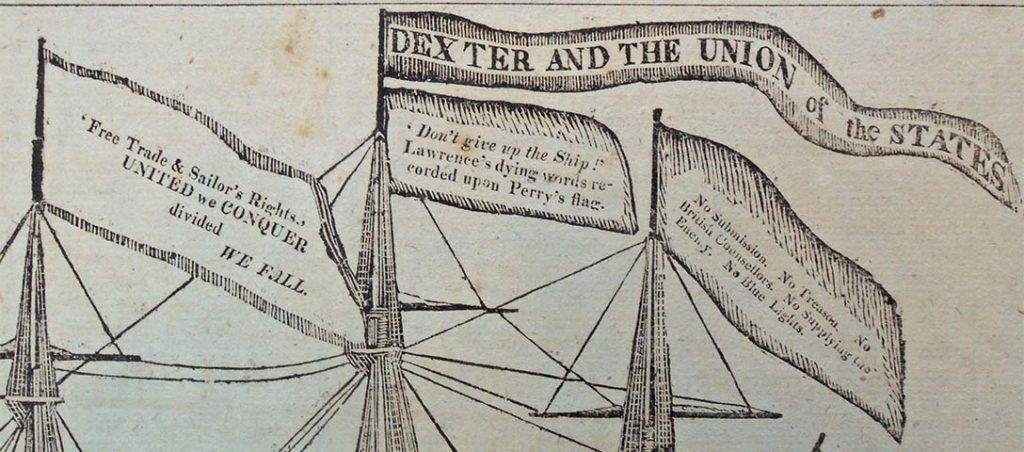 At the time of the election, Dexter was practicing law in Boston, having served in the Senate, as Secretary of War, and Secretary of the Treasury. His 1814 campaign centered on his support for the war–"Vigorous war till we have an honorable peace"–and accusations that Strong was a coward. This broadside promises his administration would have "not one fainting lubber among them." The strategy was not successful.