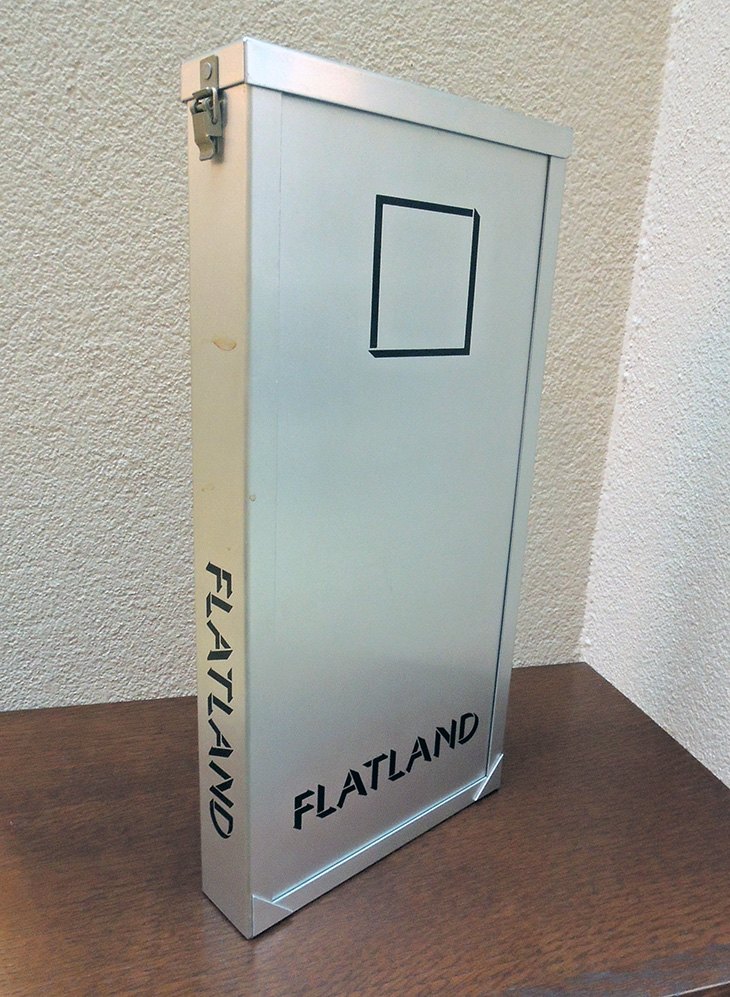 Nothing about this edition of Edwin A. Abbott's Flatlands is flat.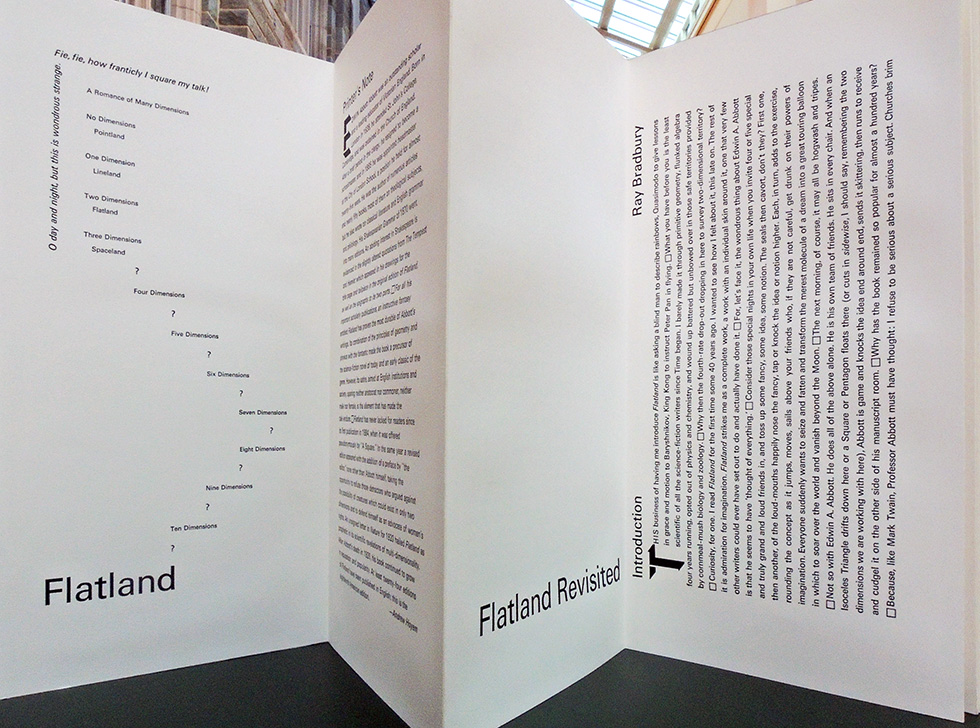 The Graphic Arts Collection recently acquired "a fantastical satire set in a two dimensional world peopled by plane geometrical figures, & an early classic of science-fiction: Flatland, a romance of many dimensions by Edwin A. Abbott, with a new introduction by Ray Bradbury, produced in an accordion-fold format, with diagrams, unusual typographic arrangements, and handcolored cutout illustrations devised by Andrew Hoyem, & printed in an edition limited to 275 copies…"–prospectus.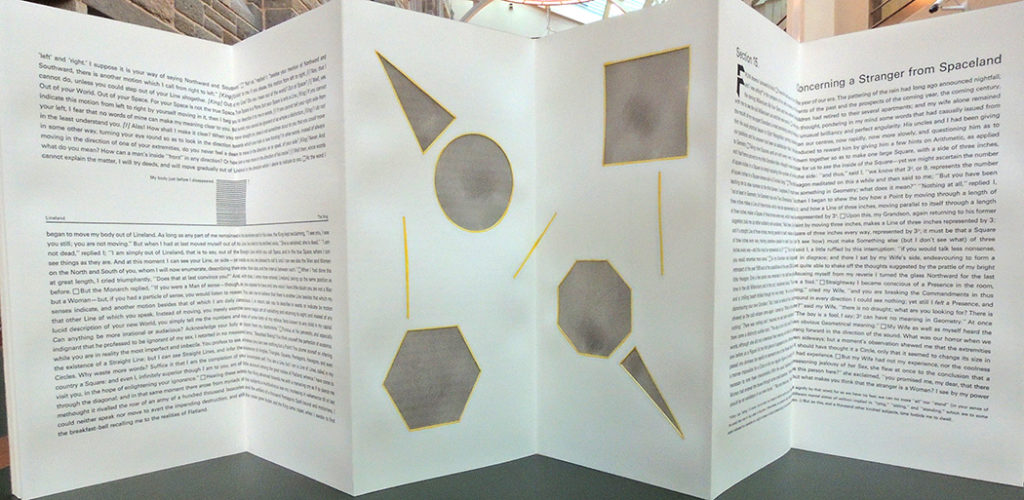 "This book has been produced in a novel form to suit its extraordinary theme. The acordion-fold format, borrowed from oriental bookmaking, is here used to show the perspective of the plane-geometrical character who tells the story, A Square.
Thus, the volume will open out flat to display text and illustrations on a long, continuous sheet. The paper panels (rather than pages) are 7 by 14 inches, stretching to 33 feet per side. A pair of panels forms a square which can be held in th lap to read in the conventional manner of the occidental book. For the second half of the novel, the book must be turned over to read the backside. The volume can also be laid out on a table to expose several panels at once.
For display purposes, the accordion can stand upright, spread to zig-zag over small or large areas, or can be expanded to its full length for wall exhibition. …The covers are made of clear anodized aluminum with the title and the author's symbolic square silkscreened in epoxy=resin ink for permanency."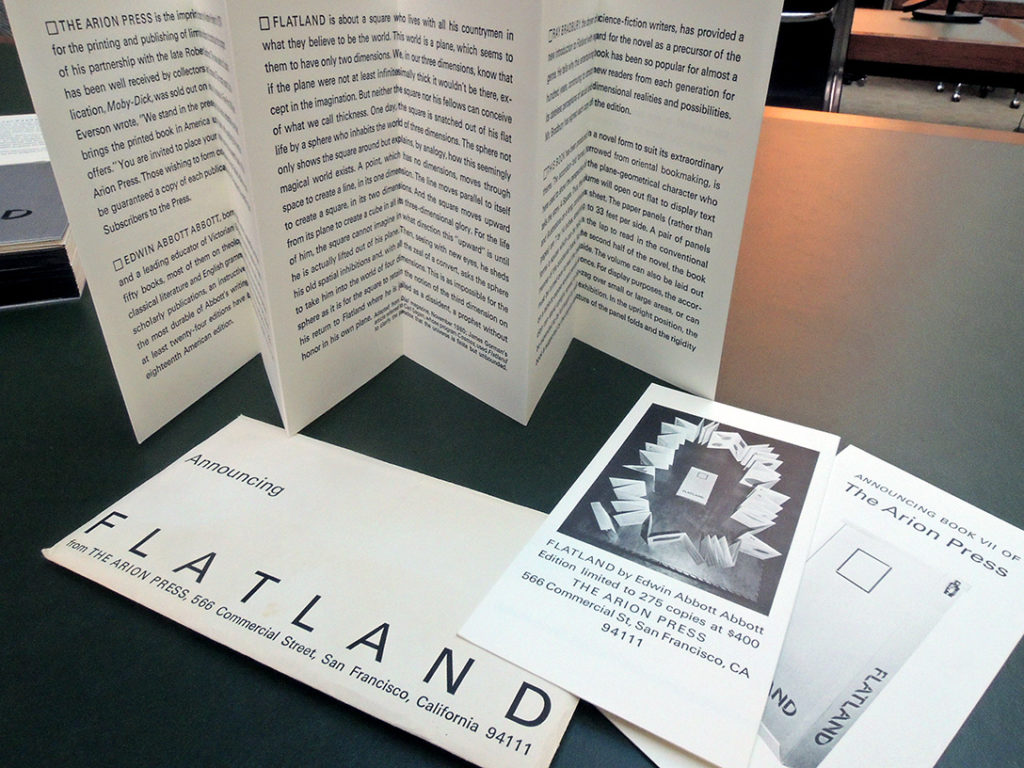 Original prospectus and advertising materials included.