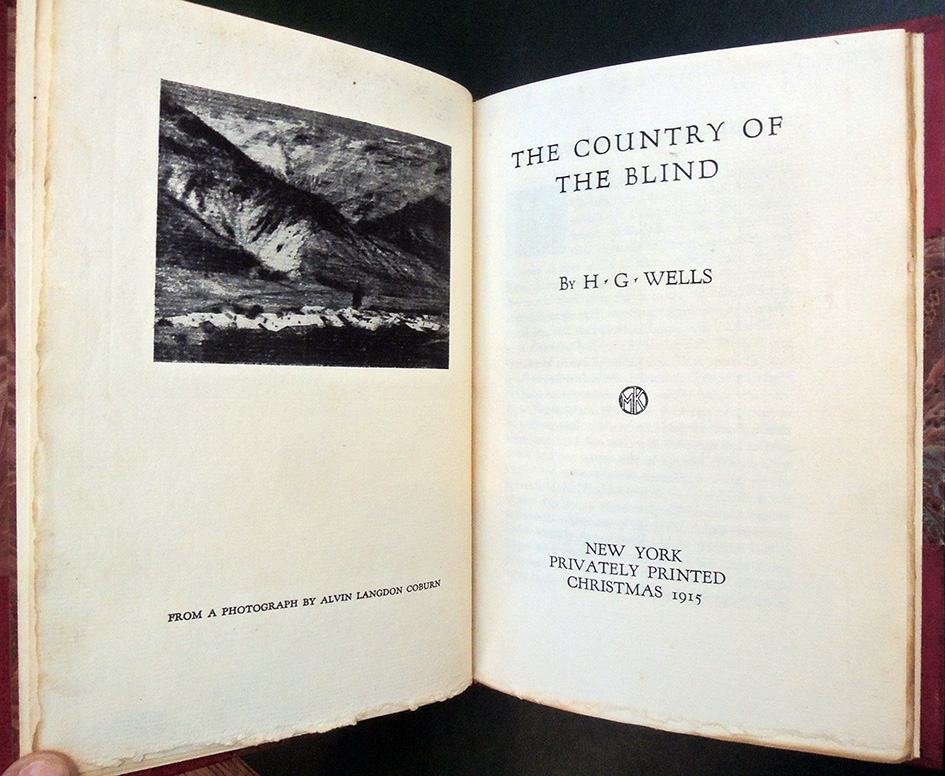 H. G. Wells, The Country of the Blind (New York: Privately printed [by Mitchell Kennerley], Christmas 1915). Aquatone frontispiece after a photograph by Alvin Langdon Coburn. Graphic Arts Collection 2019- in process
This is the first separate edition of one of the stories from the collaboration between H. G. Wells and Alvin Langdon Coburn, The Door in the Wall. Although there is no statement of limitation, a folded typed account of the book and its production, signed with initials by Mitchell Kennerley, states that two hundred copies were printed on handmade paper, typeset by Bertha Goudy.
The Country of the Blind was first published in The Strand magazine, April 1904, pp 201-15, with illustrations by Claude A. Shepperson.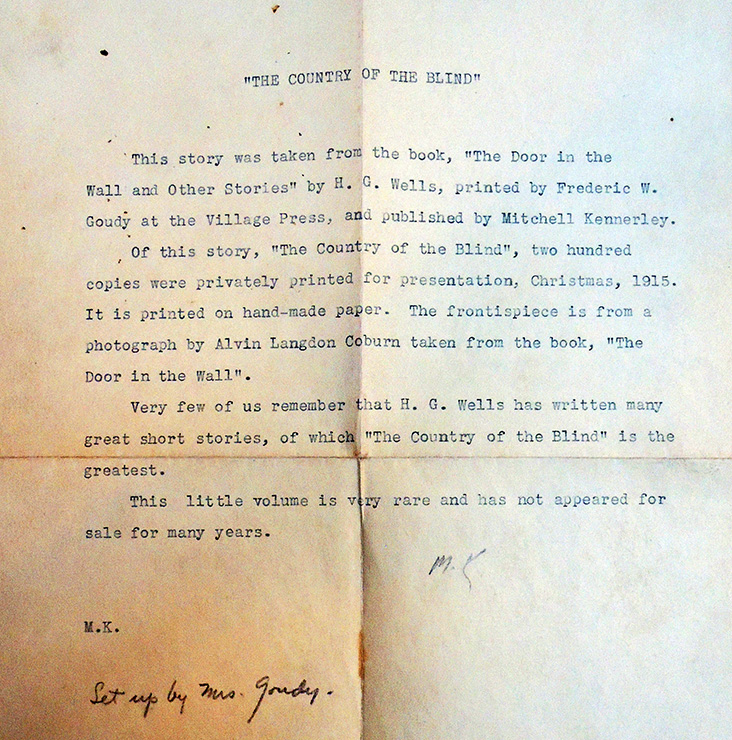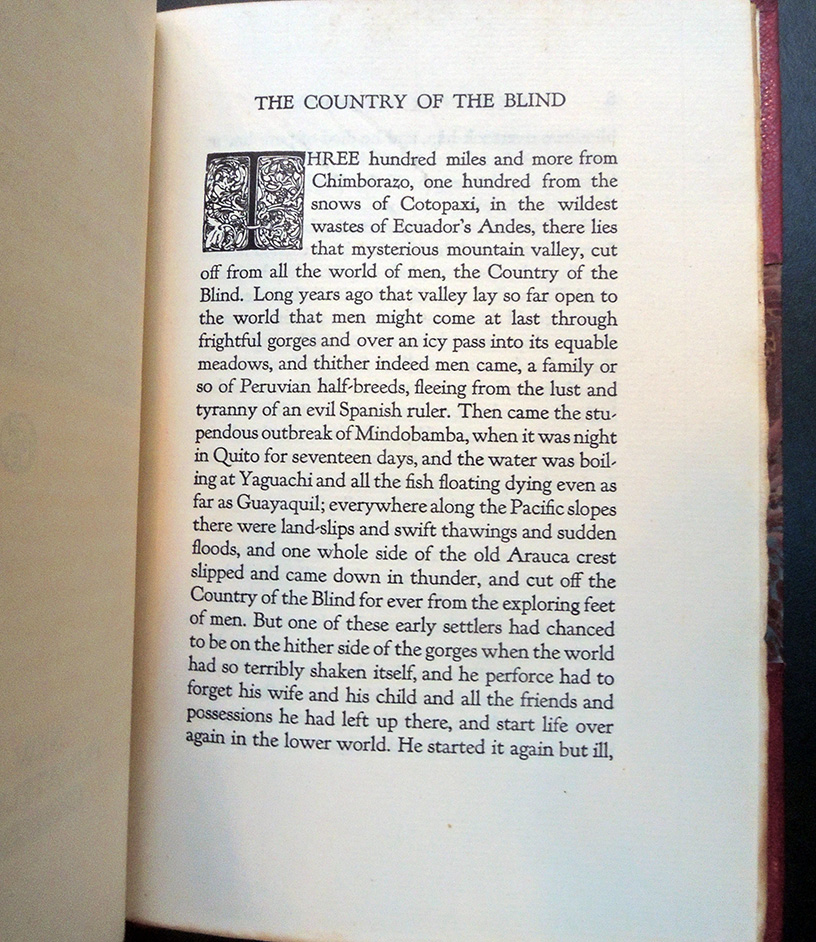 The Fortunes of Mitchell Kennerley [Recap Z473.K45 B78 1986] was reviewed by Leonard Shatzkin, "Zero Royalty" in New York Times December 7, 1986. Here is a section:
MITCHELL KENNERLEY was a pioneer among American publishers. Only two years after he joined John Lane as a junior clerk at the Bodley Head in London, Kennerley was taken by Lane to New York. In "The Fortunes of Mitchell Kennerley, Bookman," Matthew J. Bruccoli says Kennerley always insisted Lane had put him in charge of the firm's American branch then; he was 18 years old. Three years later, irritated with Kennerley's failure to handle essential business details, Lane arrived at the New York offices unannounced, discovered that Kennerley had also been taking company money and fired him.

…Kennerley made significant contributions to book publishing and book collecting. From the start, he strove for the highest physical and artistic quality. His first office was in a New York building in which Frederic W. Goudy, America's most famous typographer and type designer, was struggling to get started, and Kennerley used his services extensively. One of Goudy's best-known and most important typefaces, Kennerley Old Style, grew out of that association.

Kennerley's books were beautifully typeset, printed on high-quality paper that was often handmade and tastefully bound. Some were set into type by Bertha Goudy, Frederic's talented wife. Alfred A. Knopf, who in his time set the standards of quality for the modern generation of publishers, acknowledged that his youthful apprenticeship with Kennerley associated him "with a man who had a very fine sense of typography and of sound conservative book-making." Among the many distinguished authors whose first or early works were represented among the 400 titles Kennerley published are Van Wyck Brooks, Frank Harris, D. H. Lawrence, Vachel Lindsay, Walter Lippmann, Edna St. Vincent Millay, Upton Sinclair, H. G. Wells and Oscar Wilde.

…In 1915, Kennerley became president of the Anderson Galleries. He continued to publish books for a time on a very much reduced scale, but auctions, particularly of rare books, became his main occupation. Later, as his financial fortunes drifted downward, he worked unsuccessfully in book retailing and even in printing. Kennerley ended in poverty, a lonely suicide in 1950 at the age of 71.