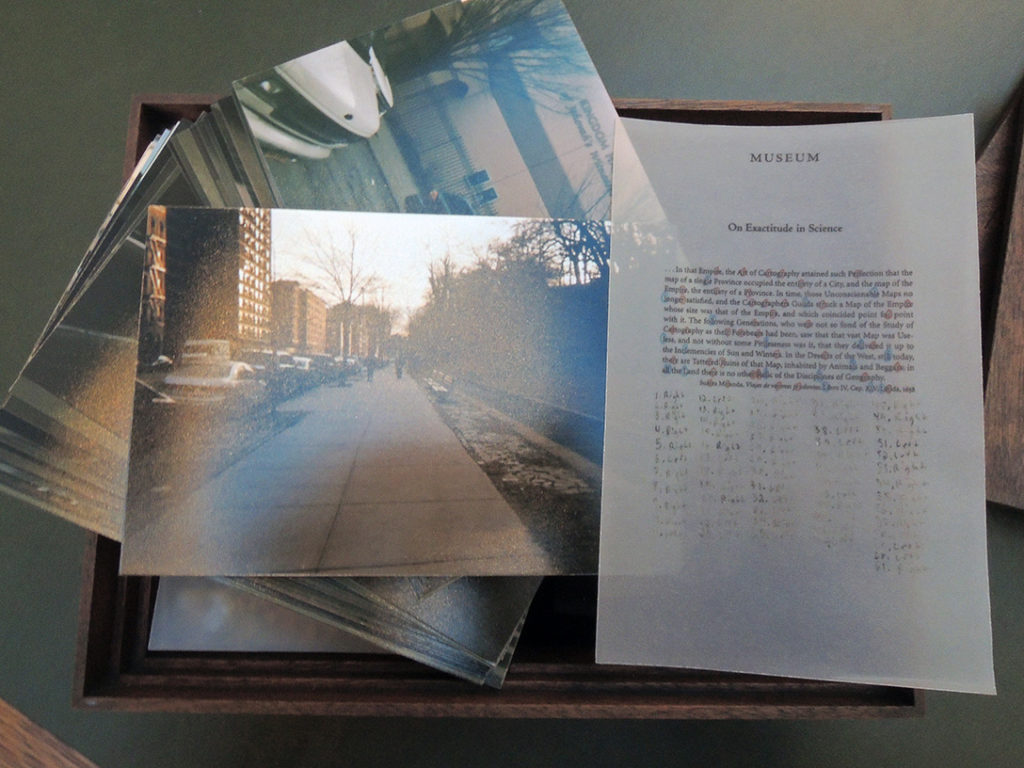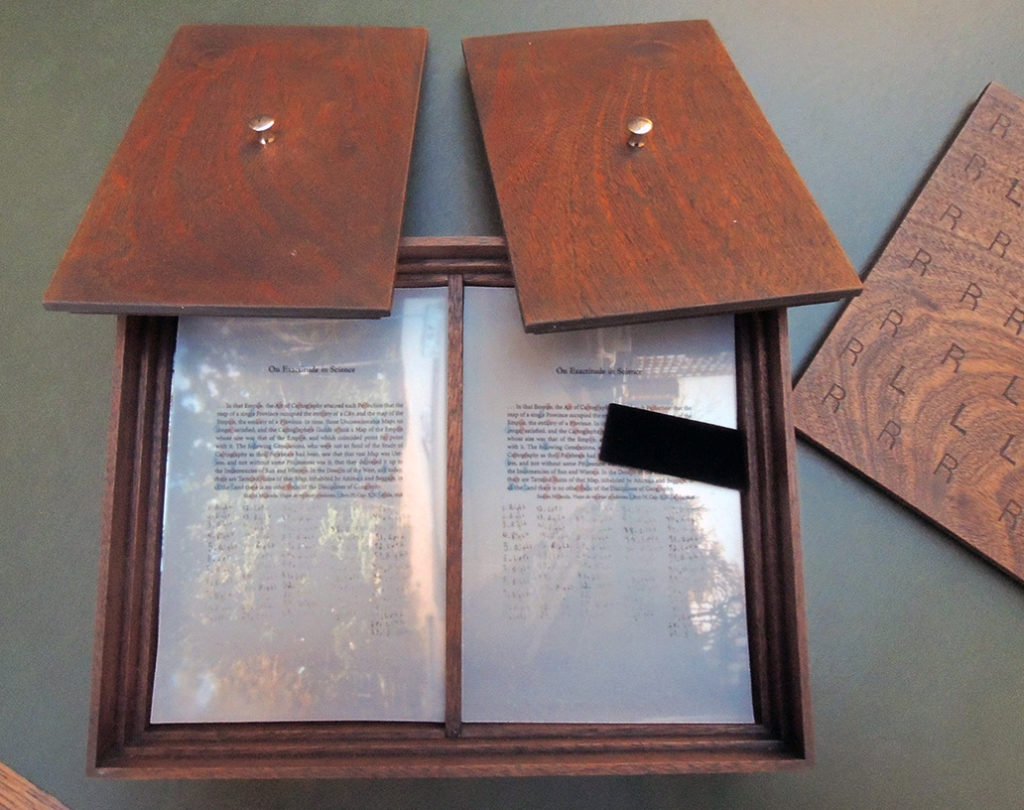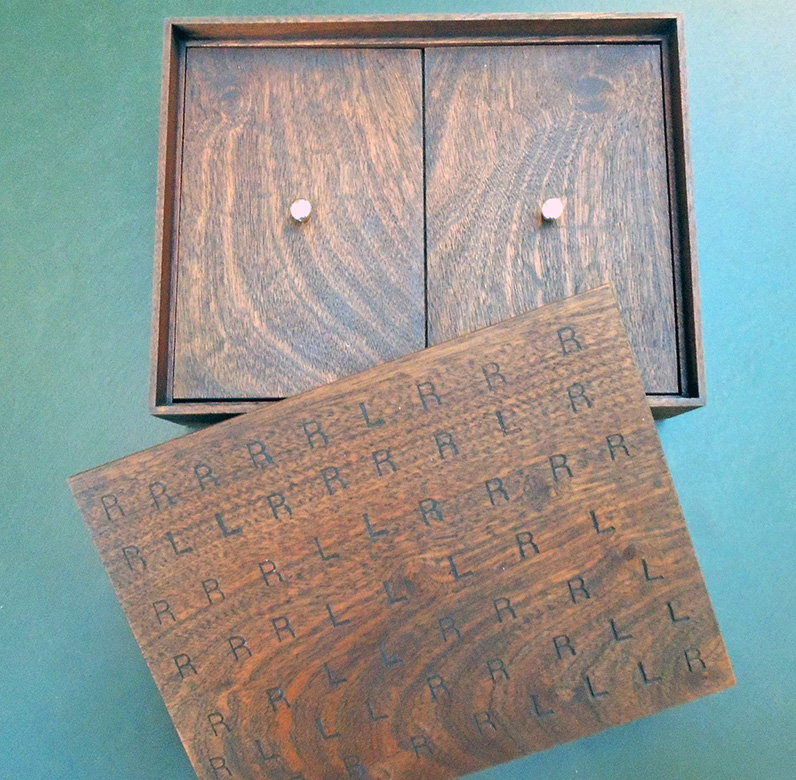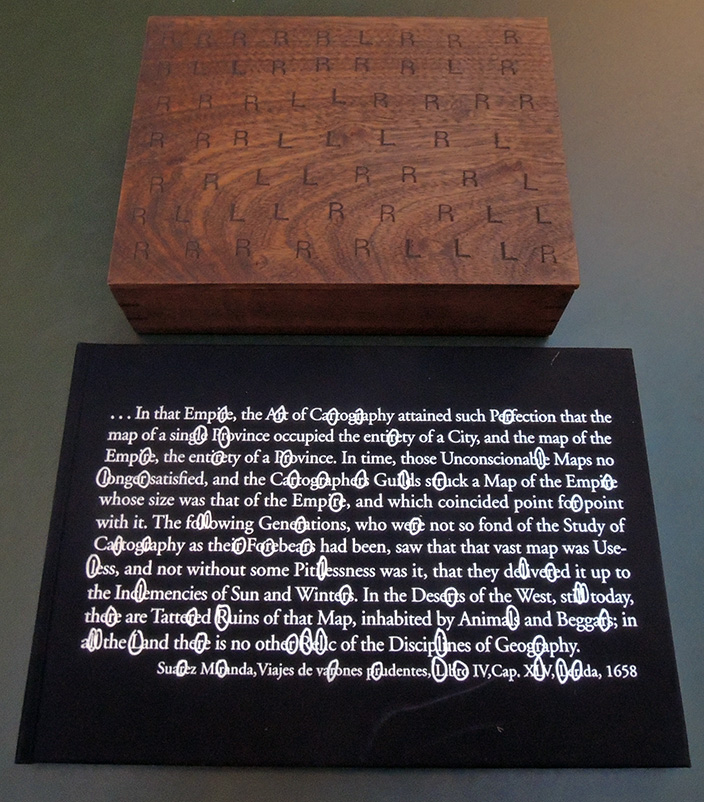 The Graphic Arts Collection recently acquired the collectors edition of "…In That Empire housed in a sepele wood box in an edition of eight. All sixty-one directional positions are stamped into the top of the lid and each interior compartment is velvet lined with its own cover. Archival, inkjet prints of each turn live comfortably in their respective niches. A vellum reproduction of "On Exactitude in Science" by Borges, with Siegel and Smith's markings, sits atop each stack of photos. Velvet tabs help ease the photos out for viewing and the bottom of the box is lined with felt for safe display on any surface".
. . In that Empire is a conversation, an experimental cartography bound by each initial decision. Jorge Luis Borges' story "On Exactitude in Science" frames the encounter. Both artists' bodies move in space, simultaneously and an image is snapped at each turn, marking their presence. Each "L" and "R" in order of appearance creates a list of sixty-one positions. The images collapse atop one another, each resting its weight on the other's back. In this empire, the bodies chart the arbitrariness of turns.

The companion 144-page publication includes sixty-one photos by each artist taken in West Newbury, Massachusetts and Harlem, New York. The reader is invited to access the book through multiple entry points, from front to back, in any order. No matter the beginning, a turn of the page becomes an act of continuing the conversation of experimental cartography established in the making of this book.
Cal Siegel & Sable Elyse Smith, … In that Empire (Pacific, 2019). Graphic Arts Collection GAX 2019- in process
Page through the bound volume here: https://www.pacificpacific.pub/products/in-that-empire-1