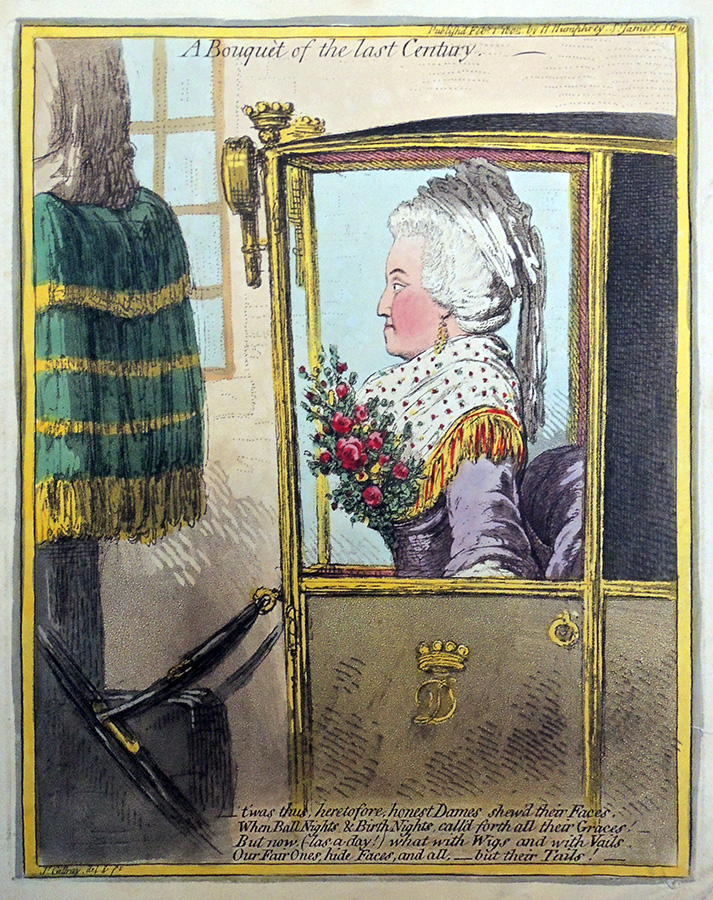 James Gillray (1756-1815), A Bouquèt of the last Century. – t'was thus, heretofore, honest Dames shew'd their Faces, / When Ball Nights & Birth Nights, call'd forth all their Graces! – / But now, (-las-a-day!) what with Wigs and with Vails, / Our Fair Ones, hide Faces, and all, – but their Tails!, February 1, 1802. Hand colored etching and aquatint. Graphic Arts Collection GAX
Dorothy George wrote "An elderly lady sits very upright in a glass-fronted coupé, the side window forming a frame. She has simply-dressed powdered hair on which is a turban-like drapery; a fichu covers her neck. Her dress, in front of which is a large bouquet of flowers, is shaped to the waist in a way very different from the fashion of the day."–Catalogue of Political and Personal Satires in the British Museum, VIII, 1947. George identified the lady as the Dowager Lady Dacre (Mary, née Fludyer, 1755-1808, widow of the 18th Baron Dacre (d. 1794) whose tomb she is said to have visited daily.
After the death of her husband, Lady Dacre inherited Lee Place in Kent, as well as a share in the estates of Trevalyn Hall and Plas Teg in Flintshire. Agreements among the heirs resulted in Lady Dacre's full ownership of the Plas Teg estate (near Hope, Flintshire) by 1799. …Of her life at her principal residence at Lee Place, "It is reported that the widow visited his tomb, at Lee, near Blackheath, daily, until her decease in 1818 [sic]. She usually rode from her mansion to the Churchyard on a favourite pony, wore a large flapping drab beaver hat, and cloth habit trailing to the ground. At home, she evinced an eccentric reverence for her deceased husband; his chair was placed, as in his lifetime, at the dinner table, and the unfilled seat seemed to feed her melancholy*."–"Some Account of the Citizens of London and Their Rulers, from 1060 to 1867" p. 154, Benjamin Brogden Orridge, 1867.
See more: https://plasteg.com/index.php/history/


t'was thus, heretofore, honest Dames shew'd their Faces,
When Ball Nights & Birth Nights, call'd forth all their Graces! –
But now, (-las-a-day!) what with Wigs and with Vails,
Our Fair Ones, hide Faces, and all, – but their Tails! –