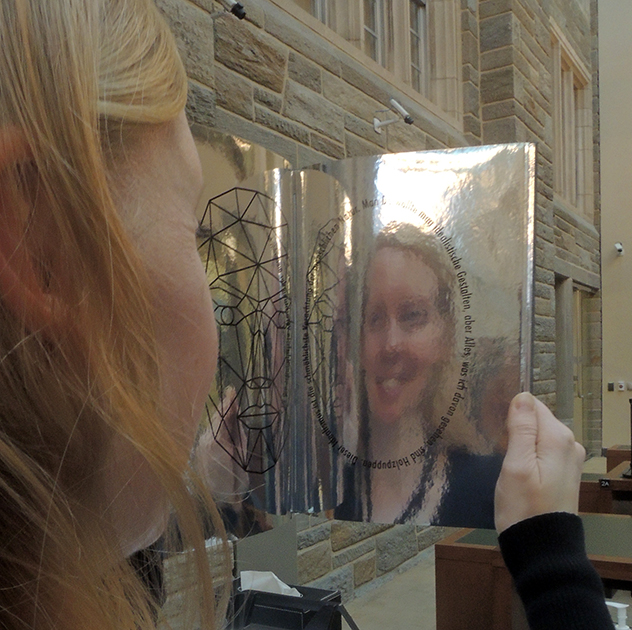 In 1839, Georg Büchner published Lenz, a ground-breaking novella about schizophrenia. In 2020, Ines von Ketelhodt designed and published Mienenspiel, incorporating sections of Büchner's text onto its reflective pages, placing the reader/viewer in the uncomfortable position of being outside and inside the book at the same time.
The artist writes: "The book investigates the wide range of human facial expressions and the topic of facial recognition. Thanks to the mirror effect of the paper, which is coated in silver foil, viewers see themselves in the book as they turn the pages. They can imitate the illustrations of facial expressions that are printed on the foil, and modify their reflected images accordingly. The text passages from Georg Büchner's Lenz (1839) describe "all the subtle, barely noticed play of facial features," "the human nature," respect and tolerance for individuals, the "unique existence of each being," as well as Medusa's head."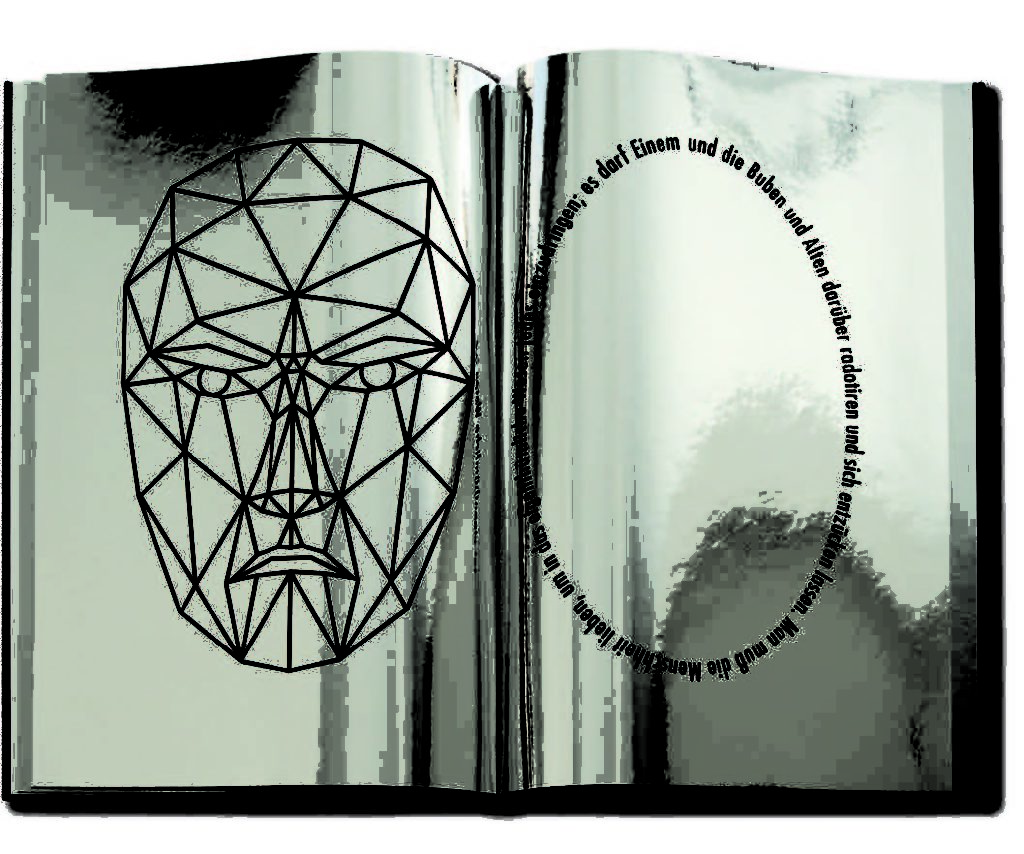 The original German text is printed on each right-hand page, with an English translation on the left. The texts are set around an oval shape that is reminiscent of a mirror or even a face. Viewers can read the text by turning the book counter-clockwise. This also changes the reflected surroundings of the double-page spread.
The face illustrations and texts are letterpress printed with polymer plates on Chromolux paper, which is coated on one side with aluminum. The reverse and uncoated side of the papers are glued together along the front edge.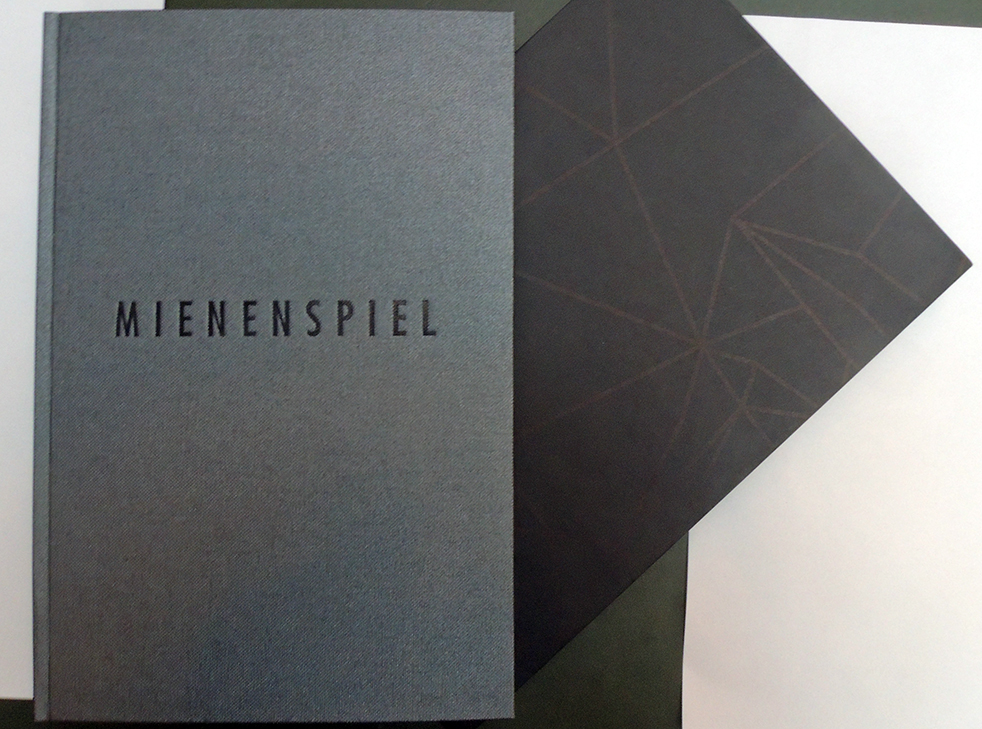 Ines von Ketelhodt, designer, printer, and bookbinder, Mienenspiel (Flörsheim, Germany: Ines von Ketelhodt, 2020). Graphic Arts Collection GAX 2020-in process. 40 p., embossed cloth-covered boards housed in a paper-covered slipcase, 35 numbered and signed copies. von.ketelhodt@k-und-m-design.de;  www.tloen-enzyklopaedie.de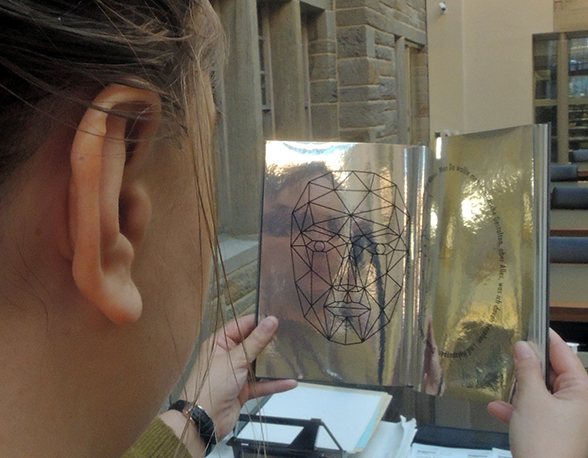 The German dramatist and novelist Georg Büchner (1813-1837) died at the sadly young age of twenty-four, leaving the question of what he might have accomplished had he lived longer. In 1828 he became interested in politics and joined a group which later on probably became the Gießen and Darmstadt section of the "Gesellschaft für Menschenrechte" (Society for Human Rights). In 1835, his first play, Dantons Tod (Danton's Death) about the French revolution was published, followed by Lenz, a novella based on the life of poet Jakob Michael Reinhold Lenz.
His unfinished and most famous play, Woyzeck, was the first literary work in German whose main characters were members of the working class. Published after Büchner's death, it became the basis for Alban Berg's opera Wozzeck, which was first performed in 1925.–[Wikipedia]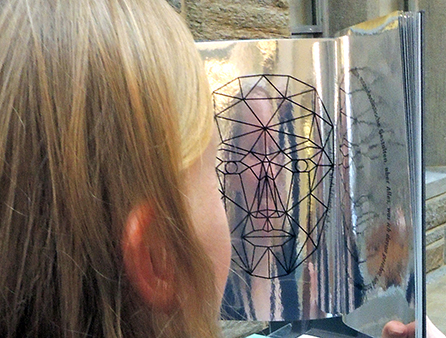 Lenz, Georg Büchner's visionary exploration of an 18th-century playwright's descent into madness, has been called the inception of European modernist prose. Elias Canetti considered this short novella one of the decisive reading experiences of his life, and writers as various as Paul Celan, Christa Wolff, Peter Schneider, and Gert Hofmann have paid homage to it in their works.

Published posthumously in 1839, Lenz provides a taut case study of three weeks in the life of schizophrenic, perhaps the first third-person text ever to be written from the "inside" of insanity. An early experiment in docufiction, Büchner's textual montage draws on the diary of J.F. Oberlin, the Alsatian pastor who briefly took care of Lenz in 1778, while also refracting Goethe's memoir of his troubled friendship with the playwright."– https://archipelagobooks.org/book/lenz/
Artist statement: "Ines von Ketelhodt studied Visual Communication at the University of Art and Design in Offenbach, Germany. Since 1986 she works in the fields of photography, typography, artist's books, and graphic design. She was a co-founder of the book artists' collective Unica T (1986–2001). From 1997 to 2006 she worked together with Peter Malutzki on the fifty volumes book art project Zweite Enzyklopädie von Tlön. In 2002 she moved to Flörsheim, Germany and opened a joint workshop with Peter Malutzki. Her main interests include: experimental typography; experimental photography (such as long exposure time, taking photographs by chance); combination of photography and typography; combination of old and new techniques (such as letterpress, original photographic prints, offset and digital printing)."
Princeton students, we now also have access to the 1982 film by Alexandre Rockwell, an adaptation of Lenz, transposed from 18th century Germany to New York in the early 1980s. https://www.kanopy.com/product/lenz