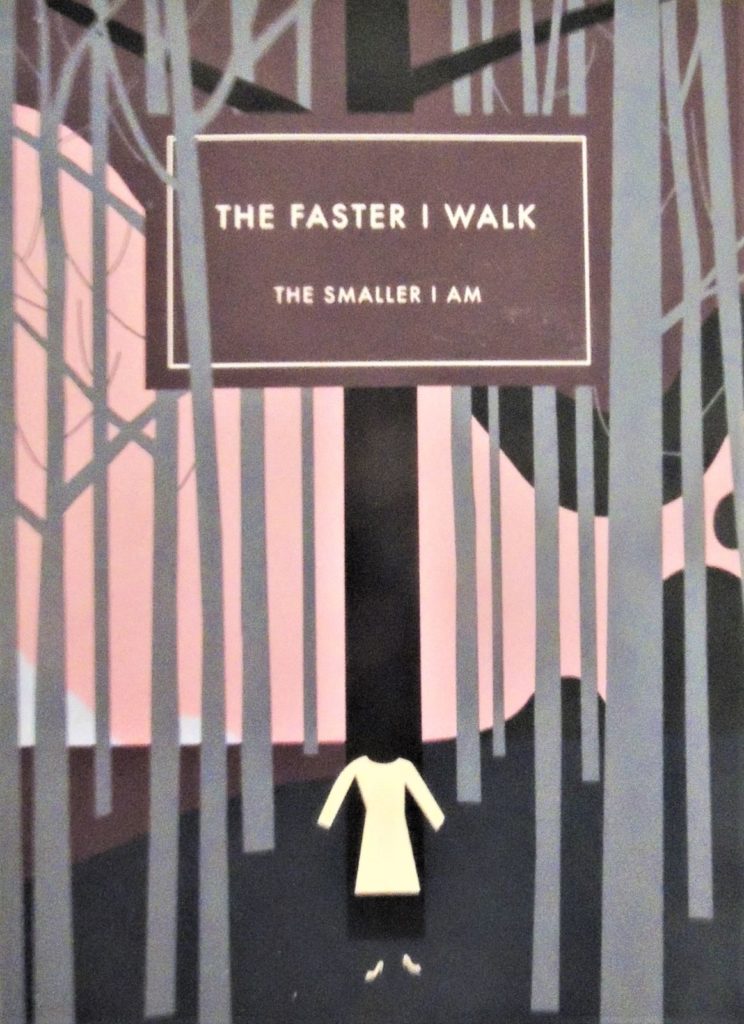 To honor the Norwegian Constitution Day, May 17th, or Syttende mai, here is a post for my favorite Norwegian author Kjersti A. Skomsvold. Seen above is her first and perhaps, still most compelling novel The Faster I Walk, The Smaller I Am (Firestone Library PT8952.29.K65 J613 2011).
Happily last summer "Two Month Review" chose to feature Skomsvold's Monsterhuman, translated from the Norwegian by Becky L. Crook, for their discussion and deep read. Note in this episode the discussion on the book does not begin until about 23.40.
"Marius Hjeldnes from Cappelen Damm joins Chad and Brian to provide a bit of background on Skomsvold, on trends in Norwegian literature, on that whole "dice" thing, and much more. They cover the first three sections of the book, laying out the main themes and ideas that set-up this novel about a young woman suffering from Chronic Fatigue Syndrome, trying to rebuild her sense of self by becoming a writer. An incredibly interesting, episodic novel that you should be able to dive into, even if you don't read every page."
Other podcasts of the Two Month Review can be found online. "Each "season" they highlight a new work of world literature, reading it slowly over the course of eight to nine episodes. Featuring a rotating set of literary guests—from authors to booksellers, critics, and translators—each episode recaps a short section of the book and uses that as a springboard for a fun (and often irreverent) discussion about literature in a general sense, pop culture, reading approaches, and much more."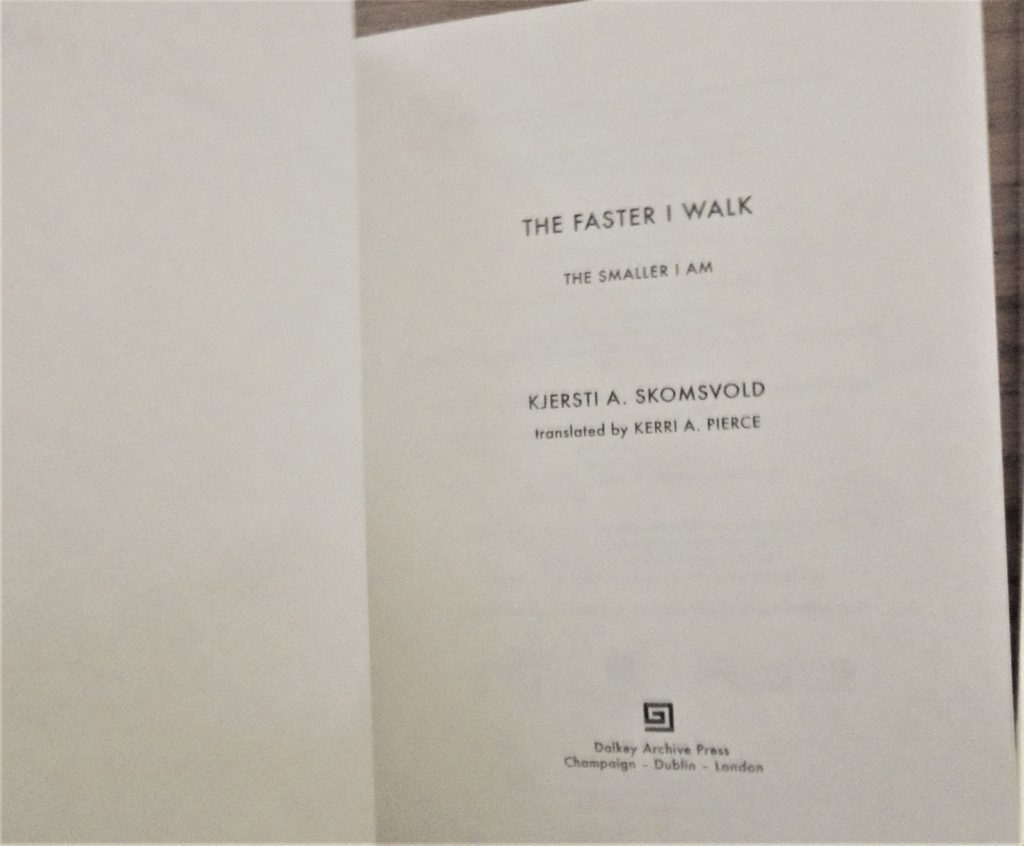 The English language edition of Jo fortere jeg går, jo mindre er jeg (The Faster I Walk, the Smaller I Am) has a cover designed by the American artist Richard McGuire. In 2014, the Morgan Library and Museum mounted an exhibition of the artist's work titled From Here to Here: Richard McGuire Makes a Book; https://www.themorgan.org/exhibitions/From-Here-to-Here . Many of us got to know him originally through RAW magazine, the comics journal edited by Art Spiegelman and Françoise Mouly, and then the book of Here strips. (https://web.archive.org/web/20100814190317/http://www.rci.rutgers.edu/~jbass/courses/402/402_mcguire_here.htm)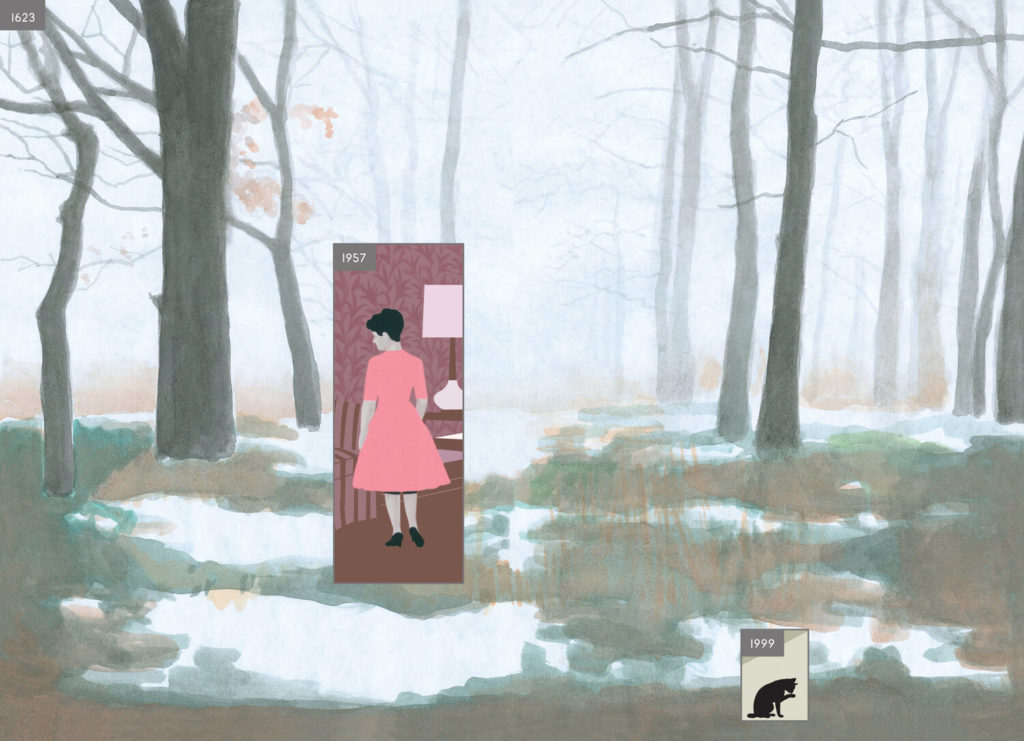 Luc Sante, writing for the New York Times in 2015, commented, "No one who saw that story ever forgot it: a chronicle of a life, running from 1957 to 2027, as situated in one room, with kaleidoscopic intrusions from various pasts and a wisp of a future — the house burns in 2029 and is torn down in 2030…" https://www.nytimes.com/2015/10/18/books/review/richard-mcguires-here.html
See more of McGuire here https://www.richard-mcguire.com/new-page-4 and get other Skomsvold novels at your local bookshop.