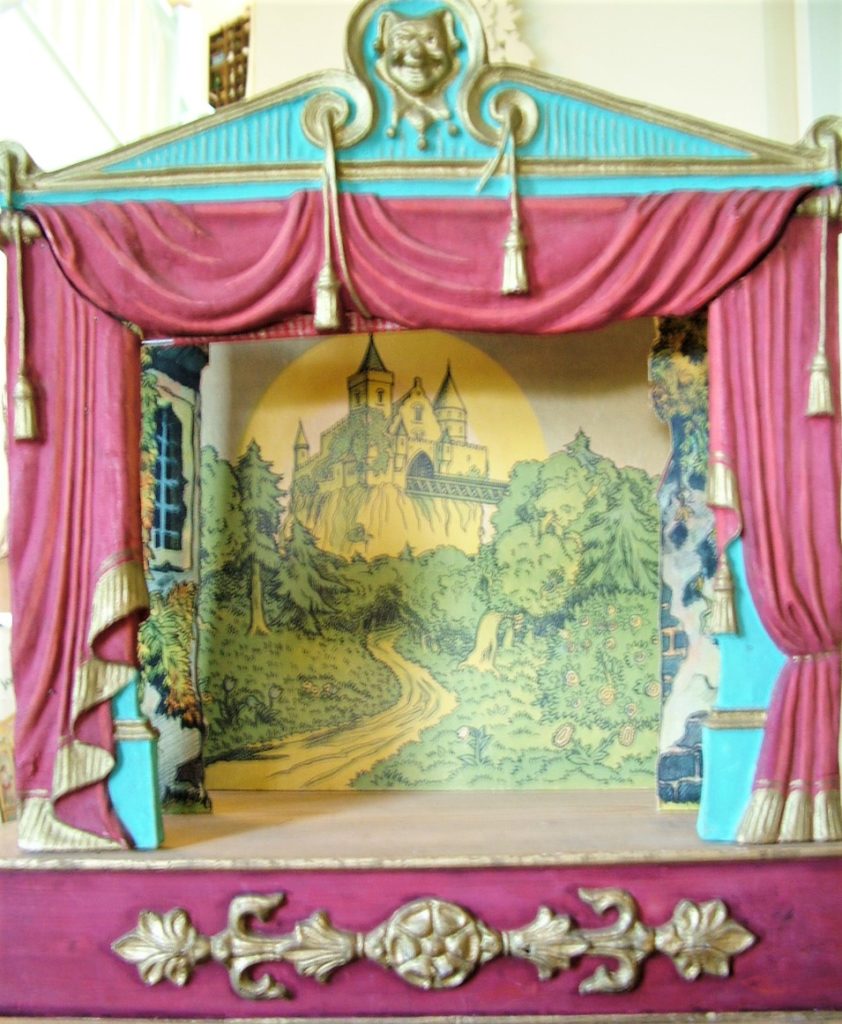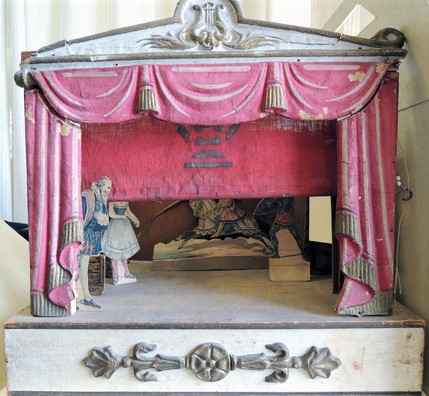 Seven years ago a couple toy theaters were posted online, simply to let the pubic know the Graphic Arts Collection holds a small selection of paper and model theaters, along with sets, costumes, figures, and props. Several are particular stages, such as the Globe Theatre where William Shakespeare's plays were performed. The rest are 19th century toy theaters produced by such manufacturers as Benjamin Pollock and Skelt & Webb.
Today we are trying to do better, in terms of scholarly research. Above are two examples, one from Princeton and one from a private collection. We have been trying to determine if they are from the same manufacturer, the same period, and/or the same location. Unfortunately, there are only a few reference sources on toy theaters available digitally at this time and we have not been able to identify either theater. Can you?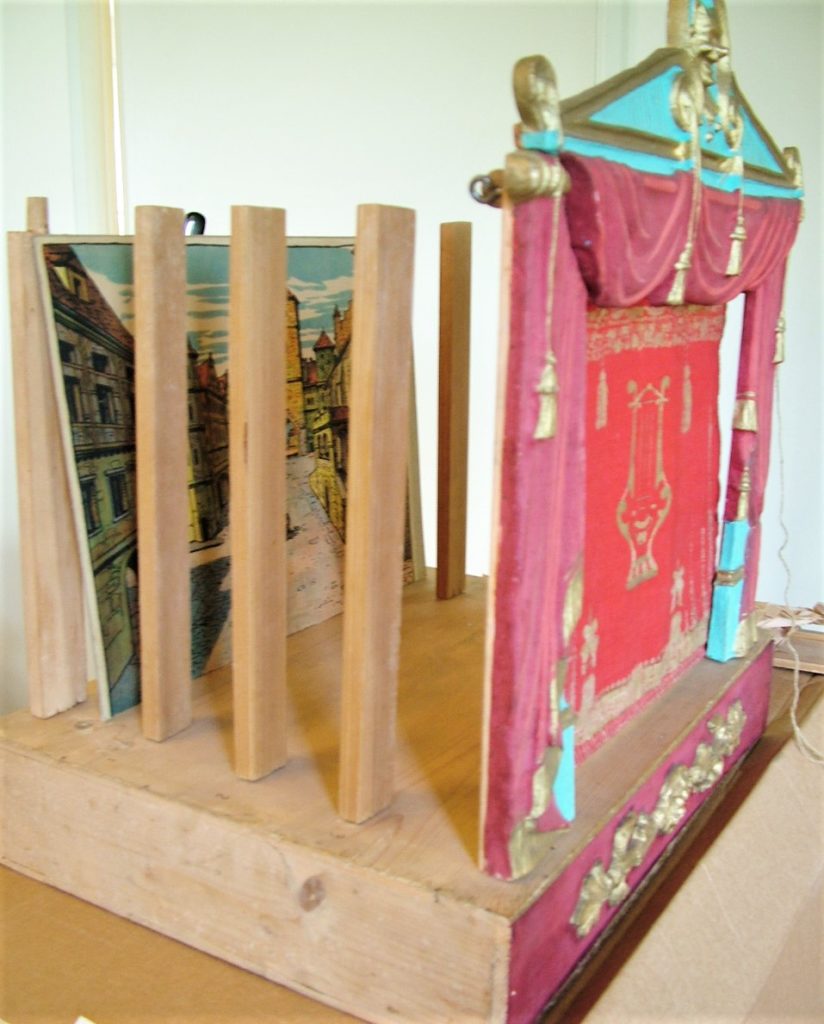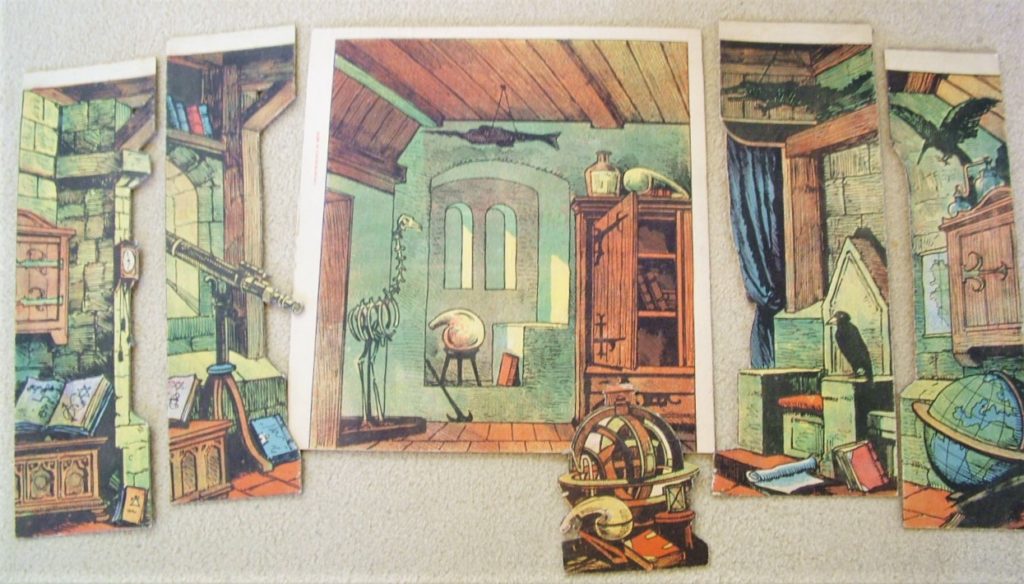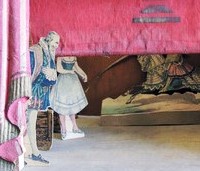 There seems to be agreement that they are both either German or Austrian. Without examining the actual object it is difficult to know if either are made in molded card rather than carved wood, which was cheaper to produce. We also can't check the back or bottom as we would normally.
Perhaps members of the British Puppet and Model Theatre Guild are checking online and recognize our two objects? https://www.britishpuppetguild.org.uk/  If you have information or a guess, please let us know at jmellby@princeton.edu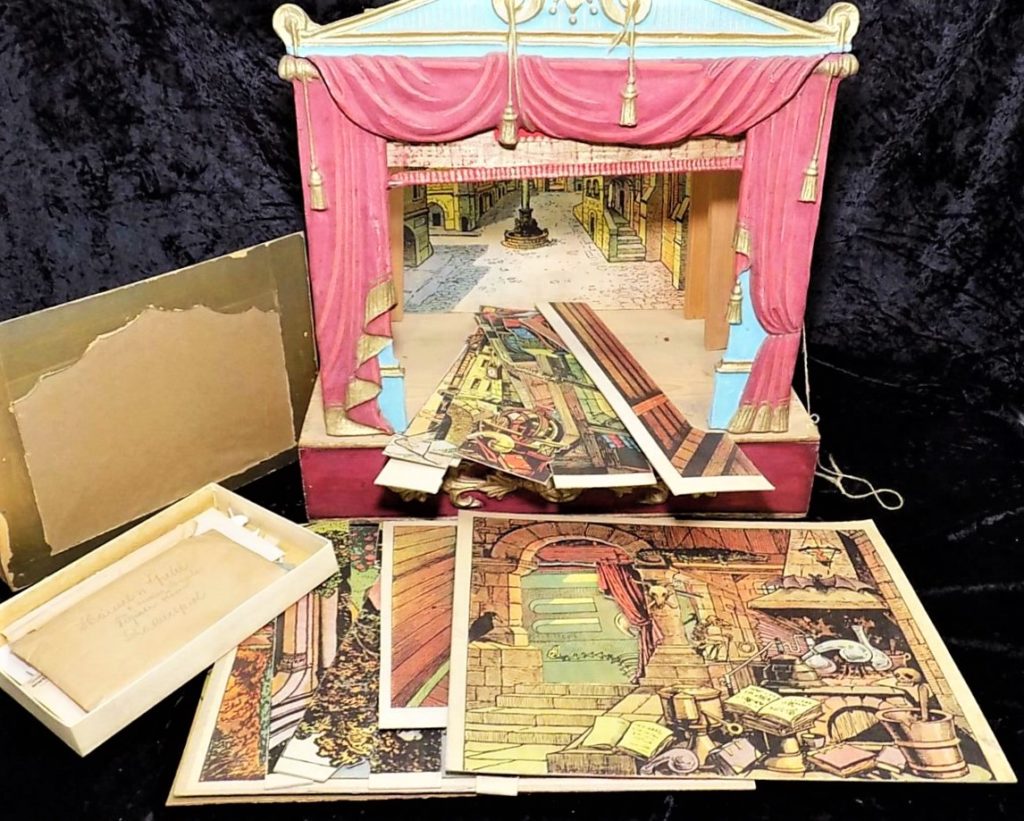 There is an interesting story online about the paper theater Goethe (1749-1832) gave his son August:
The toys of Goethe's son August exemplify these two different species. On the one hand, we are told that August played with simple chestnuts which he threaded and hung from his neck, pretending that they were garlands of precious jewels and he a powerful Oriental monarch. On the other, August enjoyed setting up an elaborate toy theater with conventional cardboard figures representing Harlequin, Columbine, Doctor Faustus, and other characters. To these (and here is the act of subversion) August would add a live cat during his performances, "for the sake of realism." –Artes de México No. 114, Juguete Tradicional II: Vida En Miniatura (Septiembre 2014), pp. 65-80 published by: Margarita de Orellana https://www.jstor.org/stable/24319076
If you are looking for an activity, the Victoria and Albert Museum has instructions in DIY paper theaters here: http://www.vam.ac.uk/content/articles/m/make-your-own-toy-theatre/