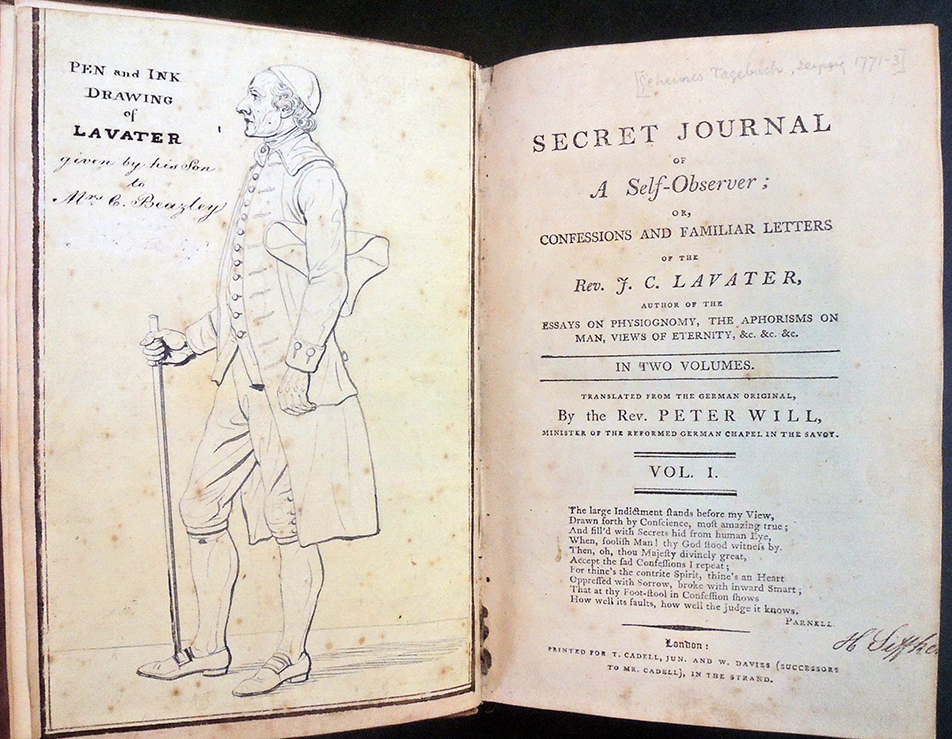 Johann Caspar Lavater (1741-1801), Secret Journal of a Self-Observer;or, Confessions and familiar Letters of the Rev. J. C. Lavater… Translated from the German Original, by the Rev. Peter Will, Minister of the Reformed German Chapel in the Savoy… (London: Printed for T. Cadell, Jun. andW. Davies (Successors to Mr. Cadell)… [1795]). Early ownership inscriptions, in ink and pencil, of Henrietta Siffken and with pencil notes throughout; with an original pen-and-ink drawing of Lavater bound in as a frontispiece, "given by his Son to Mrs C. Beazley." Graphic Arts Collection GAX 2020- in process.
The first English translation of: Johann Caspar Lavater (1741-1801), Geheimes tagebuch von einem beobachter seiner selbst (Leipzig: Weidmanns erben und Reich, 1771-73) is notable for the pen and ink drawing on the frontispiece attributed to Johan Heinrich Lips (1758-1817) as well as for the text never meant to be widely circulated.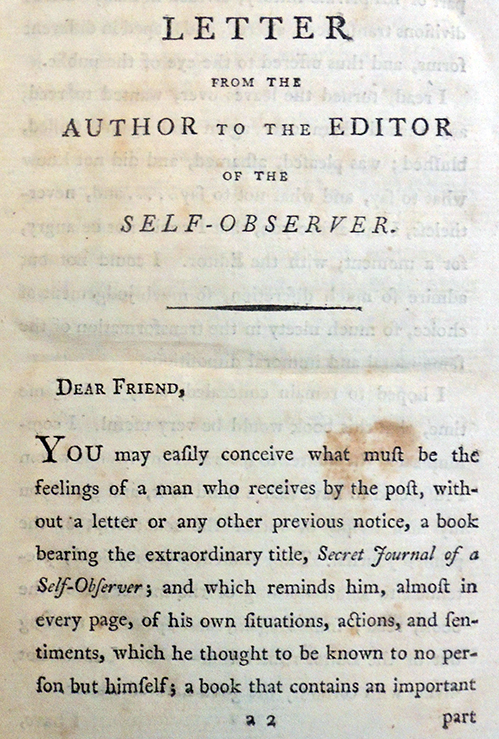 Preface of the translator:
"The present Translation, which originally was intended to be circulated only in manuscript, among some admirers of Mr. Lavater, would certainly never have been intruded on the Public, if the Translator were not fully persuaded, that its great utility will overbalance its many defects, and contribute to propagate piety and Religious prudence, for which purpose he recommends the perusal of it particularly to his congregation, who always have displayed the most laudable desire to improve in Christian knowledge and virtue. . ."

"…Mr. Lavater's manner of expressing his ideas, being as extraordinary as his manner of thinking, those who are not intimately acquainted with the writings of this eccentric, but truly venerable man, will easily be induced to mistake for a foreign idiom what, in reality, is an idiom of the Author, and could not be exchanged for a genuine English one, as it is the peculiar characteristic which distinguishes his way of thinking."
The Swiss minister Johann Caspar Lavater (1741-1801) was convinced that the science of physiognomy made it possible to know about a person's interior self from their exterior body. This included both the physical skull itself and the visual representation of it. He published his beliefs in three major editions, Physiognomische fragmente (1775-78) RBSC Oversize 6453.568.15q, Essai sur la Physiognomonie (1781-1803), and Essays on Physiognomy (1788-99) GAX Oversize 2007-0002Q. Johan Heinrich Lips (1758-1817) was the principal engraver of the plates, working from his own drawings and after drawings by Georg Friedrich Schmoll. Lavater's close friend Henry Fuseli (1741-1825) added a few illustrations and brought in the young William Blake (1757-1827) to complete a few additional plates.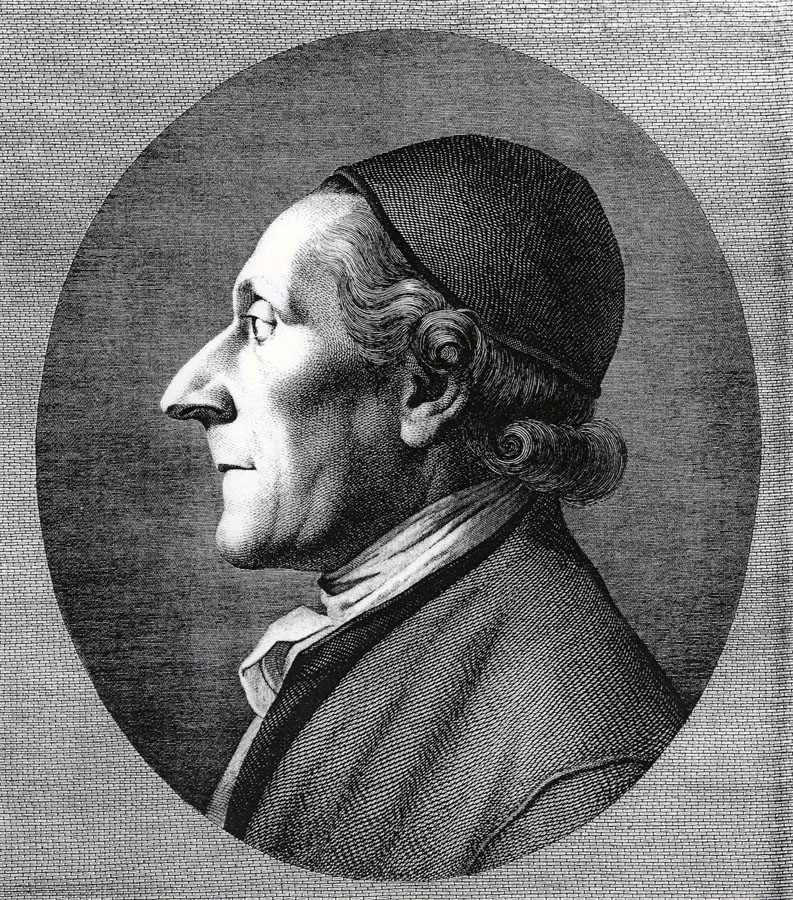 William Blake, Johann Caspar Lavater, 1800. Engraving and etching. Graphic Arts Collection