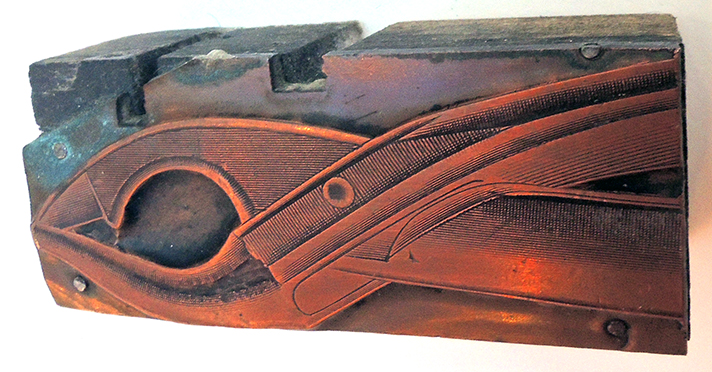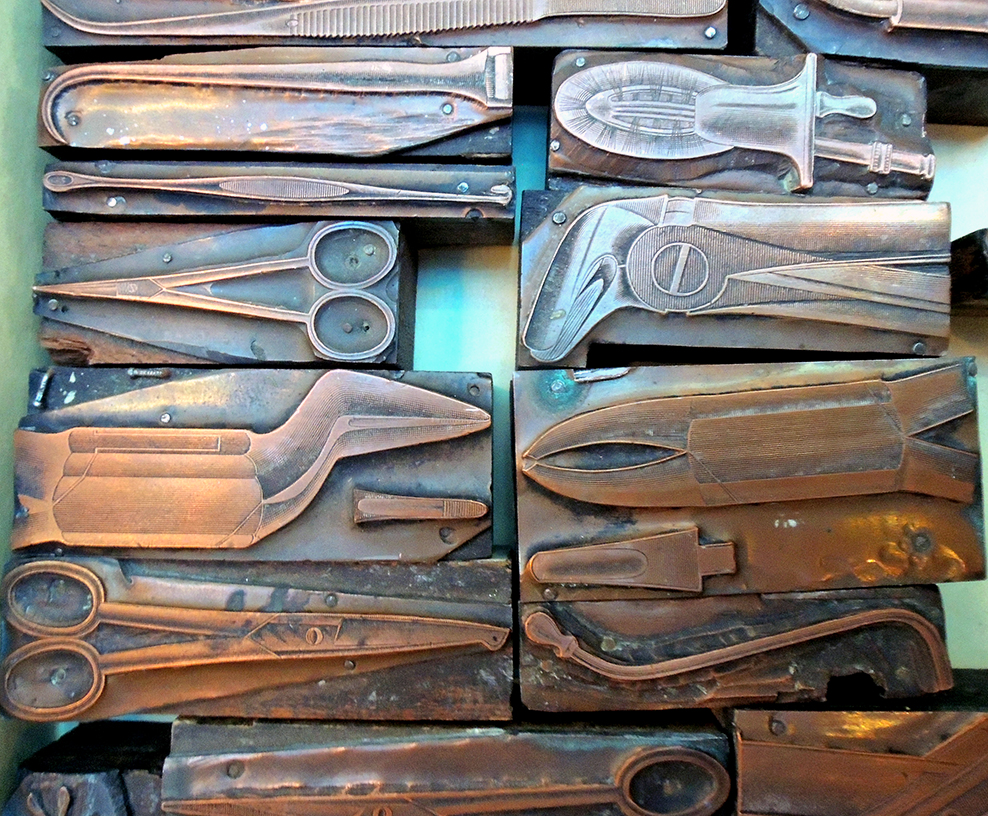 41 electroplated printing blocks ([Solingen, Germany?: n.p., ca.1920s]). Graphic Arts Collection GAX 2020-in process
Graphic Arts acquired a small collection of 41 electroplated printing blocks depicting dental and surgical instruments presumably for a trade catalogue, ca. 1920?.  Some of the blocks present sets of tools and some represent individual knives, scalpels, or scissors. These are not fresh samples, all the blocks have been inked and used. All have the remains of glue and paper on the underside of the block, indicative of patching or 'bringing up' the block to sit level inside the chase, reading for printing.
The dealer found a faint stamp on the side of the wood, which was read as Lauterjung & Hautzel … fabrik u. galvanoplastik, Solingen. Known as "the city of blades," Solingen is located in the North Rhine-Westphalia, Germany.
"For many centuries the name Solingen was [the] embodiment of high quality knives, cutlery and more. It is not surprising, that many companies try to make use of this name by selling their goods as "Made in Solingen", although they have not been produced in this city. In order to fight this fraud, Solingen became the only city in the world whose name is a registered trademark. The so called "Solingenverordnung" regulates the use of the brand "Solingen" since 1938."
The archive of Nordrhein-Westphal makes reference to a Lauterjung & Hautzel of Solingen in 1926, describing them as 'Lieferant von Holzschnitten und Galvanos' (suppliers of woodcuts and electroplating), suggesting that they were responsible for producing the blocks. In 1941, to celebrate the 50 anniversary of S. Lauterjung Söhne, Metallwarenfabrik [metal goods factory] in Solingen, a catalogue was prepared by Kurt Hartwig, which may have some relationship to our blocks.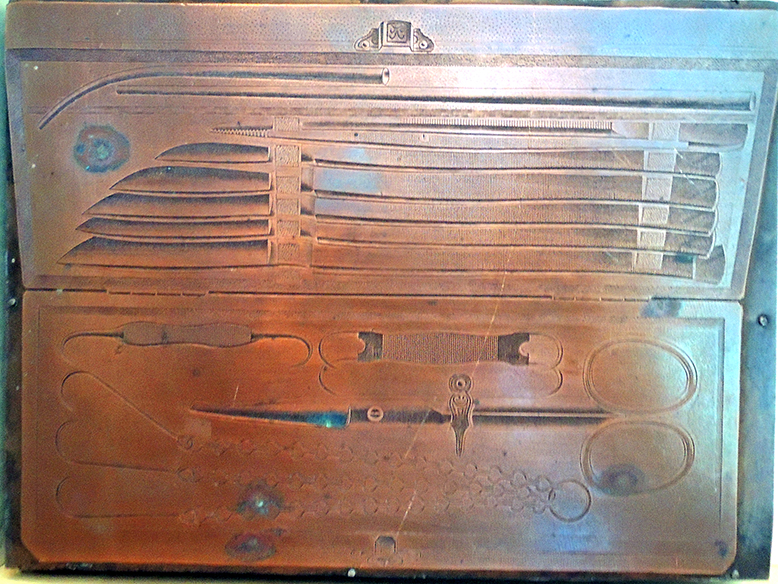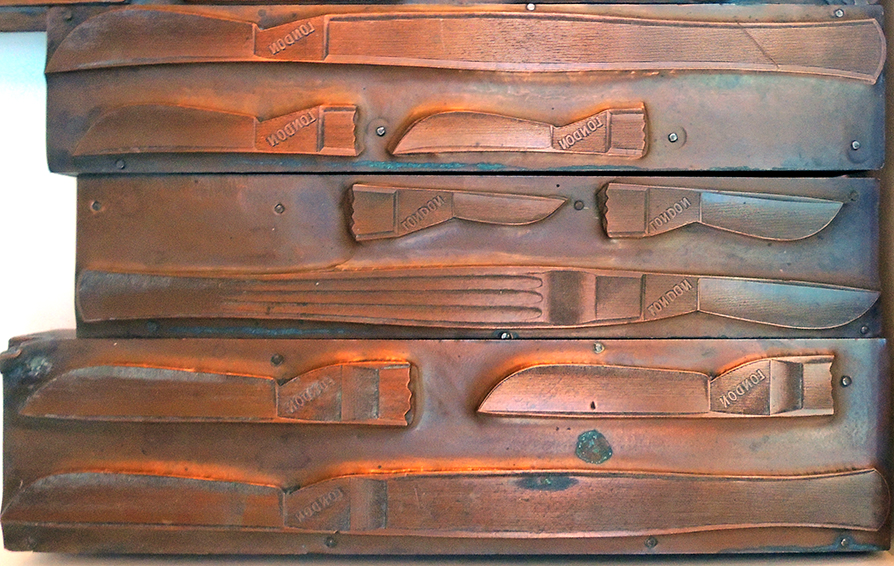 One other possible connection to the blocks might be Carl Martin GMBH, also founded in Solingen in 1916. "Carl Martin have concentrated on manufacturing and distributing high-grade instruments for dentistry. Our more than 95 years of experience in raw materials, development processing and the requirements for daily use in hospitals, practices and laboratories have made us one of the world´s leading manufacturers of dental instruments."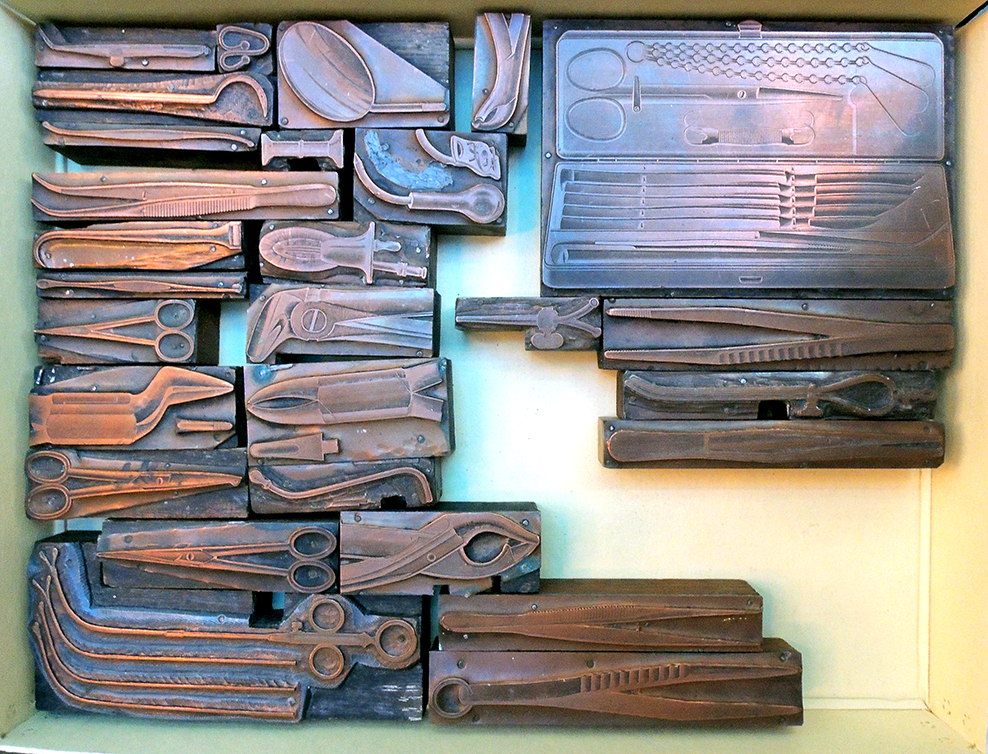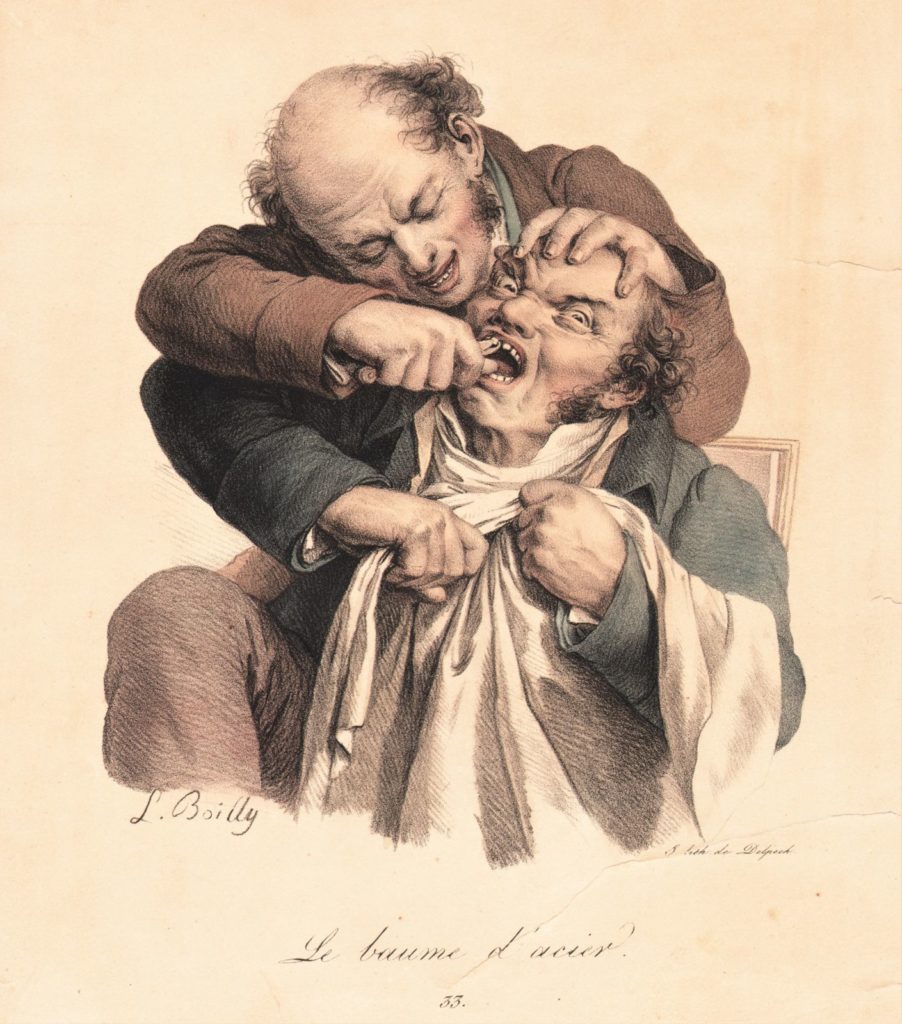 Louis Léopold Boilly (1761–1845), Le Baume d'Acier [The Balm of Steel], in Recueil de Grimaces, 1823. Lithograph. Graphic Arts Collection