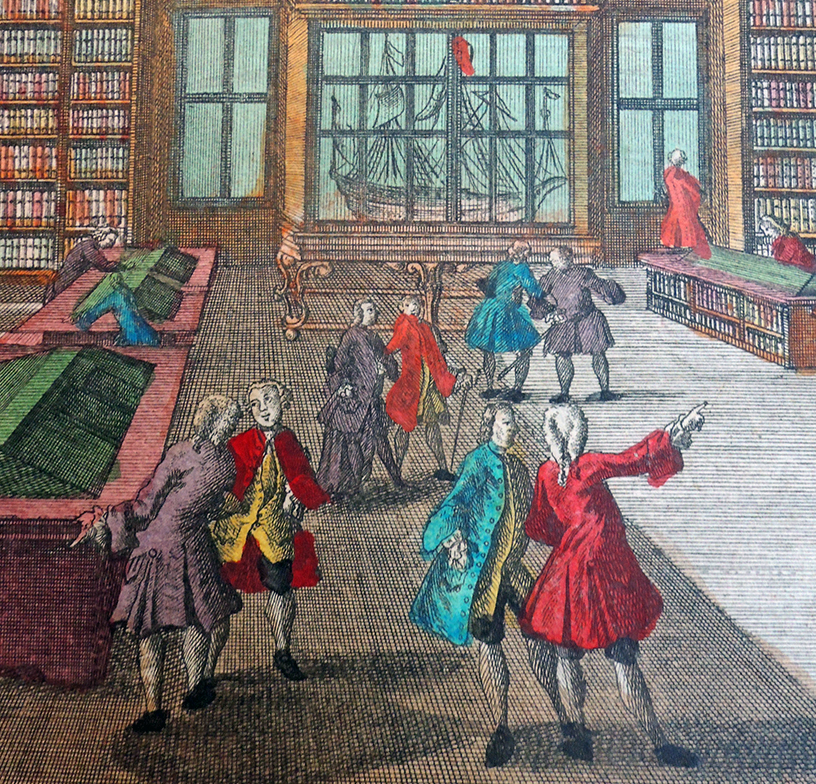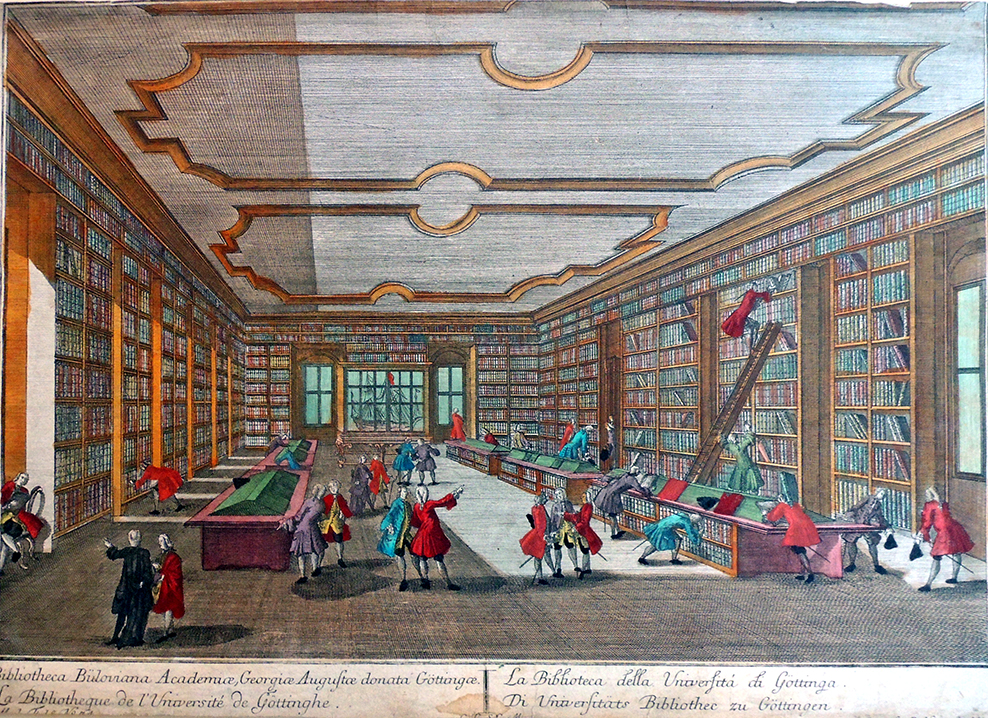 After Georg Daniel Heumann 91691-1759), Bibliotheca Büloviana Academiae, Georgiae Augustae donata Göttingae – La Biblioteca della Università di Göttinga – Di Universitäts Bibliothec zu Göttingen [Augsburg: Georg Balthasar Probst, 1760/70s). Hand colored engraving. Graphic Arts Collection 2020- in process
Inside Georg Daniel Heumann's True representation of the City of Göttingen [also called Wahre Abbildung der königl. gross britan. und churfürstl. braunschw. lüneb. Stadt Göttingen, ihrer Grund-Lage, äusserl. und innerlicher Prospecte und der zur Georg Augustus Universitaet gehörigen Gebäude; gezeichnet und in Kupffer herauss gegeben] (1747), plate 7 is an engraving of the Göttingen University library. Founded thirteen years earlier in 1734, this 'book hall' was located in the converted rooms of the former Pauline monastery.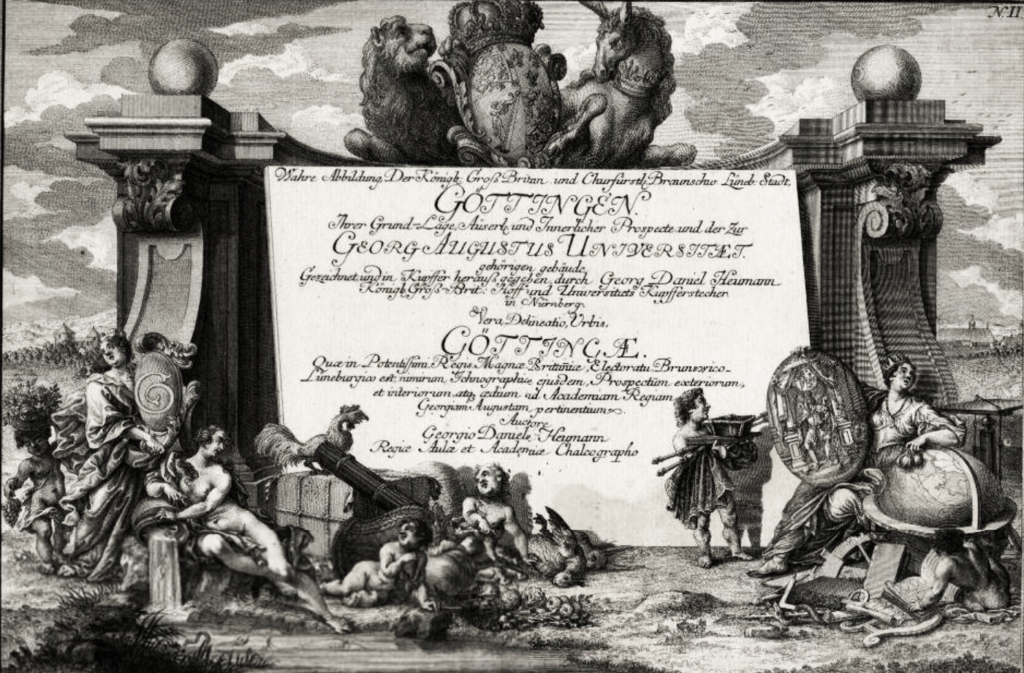 Later in the century, Augsburg publisher Georg Balthasar Probst (1732-1801) copied and colored the engraving to release as a vue d'optique or perspective print to be used with a zograscope or optical box. This reprinting has entered the Graphic Arts Collection of perspective prints.
"Initially, the Pauliner Church was part of a Dominican monastery founded in Göttingen in 1294. It represents an architectural style typical of the mendicant orders. In 1529, in the wake of the Reformation, the first Lutheran services were held in the Pauliner Church, since it was the largest church in town. Between 1542 and 1733, a newly founded secondary school, the so-called Paedagogium, was located in the building of the former monastery.

In 1733, Prince-Elector Georg August of Brunswick-Lüneburg, who, as George II, was also King of Great Britain and Ireland, decided to found a regional university in Göttingen. One year later, in 1734, the university library was set up in a hall belonging to the former monastery. Three years later, the ceremonial opening of Göttingen University took place in the Pauliner Church. The university also had its home in the former monastery, and the Pauliner Church went on to be used as the university church and as a venue for university events."

…During the Second World War, in 1944, the Pauliner Church was largely destroyed …. From 2000 to 2006, the whole of the Historical Building was refurbished. Careful attention was paid to the reconstruction of the Historical Hall in the Pauliner Church on the basis of historical depictions. After only six months of work, the Historical Hall [below] was re-opened in its former guise on the occasion of the opening of the exhibition 'Gutenberg and his impact'."– https://www.sub.uni-goettingen.de/en/about-us/portrait/history/paulinerkirche/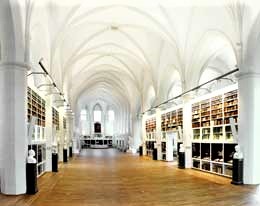 It is a nice complement to another bookseller print, one of Probst's five allegorical prints to the Moon, Mars, Mercury, Jupiter and Saturn.